Japan offers honeymooners a captivating blend of ancient traditions and modern wonders. Explore the historic streets of Kyoto, where cherry blossoms bloom in spring, and visit serene temples. Savor world-class sushi in Tokyo's bustling metropolis, where futuristic skyscrapers stand beside historic neighborhoods. Relax in tranquil hot spring baths (onsen) amid stunning mountain landscapes. Take a romantic stroll through traditional gardens and along picturesque canals. Discover Japan's rich culture through tea ceremonies, kimono experiences, and kabuki theater. Whether it's the serene beauty of its landscapes, the elegance of its culture, or the excitement of its cities, Japan promises an unforgettable honeymoon.
The 15 Best Honeymoon Resorts in Japan
---
About Japan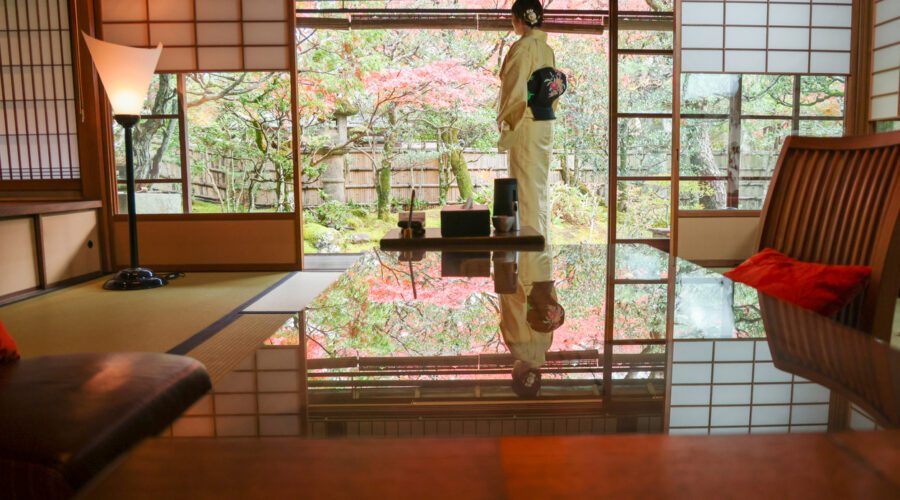 Average Cost of a One Week Japan Honeymoon
The cost of a one-week honeymoon in Japan can vary widely depending on your preferences, travel style, and the time of year you visit. Here's a general breakdown of costs for an average honeymoon:
Airfare
International round-trip flights for two people can range from $1,000 to $2,500 or more per person, depending on your departure location, airline choice, and the time of booking. So, the total cost for flights may range from $2,000 to $5,000.
Accommodations
The type of accommodations you choose will significantly impact your budget. A mid-range hotel may cost between $150 to $300 per night, while luxury hotels can go well above $500 per night. For a week-long stay, budget for approximately $1,050 to $2,100 for accommodations.
Daily Expenses
Daily expenses, including meals, local transportation, activities, and shopping, can vary widely. On average, the budget is around $150 to $300 per day for two people. This includes dining at a mix of restaurants, local transportation, and some sightseeing. For a week, this amounts to approximately $1,050 to $2,100.
Average Total Cost
Adding all these costs together, a one-week honeymoon in Japan for two people could range from $4,100 to $9,200 or more. Keep in mind that this is a rough estimate, and your actual expenses may vary based on your preferences and travel choices. Additionally, consider factors like travel insurance, visa fees (if applicable), and unexpected expenses when planning your budget.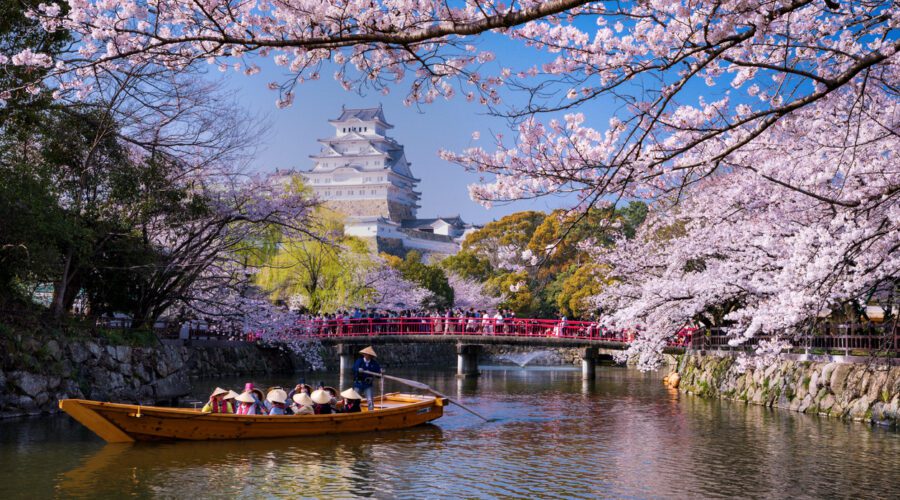 Best Time to Visit Japan
The best time to visit Japan for your honeymoon depends on your preferences and what you'd like to experience during your trip. Japan offers unique attractions and experiences throughout the year, so consider the following factors when planning your honeymoon:
Cherry Blossom Season (Sakura): Spring, particularly late March to early April, is one of the most popular times to visit Japan. During this time, cherry blossoms bloom all over the country, creating stunning pink and white landscapes. It's a romantic and picturesque time for a honeymoon.
Fall Foliage (Koyo): Late October to November is another beautiful season to visit. Japan's autumn foliage is breathtaking, with vibrant red, orange, and yellow leaves. The weather is generally pleasant, and it's a great time for outdoor activities.
Avoid Peak Seasons: To avoid crowds and high prices, consider traveling during the shoulder seasons, which are late spring (May to early June) and early autumn (September to early October).
Winter Wonderland: If you both enjoy winter sports or cozying up in hot springs (onsen), the winter months of December to February offer snowy landscapes and a unique cultural experience. Hokkaido is a popular destination for winter activities.
Summer Festivals: If you're interested in experiencing Japanese festivals and events, summer (June to August) offers numerous options, including fireworks festivals (Hanabi) and traditional festivals like Gion Matsuri in Kyoto.
Budget: Peak tourist seasons, such as cherry blossom season and Golden Week (late April to early May), can be more expensive. Be prepared for higher hotel and transportation costs during these times.
Personal Preferences: Consider your personal interests and activities you'd like to include in your honeymoon. Whether it's cultural experiences, outdoor adventures, or relaxation, choose a time that aligns with your preferences.
Ultimately, the best time for your honeymoon in Japan depends on what you both enjoy and what kind of experience you want to have. Be sure to check the weather forecasts, book accommodations well in advance, and plan your itinerary accordingly to make the most of your romantic trip to Japan.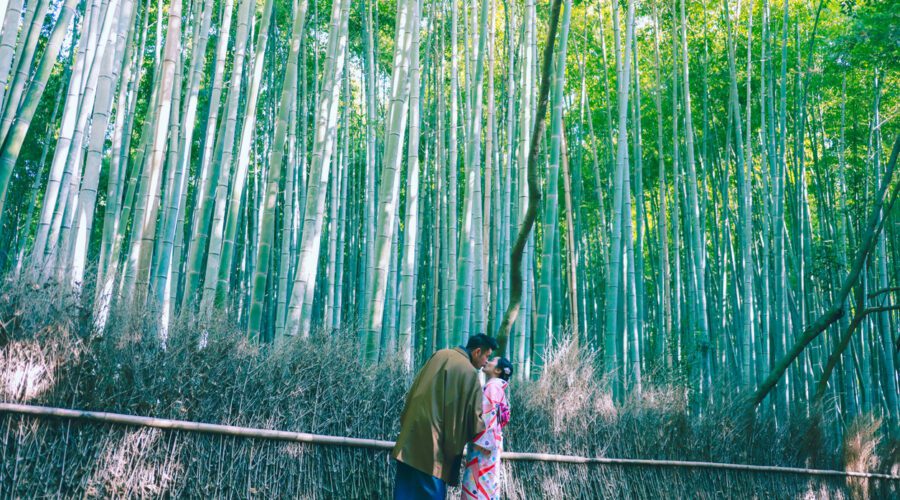 About Honeymooning in Japan
Honeymooning in Japan can be a memorable and unique experience. To make the most of your trip, here's what you should know about the culture, currency, and cuisine in Japan:
Culture
In Japanese society, politeness and respect are highly valued. Learn about basic Japanese etiquette, such as bowing, taking off your shoes before entering someone's home, and giving or receiving objects with both hands. It is usual in Japan to give and receive presents. Bring tiny, thoughtful gifts for hosts or acquaintances you may meet on your journey.
While many Japanese people in urban areas understand some English, learning a few basic Japanese words will help you navigate daily circumstances and show respect to the locals.
There are many magnificent shrines and temples in Japan. Respect these hallowed sites by dressing appropriately and keeping a peaceful demeanor.
Many guests insist on visiting an onsen. Learn about onsen etiquette, which includes cleansing well before entering, not wearing swimwear, and remaining silent.
Currency
The Japanese Yen (JPY) is the country's official currency. Learn about the current exchange rate and bring some cash with you because not all places accept credit cards, especially in rural areas.
ATMs: ATMs are commonly available in Japan, particularly in major cities and convenience stores. However, certain ATMs may not take foreign cards, so plan ahead of time to locate international ATMs.
Credit Cards: Most major hotels, restaurants, and retail stores accept credit cards. Carrying cash is recommended for smaller shops, local cafes, and transportation.
Cuisine
Sushi and Sashimi: Japan is renowned for its fresh and delicious sushi and sashimi. Try these dishes at a traditional sushi restaurant for an authentic experience.
Ramen: Enjoy a bowl of steaming ramen, a popular and hearty noodle soup available in various regional styles.
Tempura: Tempura consists of lightly battered and deep-fried vegetables and seafood. It's a delightful treat often served with a dipping sauce.
Izakayas: These Japanese-style pubs offer a wide range of dishes and drinks. They're a great place to sample various Japanese dishes in a casual setting.
Kaiseki: For a special occasion, consider trying kaiseki, a traditional multi-course meal that showcases seasonal ingredients and culinary artistry.
Japanese Breakfast: Many traditional Japanese inns (ryokan) offer a delicious and elaborate Japanese breakfast, which often includes rice, miso soup, grilled fish, and various side dishes.
Allergies and Dietary Restrictions: If you have food allergies or dietary restrictions, it's important to learn how to communicate your needs in Japanese or have a translation card that explains your dietary restrictions.
Remember that learning about Japanese cuisine can be a fun adventure, and it's important to taste a range of dishes to properly appreciate the country's culinary culture. Furthermore, respecting Japanese culture and customs will enhance your honeymoon experience in Japan.
Best Activities for a Japan Honeymoon
A honeymoon in Japan offers a wide range of activities that can make your trip memorable and romantic. Here are some of the best activities to consider:
Cherry Blossom Viewing (Hanami): If you visit during cherry blossom season (late March to early April), consider having a picnic or a leisurely stroll in a park filled with cherry blossoms. It's a quintessential and incredibly romantic experience.
Visit Traditional Temples and Shrines: Explore historic temples and shrines, such as Kyoto's Kinkaku-ji (Golden Pavilion) or Fushimi Inari Taisha. These serene and picturesque sites offer a glimpse into Japan's rich cultural heritage.
Stay in a Ryokan: Spend a night or more in a traditional Japanese inn (ryokan) for a truly authentic experience. Enjoy tatami mat rooms, futon beds, kaiseki meals, and soothing hot spring baths (onsen).
Cruise on Lake Ashi: In Hakone, take a boat ride on Lake Ashi with a backdrop of Mt. Fuji. The scenery is stunning, especially during autumn when the foliage is colorful.
Japanese Gardens: Stroll through beautifully landscaped Japanese gardens like Kenrokuen in Kanazawa or the Ritsurin Garden in Takamatsu. These gardens offer tranquility and serene beauty.
Romantic Train Journeys: Consider taking a scenic train journey, such as the Hakone Tozan Railway or the Sagano Scenic Railway. These routes offer breathtaking views of the Japanese countryside.
Couples' Onsen Experience: Relax in an onsen (hot spring) together. Japan has many onsen resorts with private or communal baths where you can soak in mineral-rich hot water while surrounded by nature.
Tea Ceremony: Participate in a traditional Japanese tea ceremony, where you can learn about the art of preparing and enjoying matcha (green tea).
Kimono Photoshoot: Rent a traditional kimono or yukata and have a photo shoot at a historic location like Kyoto's Gion district or a picturesque garden.
Culinary Adventures: Embark on a foodie journey and explore the diverse regional cuisines of Japan. Try street food, dine in Michelin-starred restaurants, and experience a sake tasting.
Hike in Nature: If you and your partner enjoy the outdoors, consider hiking in areas like the Japanese Alps or Yakushima Island. Japan offers diverse landscapes, from mountains to forests and coastlines.
Night Illuminations: Some places in Japan, such as Tokyo's Roppongi Hills and Nabana no Sato in Nagoya, host stunning illuminations during the winter season, creating a magical atmosphere for an evening stroll.
Experience a Traditional Festival: Check the local calendar for any traditional festivals or events happening during your visit. These festivals often feature traditional music, dance, and colorful processions.
Private Tours: Consider booking private tours or experiences tailored to your interests, whether it's art, history, or adventure activities.
Relax and Unwind: Take time to relax in your accommodations, whether it's a luxurious city hotel or a peaceful countryside ryokan. Enjoy spa treatments, and room service, or simply savor each other's company.
Always consider your hobbies and preferences as a couple while choosing your activities. You can design the ideal honeymoon itinerary for you and your partner by choosing from a variety of cultural, historical, natural, and culinary activities available in Japan.
Weather in Japan
Japan experiences a diverse range of weather patterns due to its long north-to-south geography. The country can be divided into several climate zones, each with its own distinct weather patterns. Here's a general overview of the weather in Japan:
Hokkaido (Northern Japan):

Winter (December to February): Cold with heavy snowfall, especially in the mountains.
Spring (March to May): Cool to mild, with the snow gradually melting.
Summer (June to August): Mild to warm, with pleasant temperatures.
Autumn (September to November): Cool with colorful foliage.

Tohoku (Northeastern Japan):

Similar to Hokkaido, with cold winters and heavy snowfall, especially in the inland areas.
Summers are mild to warm, while spring and autumn offer pleasant weather.

Kanto (Including Tokyo):

Winter (December to February): Cool with occasional cold snaps.
Spring (March to May): Mild and pleasant, with cherry blossoms in late March to early April.
Summer (June to August): Hot and humid, with occasional rain and typhoons.
Autumn (September to November): Mild and comfortable, with colorful foliage.

Chubu (Central Japan, Including Kyoto and Osaka):

Similar to Kanto but with slightly cooler winters and more pronounced seasonal changes.

Kansai (Western Japan, Including Kyoto and Osaka):

Similar to Chubu, with slightly milder winters and hot, humid summers.

Chugoku (Western Japan, Including Hiroshima):

Winters are cool, while summers are hot and humid.
The inland areas have more extreme temperatures compared to coastal regions.

Shikoku (Island to the South):

Similar to Chugoku but with milder winters and slightly cooler summers.

Kyushu (Southern Japan):

Winters are mild, and summers are hot and humid.
Typhoons can affect this region during the summer and early autumn.

Okinawa (Southernmost Japan):

Tropical climate with warm temperatures year-round.
Rainy season from May to June and a typhoon season in late summer.

Japanese Alps:

Colder and snowier in the winter, making it a popular destination for winter sports.
Cooler in the summer, making it a great escape from the heat.
Keep in mind that Japan's weather can be influenced by seasonal phenomena like the cherry blossom season in spring, the rainy season in early summer, and the typhoon season in late summer and early autumn. The best time to visit depends on your preferences and the specific activities you plan to enjoy during your trip. Be sure to check local weather forecasts and pack accordingly based on the season and region you'll be visiting.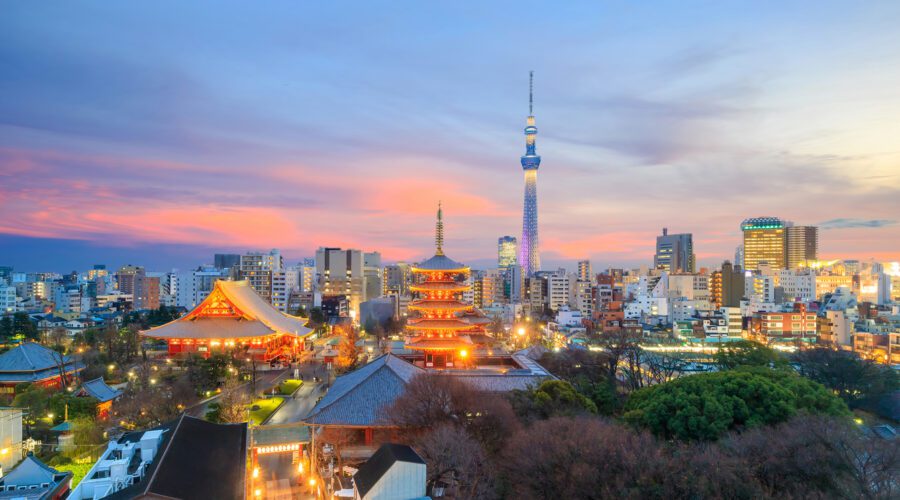 Is Japan Safe for a Honeymoon?
For a honeymoon, Japan is typically regarded as a welcoming and safe location. The following are some important elements that support Japan's standing as a safe destination for tourists:
Low Crime Rate: Japan boasts one of the lowest rates of larceny and violent crime in the entire globe. You can typically travel about cities and towns without worrying about personal safety because petty crime is uncommon.
Respect and Courtesy: Courtesy and respect for others are highly valued in Japanese society. It is common practice to be kind and welcoming to visitors, which heightens the sense of security.
Clean and Well-Maintained: Japanese public services are renowned for their effectiveness and cleanliness. All around the country, there are clean streets, efficient public transportation systems, and facilities.
Natural disaster Risk is Low: Although earthquakes, tsunamis, and typhoons are common in Japan, the nation has modern infrastructure and early warning systems in place to reduce hazards. Typically, tourists are knowledgeable about safety precautions to take during natural disasters.
Effective Transportation: The punctuality, safety, and usability of Japan's transportation system are well-known. Whether you're using the bus, subway, or train, your trip will probably be dependable and secure.
Healthcare: Japan's superb healthcare system includes cutting-edge hospitals and clinics. In major cities, it's also typical for medical professionals to speak some English.
Low-Risk Diseases: Because of its strong hygiene regulations, Japan is not a high-risk travel destination for infectious diseases.
However, it's crucial to take reasonable safety precautions, just like with any other trip destination:
Watch out for your possessions, especially in crowded places.
Respect regional laws and traditions.
Find out who to call in an emergency and where the nearest embassy or consulate is.
Due to left-handed driving laws, exercise caution when crossing streets.
When dining out, be sure to express your needs in detail if you have allergies or dietary restrictions.
In general, Japan is a lovely and secure location for a honeymoon. You can have a worry-free and unforgettable romantic holiday with careful planning and sensitivity to the local culture.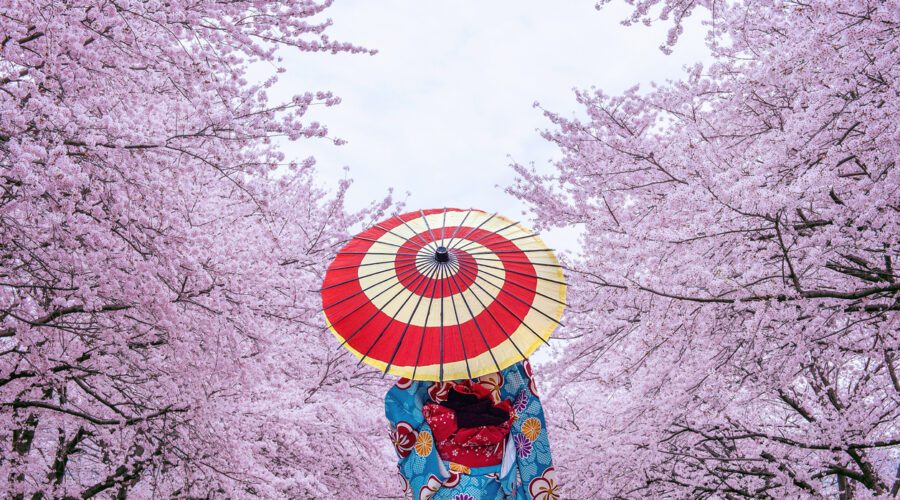 Most Romantic Spots in Japan
Japan offers numerous romantic locations that are perfect for a honeymoon. Here are some of the most romantic places to consider:
Kyoto: Kyoto is a city filled with historic charm, traditional tea houses, and beautiful temples and gardens. The Gion district is particularly enchanting with its narrow streets and wooden machiya houses. Don't miss the Arashiyama Bamboo Grove and the Fushimi Inari Shrine for romantic strolls.
Hakone: Located near Tokyo, Hakone is known for its hot springs (onsen) and stunning views of Mount Fuji. You can enjoy a private onsen with your partner and explore the beautiful Hakone Open-Air Museum.
Nara: Nara is famous for its friendly deer, serene parks, and ancient temples. The Todai-ji Temple and Nara Park are particularly romantic spots to explore together.
Kanazawa: This city on the Sea of Japan offers beautifully preserved geisha districts, the Kenrokuen Garden, and historic samurai districts. It's a great place to experience traditional Japanese culture.
Okinawa: For a tropical getaway, Okinawa's white sandy beaches, crystal-clear waters, and coral reefs provide a romantic setting. Sunset views on the beach and snorkeling adventures are highlights.
Kobe: Known for its romantic atmosphere, Kobe offers scenic views from the Kobe Port Tower and the Rokko Mountain Observatory. The Kobe Harborland area is perfect for leisurely walks.
Shirakawa-go: This UNESCO World Heritage-listed village in the Japanese Alps is famous for its traditional thatched-roof farmhouses. Staying in one of these charming houses and experiencing a quiet, rural life can be incredibly romantic.
Nikko: The historic town of Nikko is known for its elaborate Toshogu Shrine and beautiful natural surroundings. The Kegon Falls and Lake Chuzenji are great spots for couples to explore.
Miyajima Island: Located near Hiroshima, Miyajima Island is famous for the Itsukushima Shrine, which appears to float on the water during high tide. The island's serene atmosphere and beautiful landscapes make it a romantic destination.
Tokyo: Tokyo offers a blend of modern and traditional attractions. Enjoy a romantic dinner in one of the city's high-end restaurants, stroll through Ueno Park, and take in panoramic views from Tokyo Skytree.
Yakushima Island: For nature-loving couples, Yakushima's ancient cedar forests and hiking trails offer a unique and romantic experience. The island is also known for its starry night skies.
Kumano Kodo: This ancient pilgrimage trail in the Kii Peninsula offers serene forested walks, charming ryokans, and hot springs for a peaceful and romantic escape.
To reflect your shared interests as a couple, remember to customize your honeymoon location. Japan has much to offer every kind of romantic holiday, whether your interests are historical locations, scenic locales, or cultural activities.
---
Destinations to Explore
Additional honeymoon destinations in Japan you may want to consider: