Having a post-wedding holiday in a beautiful destination that offers overwater bungalows is a honeymoon experience at its finest. Such unique accommodation lets you stay above azure waters while enjoying breathtaking views and, above all, romantic seclusion.
In this blog, we list 25 of the best overwater villas and rooms in the world's most romantic honeymoon spots, including the Caribbean, the Maldives, the South Pacific, and iconic Asian destinations. Discover the perfect blend of luxury and romance, and start your married life right with any of these top-rated options.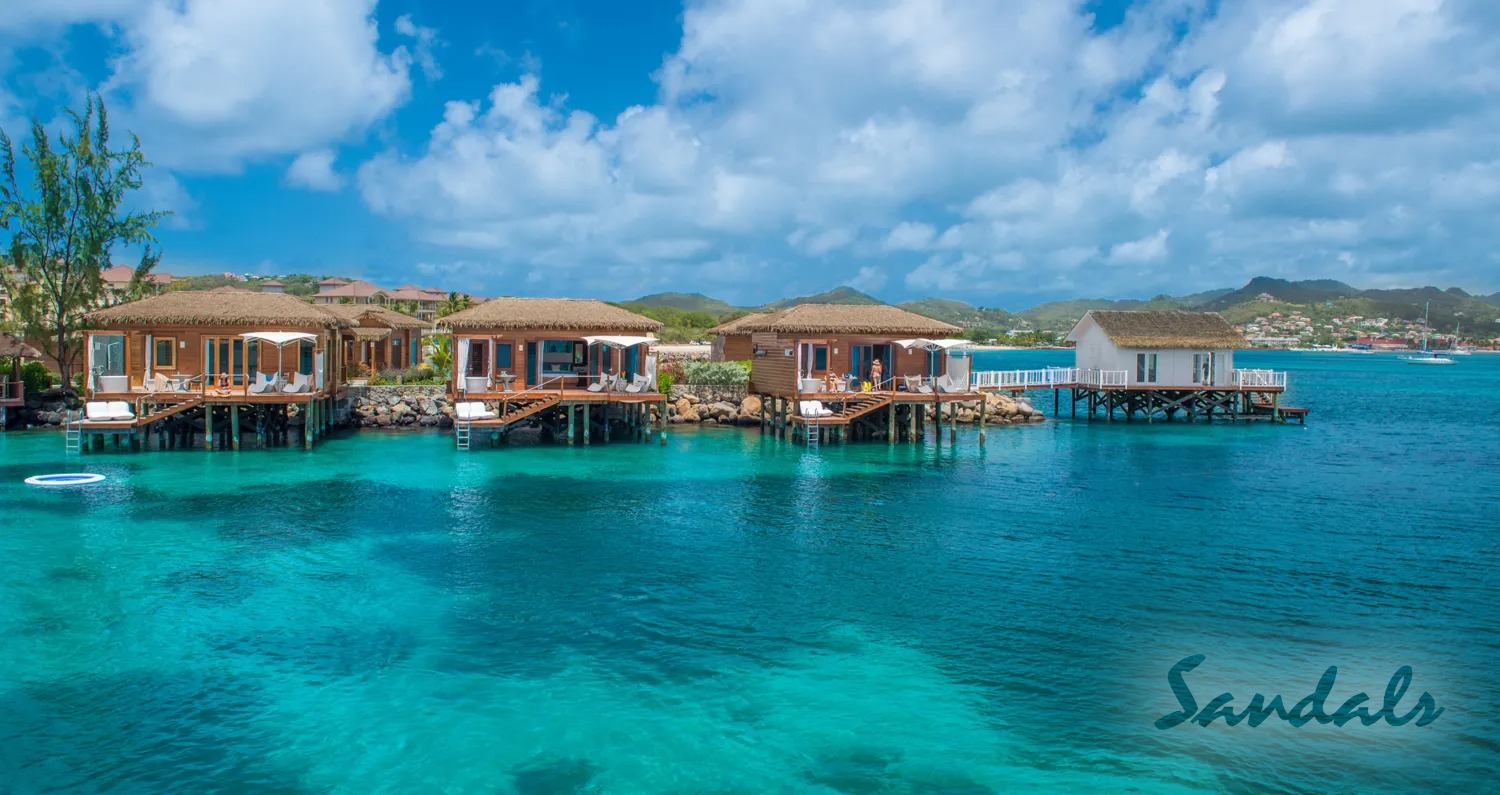 Location
Gros Islet, St. Lucian
Why Stay Here
Picture-perfect is an excellent word to describe the beauty of Sandals Grade St. Lucian, which is set along a long stretch of pristine beach. A few steps from the main property will take you to their nine over-the-water accommodations offering grand views in every direction.
Staying in one of their overwater bungalows honeymoon all-inclusive packages means having access to world-class gourmet restaurants, premium drinks, and water and land activities, among others.
As with other Sandals resorts with this type of accommodation, you'll get personalized butler service and a bungalow with glass floors, a soaking tub, and an over-the-water hammock to swing into luxury and worry-free escape. Have we already mentioned it's adults-only?
Other Notable Features
Access to two nearby Sandals resorts (Sandals Regency La Toc and Sandals Halcyon) and golf courses (Cap Estate Golf & Country Club and La Toc Golf Course)
More overwater amenities like a wedding chapel and a restaurant
---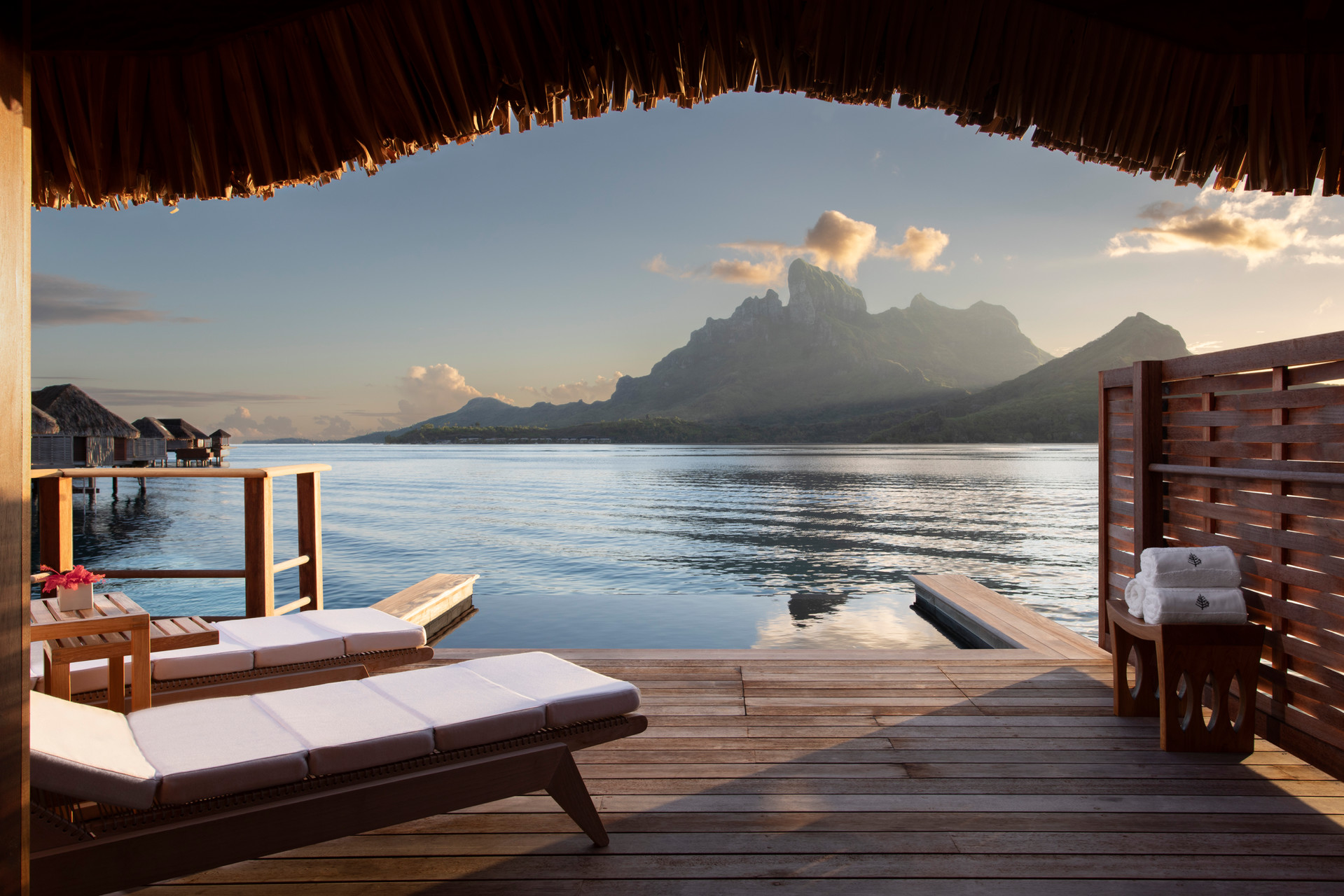 Location
Bora Bora, French Polynesia
Why Stay Here
At the very heart of French Polynesia are over-the-water bungalows that showcase traditional teak furnishings and Polynesian art pieces. They have specialty overwater accommodations with a private plunge pool or a large deck. Additionally, they offer more "modest" suites that will spark an intimate connection with the glistening lagoon and the majestic Mount Otemanu.
When not staying in your own private paradise, you can explore the rest of the amenities within the property. It has a thatched-roof pool cabana, a spa, and a tennis court. Likewise, they also offer on-site yoga classes and a unique shopping experience with their three retail stores (one offers Tahitian black pearl jewelry!).
Other Notable Features
Services designed for couples like spa treatments for two, in-bungalow dining, sunset cruises, couples' snorkel tour, and more private excursions
Complimentary services that range from premium WiFi to marine life demonstrations
---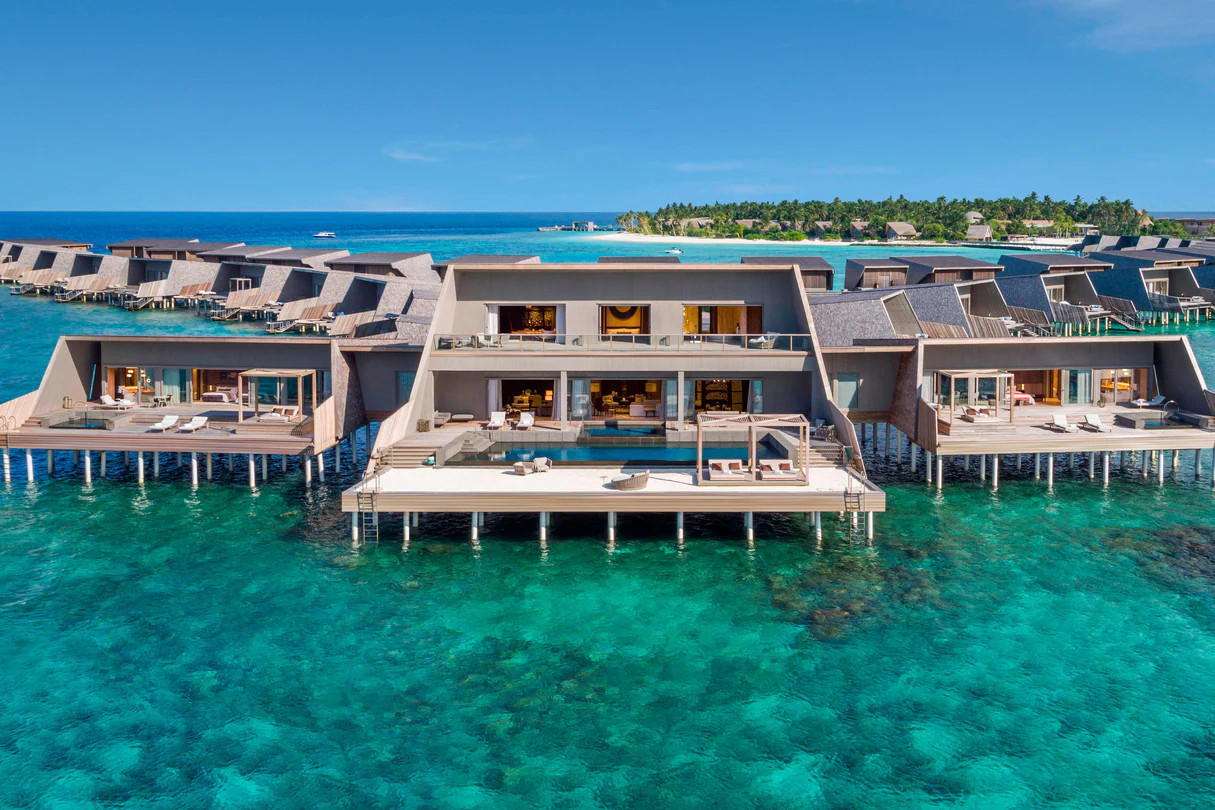 Location
Vommuli Island, Dhaalu Atoll, Maldives
Why Stay Here
Firstly, soft white-sand beaches. Lush rainforest. A private island. You and your loved one can soak up the sun without worry when you head to this paradise in the Maldives.
Secondly, the St. Regis Maldives Vommuli has a selection of above-water villas and suites (44 in total). You can never go wrong with any option, but we strongly recommend choosing one with its own pool. It also comes with a butler and evening turndown services.
Apart from the resort's own private lagoon, it has a spacious spa and outdoor infinity pool. Meaning, the setup is perfect for swimming or just lazing around. Take advantage of the surrounding waters by diving, snorkeling, kayaking, or windsurfing.
Other Notable Features
A luxury yacht that you can book and charter so you can enjoy a sunset cruise, an afternoon tea time while cruising, or even stargazing
Access to Vommuli House, the Maldives' largest recreation center
---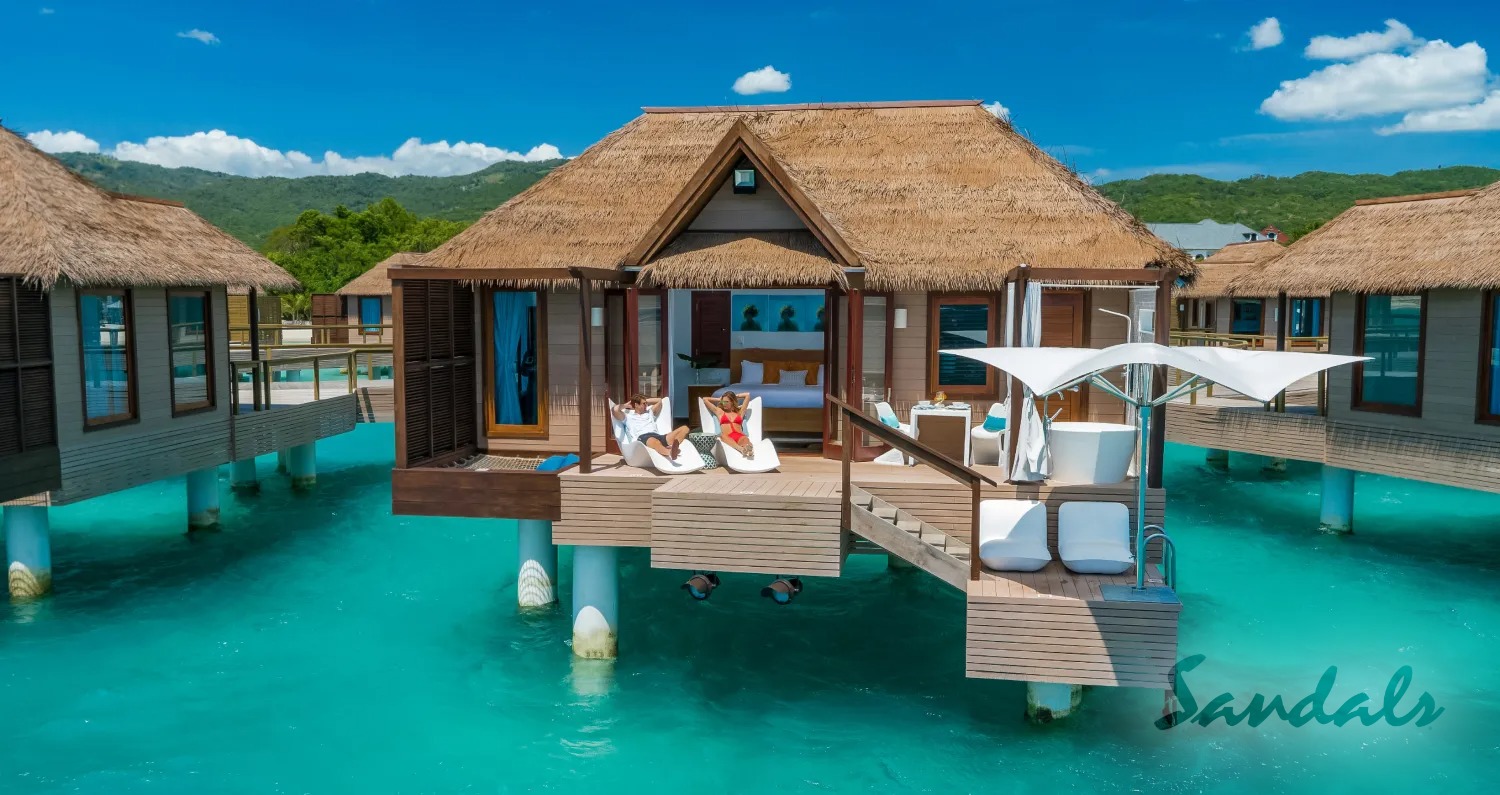 Location
White House, Jamaica
Why Stay Here
Twelve of the most beautiful overwater bungalows Caribbean are in Sandals South Coast. What makes it a must-book? Apart from the fact that you get to stay really close to the famed Caribbean azure waters, you'll also have your own private beach cabana. Besides, it's a feature that's exclusive to this Sandals property.
This is a dreamy sanctuary for couples who wish for a true disconnect from the world in order to truly reconnect with each other. It's nestled within a 500-acre wilderness preserve thick with palm groves. It's home to nine world-class eateries, seven bars, and an array of exciting amenities and excursions. Travel is convenient from the airport because there's a newly built road and they also cover roundtrip transfers. Plus, it has Jamaica's largest zero-entry pool. What more can you ask for?
Other Notable Feature
More overwater amenities like a wedding chapel and a restaurant
Caribbean's longest river pool, which spans over 17,000 square feet
---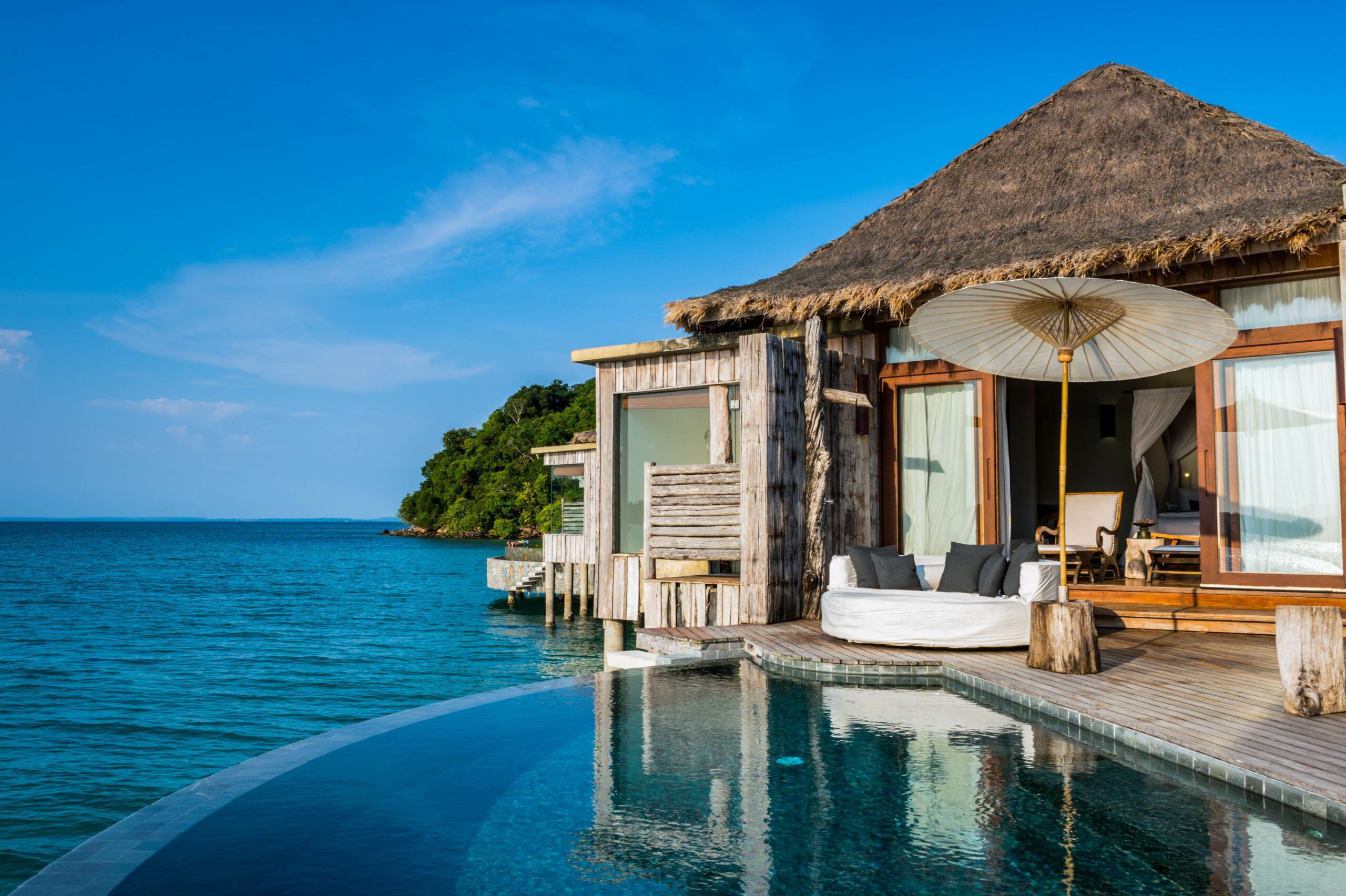 Location
Koh Rong Archipelago, Cambodia
Why Stay Here
If you are someone seeking something ethical and luxurious for your honeymoon, Song Saa Private Island is the place to be. This sustainable property spans Koh Oeun and Koh Bong islands in the Ko Rong Archipelago. Moreover, it offers the best of the Cambodian coastline with vibrant reefs, sugary sand beaches, and incredible views, especially during sunset.
Despite the 1.2-hour boat ride and drive from the Sihanoukville International Airport, rest assured that the experience of staying in an all-inclusive hideaway is really worth it. Their overwater villas offer direct ocean access. And if you want more fun in the water, they offer water sports activities like sailing, kayaking, and snorkeling.
Other Notable Features
Spa and wellness sanctuaries
Ecological and cultural programs
---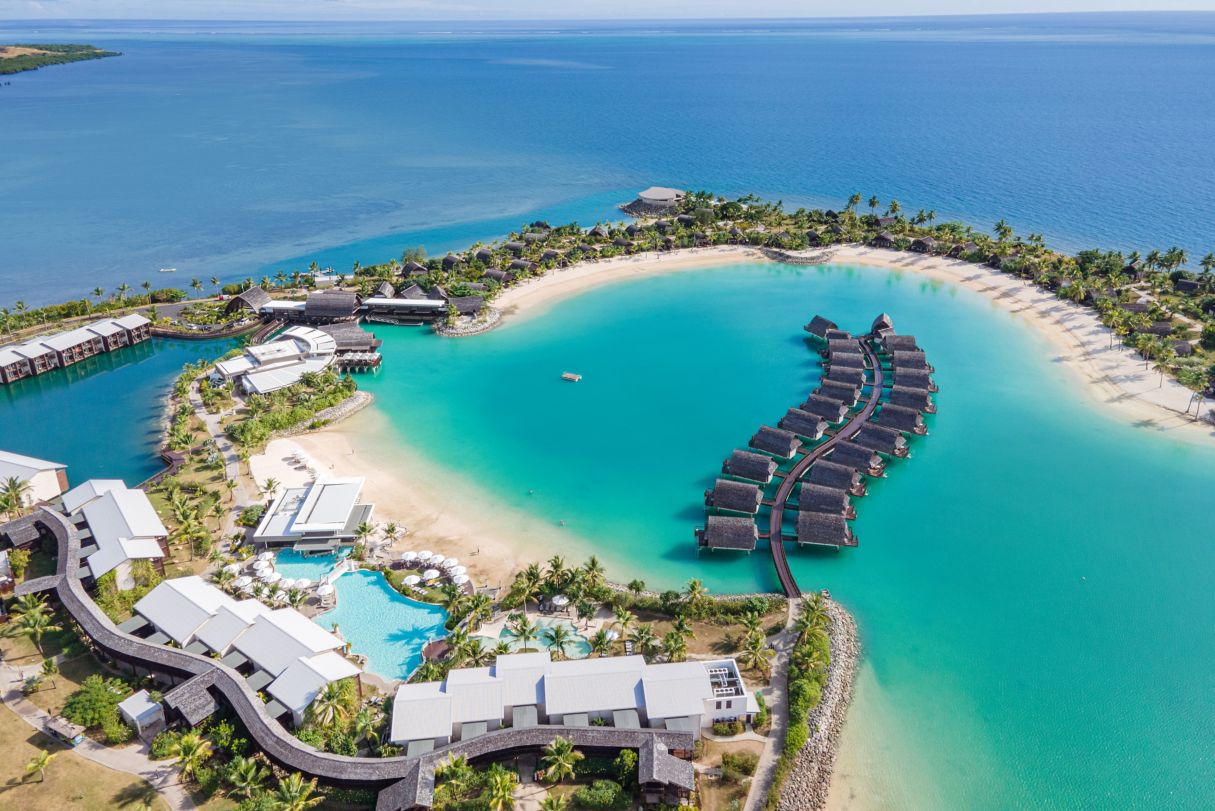 Location
Momi Bay, Fiji
Why Stay Here
Venturing into the South Pacific is always a good idea, especially for a memorable trip like a honeymoon. And when you escape to Fiji Marriott Resort Momi Bay, you'll have the chance to stay in utterly unique suites. The resort has over-the-water bure accommodations that stand apart from your usual above-water bungalow: They have high-vaulted ceilings, a private outdoor deck, and a distinct Fijian styling.
While the resort is family-friendly, they have overwater bungalows exclusive to adults. Beyond your accommodation, you can enjoy various attractions and activities like diving and surfing.
Other Notable Features
Eateries and bars that offer cuisine mainly inspired by Fiji
A packed event calendar that includes wide-ranging classes and activities (e.g., cocktail making, fish feeding)
---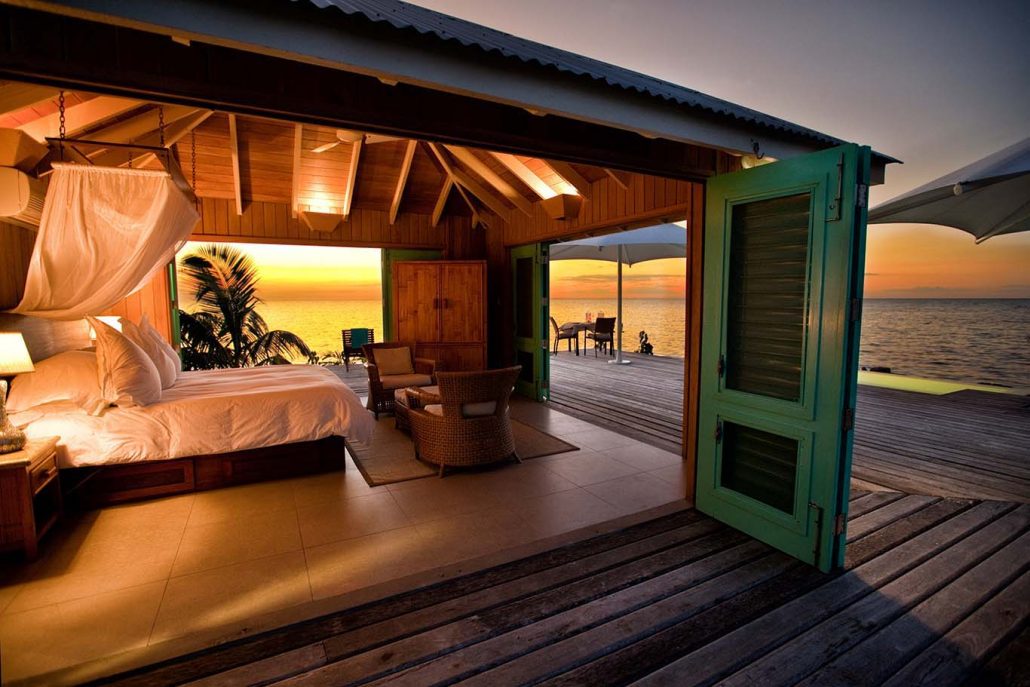 Location
Cayo Espanto
Why Stay Here
Cayo Espanto is more than your ordinary private island. In essence, It is an oasis just two hours from Miami and Houston. Located just off the coast of Belize, it's the perfect setting for an exclusive escape for your post-wedding retreat. While it's a secluded sanctuary, it's a great place for celebrity sightings (Past guests include Bill Gates and Tiger Woods).
Apart from its gorgeous beachfront villas, the star of this resort is its overwater bungalows that the Caribbean Sea surrounds on all sides. It has its own private dock, nightly turndown services, and access to award-winning chefs that offer meals cooked just for you.
Other Notable Features
Luxurious spa treatments
Wide-ranging activities like fishing, scuba diving, snorkeling, bird watching, and Mayan ruin explorations
---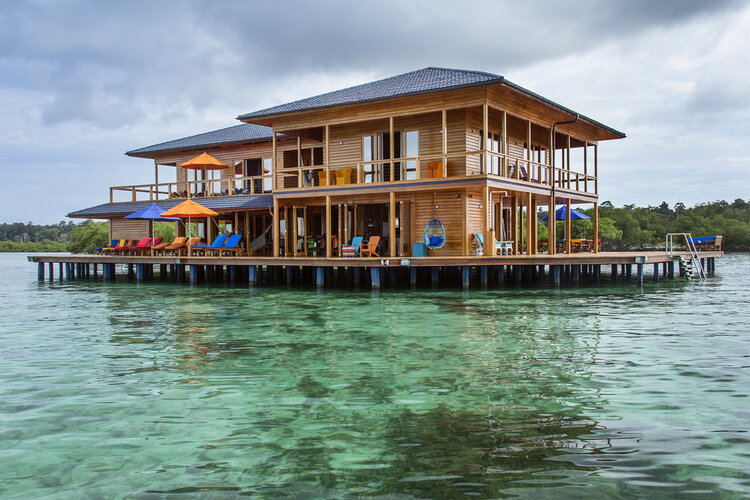 Location
Bocas del Toro, Panama
Why Stay Here
The Caribbean coast of Panama is home to this enchanting private island, organic farm, and overwater villa. Nestled in a lush jungle surrounded by waters where turtles and dolphins take refuge, it's a self-sustainable sanctuary for travelers who want a secluded holiday experience.
The expansive 15-acre property boasts overwater homes you can access by boat. The rooms are spacious, cozy, and are constantly replenished with farm-to-table creations from the resort's private chef.
On the island, you'll also find the second-largest freshwater lake in the region. There are also gardens, whimsical social areas, and art installations to complete a truly rejuvenating escape.
Other Notable Features
Special surfing packages to help you make the most of Bocas del Toro's famous waves
Excursions to local villages
---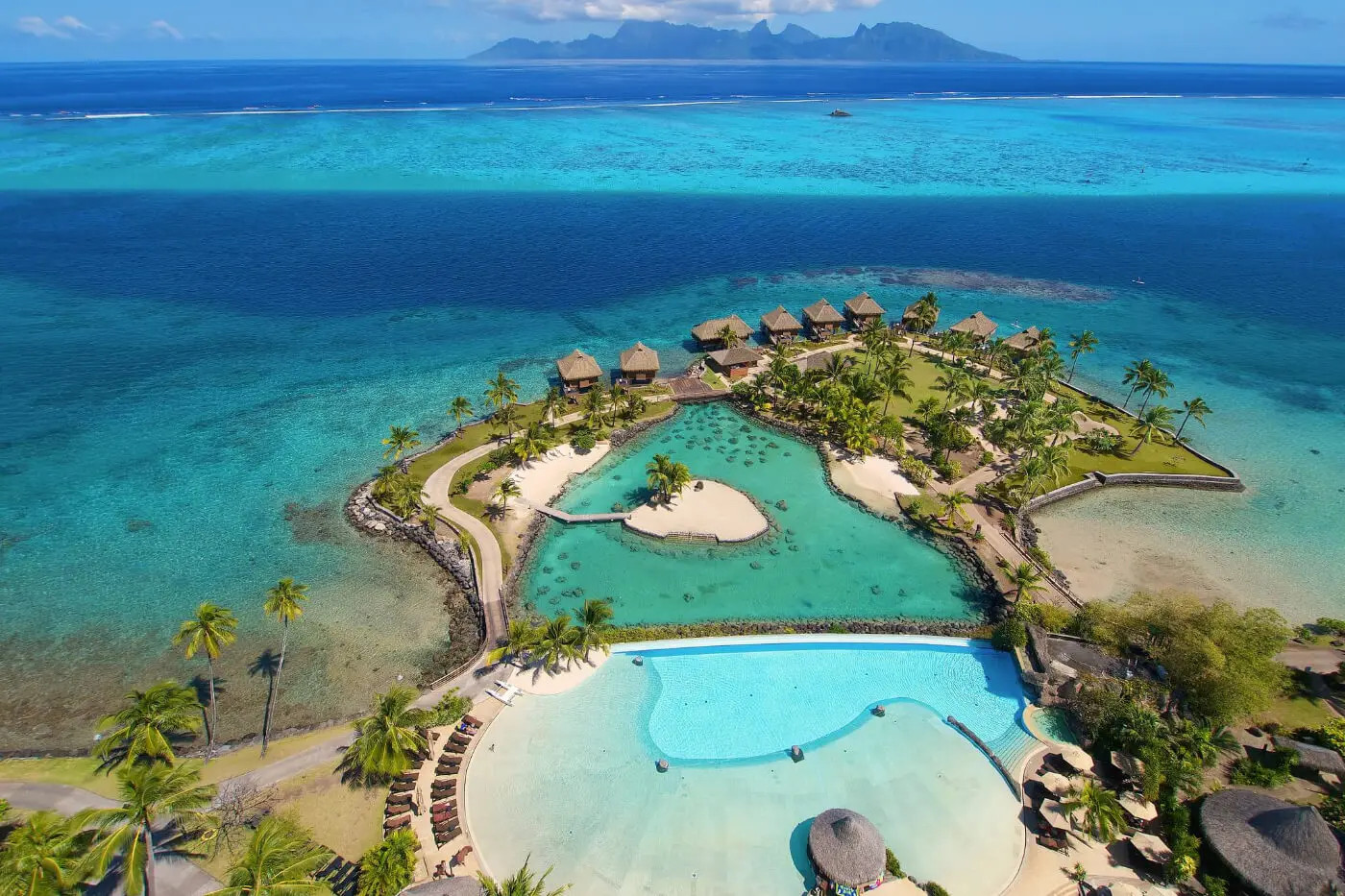 Location
Faa'a, Tahiti, French Polynesia
Why Stay Here
This oceanfront oasis is where you can see some of the most beautiful shades of greens and blues. The resort touts verdant gardens backdropped by a crystal-clear aquamarine lagoon. The array of dramatic volcanic peaks in the background adds an interesting character to this vista.
You don't have to imagine waking up to such magnificent views simply. Book one of their overwater bungalows (they have 31) to make it one of the best experiences you'll ever have.
The resort also offers excursions that range from plainly adventurous to culturally immersive experiences. You can drive to the east coast and get amazing coastal and mountain views. Alternatively, you can go dolphin watching or explore museums and learn more about Tahiti and nearby islands.
Other Notable Features
Spa treatments and therapies, Tahitian-style
On-site dive center, the only PADI Five-Star diving facility in French Polynesia
---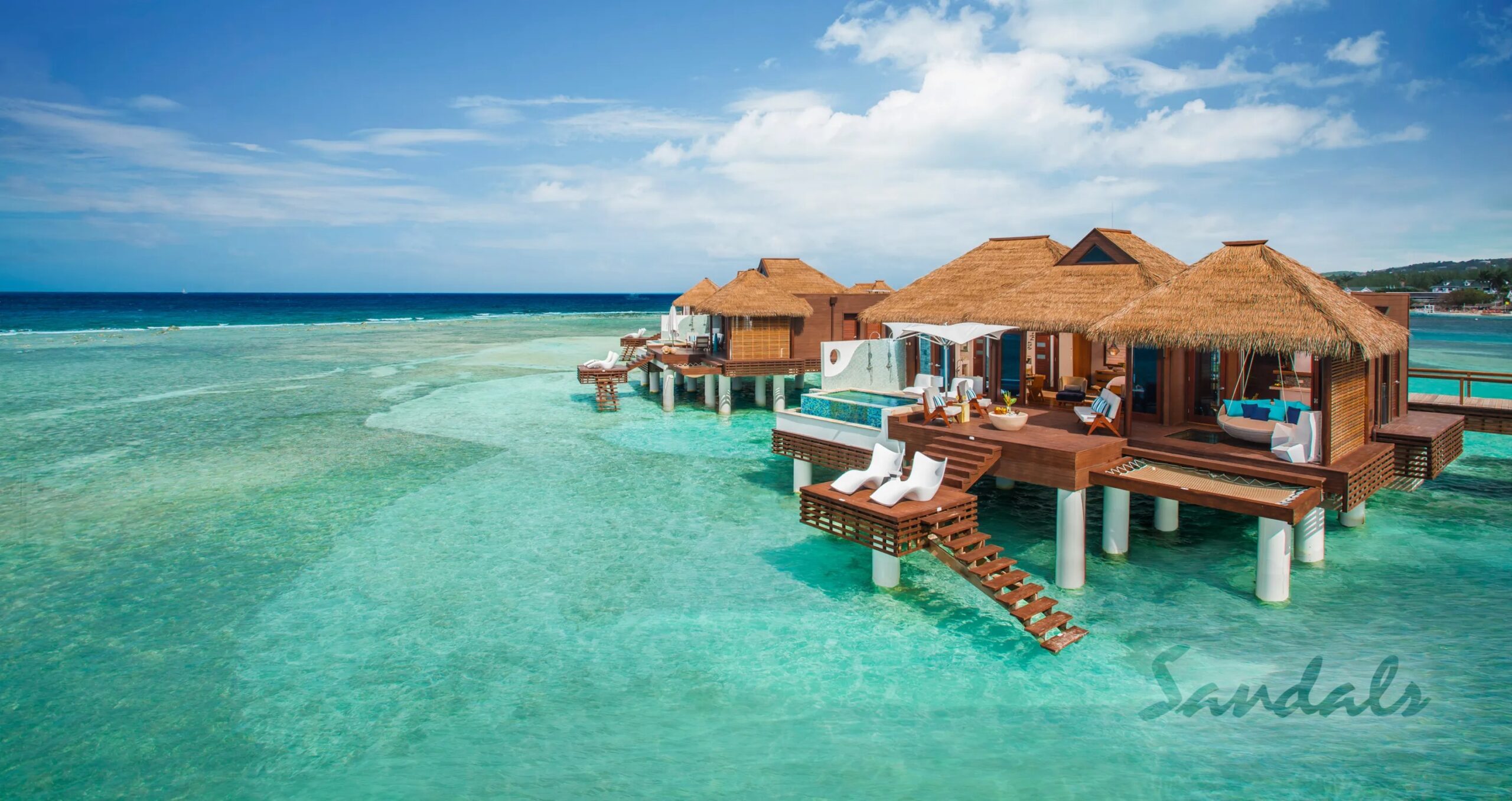 Location
Montego Bay, Jamaica
Why Stay Here
Choosing an all-inclusive honeymoon package with overwater bungalows is one of the best decisions you'll make in your (newly) married life. And if you're escaping to Jamaica for your post-wedding getaway, take note that Sandals Royal Caribbean has two types of overwater accommodations located off the resort's own private island for you to consider.
One is a "regular" overwater bungalow, and the other is an overwater villa. Although both options are already way more gorgeous than your typical hotel room, the latter adds an extra touch of indulgence: it comes with its own infinity pool. Regardless of which of the two you choose, you'll get Butler Elite service that will take care of your 24-hour in-room dining and travel to and from the mainland.
Other Notable Features
More amenities at the resort's private island
Access to Sandals Montego Bay, which has its own over-the-water collection inclusive of gazebos, a bar, and a chapel
---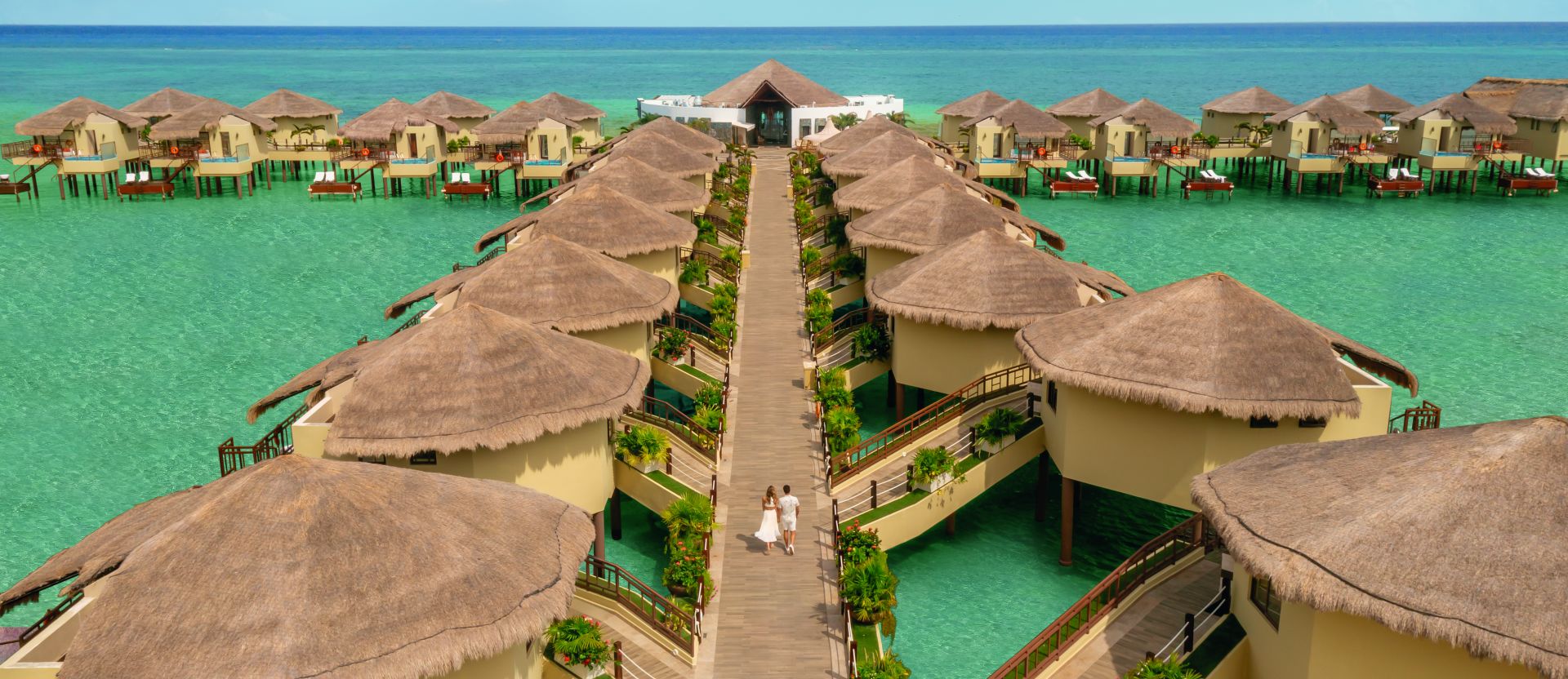 Location
Playa Del Carmen, Mexico
Why Stay Here
Mexico's coastal resort town has many resorts to offer. But one of the best is El Dorado Maroma, which takes pride in having the first overwater bungalows in the area.
Palafitos-Overwater Bungalows boasts 30 private bungalows perched above the pristine waters of Maroma Beach. There's a long list of reasons why you should book this place. First and foremost, they come complete with a private infinity pool, an outdoor shower, and postcard-worthy views of the Caribbean Sea. Moreover, it offers full butler service, 24-hour room service, and daily in-bungalow breakfast. And speaking of meals, you'll also get to access top-notch cuisines that celebrate vibrant Latin flavors. To sum up, if you and your soulmate are big fans of Mexican, Peruvian, and Caribbean dishes, you're in for a superb gastronomical treat.
Other Notable Features
Customized beach picnics
A range of excursions, including scuba diving, swimming with dolphins, and camel safari tours
---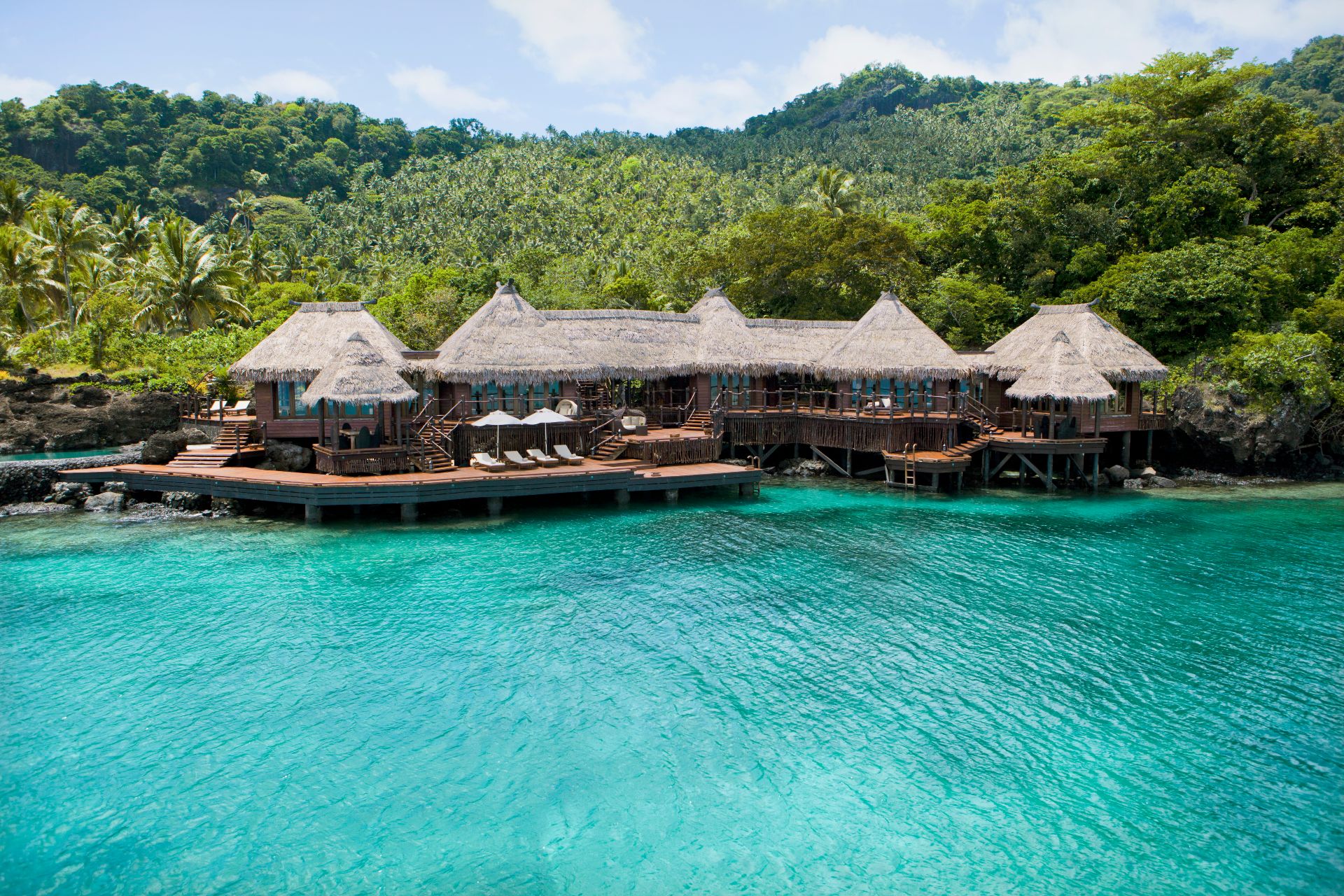 Location
Laucala Island, Fiji
Why Stay Here
A unique overwater luxury is what awaits you and your loved one at COMO Laucala. Putting its expansive and awe-inspiring outdoor spaces to good use, the private island features 25 villas with an estate-like appeal. They also have their own pools, giving you more reason to enjoy the quiet seclusion this type of accommodation gives.
But if you want to feed the adventurer in you, this resort won't let you down. They offer a tour of the island's 240-acre farm, horse riding, hiking, diving, surfing, snorkeling, and deep-sea game fishing. Likewise, you can keep your fitness goals in check at their state-of-the-art fitness center.
Other Notable Features
Cultural activities like cooking classes, island survival skills, and Fijian Kava ceremonies
Access to an 18-hole championship golf course
---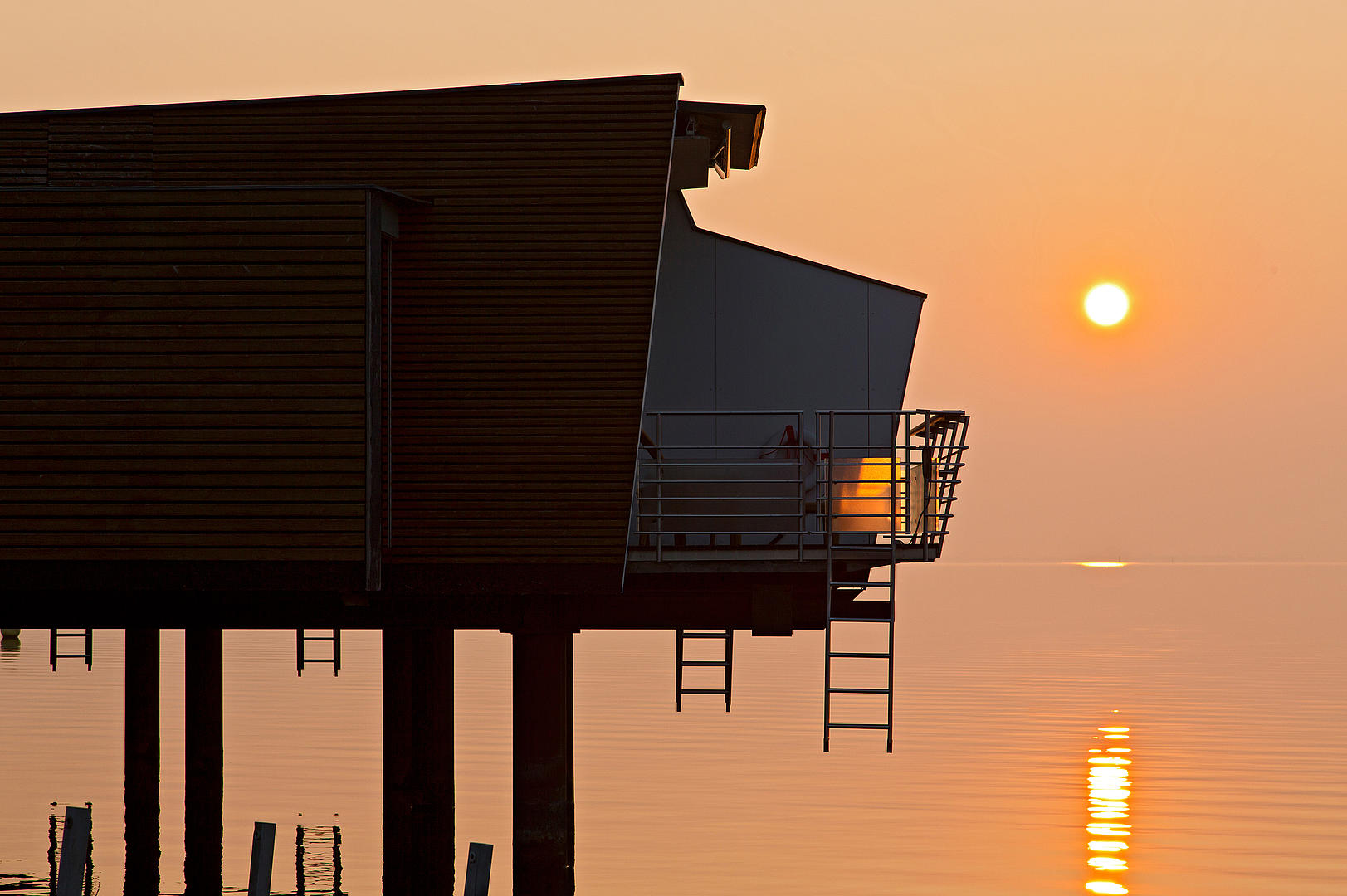 Location
Neuchâtel, Switzerland
Why Stay Here
Switzerland attracts millions of tourists, and the image of the country that may first come to mind is the stunning Swiss Alps and its cozy mountain villages. However, Hôtel Palafitte is here to give you another picturesque side of the country.
The hotel is the first in Europe with structures built on silts. It has 24 pavilions over the lake that radiate romance and luxury, offering you incredible views of the clear waters and the world-famous Alps. At an extra cost, you can enhance your stay with various packages, including a Love package that lets your pavilion be decorated with balloons, rose petals, and candles. It also comes with a bottle of champagne and a cup of seasonal fruit.
Other Notable Features
Various wellness activities, including massage rituals and fitness sessions
Bike rentals, tandem paragliders, kayaking, and more land-, air-, and water-based activities
---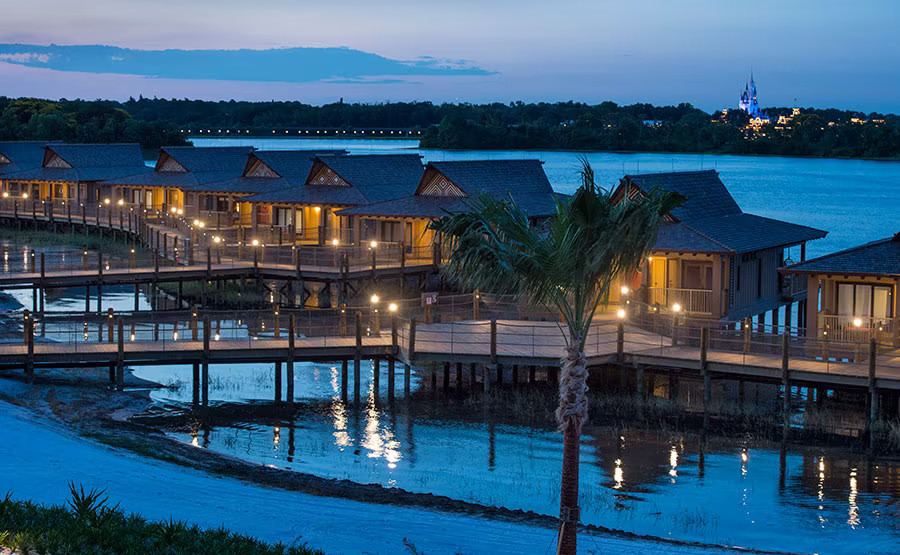 Location
Lake Buena Vista, Florida
Why Stay Here
Wondering if you can have an overwater honeymoon experience right within the US? This Disney property is the answer. Located on the southern side of the man-made Seven Seas Lagoon, this expansive resort draws inspiration from Polynesian above-water structures.
While it's best for families, this is an excellent place for you if you don't want to travel far and simply wish for an enchanting escape. Swaying palm trees, tikis, and verdant gardens characterize the resort's ambiance. You'll also enjoy access to nearby fun attractions.
Other Notable Features
A variety of activities at the Seven Seas Lagoon, like fishing and boating
Access to experiences like campfires and movies under the stars
---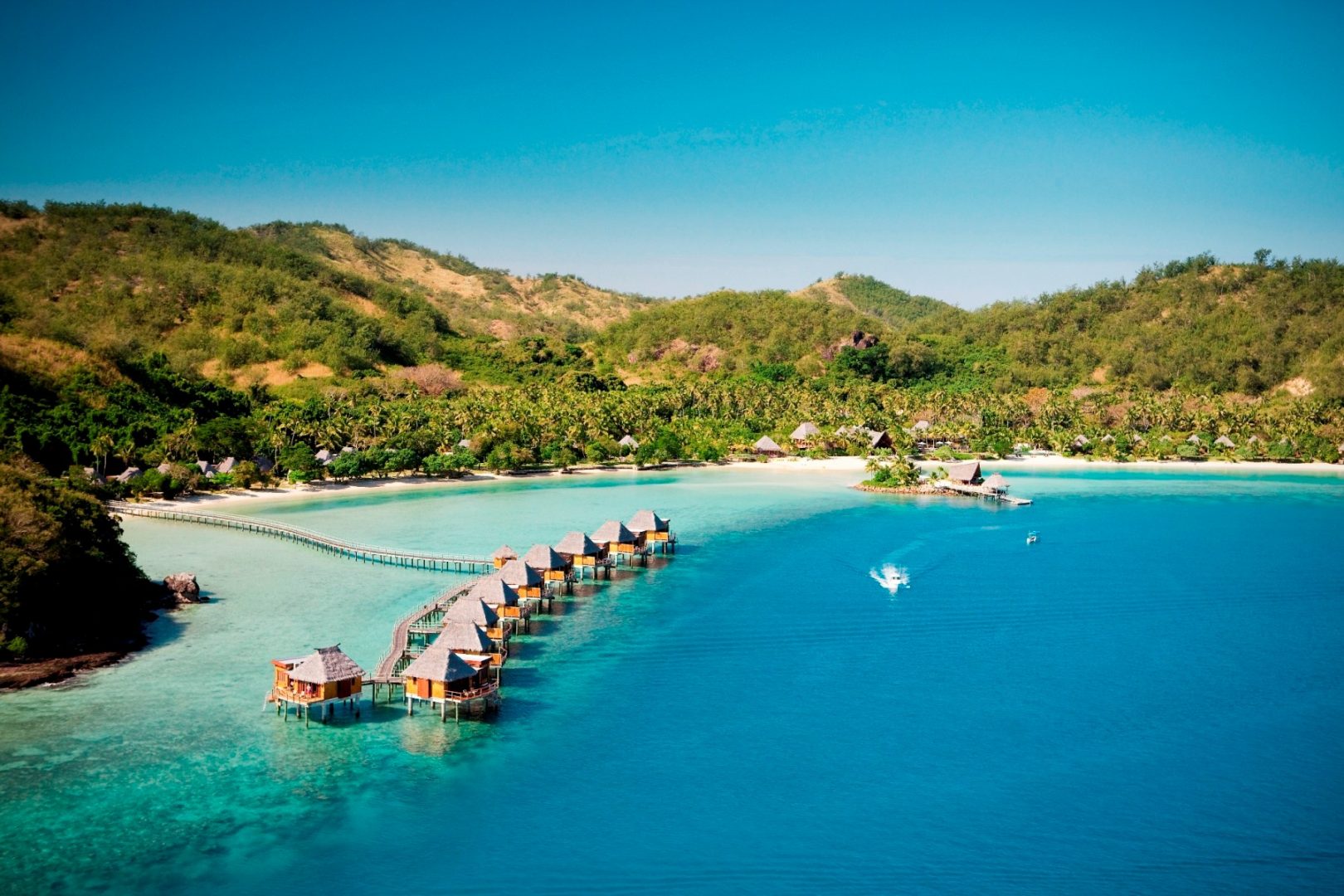 Location
Yaro, Fiji
Why Stay Here
The shores of a tranquil lagoon serve as the home of Likuliku (which literally translates to "calm waters"). It's an adults-only property with some of the best overwater bungalows for couples. These accommodations are also unique to this resort as it's Fiji's first and only authentic overwater bures (Fijian water cottage).
Sitting on the edge of a fringing reef, these spaces highlight the area's traditional architecture. These bures are a place to call home and not to mention they are imbued with that signature warm Fijian hospitality. And if you want to taste more of the country's culture, the on-site restaurant offers meals that use only the finest local produce. Your daily tariff includes a full breakfast, lunch, and dinner.
Complete your laidback luxurious experience with activities like sunset cruises and island hopping.
Other Notable Features
Access to cultural experiences like village trips and Fijian Kava ceremonies
Access to a vibrant underwater world via snorkeling or diving
---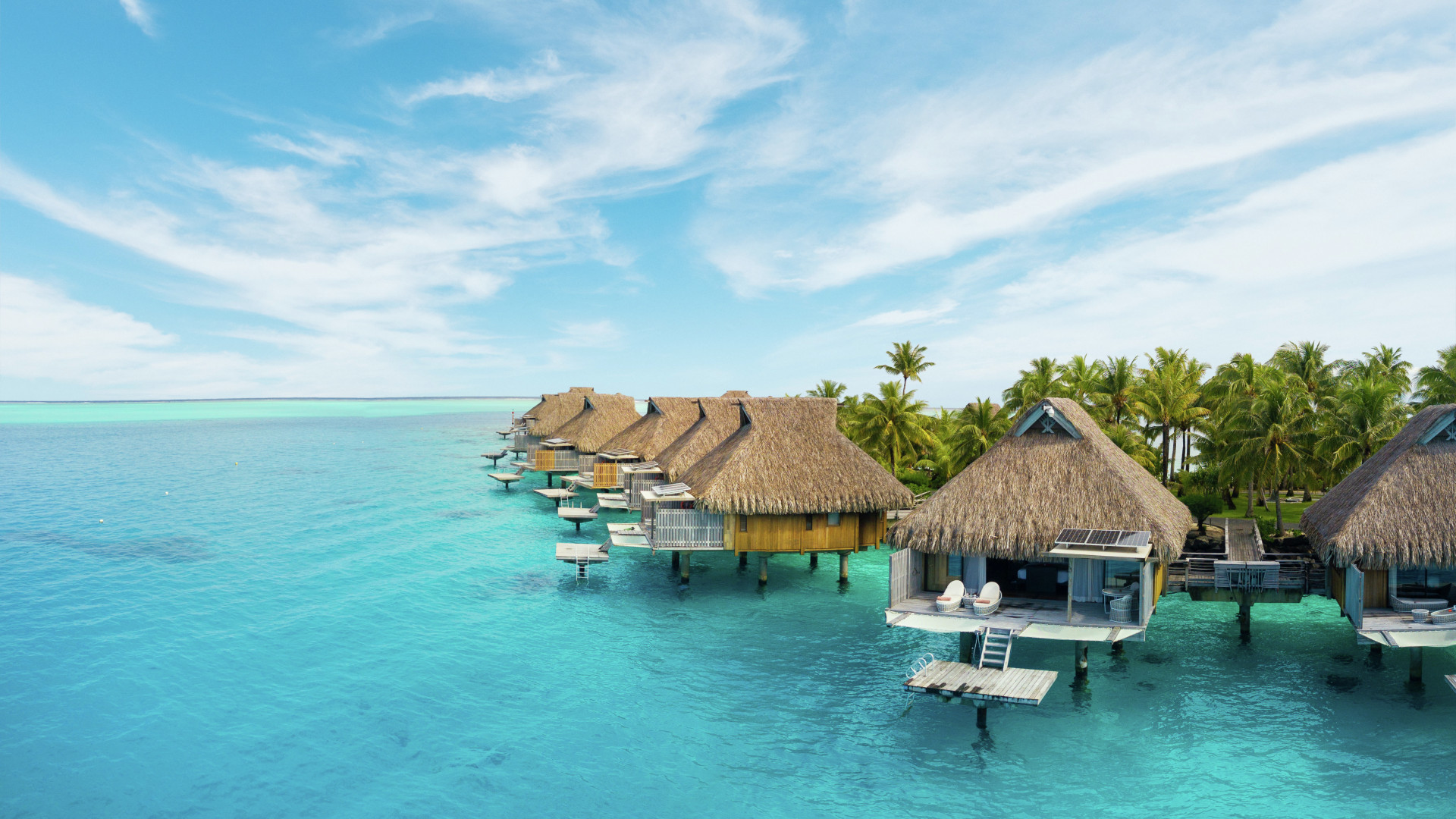 Location
Bora Bora, French Polynesia
Why Stay Here
In the private cove of Motu To'opua, you'll find grand overwater villas floating on sparkling South Pacific waters. We say "grand" because these accommodations have two stories, and they're the only bungalows designed as such across French Polynesia. While the surrounding views are enough to soothe hearts, the resort also offers a spa experience to help you fully rejuvenate. The use of black love rocks provides a natural healing touch.
More than just an idyllic honeymoon destination, it can also serve as your wedding venue (they offer wedding planning services). World-class dining experiences will round up the list of things to love on this side of the South Pacific.
Other Notable Features
Exclusive access to Motu Tapu, considered the region's most photographed islet
Couple-centric activities like a canoe breakfast, a dinner for two, and a romantic stargazing experience (complete with champagne and sweet treats)
---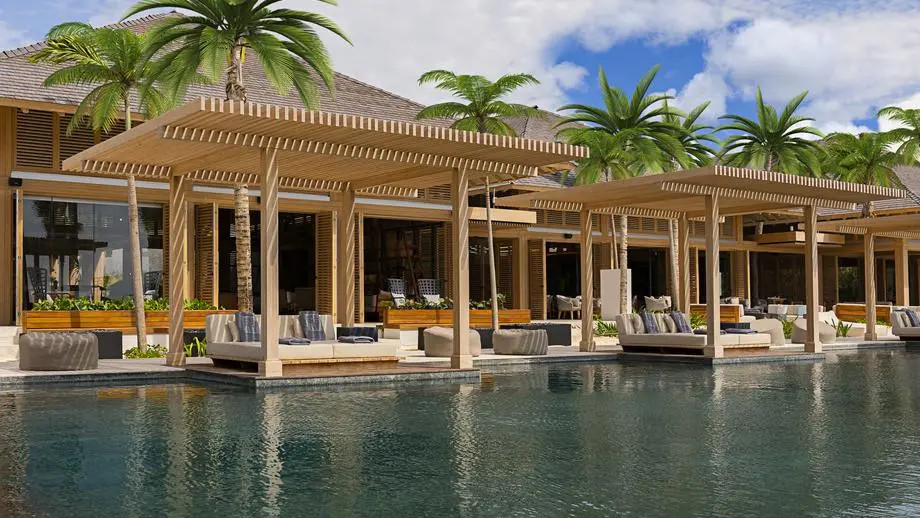 Location
Playa del Carmen, Mexico
Why Stay Here
Banyan Tree Mayakoba offers not your ordinary overwater accommodations. They have Lagoon and Sunset Rooftop Pool villas that sit above the lagoon. If your idea of an overwater honeymoon experience is staying in a beach-located structure, this resort is here to widen your horizons and serve up a rather captivating alternative.
Two floors boast an open, spacious layout, seamlessly blending the indoor and the outdoor. It comes with its own plunge pool (heated for your comfort) and an outdoor whirlpool bathtub and shower.
The oasis also offers various activities that allow you to take home the best souvenirs you could ask for– long-lasting memories. Go on a traditional trajinera boat dining experience, try their hydrothermal spa facility, or embark on wine and tequila tastings.
Other Notable Features
Access to El Camaleon Golf Course, which is Latin America's first PGA Tour course
Excursions to Riviera Maya's cenotes, ruins, and local festivals and attractions
---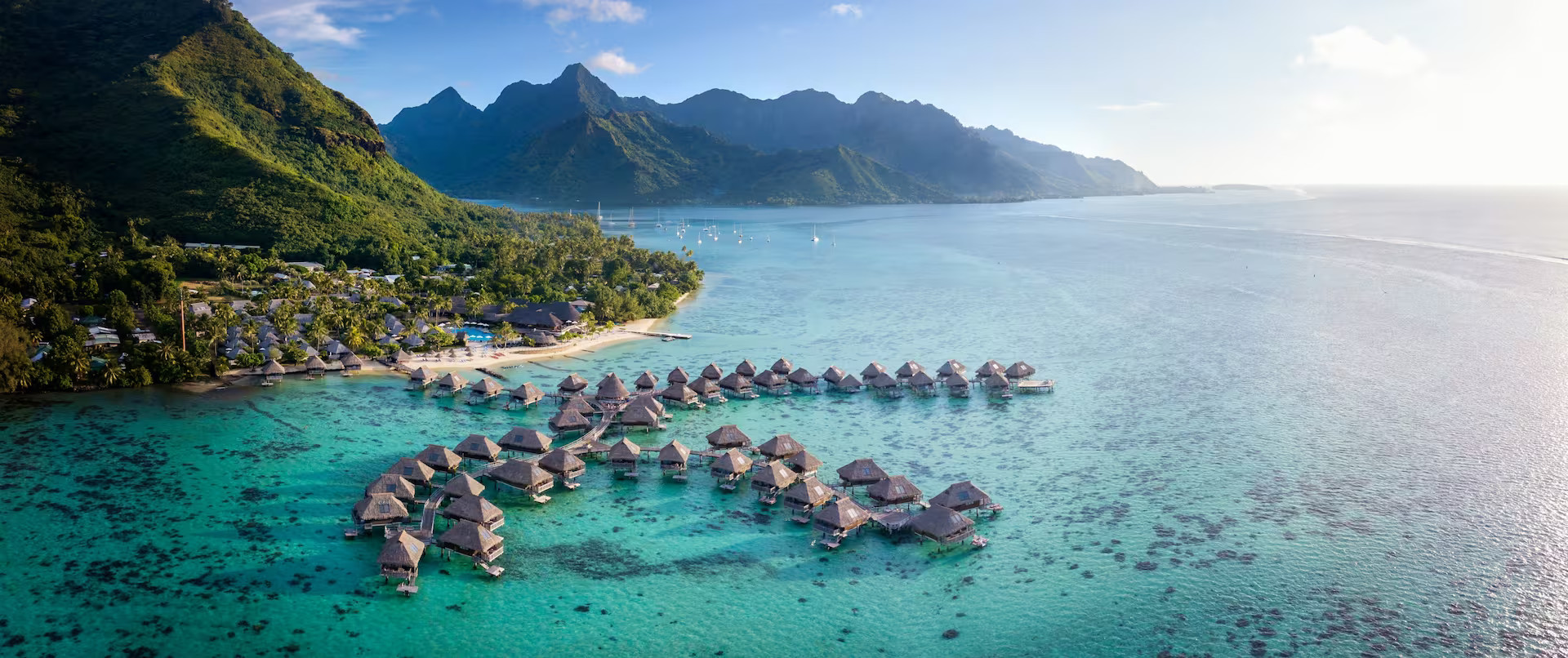 Location
Moorea-Maiao, French Polynesia
Why Stay Here
Want an eco-friendly honeymoon experience in the South Pacific? Hilton Moorea Lagoon Resort & Spa should be your top choice. While supporting sustainable practices, you and your better half can indulge in decadent amenities and accommodations — including over-the-water bungalows.
Two bays flank the resort. And with lush, green mountains comprising a part of your backdrop, you won't have to compromise between ocean and mountain views.
Your stay here is also cost-effective as booking a room or suite already entitles you to free parking and access to their on-site restaurant, outdoor lagoon-style pool, fitness center, and business center. Wander around the pristine beach or sweat it off at their beautiful tennis court. And if you're into yoga, you and your loved one are welcome to take their yoga classes, too!
Other Notable Features
Moorea's sole over-water restaurant
Pampering spa services inspired by ancestral Tahitian techniques
---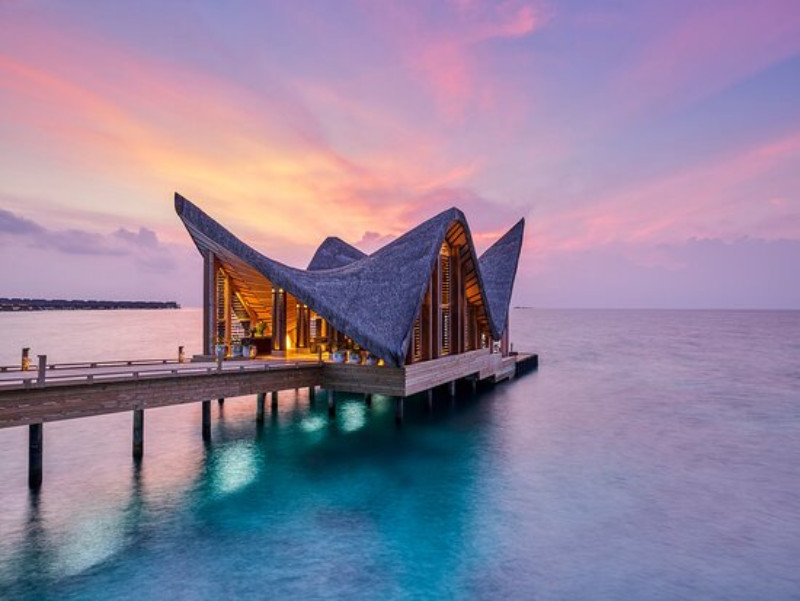 Location
Muravandhoo Island Raa Atoll, Maldives
Why Stay Here
JOALI is more than just a resort. It's an immersive escape that helps you rejuvenate your well-being. Tucked in the secluded, pristine island of Bodufushi, staying in an overwater villa here means being surrounded by crystalline lagoons and shimmering beaches. The music from the breeze and swaying coconut palm trees delight the senses. And the presence of your own butler takes away any stress.
Apart from the artistically and thoughtfully decorated accommodations, JOALI takes pride in being the first well-being island of its kind in the region. Their wonderful amenities pair well with wellness programs that aim to offer you and your loved one a transformative journey toward rejuvenation. Isn't it a meaningful way to commence a brand-new chapter in your life?
Other Notable Features
Well-curated wellness programs
Access to an open-plan dining space, which is home to three restaurants
---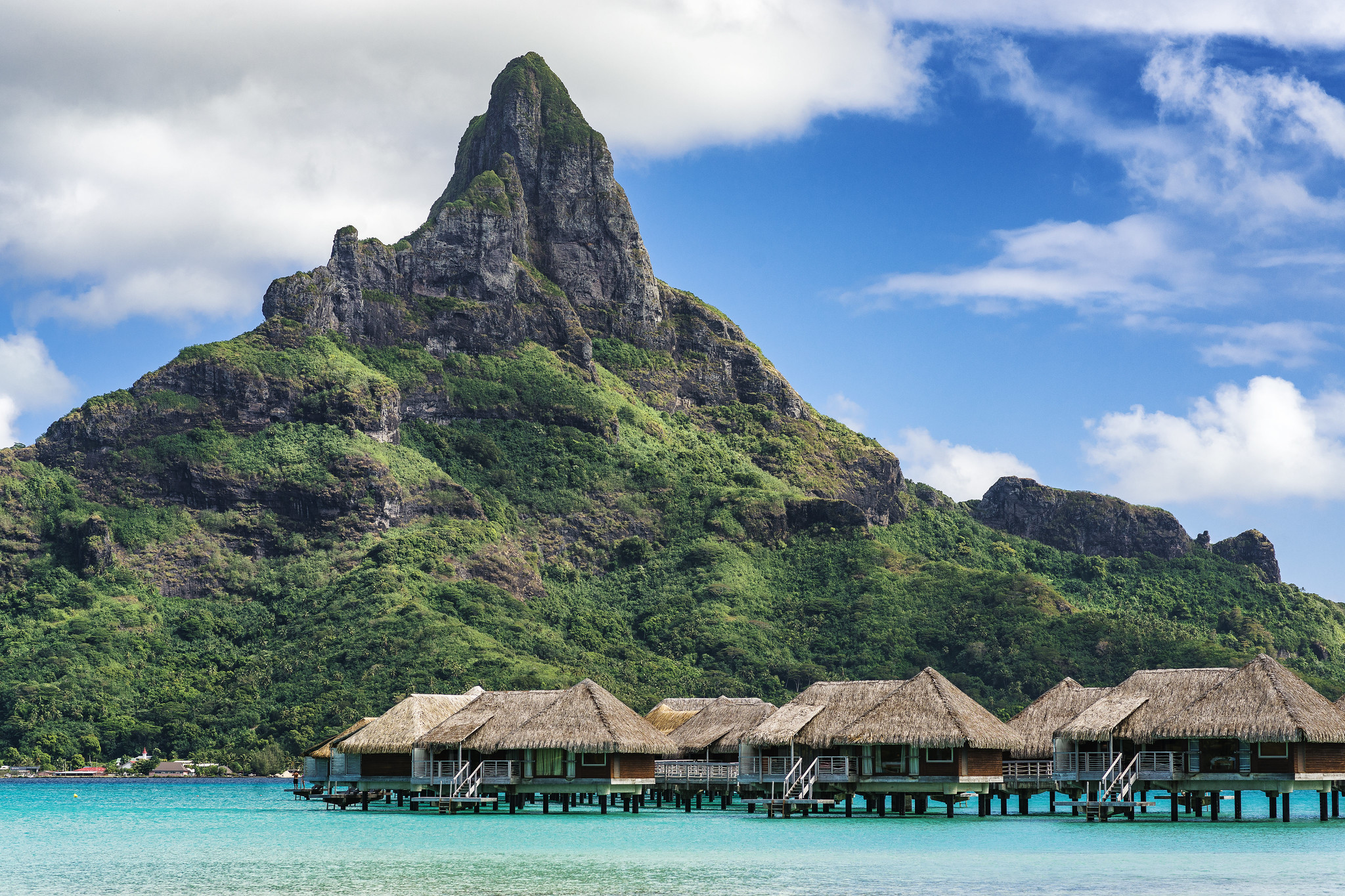 Location
Bora Bora, French Polynesia
Why Stay Here
This InterContinental property won't be called the Pearl of the Pacific for no good reason. Situated in Motu Piti Aau, it's a resort and spa that epitomizes tropical wonder. And what better way to bask in such magical beauty than staying at a bungalow perched above the clearest of waters? You can book a villa that overlooks the lagoon, beach, or Mount Otemanu.
Love is also definitely in the air as the resort offers a romantic package for honeymooners like you. You will get to stay in their overwater villa, macarons and a bottle of champagne, a romantic four-course dinner, and complimentary WiFi access.
As the resort is considered the most sublime spa destination in all of French Polynesia, you and your partner will have the ultimate wellness experience. Their spa center offers 360-degree ocean views and has dedicated areas for beauty care, hydrotherapy, and gentle energy.
Other Notable Features
Onsite Lagoonarium where you can see a variety of marine creatures
Excursions including diving and mountain tours and shopping trips
---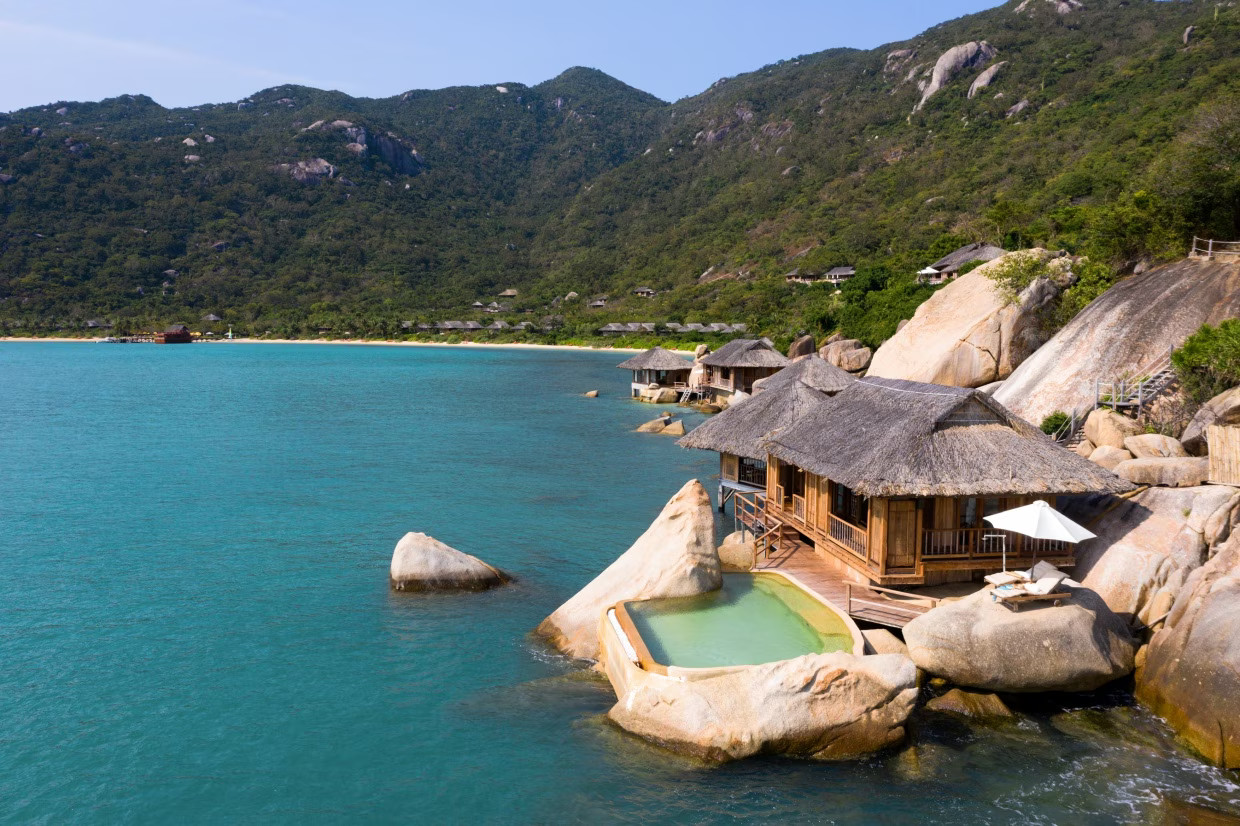 Location
Ninh Van Bay, Vietnam
Why Stay Here
Excite your senses when you choose to stay in one of this resort's overwater bungalows. While Six Senses is set on a bay overlooking the East Vietnam Sea, you'll feel like escaping to a remote island. Additionally, this is because the property is designed to give you an intimate experience, perfect for your post-wedding getaway plans.
Their villas come either with a sundeck or a garden terrace. And making your stay more convenient is your dedicated "guest experience maker."
But these villas aren't only the way you can reconnect with nature. They also offer various activities to nurture your beings — from cooking classes to hiking to island hopping. Certainly, there won't be any dull moment when you head to this Asian gem.
Other Notable Features
Excursions like boat charters and cruises and cycle rides into the charming Vietnamese countryside
Top-class eateries offering East-meets-West dishes
---
Location
Baa Atoll, Maldives
Why Stay Here
There's something enticing about the barefoot elegance that this tropical paradise exudes. Soneva Fushi in the Maldives provides an idyllic setting that combines the beauty of unspoiled beaches and stunning landscapes. More importantly, for couples on their honeymoon, another great reason to stay here is their collection of luxurious villas (including overwater ones).
Helmed by experts from different fields, the resort also offers sports and wellness experiences to complete your honeymoon experience. Likewise, make sure you take advantage of their dining options. If you want to know what it feels like to dine at the world's first fine dining cum ziplining experience, this is the place to visit.
Other Notable Features
Movie-watching experience under the stars
An immersive three-day, two-night journey into the best of the Baa Atoll (including snorkeling, diving, garden explorations, and cultural experiences)
---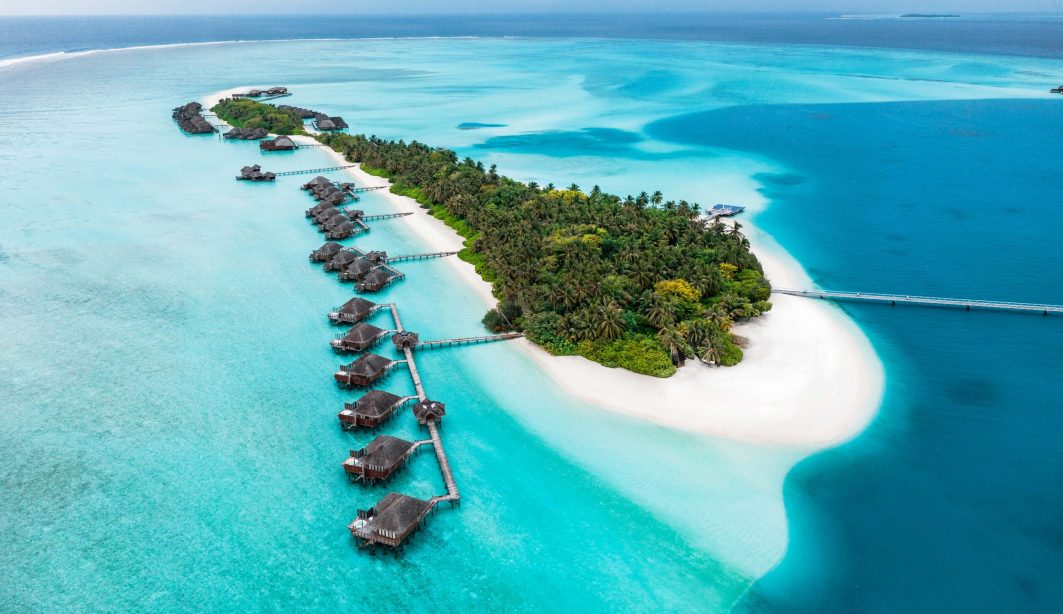 Location
Rangali Island Alifu Dhaalu Atoll, Maldives
Why Stay Here
This Conrad property is another Maldivian paradise to add to your list of possible honeymoon destinations. A stellar component of this sprawling resort is their adults-only sunset water villa. Soak up the sun in your infinity plunge pool, enjoy unobstructed ocean views, or dive right into the turquoise waters.
They also have an over-the-water spa if you want to try another over-the-water experience. Perched right about pristine waters, you can ease any stress you feel. If anything, it's a great reward for newlyweds like you who have undergone many preparations to pull off your big day.
Other Notable Features
Various ocean watersports like catamaran sailing, jet skiing, wakeboarding, and scooter-snorkeling
An adventure diver certification course (if you want to take your love for underwater wonders to a deeper level)
---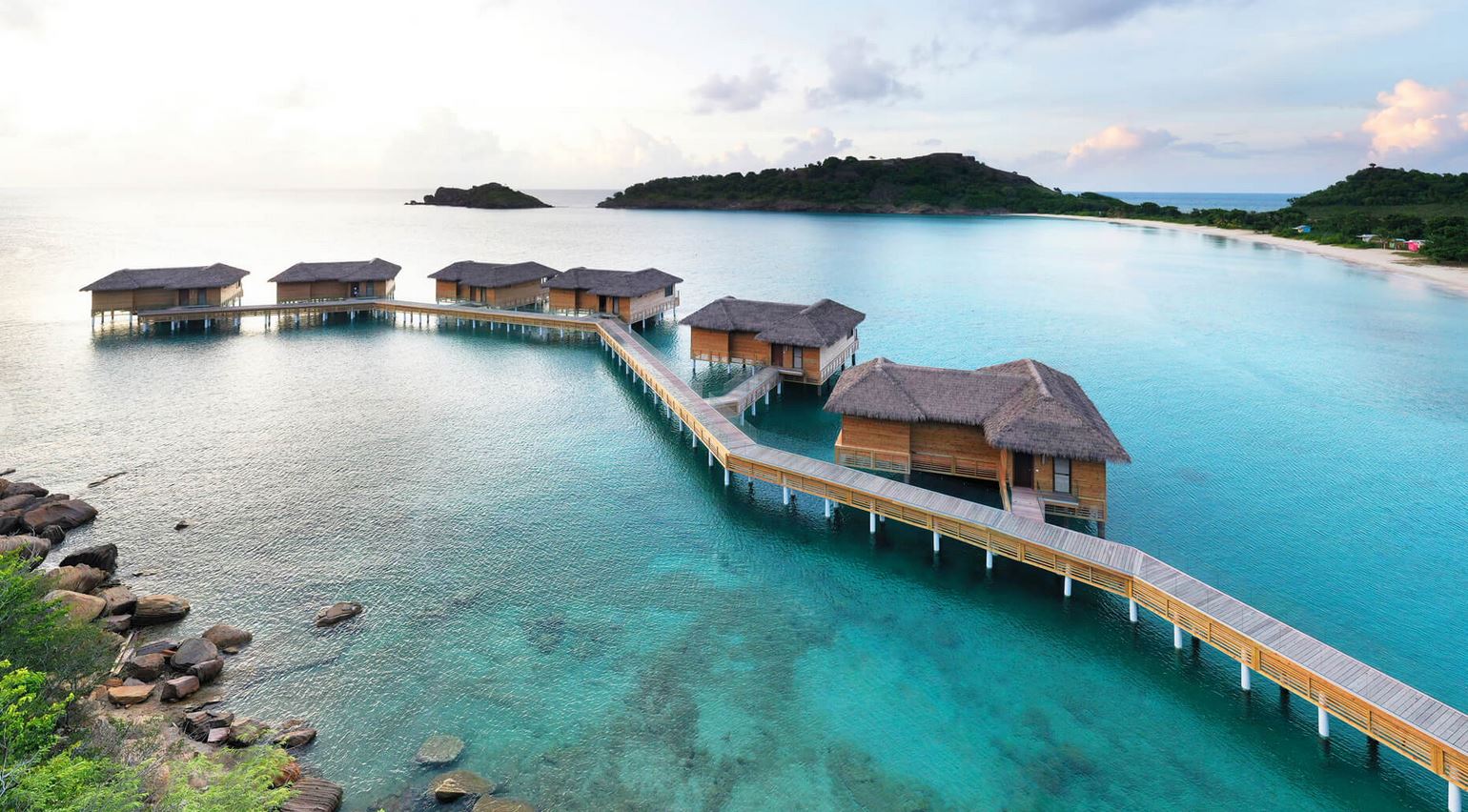 Location
Five Islands Village, Antigua
Why Stay Here
Though Royalton Antigua is family-friendly, its adults-only over-the-water bungalows provide privacy to honeymooners and casual couple travelers alike. There's a posh king-sized bed, an overwater hammock, and a beautiful swim-out infinity plunge pool. You're only a few steps away from the calm waters of John's Deep Bay. And because you got your own private butler, you won't have to lift a finger during your romantic stay.
You can also maximize their all-inclusive experience by checking out their restaurants, bars, and water sports equipment. Moreover, they have fitness classes and daily and nightly entertainment shows to enliven your experience. It's also nice to know that it's just 30 minutes from the airport, making this private paradise more accessible to couples like you.
Other Notable Features
A spa and a casino
Wide-ranging excursions like eco explorations, catamaran cruises, and Land Rover tours
---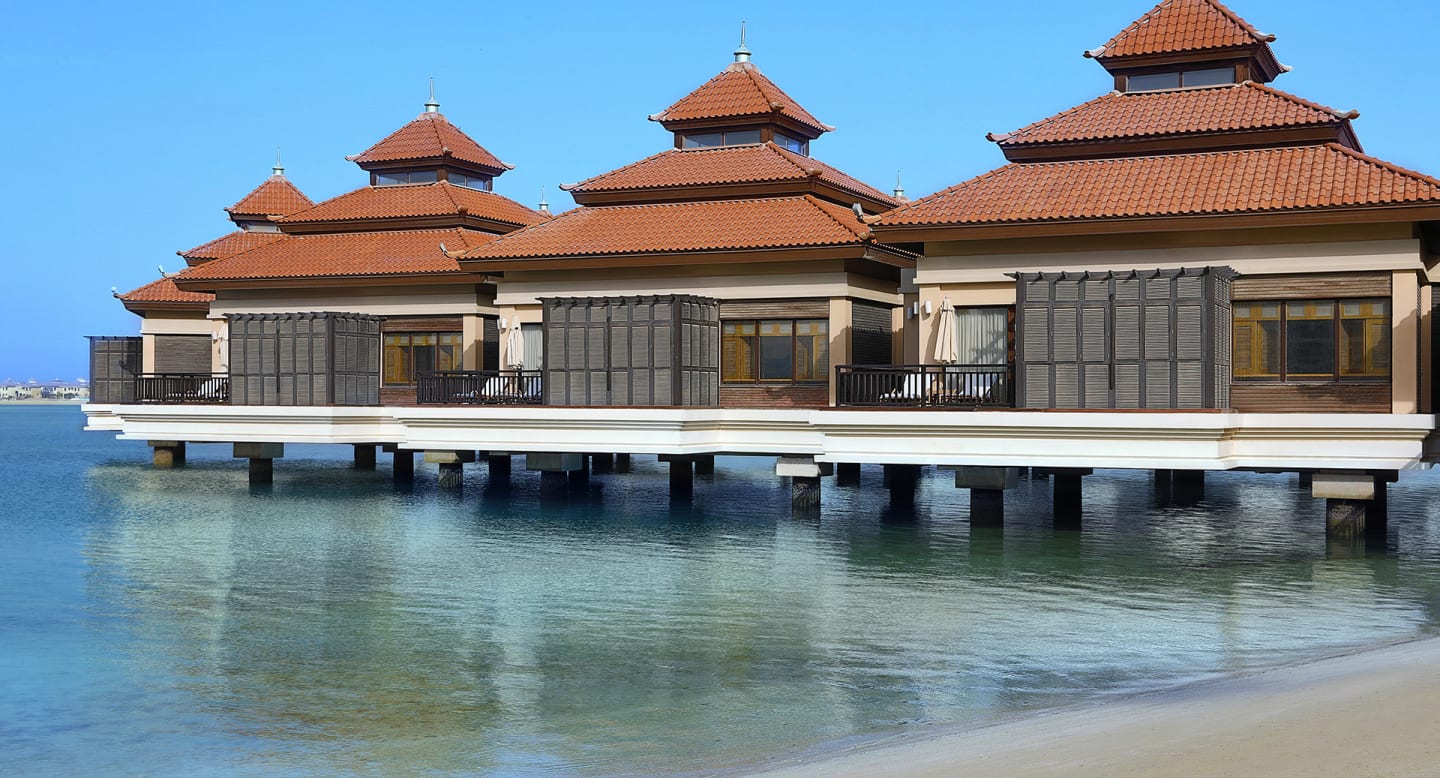 Location
East Crescent, Palm-Dubai, United Arab Emirates (UAE)
Why Stay Here
Palm Jumeirah is an iconic, tree-shaped island in Dubai. On its eastern crescent, you will find the gem that is Anantara. This cosmopolitan resort offers a world of luxury, and you and your significant other can fully immerse yourselves in that by staying in one of their overwater bungalows — the only over-water accommodations in the UAE.
This villa has an oversized soaking tub with incredible views of the Arabian Gulf, complimentary high-speed WiFi, and Villa Host service.
Its prime location puts you near glistening waters and some of the city's best attractions, including Dubai Mall and Burj Khalifa. As for your adventures, you can check out in particular their nearby Dolphin Bay, Lost Chambers Aquarium, and the Aquaventure Waterpark.
Other Notable Features
A 50m infinity pool surrounded by unique architecture and picturesque shoreline vistas
Watersports activities like water skiing, wakeboarding, kayaking, diving, and boat cruises