Indulge in the epitome of luxury at Sandals Resorts – the world's foremost chain offering its guests a 5-Star Luxury Included® experience. The lavish perks may vary based on the resort's location, but rest assured, a 5-Star Global Gourmet™, breathtaking spa treatments, limitless drinks, and an array of dining options are always part of the package. For those seeking the ultimate opulence, the allure of Sandals overwater bungalows proves irresistible.
The allure of these all-inclusive overwater bungalows extends far and wide, captivating every traveler's interest. They live up to the buzz with their awe-inspiring vistas, direct access to the azure Caribbean waters, and an added touch of seclusion. Presently, Sandals boasts three select destinations that feature exclusively adult-only overwater bungalows. Let's explore your choices and discover what sets them apart:
Our Resort Rating: 9.7
Number of Bungalows: 17
Average Cost per Night: $3,750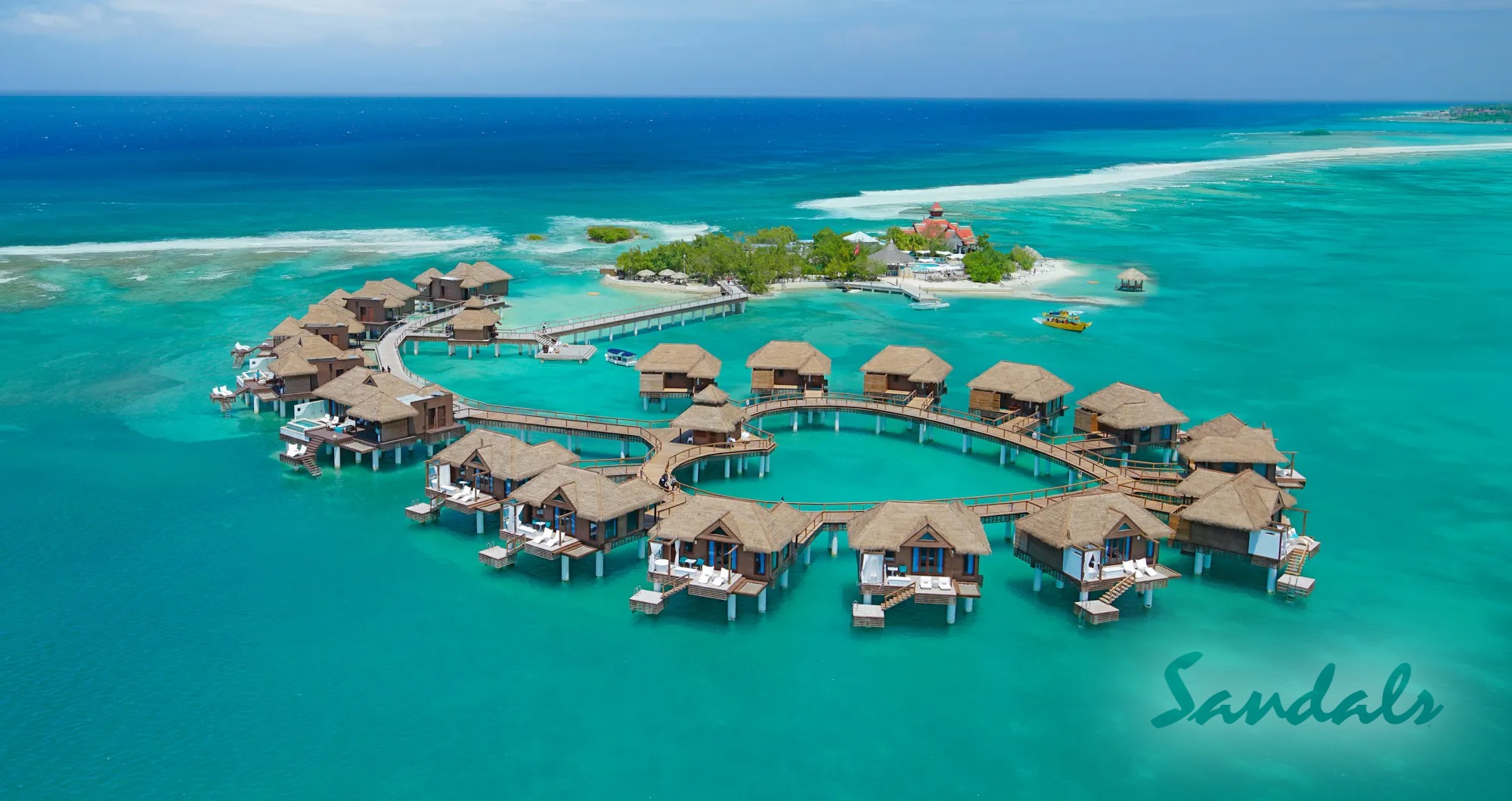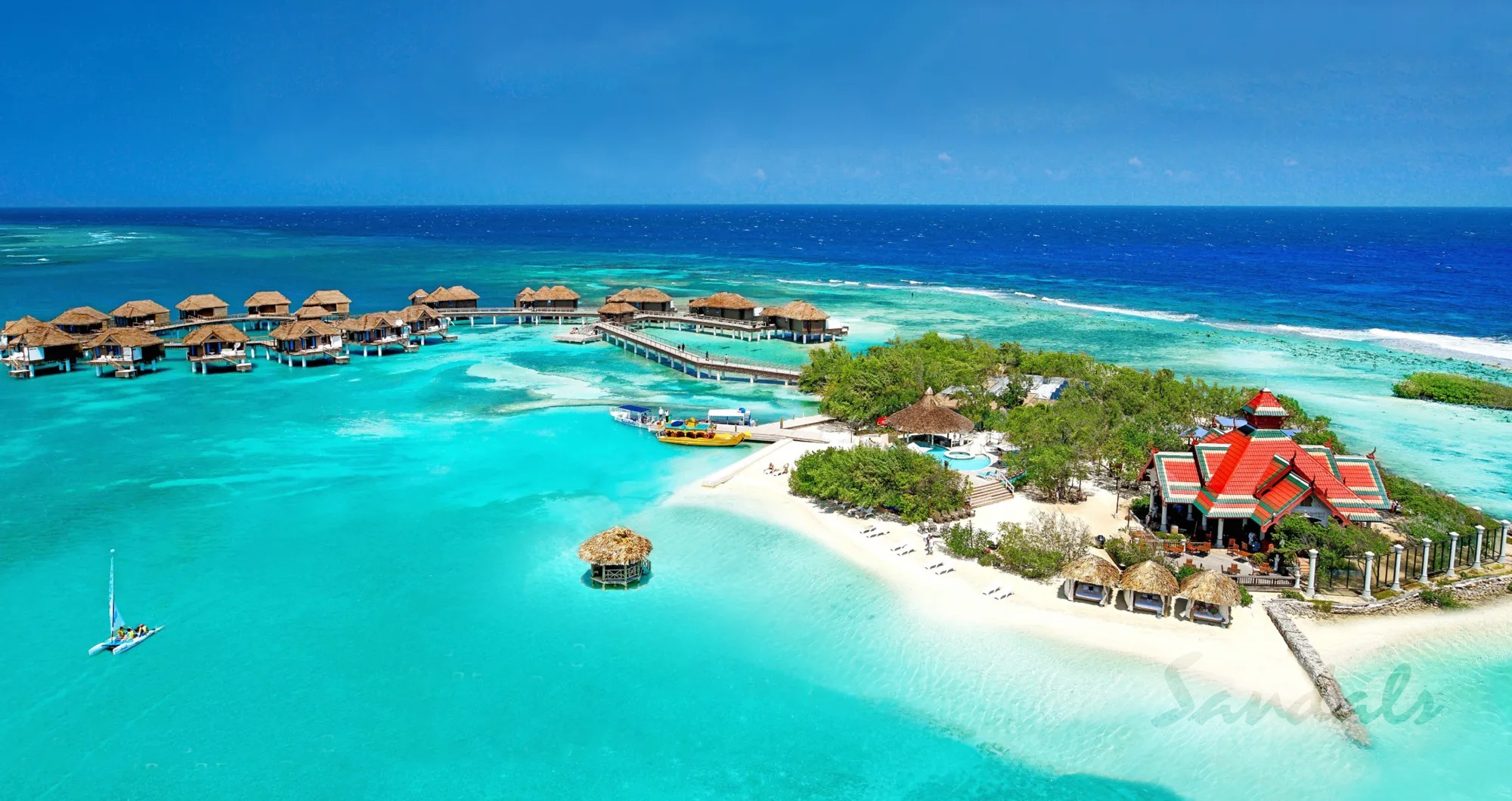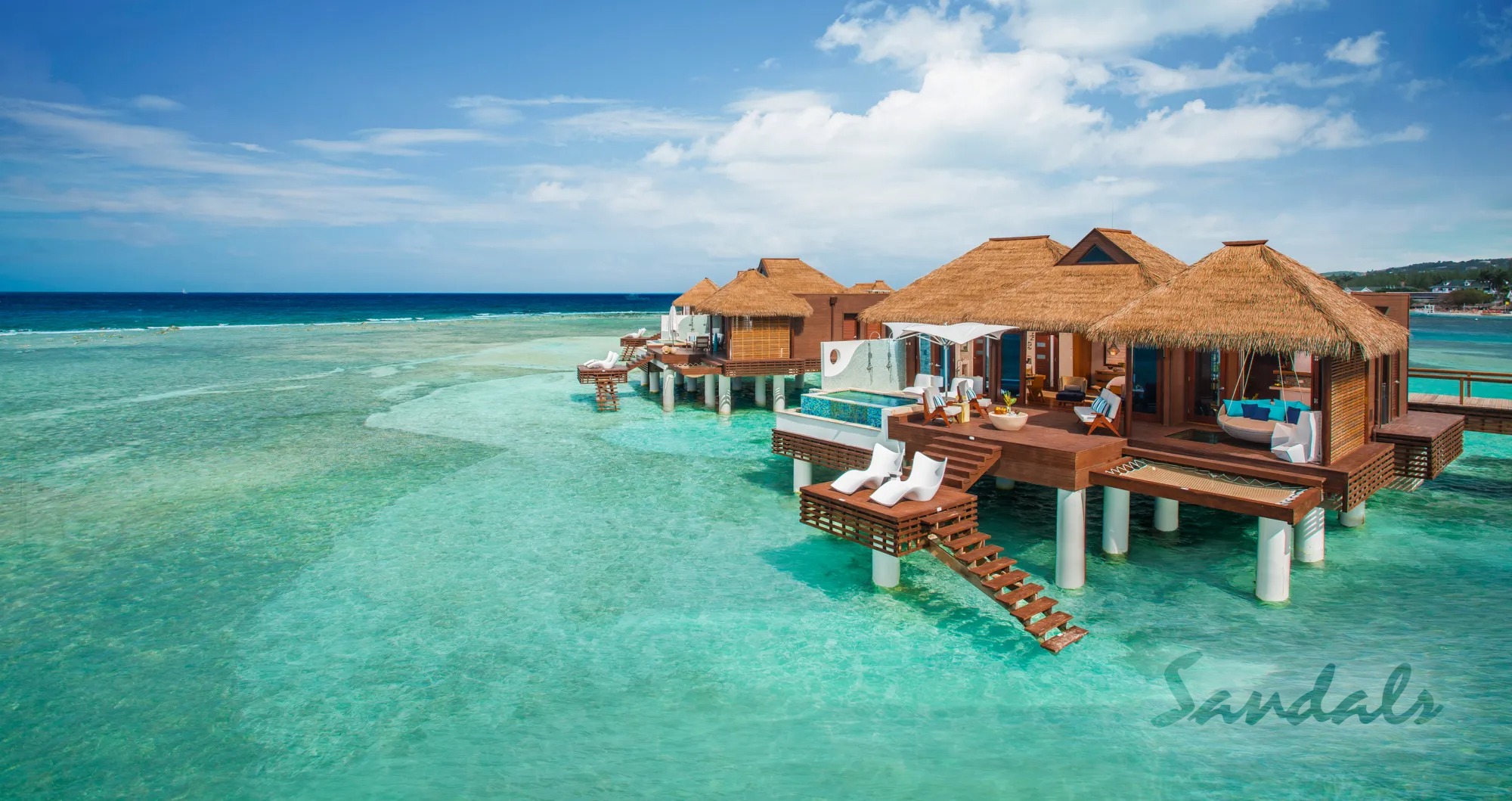 Discover the epitome of romance, privacy, and exclusivity at Sandals Royal Caribbean – a breathtaking resort in Jamaica that offers a remarkable private offshore island for its esteemed guests. Adjacent to the alluring overwater bungalows in the Caribbean, this secluded cove beach fulfills the dreams you've cherished.
Themed to celebrate British heritage, the resort delights guests with the tradition of afternoon tea, a charming touch to your stay.
Experience the lap of luxury as you relish the distinction of being Jamaica's sole resort with a private offshore island.
Indulge in the delights of 24-hour private butler services, savor 21 diverse dining options, including the renowned Thai Restaurant and Jamaican Jerk Shack, and bask in the sheer pleasure of your own infinity pool, mere steps away from your bungalow's door.
If your heart yearns for utmost privacy and exclusivity, the Overwater Bungalows at Royal Caribbean promise to surpass your expectations.
---
Our Resort Rating: 9.8
Number of Bungalows: 7
Average Cost per Night: $3,900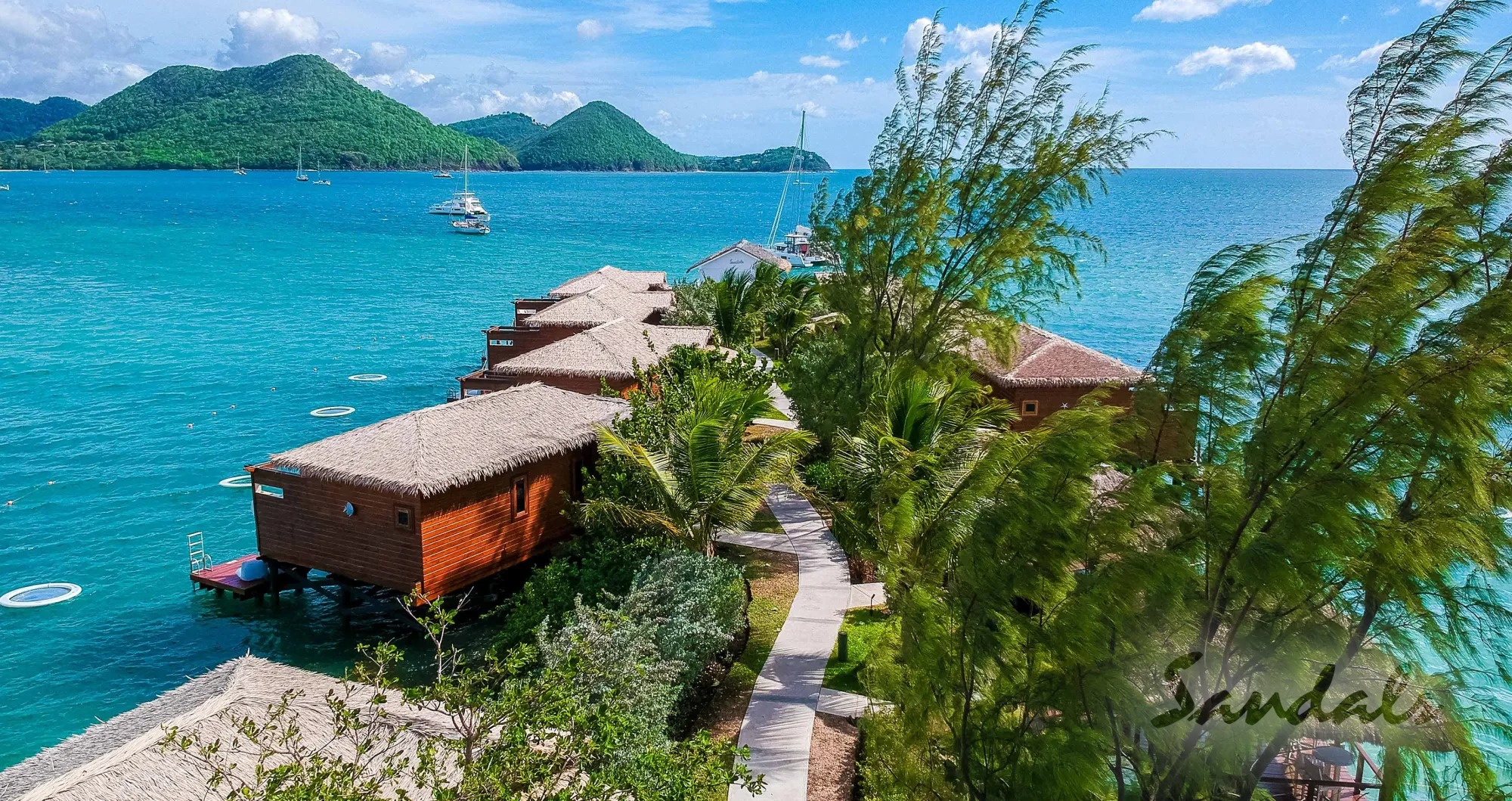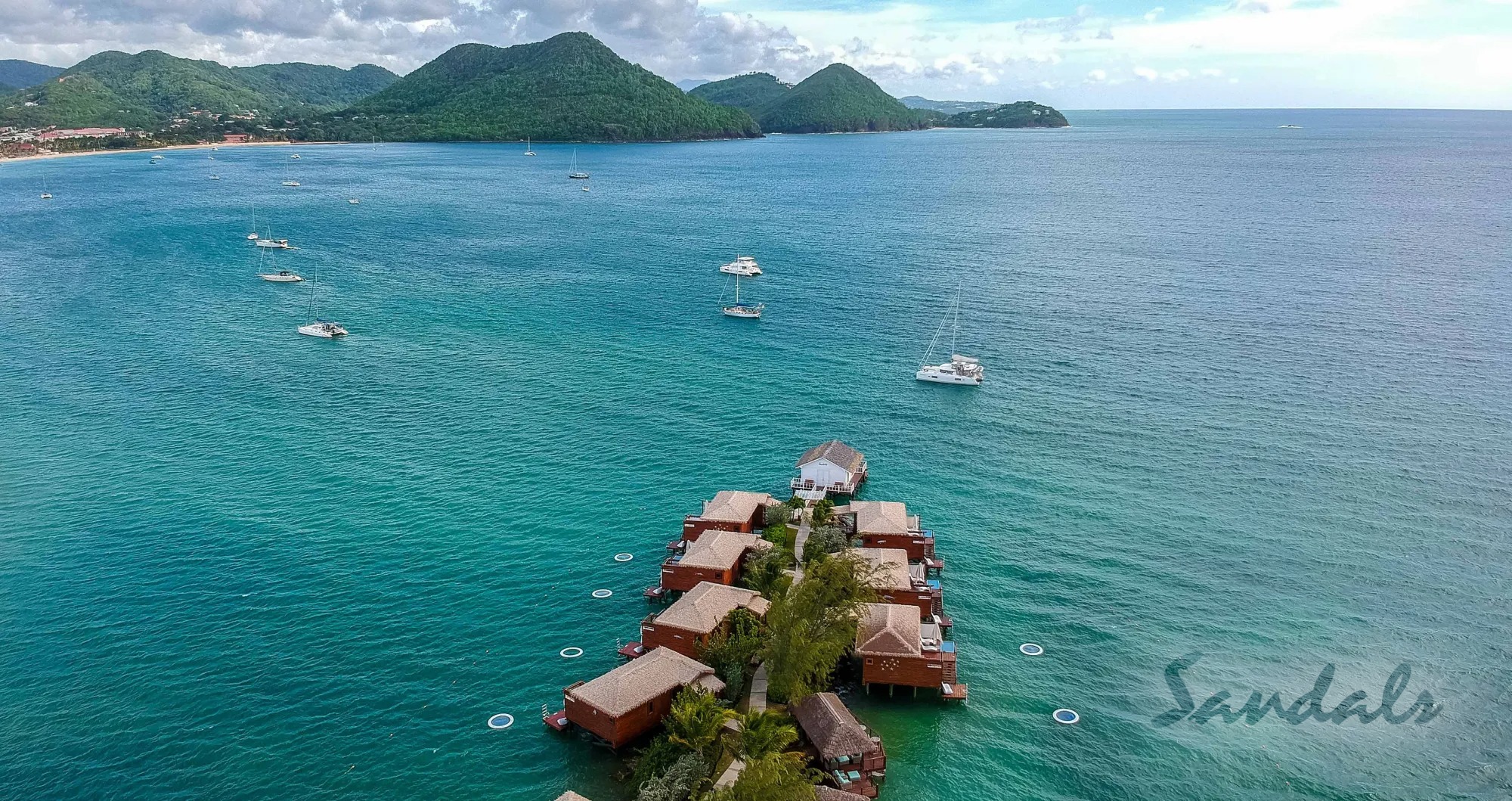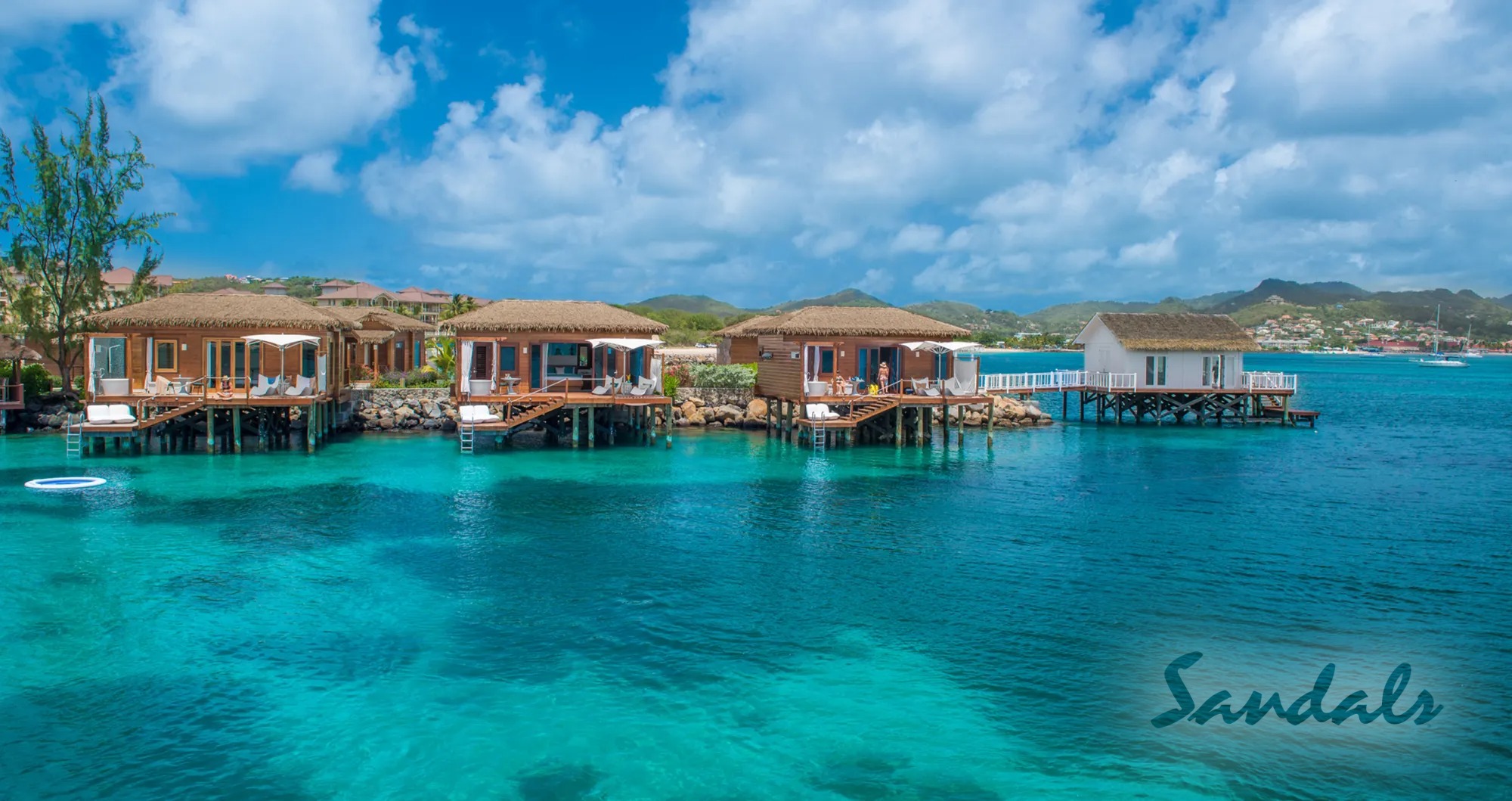 For an unforgettable connection with Caribbean marine life, indulge in the all-inclusive overwater bungalows at Sandals Grande St. Lucian.
These charming retreats boast glass floor panels, allowing guests to delight in tropical underwater views at their leisure. Couples seeking intimate moments amid stunning vistas will adore the Tranquility Soaking Tub and over-water hammock, providing the perfect sanctuary.
Revel in the exclusive Butler Elite service, reserved for adults-only overwater bungalow guests, ensuring an unparalleled experience. With a choice of 12 restaurants within the resort, dining options abound. Moreover, staying at Sandals Grande St. Lucian opens up access to nearby Sandals resorts' restaurants, expanding culinary delights.
Engage in various activities, including complimentary use of nearby golf courses at Sandals Regency La Toc and Sandals St. Lucia Golf & Country Club. For the adventurous, learning scuba diving awaits as an excellent option.
---
Our Resort Rating: 9.7
Number of Bungalows: 12
Average Cost per Night: $3,700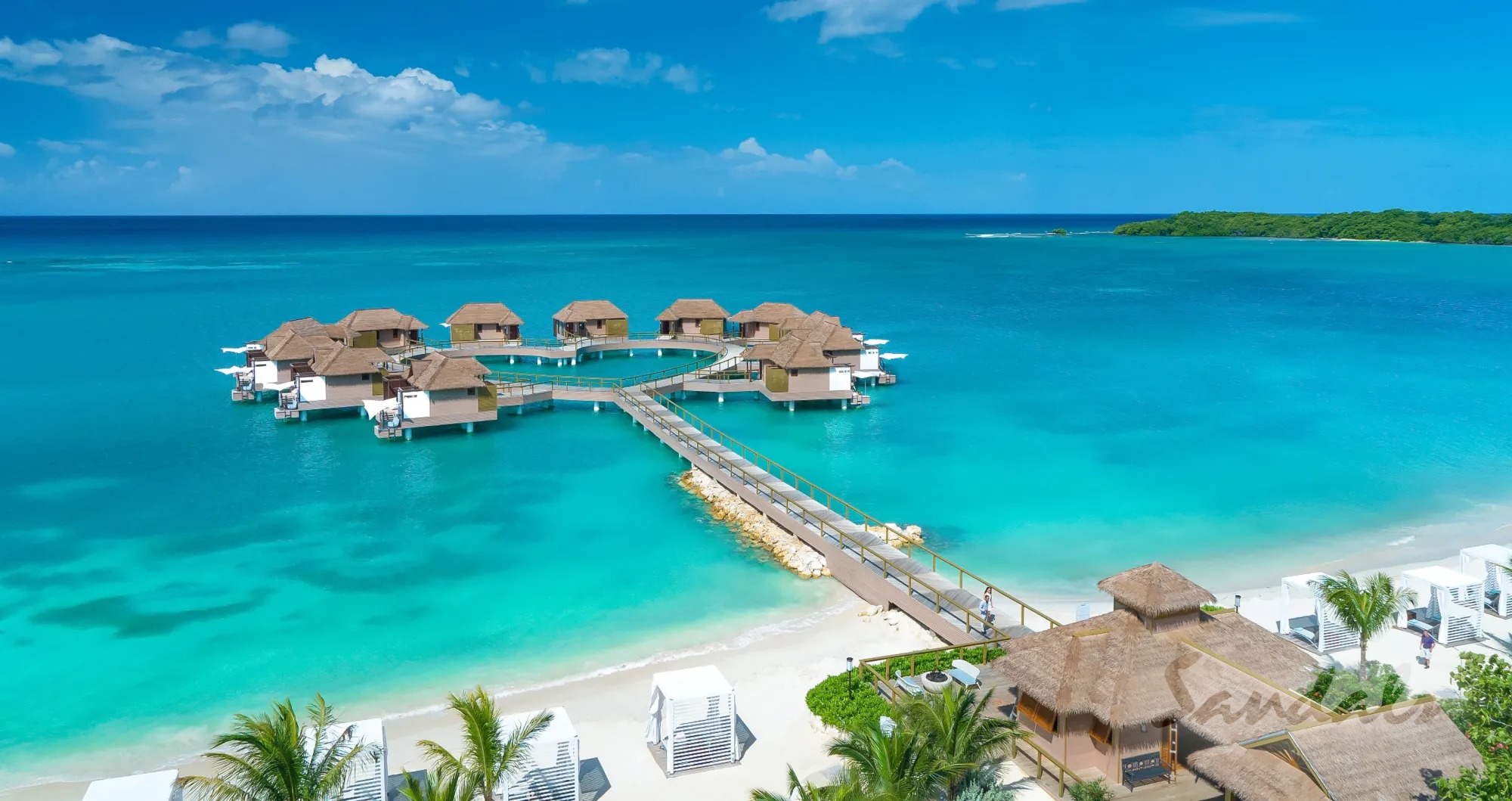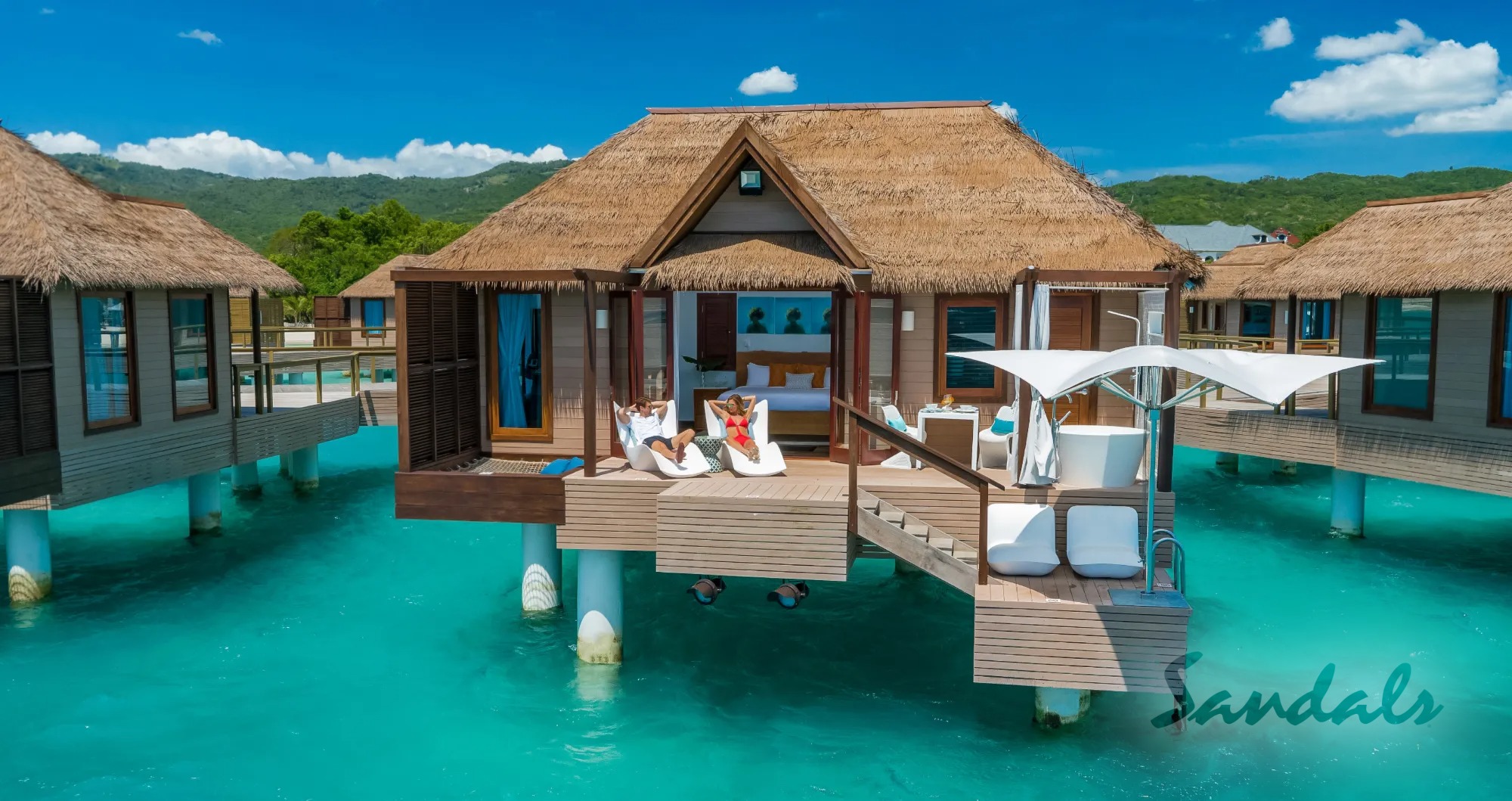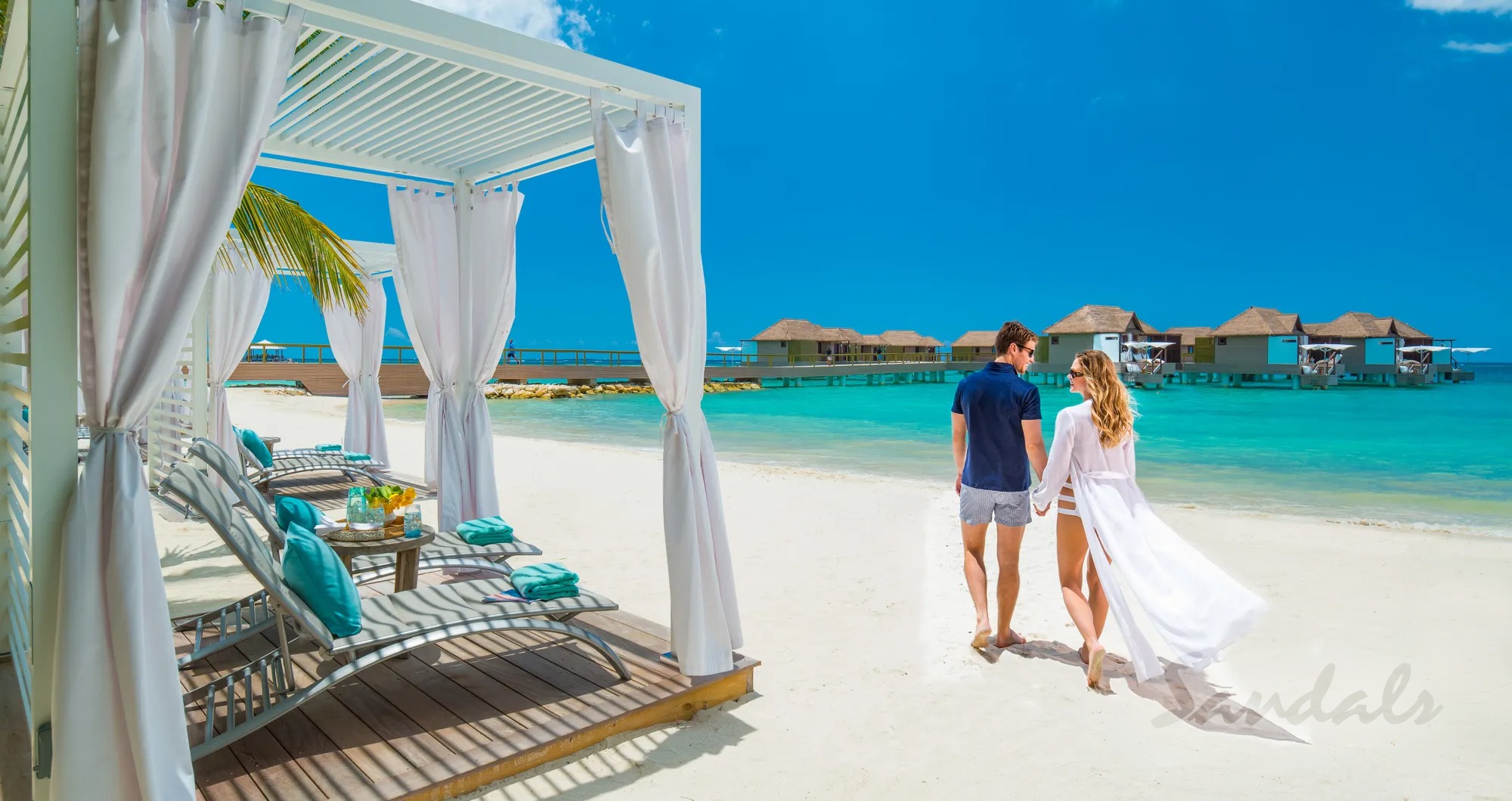 Discover the incomparable allure of overwater bungalows in the Caribbean at Sandals South Coast, the ultimate 5-star resort offering.
Nestled in Jamaica, this splendid Sandals retreat unveils a vast 500-acre nature preserve and a breathtaking 2-mile expanse of pristine white sand beaches for guests to relish. Prepare to embark on an extraordinary over-the-water adventure, unique to Sandals South Coast.
Embrace romance and luxury as couples revel in the Overwater Bar and delight in their private beach cabana within the all-inclusive overwater bungalows.
Moreover, the resort extends the option of exchanging vows overwater for an unforgettable wedding experience.
Savor the culinary delights with nine unlimited dining options available at Sandals South Coast. The exquisitely crafted heart-shaped bungalow access sets the stage for a truly romantic escape.
Your stay in a Sandals over the water bungalow grants instant access to the Caribbean waters through the convenient swim-up platform. Indoors, marvel at the wonders of underwater scenes through glass floors, while indulging in the opulence of a spa-styled bathroom.
---
More About Sandals Overwater Bungalows
Butler Service at Sandals Overwater Bungalows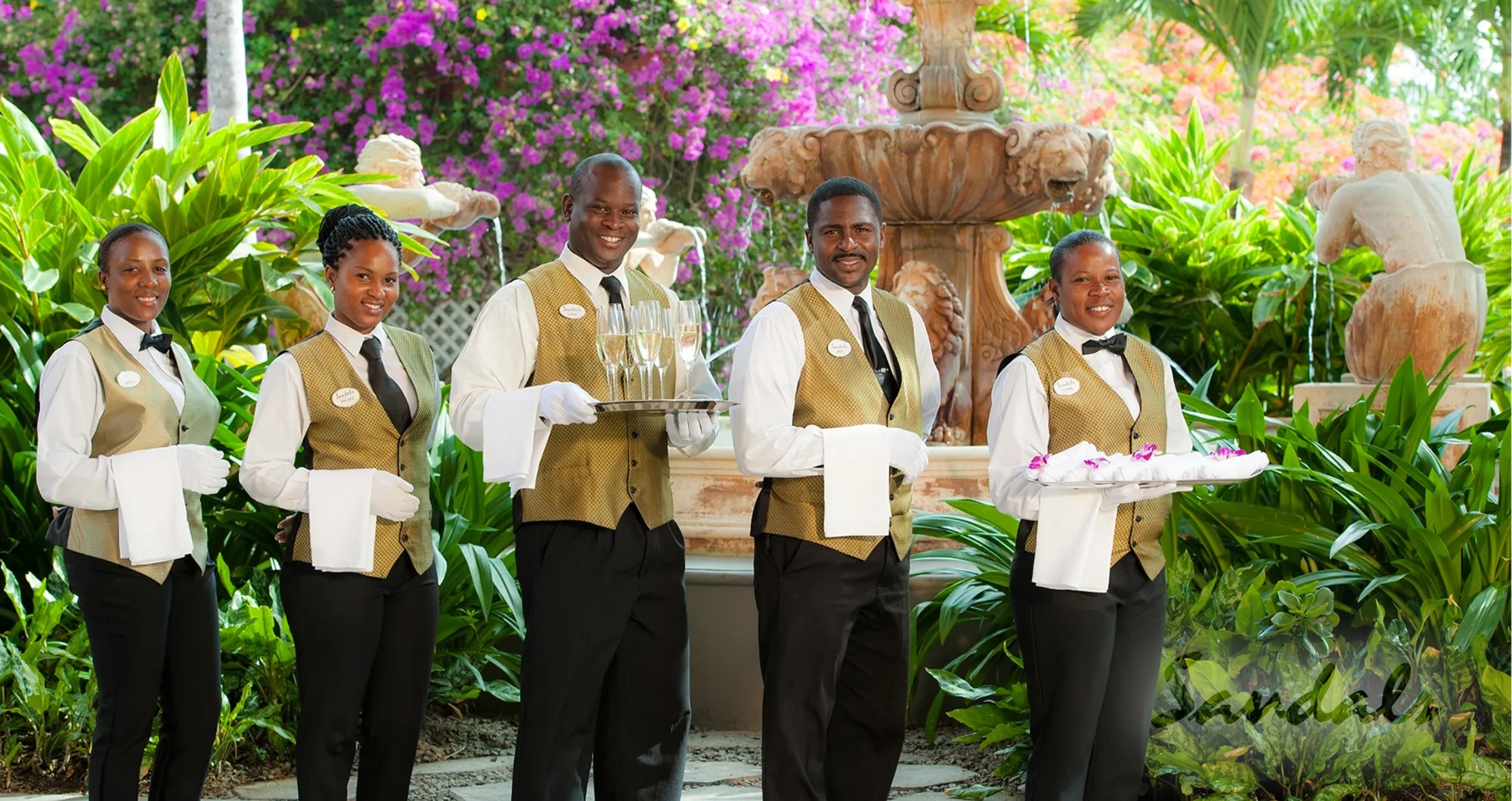 The moment you arrive at your chosen Sandals location's airport, be prepared to embrace first-class hospitality. Every guest in these exclusive bungalows enjoys the dedicated attention of a private butler, ensuring your every desire is met with unparalleled care. Your personal butler will warmly greet you with Sandal Resort's signature lemongrass-scented towels, delightful cocktails, and delectable culinary treats, setting the stage for a truly pampered stay.
Indulge in the delight of unlimited dining and drinking experiences, and take pleasure in having all your meals delivered directly to your room, 24 hours a day. Immerse yourself in the impeccable decor of each bungalow, tailored to the unique style of the resort, and relish the comfort of a king-sized bed, creating an ideal setting for your luxurious vacation.
Notably, the overwater bungalow experience includes all the remarkable perks of the renowned 5-Star Luxury Included® package, encompassing thrilling watersports and an array of activities. Embrace the complete Sandals Resorts experience without compromise, cherishing the added bonus of your own private bungalow, an exquisite sanctuary to unwind after a day of delightful activities.
What To Expect When You Book An Overwater Bungalow At Sandals?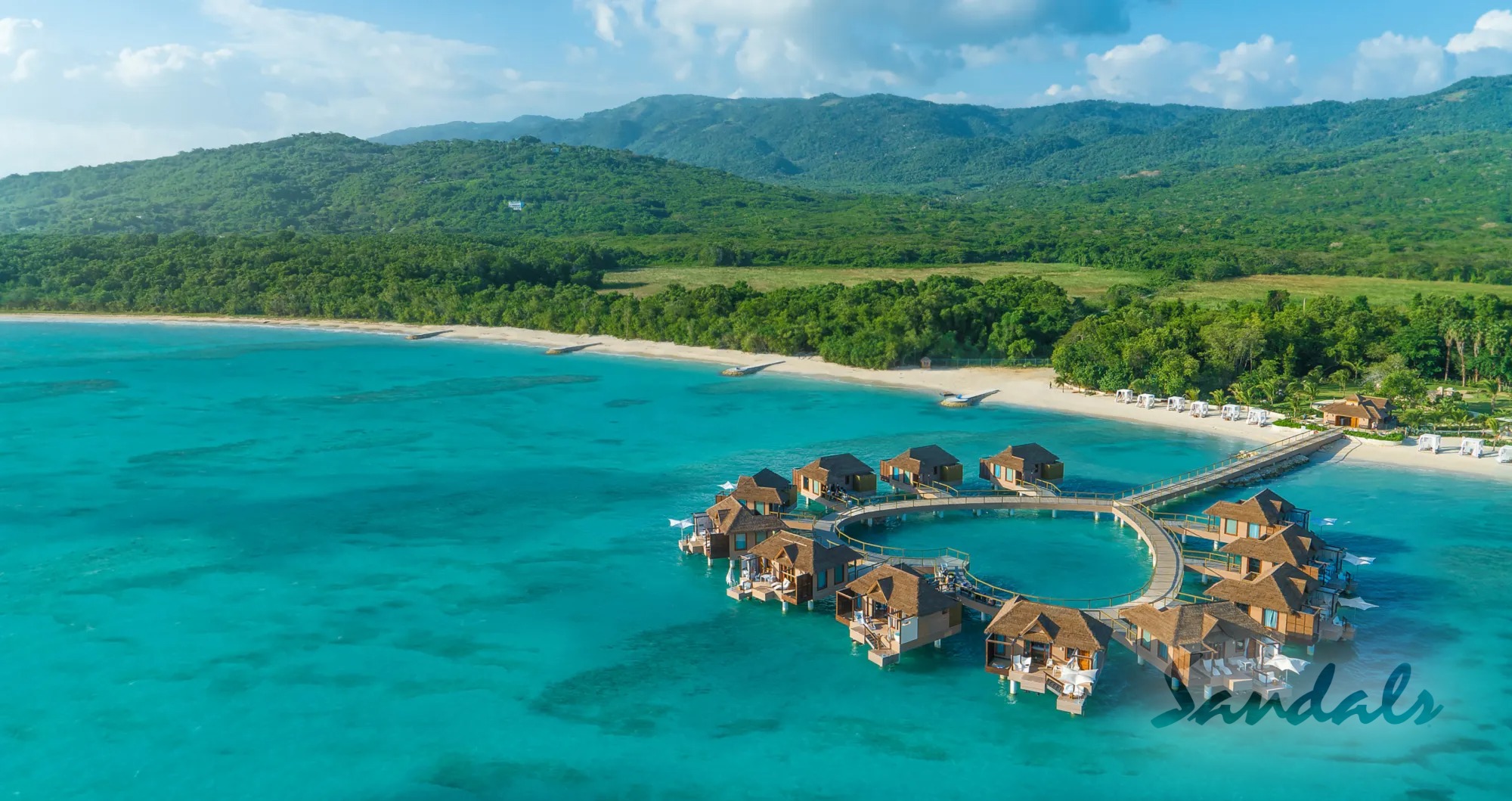 There's just one way to describe an overwater bungalow experience at Sandals– luxurious royal treatment. From the moment guests arrive at their Sandals location's airport, they are welcomed with first-class services. All guests staying at Sandals over the water bungalows will have their private butler to cater to their every need. Your personal butler will welcome you with Sandal Resort's signature lemongrass-scented towels, cocktails, and different culinary treats. Aside from the unlimited dining and drinking experience, bungalow guests can have all their meals delivered to their rooms 24 hours a day.
All rooms are impeccably decorated depending on the resort's style, but every bungalow has a king-sized bed and all the comforts you could ever want during a luxurious vacation. Don't forget that all the perks that come with a regular 5-Star Luxury Included® package, such as watersports and other activities, are also part of the overwater bungalow experience. You don't have to miss out on any of the Sandals resorts experience. You just have the added bonus of staying at your own bungalow, the perfect way to unwind after a day of activities.
Why It's Worth It To Stay At A Sandals Over-The-Water Bungalow
There's no denying that staying at adults-only over water bungalows is worth every penny. The price range goes from $1,000 to $2,000 per night per person, and these are already all-inclusive packages. This means unlimited access to the most luxurious perks, locations, food, and drink options during your entire stay. During your stay at any of the over-the-water bungalows and at any Sandals resort, you will have the chance to try cuisines from around the world.
Best of all, the bungalows give guests direct access to the water in just a few steps, so it feels like you are living the tropical dream vacation. Whether you want all the luxuries or the guaranteed privacy of the stunning and picturesque bungalows, these are the ultimate choice for a romantic honeymoon or vacation.
Couples who want to create special memories during their honeymoon or during a romantic vacation will find that these are affordable water bungalows. After all, you can't put a price tag on unforgettable shared experiences that you and your partner can look back on for years to come.