Welcome to Jamaica, a Caribbean destination that comes alive with rich history, reggae music, jerk chicken, warm smiles, and a "ya mon" culture. If you're looking for an unforgettable honeymoon experience, Sandals Resorts in Jamaica are the perfect choice for you!
Jamaica offers much more than just gorgeous beaches, with breathtaking mountains, flowing rivers, and magnificent waterfalls waiting to be explored. With seven Sandals Resorts located in four different areas of the island, an ideal resort suits every couple's preferences.
Let's take a closer look at the characteristics and features of the four main regions: Montego Bay, Negril, Whitehouse, and Ocho Rios. Each location offers a unique experience, allowing you to choose the perfect setting for their romantic getaway.
For those seeking a vibrant atmosphere, Montego Bay is the place to be, with two Sandals Resorts conveniently located near MBJ airport. Negril offers a mix of adventure and relaxation, with one Sandals Resort and one Beaches Resort. If seclusion and tranquility are what you desire, Whitehouse, with its one Sandals Resort, provides an idyllic escape. Finally, Ocho Rios boasts three Sandals Resorts, one Beaches Resort, and even a Sandals Golf & Country Club, making it a great choice for golf enthusiasts.
It's worth noting that you can experience more than one region of Jamaica by embarking on a "Honeymoon Hop." You have the option to split your stay among two or more resorts during their vacation, with transfers included between resorts. Please keep in mind that a minimum three-night stay per resort is required.
Sandals Resorts in Jamaica offer everything a Caribbean vacation has to offer. From the pristine beaches of Montego Bay, Negril, and Whitehouse to the excellent water sports and scuba diving in Negril, there's an abundance of activities to enjoy. Guests can go water skiing in Montego Bay, Negril, and Whitehouse, indulge in shopping in Montego Bay and Ocho Rios, and experience the natural splendor and adventure Jamaica offers.
It's no wonder that TripAdvisor has ranked Jamaica the number one Caribbean destination and the 14th best destination in the world. With its unparalleled beauty, rich culture, and warm hospitality, Sandals Resorts in Jamaica provides the ultimate honeymoon experience. Don't miss out on the opportunity to create unforgettable memories in this tropical paradise.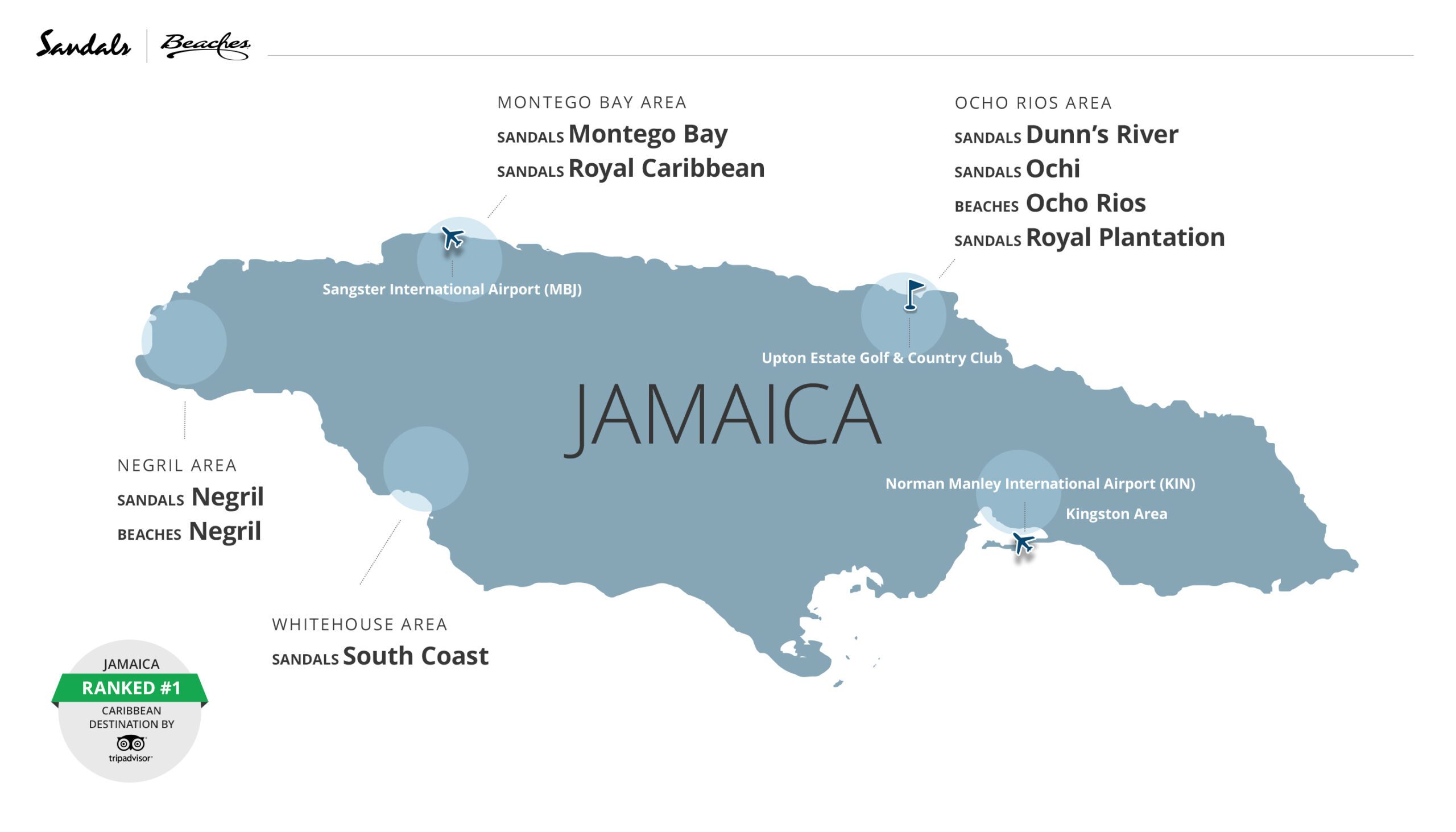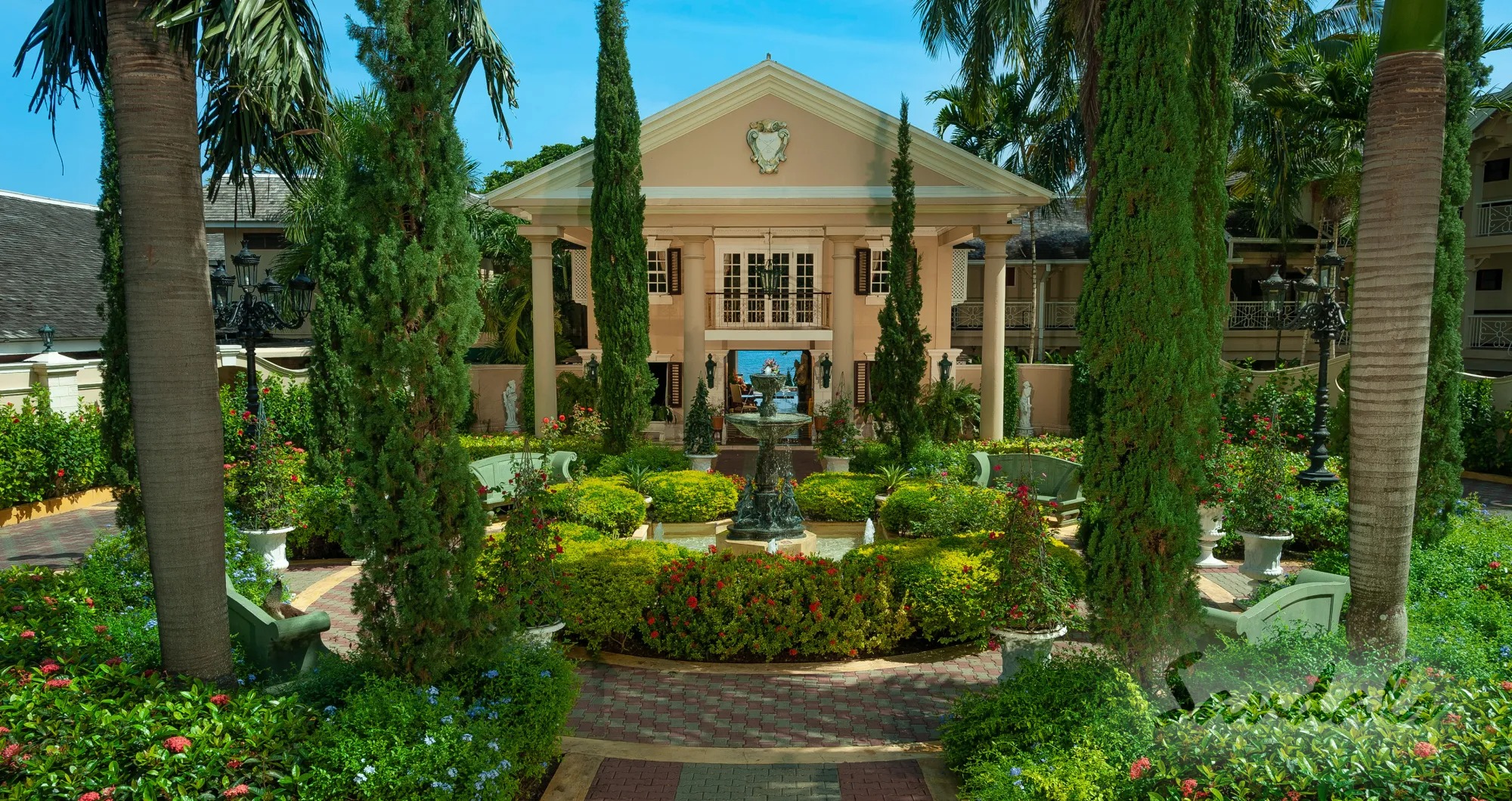 Resort Mood
Relax, luxury
Accommodation Rates
Starting from $366 per person per night
Why Honeymooners Love It Here
The answer to the question, "Which is the best Sandals Jamaica resort?" depends on different factors. But if you want a place that offers tranquility, seclusion, and luxury — with a bit of history — Sandals Royal Plantation should sit atop your choices. Did you know that it once welcomed the likes of Ian Fleming, the British author behind the popular James Bond novel series?
This Sandals property is all-butler and all-suite. And its colonial-style accommodations sit on a stunning coral bluff where you can embrace the most breathtaking views of the sea. When you pair such a setting with a highly personalized service and a sophisticated brand of hospitality, you get a post-nuptial holiday experience that you'll fondly look back on for the years to come.
It's also located near the Upton Estate Golf & Country Club, and the resort shoulders your green fees and transfers. Perhaps the most exclusive among the three Ocho Rios-situated Sandals properties, it also grants you access to Sandals Ochi. It means that if you stay at Sandals Royal Plantation, you can explore this particular sister resort. But, just to be clear, if you stay at Sandals Ochi (or Sandals Dunn's River), you won't have access to Sandals Royal Plantation.
Speaking of exclusivity, staying here means enjoying two private cove beaches. For an elevated experience — literally and figuratively — you can stay at their Villa Plantana. It's a three-bedroom villa built above the main resort, perfect for couples traveling together. It spans 3,000 square feet and offers the best views of the surroundings.
It's well-designed and thoughtfully curated amenities like this that make Sandals Royal Plantation — or any other Sandals resort for that matter — stand out among Jamaican honeymoon resorts.
Really, no matter which Sandals property you choose in Jamaica, you can expect best-in-class service while surrounded by the most beautiful beaches. It's the kind of hospitality and setting you won't find elsewhere on the island. So, if you're planning to honeymoon in this Caribbean gem, search no further: Sandals is here to offer the best experience for discerning couples like you.
---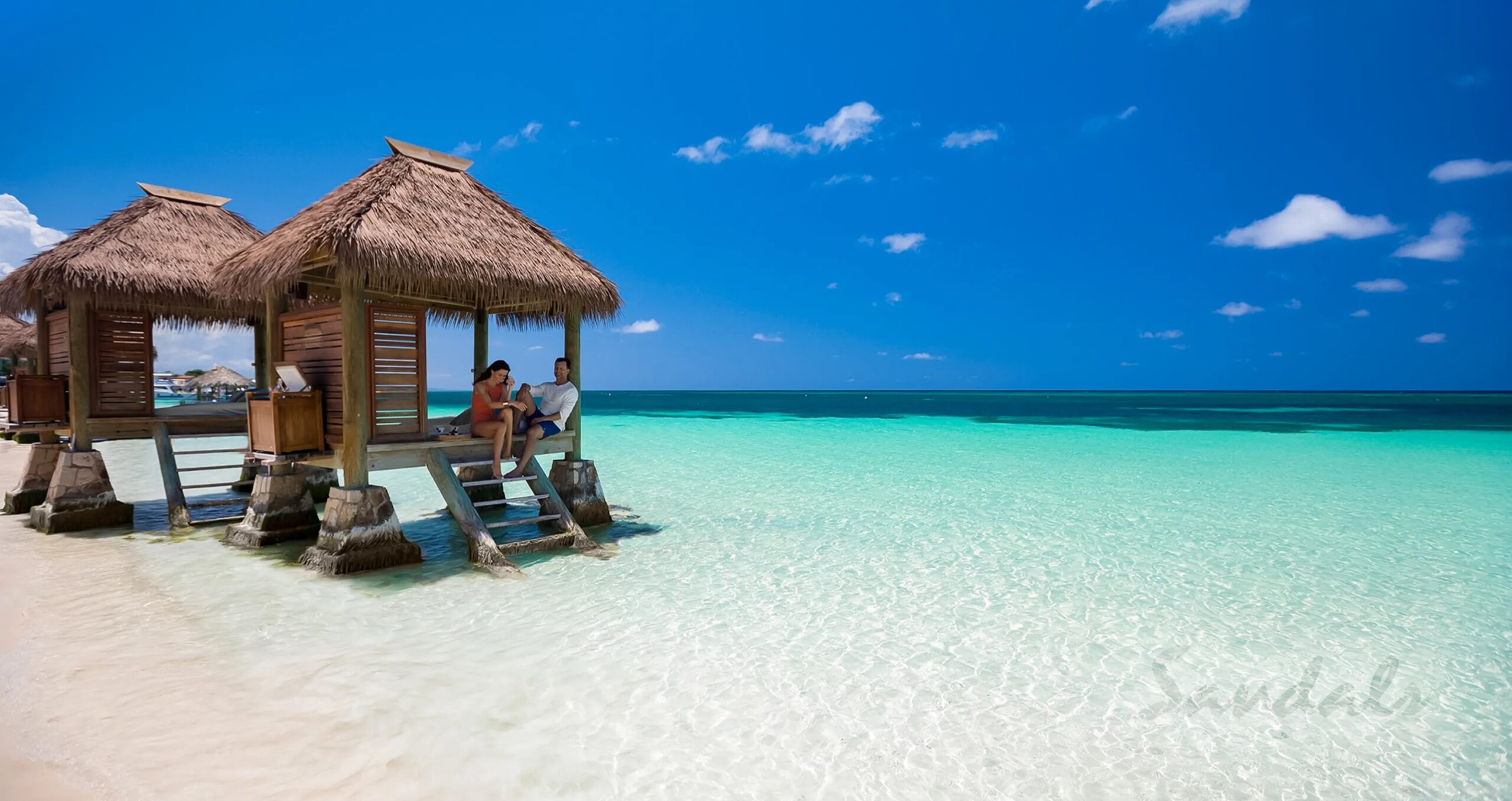 Resort Mood
Active, social
Accommodation Rates
Starting from $342 per person per night
Why Honeymooners Love It Here
If you ask couples what would be the best all-inclusive resort in Jamaica, you'll probably hear most of them saying Sandals Montego Bay — the first-ever property of Sandals.
Recently renovated, this resort, in a nutshell, is a couple's paradise by the beach. As stated, it's located near the airport, making it the ideal honeymoon spot if you and your loved one want to stay someplace that offers convenience and an idyllic beachfront setting. You can find it on the island's largest white-sand beach, and it embodies Jamaica's "ya mon" culture with its upbeat and carefree atmosphere.
If you book rooms under Club Elite and Butler Elite categories, you'll arrive in style with their complimentary BMW transfers. And as soon as you reach your destination, you'll surely have your breath taken away by the resort's vistas. Just imagine waking up right next to the beach and strolling hand in hand with your soulmate along a pristine shoreline.
Sandals Montego Bay is built along the shoreline, and you can find most of its dining options by the beach. And if you want to take your honeymoon experience to the next level, we recommend booking one of their Love Nest Suites. It has butler service, 24-hour room service, a private balcony and patio, and Sandals' signature Tranquility Soaking Tubs.
It comes as a surprise to no one why the resort has been attracting honeymooners and even couples who want a destination wedding. As mentioned in the previous section, this establishment is home to two beautiful chapels, with one perched over the Caribbean Sea.
Apart from an over-the-water chapel, you'll have a lovely time checking out its over-the-water gazebos and over-the-water bar, where you can taste Red Stripe, Jamaica's best-selling beer.
What makes Sandals Montego Bay a dreamy destination is that it offers access to another destination, the Sandals Royal Caribbean. Enjoy twice the fun, luxury, and romance, and take advantage of the full exchange privileges between these two outstanding all-inclusive resorts. A five-minute free shuttle ride will take you to what is named Jamaica's most alluring resort, which will tackle in the next section. 
---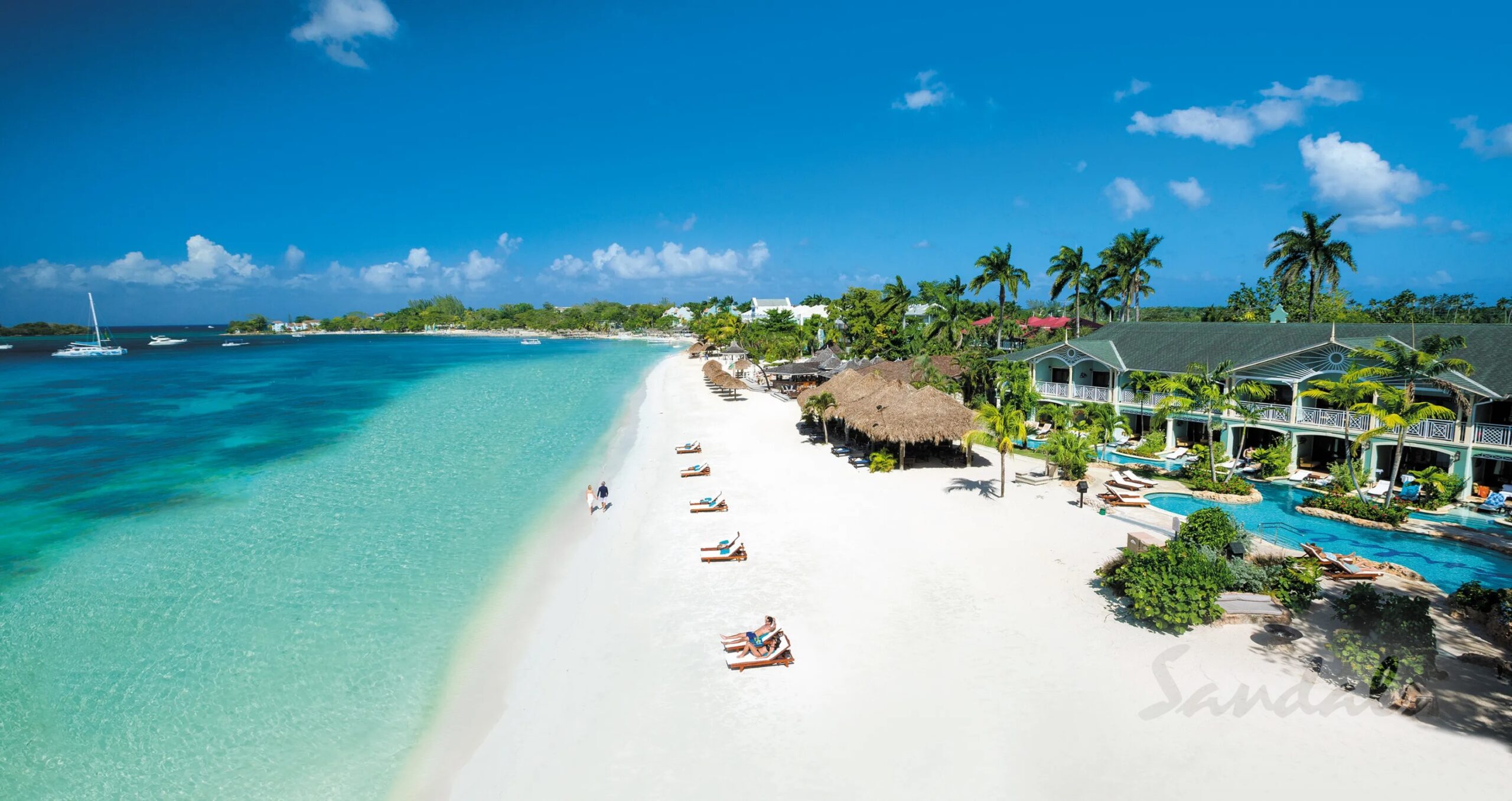 Resort Mood
Active, relax
Accommodation Rates
Starting from $265 per person per night
Why Honeymooners Love It Here
If you and your significant other are the biggest beach lovers in your circle, Sandals Negril is the right match for you. After all, it's built right on the shoreline of one of the best beaches in the world: Seven-Mile Beach. Powdery white sand and turquoise sea mark the beauty of this tourist spot, and you'll love the fact that you only need to walk a few steps to be in such a sublime setting.
A real romantic oasis for honeymooners, this resort will put you closest to nature than other Jamaican properties. If you imagine spending your precious vacation days soaking up the sun, dipping your toes in soft sands, and having fun in the waters by waterskiing, diving, or snorkeling — Sandals Negril is a no-brainer choice.
One of the top-selling accommodations is the one-bedroom oceanfront suite on a crystal lagoon with swim-up access. Another popular option is their recently launched spacious sunset two-story suites, which are worth every penny. These suites come with personal butler service that will make your stay hassle-free and luxurious.
Just keep in mind that compared to other Sandals properties, Sandals Negril sits on the smaller side of the spectrum. But that comes with its array of advantages. Fewer guests means better privacy for you and your loved one. You'll also appreciate its laid-back atmosphere.
Moreover, if you're particular about sustainability, it's nice to know that this resort is the greenest among other establishments owned by the brand. You can rest easy knowing that you can enjoy an awesome Caribbean honeymoon while staying in a place that strongly supports eco-friendly practices.
This resort also offers optional offerings at an extra cost. As one highlight of your stay here, you can arrange a private candlelight dinner and romantic date under the stars.
Sandals Negril's location in the longest stretch of the Seven-Mile beach also puts you at another good advantage. On the same stretch, you can find a property of Sandals' family-oriented sister brand, Beaches. Resort-goers like you can walk to Beaches Negril and try their amenities, including a much larger pool and expanded choices for world-class restaurants. 
---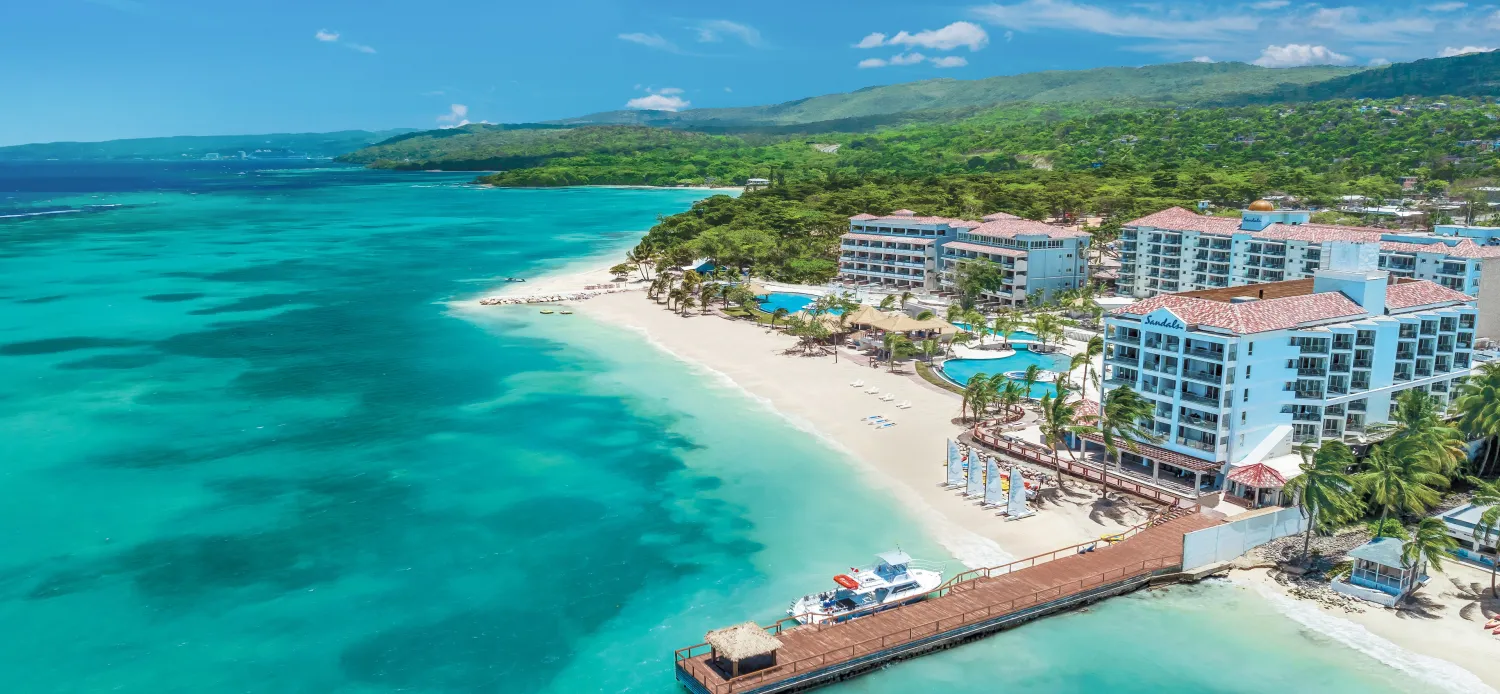 Resort Mood
Luxury, social
Accommodation Rates
Starting from $389 per person per night
Why Honeymooners Love It Here
You're in for an extraordinary and new Sandals experience with the recently opened and completely reimagined Sandals Dunn's River.
The resort lets nature's beauty surround you: It's in the heart of Ocho Rios, along one of the best stretches of beach in town. The resort's design draws inspiration from the island country's majestic waterfalls, meandering rivers, and lush forests.
Luxurious rooms and suites seamlessly blend with the surrounding's relaxing appeal. In this Sandals property, you can stay at innovative accommodation options, including the brand's first-ever Sky Villa Rondoval Suites and the island's first-every Skypool Suites. In the former, you'll have rooftop hideaways offering seclusion; in the latter, you'll enjoy your own infinite-edge sky-high plunge pool.
Also, when you book at a Sky Villa Rondoval Suite, there's a complimentary rooftop picnic under the stars (Ain't that sweet?). This package also lets you explore cosmic wonders via telescope — plus, you'll also receive a personalized star map as a unique souvenir.
Other exciting amenities that you can check out with your partner are their rooftop fitness center and aerobics studio. If you want to stay fit and social, you can also visit their open-sided yoga pavilion and meet fellow honeymooners who are in for a romantic escape.
When you wish to soak up the fun at the Caribbean Sea, you have various water sports to choose from. The best thing about it is that these activities include professional instruction.
Like Sandals Ochi, the resort also covers green fees and transfers to Upton Estate Golf & Country Club. And if you want to indulge in more amenities besides this premier golf hub, leverage the Stay at 1, Play at 2 program and access the best of Sandals Ochi's features.
For instance, from the initial 12 gourmet restaurants and nine bars (including Jamaica's first rooftop bar) at Sandals Dunn's River, you can taste more at its sister resort's 16 restaurants and 11 bars. As for optional adventure tours, some popular choices among honeymooners are the Dunn's River catamaran cruise and the Luminous Lagoon experience.
---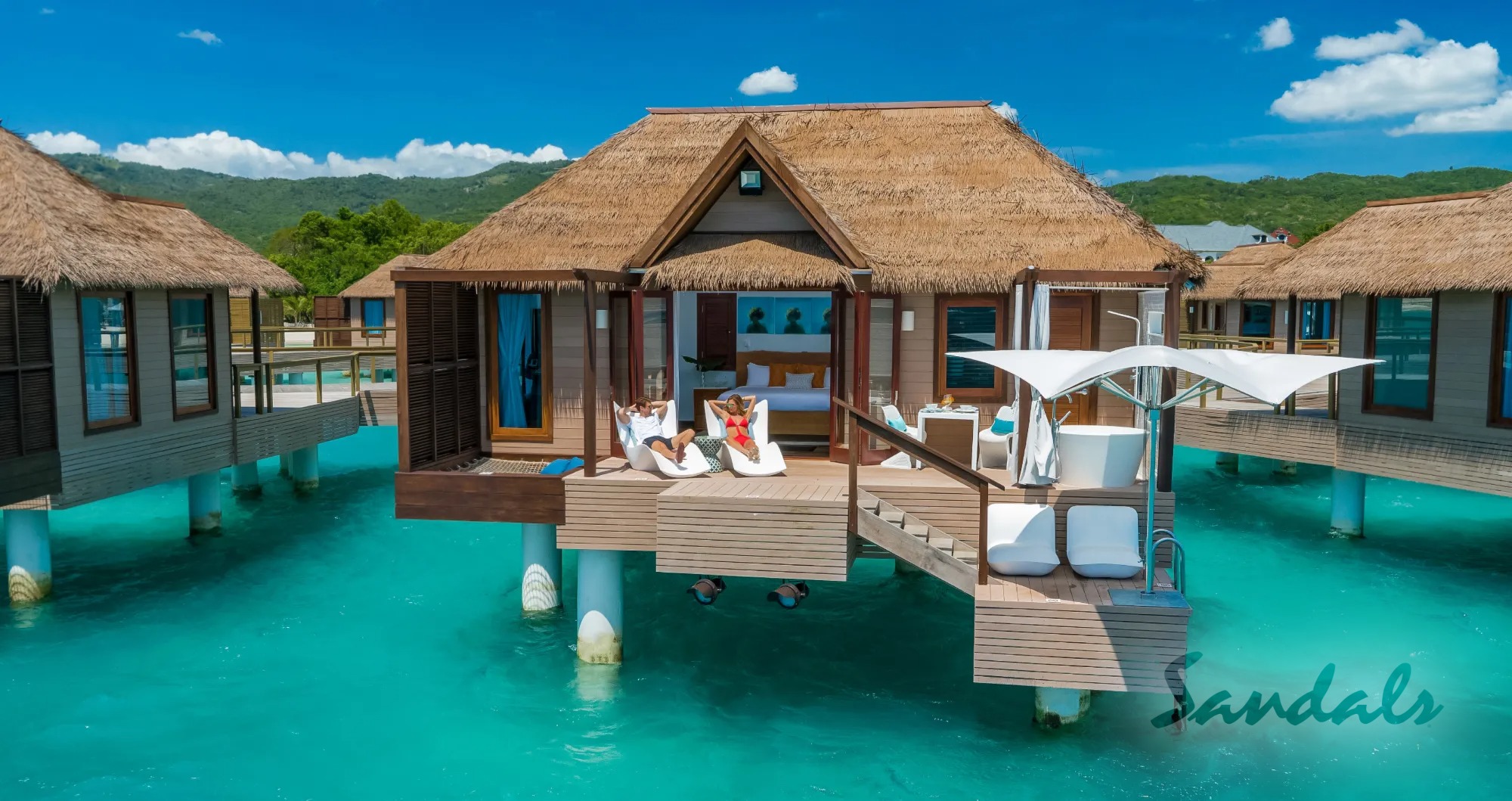 Resort Mood
Relax
Accommodation Rates
Starting from $307 per person per night
Why Honeymooners Love It Here
Some couples prefer privacy and exclusivity over anything else for their post-wedding holiday. And if you're one of those, the Sandals South Coast is here to tick off all that's included in your honeymoon wishlist.
Located on Jamaica's sexy south coast — along a two-mile stretch of unspoiled beach — this Sandals resort will offer you solace and a sweet escape. It's nestled within a 500-acre nature preserve, guaranteeing a relaxing environment.
This Jamaican resort follows an "all water, all luxury" ethos. And it means that everything they have here is inspired by water. For example, the recently renovated Dutch Village (one of its four European-inspired villages) now includes swim-up suites. Meanwhile, the South Seas Rondoval Village boasts the brand's first-ever Swim-Up Rondoval Suites. You can easily swim up to a beautiful Rondoval from where you're staying.
While it has such villages where you can spend intimate days, one hard-to-miss option is its Tahiti-style overwater bungalows.
When you stay in any of their dozen over-the-water accommodations, you'll have your own private beach cabana (Only Sandals South Coast has this feature). Apart from these above-the-water structures, the resort also has an overwater chapel and bar.
You can also access a swim-up bar and nine fine-dining restaurants within the main resort. On land, you can try different activities like tennis and pickleball. On the water, you'll have heaps of fun with watersports like waterskiing, wakeboarding, and tubing, among others.
Have we already mentioned that Sandals South Coast has the largest zero-entry pool in Jamaica? It's stunning day or night, and you'll love it here if you want just to lounge and take a break from the seawater but still want to be near a refreshing water setting.
To top these perks off, there's also a newly built road to enjoy faster airport transfers. This way, you can hide away from it all — and connect with each other — sooner.
As an additional experience, you may want to shell out extra money and get access to local adventure tours. Head out to YS Falls, one of Jamaica's best natural attractions. You can also taste exquisite rum at the historic Appleton Estate or sail off into a romantic sunset via a Lover's Rock catamaran cruise.
---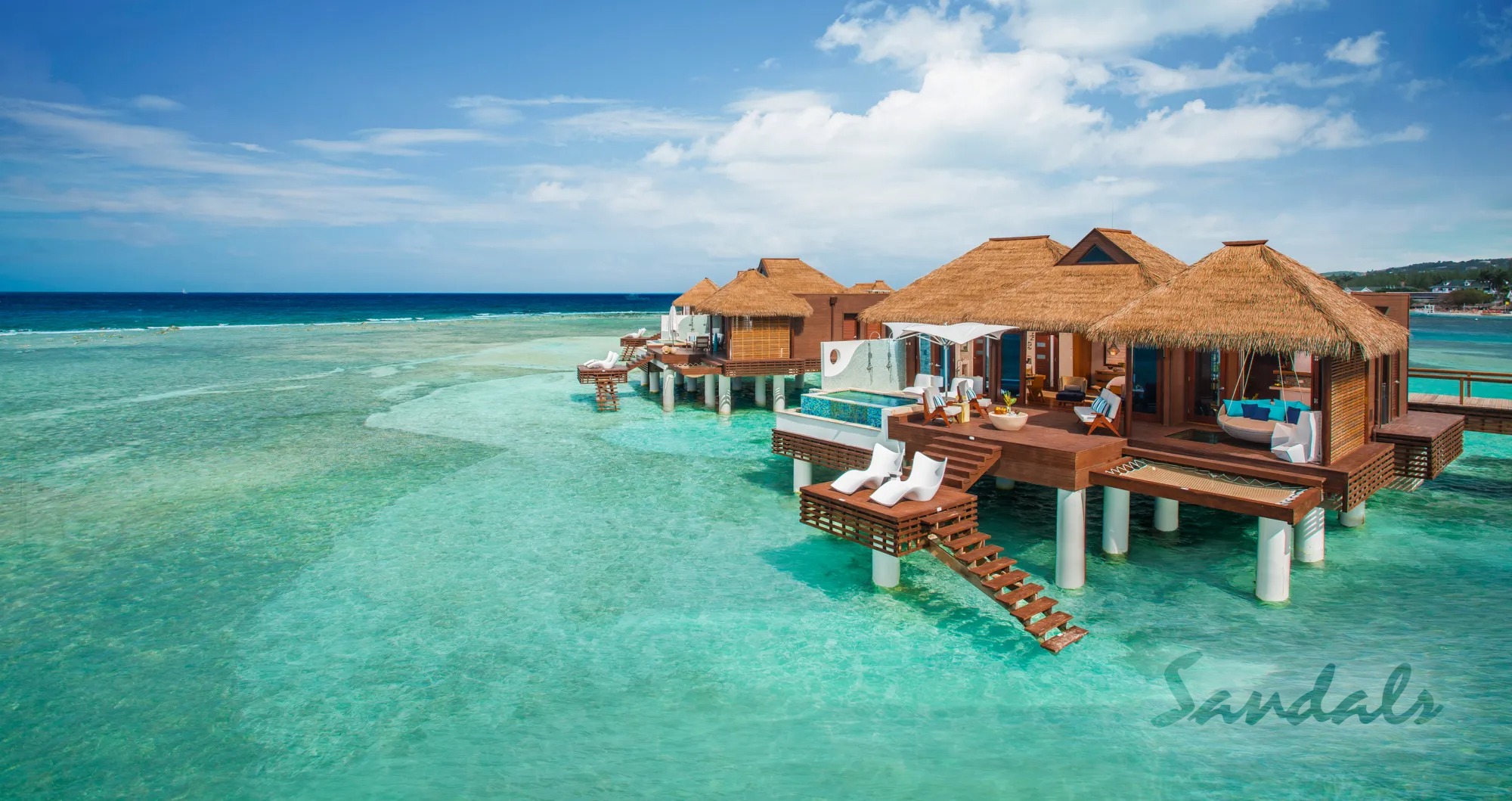 Resort Mood
Relax
Accommodation Rates
Starting from $317 per person per night
Why Honeymooners Love It Here
If you're one of those couples who want to combine a relaxing and active experience during your Jamaican getaway, book your stay at Sandals Royal Caribbean. With its Stay at 1, Play at 2 program, you can enjoy the resort's more laidback atmosphere and visit its sister property, Sandals Montego Bay, should you want to explore more amenities and indulge in a social-centric beachfront setting.
But if you ask us, even without this awesome program, Sandals Royal Caribbean alone is a bucket list-worthy kind of destination. This resort has its own private offshore island, and it's the only property in Jamaica to offer such a great, exclusive feature.
As a whole, the resort offers honeymooners like you two distinct worlds. The main property, located on a smaller scalloped cove beach, takes pride in many British classics — from gardens taken straight from a classic novel to roaming peacocks and relaxing afternoon tea times.
Apart from the posh British heritage written all over the amenities and offerings of Sandals Royal Caribbean, it's also home to over-the-water villas and bungalows. These provide the ultimate privacy you and your partner deserve and picture-perfect views of crystal-clear waters. Spectacular and surreal, it's the kind of backdrop that any couple would love to have on a trip as important as your honeymoon.
Adjacent to this collection of one-of-a-kind accommodations is the aforementioned offshore island. And on this island, you can take a dip in the pool and enjoy refreshing drinks at the swim-up bar. You can also have an uber-relaxing time and access essential pampering services at their award-winning Red Lane Spa.
Additionally, you can treat your palates to delectable meals. The offshore island has a Jamaican jerk shack where you can get your share of the original jerk chicken. But if you want to explore other culinary delights, you can also try Royal Thai Restaurant, an authentic Thai restaurant.
It's noteworthy to mention that the island is inspired by Bali, with its pool and cabanas exuding an exotic Indonesian charm. Immersing yourselves in intimate, secluded experiences has never been more convenient. 
---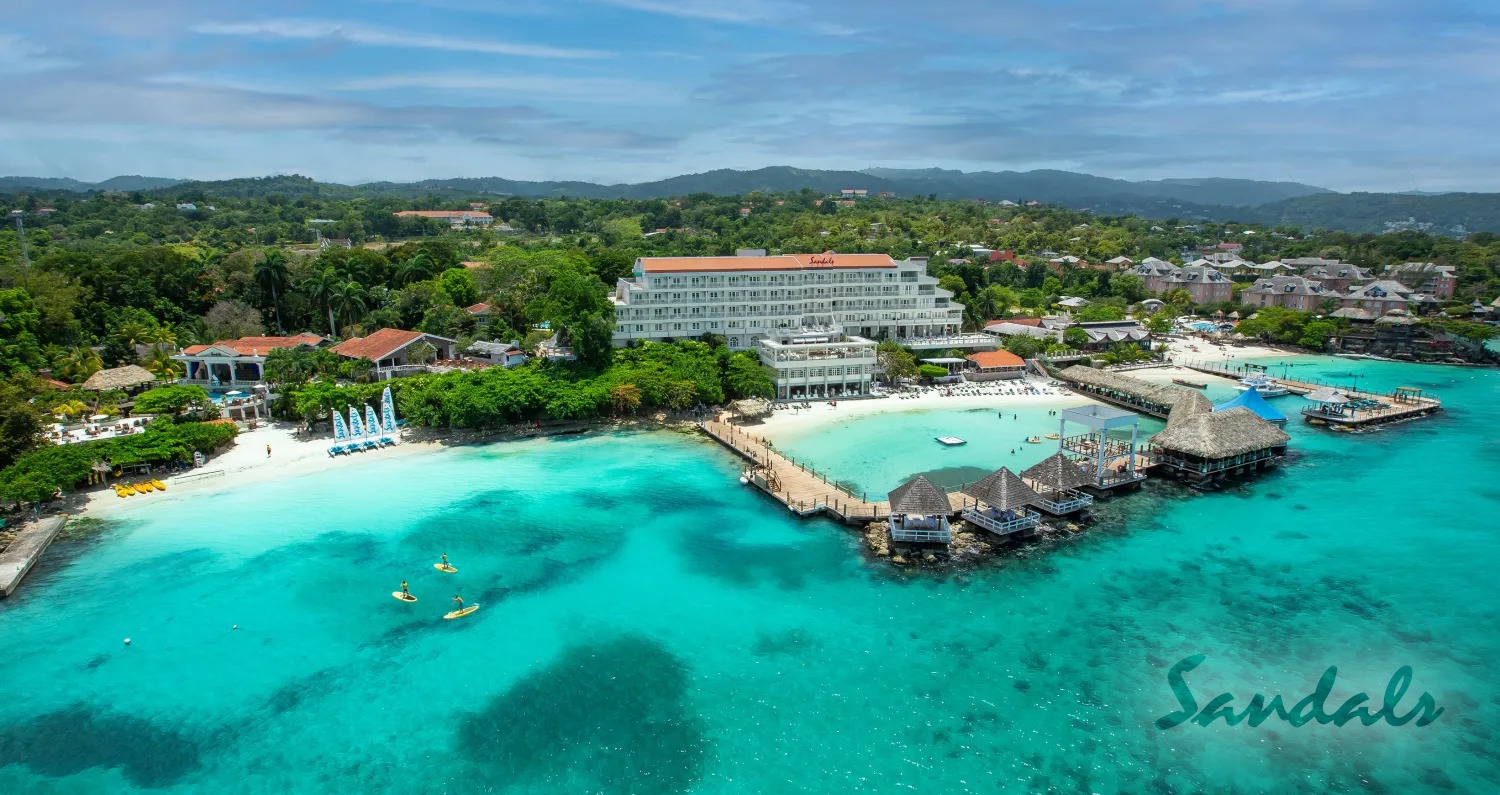 Resort Mood
Active, social
Accommodation Rates
Starting from $241 per person per night
Why Honeymooners Love It Here
There's the best Sandals resort for every parameter. And if you and your loved one are both avid golfers and active travelers, Sandals Ochi is for you.
This is the largest Sandals property, with over 100 acres and 500+ accommodation options. It sits on verdant hillside gardens with front-row views of the ever-captivating Caribean Sea. And the sprawling property sure knows how to give couples, especially honeymooners, the ultimate getaway.
If you want to sweat any of your stress off. With this, you can have fun times with your soulmate even when you're nowhere near the water. And if you want to enjoy a good golf game, you can take advantage of complimentary green fees and roundtrip rides to and from the nearby Upton Estate Golf & Country Club.
When it comes to water-based adventures, you can try various activities like scuba diving, Hobie Cats sailing, kayaking, snorkeling, and paddleboarding). Being the biggest Sandals resort, Sandals Ochi also boasts over a hundred pools and over 20 whirlpools.
It provides guests with a lively, one-for-the-books experience. Plus, it also offers the chic Ochi Beach Club. Sip on amazing cocktails, dance the night away, and have the best beach part of your lives. It also offers the region's first authentic speakeasy called the Rabbit Hole.
And speaking of a unique bar setting, the resort also has an overwater bar. It's just one part of the over-the-water collection that it boasts. You can enjoy charming panoramic views while dining at Kelly's Dockside, an over-the-water restaurant, or start your marital journey on a beautiful note by getting married at their over-the-water wedding chapel.
Indeed, endless possibilities for fun and romance await you at Sandals Ochi. Whether day or night, there are many great options to try — opportunities that allow you and your loved one to create the most beautiful memories as husband and wife.
And if you think it's still not enough, fret not — the resort offers a richer experience with full exchange privileges at the hottest Sandals property in town: Sandals Dunn's River (We'll share with you more in-depth details about this resort later on).
Sandals Jamaica Resorts FAQ
Before we delve into the features of Jamaican Sandals resorts, here are some FAQs.
Which Sandals resort in Jamaica is the newest?
The newly reimagined Sandals Dunn's River is the latest addition to the brand's family of resorts on the island. It reopened its doors to the public in May 2023, boasting exciting new structures — including the first Skypool suites in Jamaica.
Which Sandals resort is best for intimate weddings or big ones?
The best Sandals Jamaica resort for destination weddings is Sandals Montego Bay. It's a short ride from the airport. It has two non-denominational chapels: One is located right above crystal clear waters, and the other is an air-conditioned facility inside the resort.
But, take note that in Montego Bay and all other Sandals properties, you can get a free wedding package for a minimum stay of three nights across all room categories.
Are all Sandals resorts in Jamaica all-inclusive and adult-only?
Yes, all Sandals properties on the island are all-inclusive and adult-only.
While a Sandals Jamaica price is relatively steeper than other resorts, any property will give you great value for your money. You'll enjoy a truly all-inclusive experience, as your package comprises access to gourmet restaurants, trendy and classy bars, decade amenities, and a broad range of water- and land-based activities (It also already includes gratuities!).