We know it gets cold in January. But that is not the case everywhere. There are plenty of fabulous places where the beaches are white, the water is blue, and the sun shines warmly. January can be the most inexpensive month to travel, and honeymooners can get more value for their money if they make the right choice.
Of course, some newlyweds embrace the dazzling snow. For them, January holds lots of magic, as well. The Northern Lights and igloo hotels, anyone?
Below are some of the best-loved January honeymoon destinations.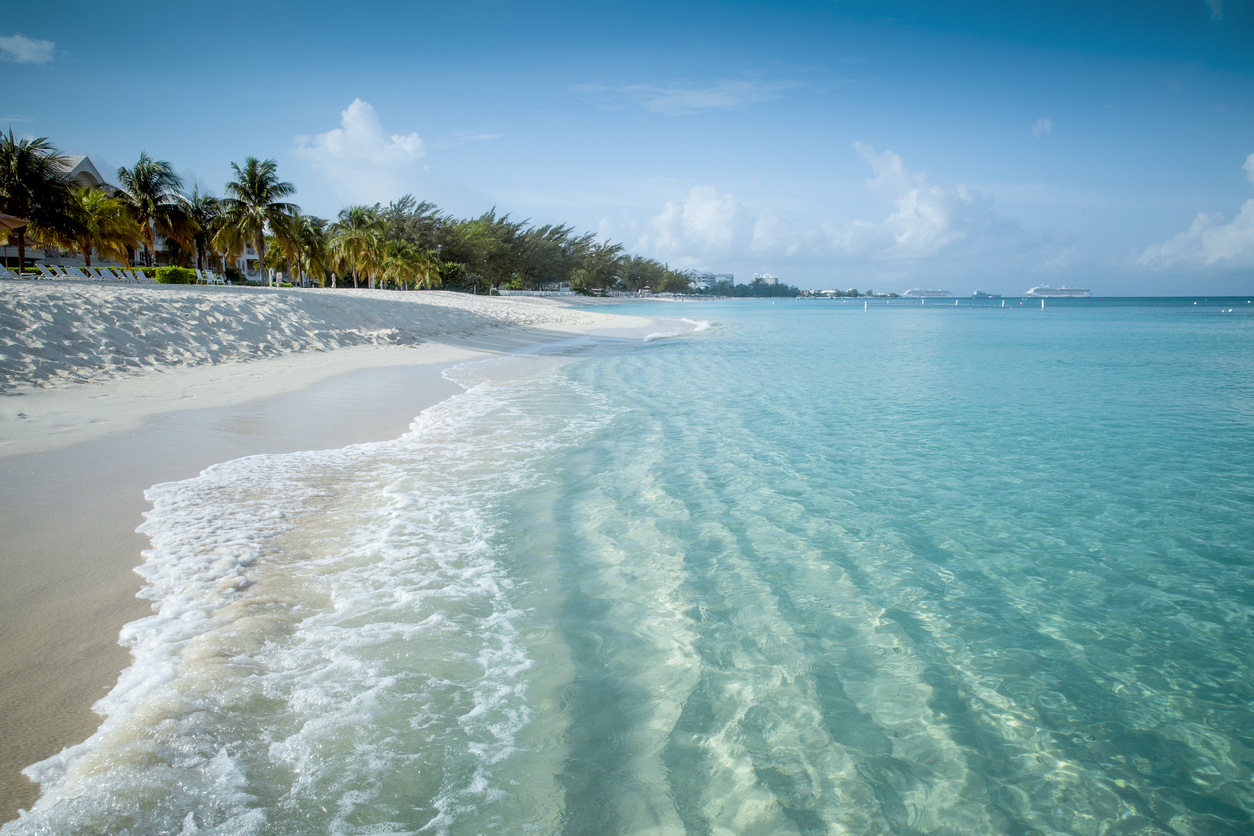 For couples seeking a dreamy and unforgettable honeymoon experience, Jamaica stands tall as an enticing choice, particularly during the month of January. With its warm climate, idyllic beaches, and vibrant culture, Jamaica offers an enchanting escape for newlyweds looking to create lasting memories together. In this article, we delve into the reasons why Jamaica is an excellent honeymoon destination for January.
Perfect Weather
January in Jamaica marks the dry season, ensuring that lovebirds can revel in the island's delightful climate. The weather is typically sunny, with temperatures ranging from 24 to 29 degrees Celsius (75 to 84 degrees Fahrenheit), providing the ideal conditions for outdoor adventures and romantic beach strolls. The cool ocean breeze complements the warmth, making every moment spent with your partner all the more enjoyable.
Enchanting Beaches
One of Jamaica's greatest assets lies in its breathtaking beaches. From the iconic Seven Mile Beach in Negril to the secluded shores of Treasure Beach, the island offers an array of pristine coastal gems where couples can indulge in blissful relaxation. Picture yourselves lounging under swaying palm trees, basking in the sun, and taking refreshing dips in the turquoise waters – the perfect recipe for romance.
Intimate and Serene Atmosphere
In January, Jamaica experiences a lull in tourist traffic, providing newlyweds with a serene and intimate ambiance. This period allows couples to savor each other's company without the usual crowds, giving them a chance to unwind and connect in a more personal setting. Whether you choose to explore the mystical Blue Mountains or visit the enchanting Luminous Lagoon, the serenity of the island enhances the romantic experience.
Adventures for Two
Beyond its inviting beaches, Jamaica boasts a myriad of exciting activities for adventurous couples. Hike hand-in-hand through lush rainforests, embark on thrilling zip line excursions, or take a scenic horseback ride along the coastline. For underwater enthusiasts, snorkeling or scuba diving in the Caribbean Sea unveils a vibrant world of marine life, adding a touch of enchantment to your honeymoon.
Rich Cultural Experience
Immerse yourself in Jamaica's rich cultural heritage as you explore the island's music, dance, and cuisine. From reggae beats to tantalizing jerk chicken, the vibrant culture of Jamaica is a captivating journey for honeymooners. You can visit lively local markets, witness electrifying dance performances, or even join in a traditional drum circle, all contributing to an authentic and memorable experience.
Luxurious All-Inclusive Resorts
Jamaica is renowned for its luxurious all-inclusive resorts that cater to honeymooners' every desire. These upscale accommodations provide not only impeccable service but also romantic amenities such as private beachfront dinners, couple's spa treatments, and personalized excursions. The convenience of an all-inclusive package allows couples to focus solely on each other and their journey together.
Time to Unwind
After the whirlwind of wedding preparations, January in Jamaica allows you and your partner to unwind and bask in each other's love. The tranquil surroundings, coupled with the soothing sounds of the ocean, create the perfect setting for rejuvenation and relaxation. Let go of any lingering stress as you embrace the serenity of this romantic oasis.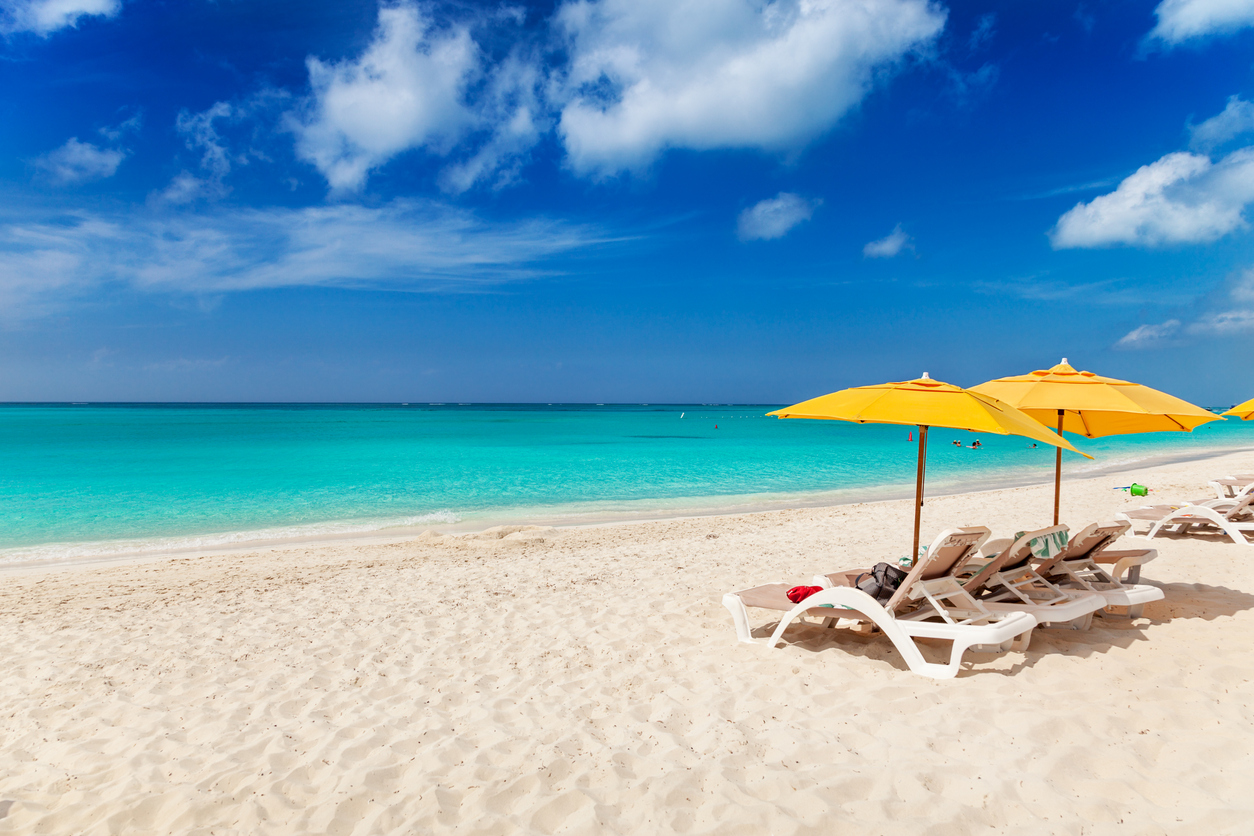 Turks & Caicos, a British Overseas Territory, is only 600 miles from Miami and an easy escape from the post-holiday humdrum.
Turks & Caicos invites honeymooners to its elite deluxe resorts, magical reefs, and some of the world's greatest beaches. There are 40 islands, and 8 of them are inhabited and boast of more than their share of sophistication, shopping, and gourmet dining, all in year-round soothing degree weather.
With flights relatively inexpensive in January, there is more money for a few more cocktails, massages, or both. The best beach option is undoubtedly twelve-mile-long Grace Bay Beach with the third largest reefs in the world. It's a breathtaking sight. One of the most memorable resorts on Grace Bay Beach is The Sands at Grace Bay Beach, an all-suite resort designed to create perfect honeymoon memories. The watersports are first-rate, as are the golf and cruises.
Fewer places are more ideal for a wedding than the Sands and the wedding package it customizes to any budget. Add-ons to the basic wedding package include entertainment, photography, and dining.
High-end dining is just another Turks and Caicos honeymoon draw, such as Baci by the Turtle Cove Marina, all Italian and all romance both inside and on the terrace.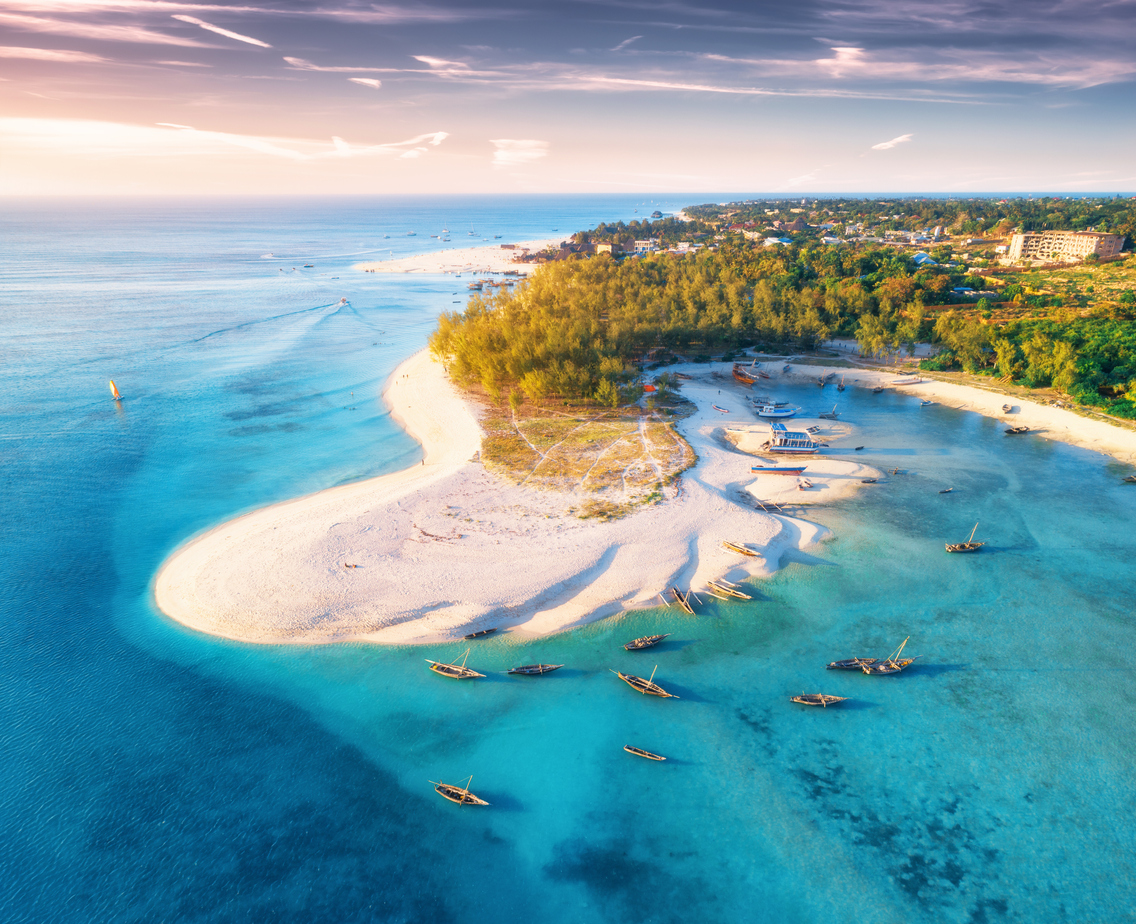 Zanzibar is a top honeymoon destination, and January is an excellent time for a visit as it is less humid and quieter than the summer months and happens before the rainy season. Honeymooners will find different cultures to explore, white beaches with water sports, diverse marine life, and the Indian Ocean. Enjoy a dolphin tour in January tour from Mnemba Island or Kizimkazi Beach.
Zanzibar is not a cookie-cutter beach honeymoon. This is where to step into married life with expectations of tremendous excitement. It's different and unique – as are you.
There is much to do and see in Zanzibar, from the marine life on the west coast to the famed spice tours in the south.
The villas at The Residence Zanzibar offer the comfort and privacy all newlyweds seeks as it provides European elegance complete with a garden and a view of the ocean. Their special Romance Package includes breakfast and dinner, wine, a fruit basket, dinner at the beach, and a romantic sunset cruise. Zanzibar is where romance comes to bloom.
For those wishing for a more untamed experience, Selous Ngalawa Camp by the Rufiji River has tents in the midst of the wilderness and daily guided safari rides for a genuine Zanzibar experience.
There are no limits to the excitement in Zanzibar, from seeing its diverse wildlife roaming the Serengeti National Park, climbing the incredible Mt. Kilimanjaro, meeting chimps in Gombe Stream National Park (made famous by Jane Goodall), and the breathtaking Victory Falls. It is hot in January, and that is the time the Falls' surrounding luxury accommodations turn into a bargain.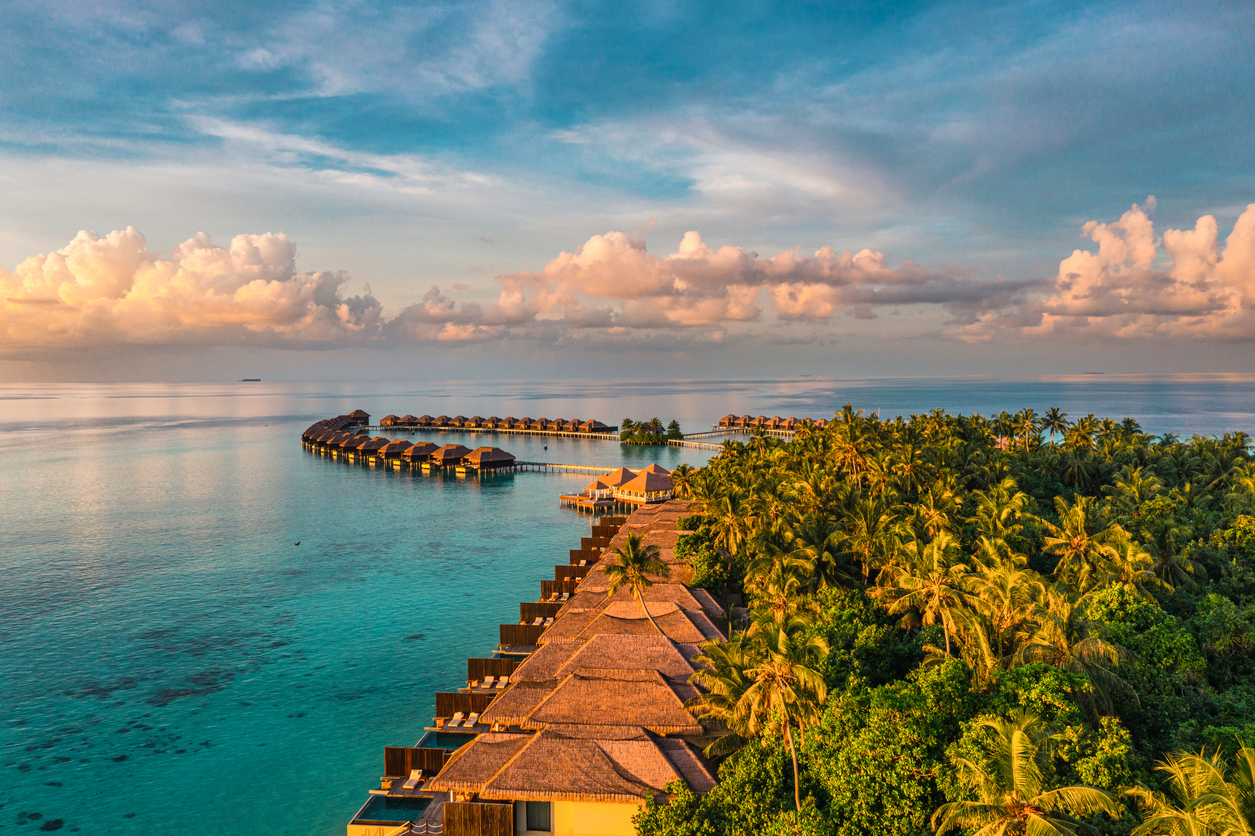 In January, the waters surrounding the Maldives are as clear as crystal, making it a top destination for all watersports. Located in the Indian Ocean, the 1,192 islands that comprise the Maldives provide an escape from the maddening crowd, and the post-wedding and post-holiday chaos. Just imagine those over-the-water bungalows, busy marine life, and an archipelago of stress-free islands.
Coming from the US may take up to 20 hours with possible layovers in Dubai or Sri Lanka, but the long travel time to paradise is worth it. Upon arrival, Maldives resorts can be accessed by boat or seaplanes. Keep in mind the Maldives does not permit liquor except in the resort hotels.
The best accommodations are the private over-the-water bungalows with breakfast in bed and jumping into the water from your private deck.
Island hopping for a week to the various islands offers fantastic vistas, great snorkeling, and colorful marine life. Some cruises specialize in the Maldives' great diving and surfing opportunities. It is also more economical than a stay at a resort.
For a luxurious and pampered stay, newlyweds can't go wrong at the Niyama Private Islands with its 134 private villas and 10 restaurants. There are two islands from which to choose. The first is named Play for its many activities. Island Chill offers a slower rhythm, peace, and over-the-water villas. Niyama is rated the number 4 best resort in the world by Conde Nast as well as the number 2 top resort in the Indian Ocean.
For equal beauty on a budget, Cinnamon Dhnoveli Maldives is the ultimate surf resort at Pasta Point.
Finland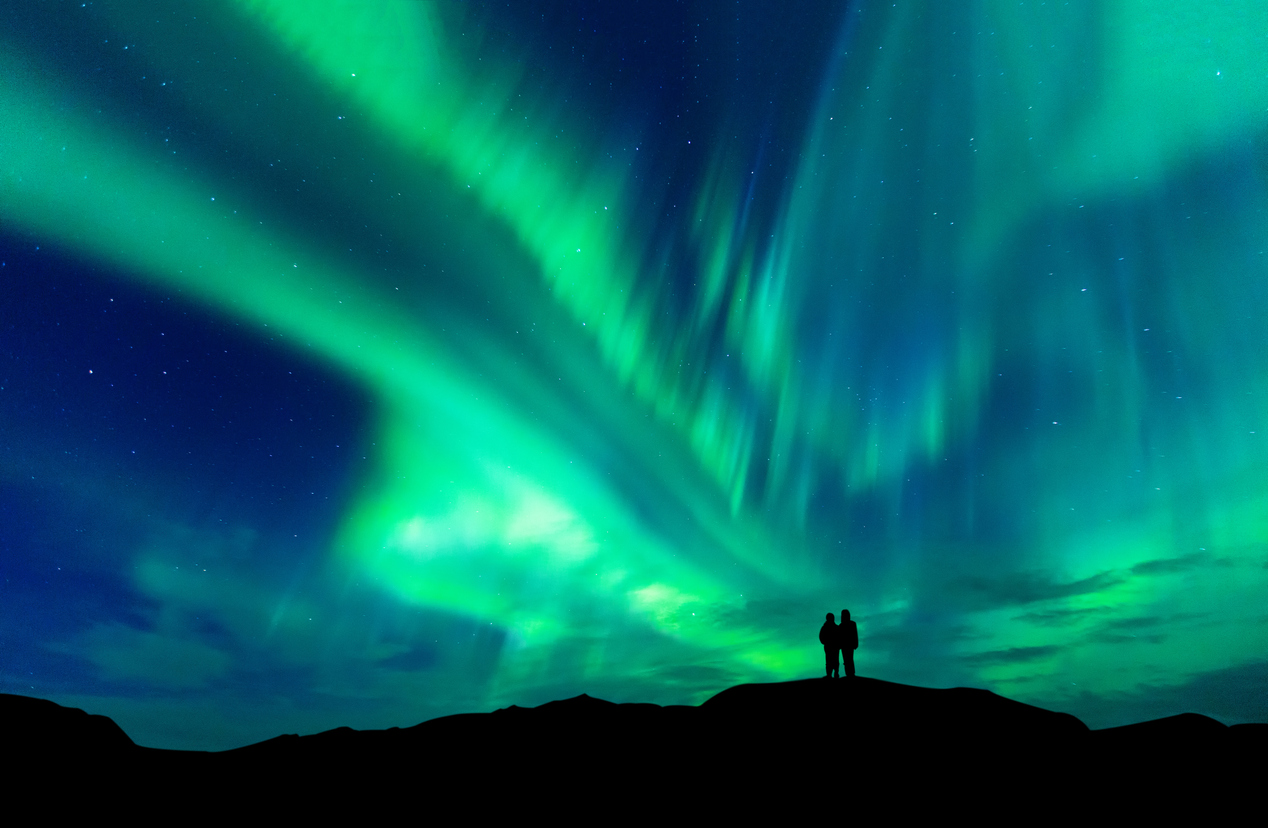 Beaches are fun for a January getaway. But many couples would prefer the beauty of a winter wonderland and snuggling in a hot sauna. Finland in northern Europe can be the perfect January honeymoon location.
For snow bunnies, there are unlimited sleigh rides and cuddling beneath a warm blanket. If you wish to prolong Christmas, a visit to Rovaniemi is a must. This is where to find Santa Claus Village, which is open year-round. Finnish Lapland (by the North Pole) has the best ice fishing, husky safaris, and snowmobiling.
One of the greatest reasons for honeymooning in Lapland are the breathtaking views of the Northern Lights, or aurora borealis, which are one the world's most exciting and colorful wonders and can only be seen from the North. Up your chances of seeing these lights by staying in the ideal resort. For newlyweds, the Kakslauttanen is a true post-Christmas gift of individual cozy glass igloos to let in the stars and the northern lights. These are romantic accommodations that include a sauna, a terrace, and an outdoor Jacuzzi.
While the days are shorter in January, it is a great time to view those lights.
The Kakslauttanen encourages romance and is a popular wedding destination. Can anything be more magical than a wedding under the aurora borealis? The resort creates a special snow chapel within the forest. Forget an ordinary limousine. The couple will arrive at the chapel in a reindeer of horse-drawn sleigh. Memories for a lifetime are created here. And envious friends wished they had thought of this.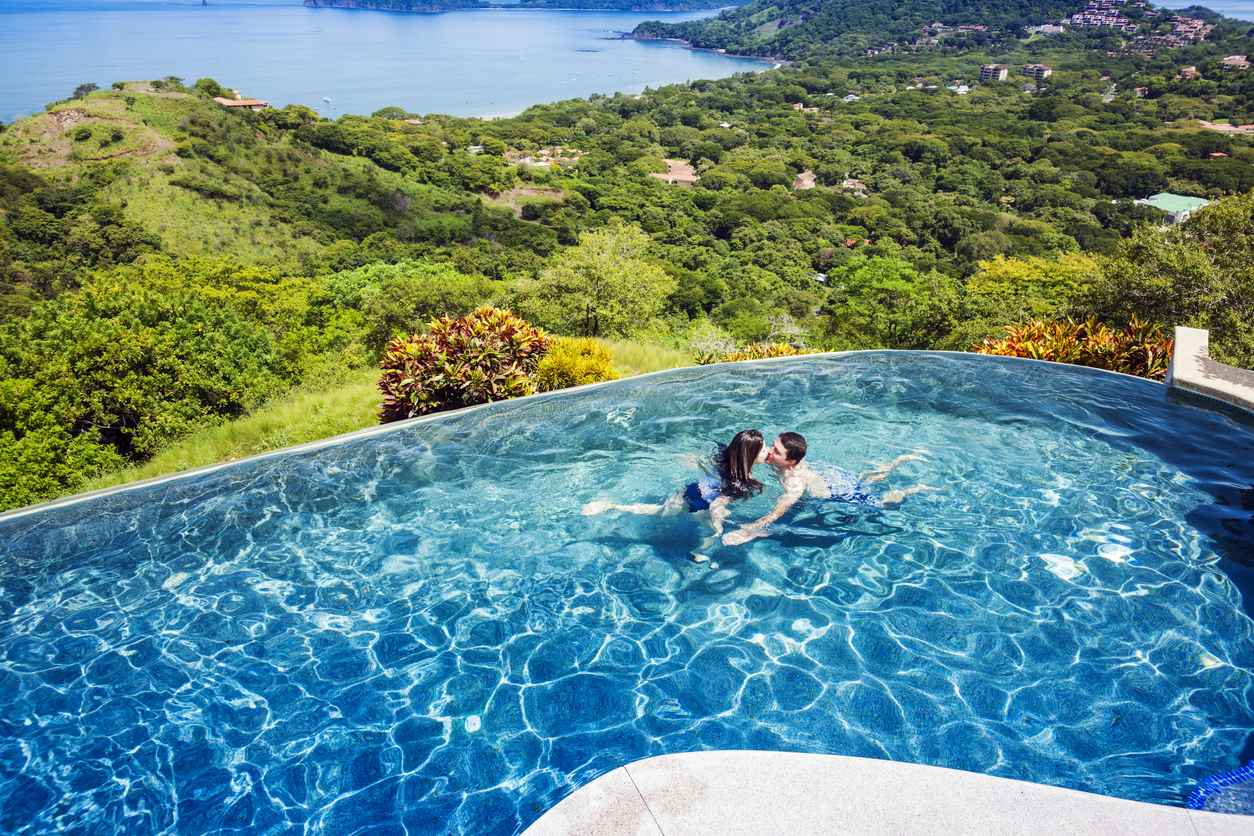 January is Costa Rica's dry season, with plenty of sun and very little rain. The first week of the month can be expensive due to the holidays, but prices drop considerably thereafter.
Costa Rica has jungles, tropical beaches, and high 12,000-foot peaks, offering a honeymoon filled with variety. Despite its warm, tropical climate, sweaters may be needed for the mountains.
The island is small enough to be easily explored in its entirety – from beaches to high volcanoes while never leaving paradise. And this paradise seems to be devoted to honeymooners, whether it's the mineral soaking pools, couples' massages, or adults-only resorts with private bungalows, cupid's arrows are kept busy. Most destinations have grand day tours, but Costa Rica has exceptional night tours that can bring a new perspective to your surroundings and your relationship. Will you survive a nighttime walk through the jungle together?
Voted one of the top resorts in the world, adults-only Nayara Springs' private villas offer grand views from a private terrace, plunge pools, outdoor showers – all in the middle of the jungle. The outdoor spa is hidden away in a private garden, and while lulling at the beaches is a popular Costa Rican activity, honeymooners can also enjoy ziplining, private sunset cruises, horseback riding, diving, and surfing. Rumor has it ziplining was invented in Costa Rica.
For a romantic dinner in Playa Ocotal, newlyweds may wish to consider the oddly named Father Rooster, a former hacienda by the beach that will happily arrange a honeymoon dinner.
When exploring Costa Rica, the first step should begin with Rincon de la Vieja with its waterfall, volcanoes, healing mud baths, and rivers. To catch it all, there is a choice of several tours to explore all that the landscape has to offer.
Nayara also offers some stand-out glamping at its Nayara Tented Camp. Couples can "rough" it in a romantic tent complete with every possible amenity. There are private terraces, stylish tent décor, comfortable beds, breakfast on the terrace, mini-bar, and plunge pool. Of course, no one could survive without a hair drier, so there are plenty of outlets. Meals are prepared by experienced chefs. This is getting close to nature while remaining entirely civilized.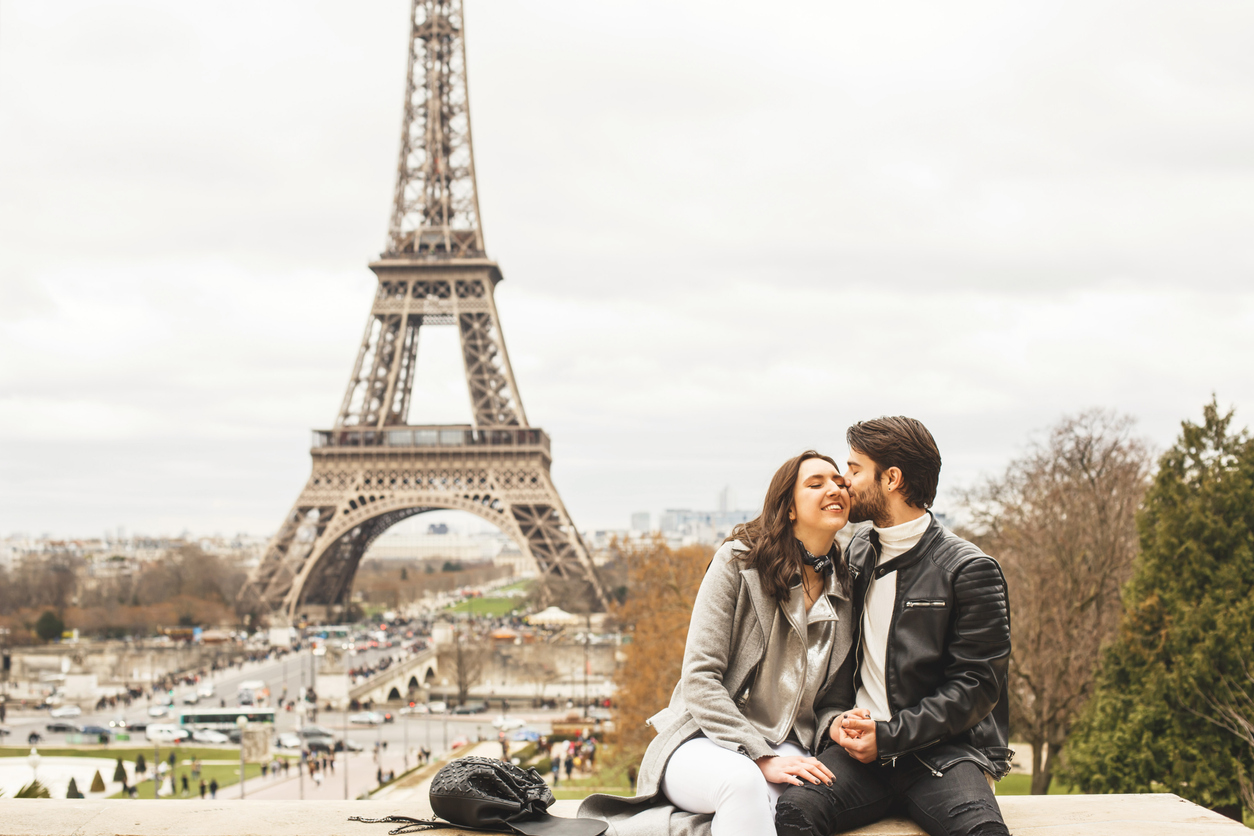 Paris in January? It gets rainy, and it is cold there in January. That is indeed true. And those are some of the reasons you want a January honeymoon in Paris.
Paris is beautiful, but expensive and crowded. With fewer crowds in January, prices will be considerably lower than at other times. Avoid being crushed like a sardine while visiting the Louvre and trying to catch a glimpse of the Mona Lisa from across the room. This is an opportunity to actually see those fabulous Paris museums. January is one of the few months when that is feasible.
Luckily, several Christmas markets will remain open into The New Year, so honeymooners can actually enjoy a second holiday and go mad during those Parisian winter sales. As with accommodations, there are great discounts to be had. These sales are regulated by the French government and last from January 10th to the first week in February.
Due to fewer crowds than the rest of the year, there's perhaps no better time to soak up a little Parisian culture than during January, when most museums are emptier than at other times of the year.
Don't miss the Musée de la Vie Romantique, which is all about romance. In January, enjoy tea and cake available in the museum's Tea Room. Dinners in Paris don't get much more romantic that at the Eiffel Tower's Jules Verne Restaurant. Couples can indulge in one of the best dinners in the city with the Paris lights twinkling below.
It is, frankly, difficult to imagine a Paris hotel that is not romantic. But Le Meurice checks all the romantic boxes with its 18th-century majesty. It is an actual work of art in its own right. Salvador Dali, Emile Zola, Warhol, and other luminaries drew inspiration for their work while staying here.
The food is superb, even by high French standards. The pastry chef is the winner of the "World's Best Restaurant Pastry Chef."
All 49 rooms and suites are lavish and spectacular. Of special romantic interest would be the Pompadour Suite, named after the mistress of King Louis XV. The décor is all about providing pleasure to all the senses, including the lavish chandeliers. The bathroom is a study of rich Italian marble with the finest personal care products. Of course, the suite includes a bottle of champagne, a fruit basket, and fresh flowers.
Is Paris in January sounding like a dream? There is more.
The annual Paris Cocktail Week begins on January 24th. Fifty bars create their best cocktails at a reduced price – all in one week. That is a lot of drinks. For non-drinkers, they will prepare mocktails. While drinking plays a large part in this week, it is more about mixology masterclasses and special parties. Click above for the best bars in which to celebrate.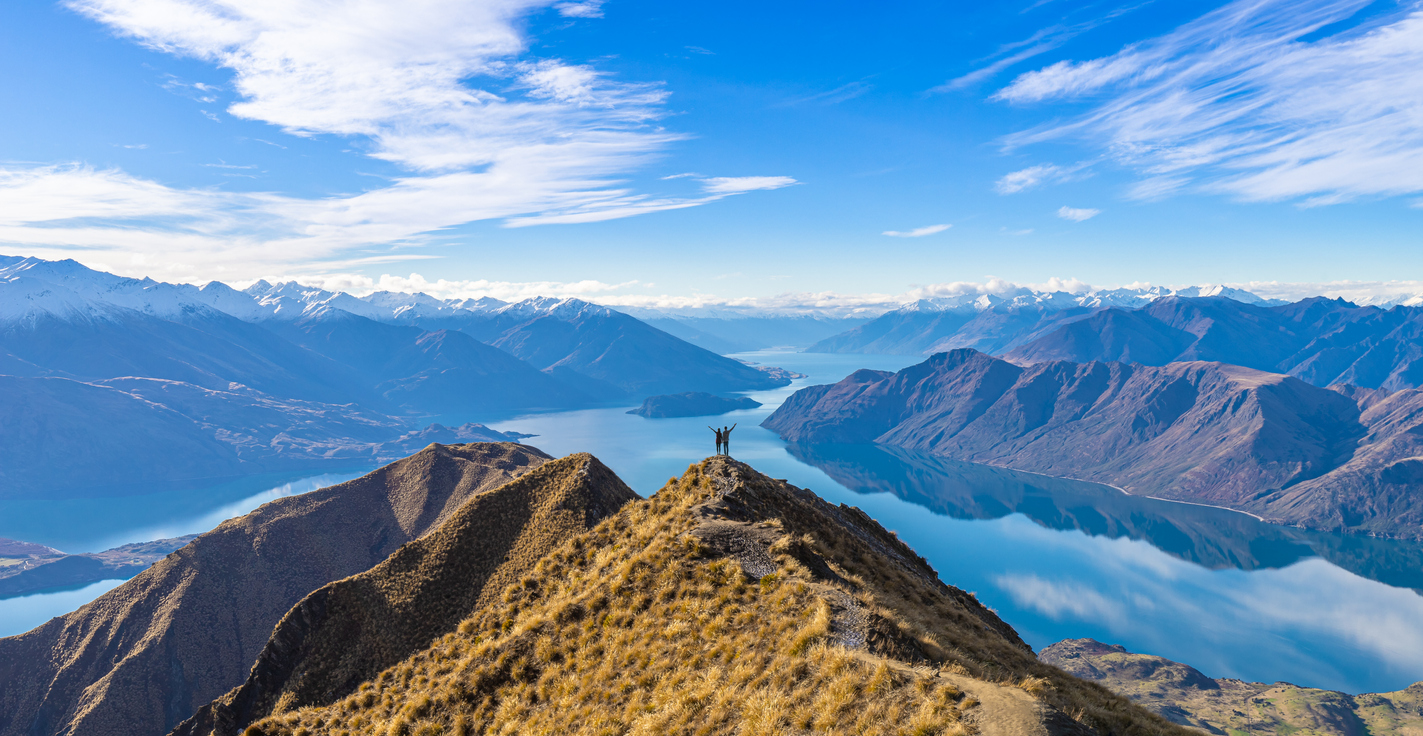 In New Zealand, January is summertime with nice, warm weather usually in the upper 70s.in northern New Zealand. Certain days may see temperatures in the mid-80s. January is the country's dry month, making it ideal for outdoor explorations.
New Zealand consists of a group of islands filled with volcanoes, geysers, mountains, and so much more generally divided into North Island and South Island.
The North Island is where to find the volcanoes, mud pools, hot springs, as well as an abundance of white sand beaches. Lovers of wine and fresh seafood will be quite at home here. North Island is also where most of the native Maori people live, and where their culture can be experienced.
For art lovers, Wellington on North Island is a gift of art galleries and sculptures.
Some visitors consider South Island the more scenic of the two. Its coastline and mountains and fjords are stunning. It is cooler in the South, especially in the mountainous areas. It has a huge wine region which produces some of the top Sauvignon Blanc in the world. While the North is proud of its seafood, the South is known for its lamb cuisine. Queenstown offers excitement such as ziplining and skydiving.
New Zealand's South Island is very much a glamping location, and the tree houses at Hapuku Lodge offer the best. Located by the Kaikoura Seaward Mountain Range and its coastline, this is a natural getaway for honeymooners. National Geographics has referred to Kaikoura as a "maritime Serengeti."
All treehouse accommodations include three gourmet meals each day. The one-bedroom treehouse comes with breathtaking views, soaking tubs, balcony, mini-bar, and a fireplace.
Hapuku Lodge will plan weddings for up to 36 guests.
If there is one New Zealand restaurant newlyweds should not miss, it is Sails Restaurant in Auckland. The view of New Zealand's largest marina, with thousands of yachts, is a once-in-a-lifetime experience. And Sails has more than its location to offer. Its reputation as one of the country's finest restaurants is well-earned with its outstanding cuisine.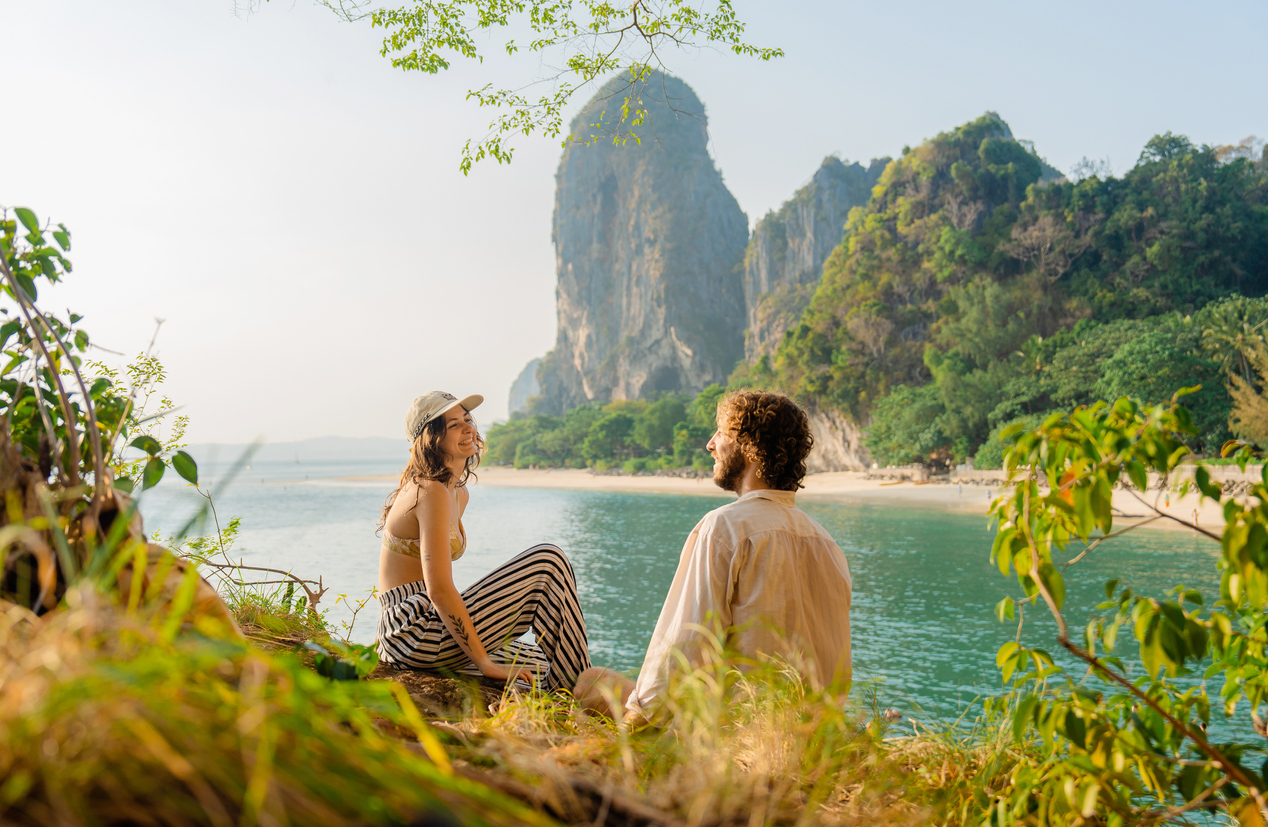 Phuket is Thailand's largest island, and a hot (not temperature-wise) tourists spot. The temperature in Phuket varies comfortably between 72 to 90 degrees in January. And the rainfall is only about an inch. It doesn't get any more comfortable than that.
January is such a perfect month to visit Phuket. A drawback is that it can get somewhat crowded.
Beaches:
For dining right on the sand, The Thavorn Beach Village resort serves dinner right on Nakalay Beach, with the waves lapping to the shore. This is easily the most romantic beach in Phuket.
Nui Beach is a small, popular beach that can get crowded. However, the sand is gorgeous, the palm trees sway above, and there are restaurants available.
Nightlife:
The only thing hotter than Phuket's beaches is its nightlife. The island has huge nightclubs with famous DJs, several rooftop beach bars, many of which are open until morning.
Bangla Road closes to all traffic after 6:00 p.m. and becomes part of Phuket's best nightlife with plenty of noisy bars, some of which are adult-only. The road also quickly fills with street entertainers, go-go bars, and every type of music.
Karon Beach is similar, but not as loud. The restaurants are family-friendly, and the bars and nightclubs are quieter.
Phuket's Full Moon Party is a monthly gathering on Paradise Beach that is famous throughout the world. It attracts top-rated DJs with the best sound systems. Fireworks go off throughout the evening, and hedonistic behavior is the norm. For the VIP treatment, begin the party at 2:30 p.m. on the NautiBeat yacht with its cash bar and live entertainment. Speedboats will take guests to the shore. The party on the NautiBeat will last until 3:30 a.m.
Phuket Snorkeling Tours is one of the best ways to explore the coastline and find the best beaches for snorkeling.
For the ultimate in luxury hotels, a honeymoon at the Trisara Hotel is difficult is beat. Guests with their private villas and pool enjoy every imaginable luxury, and the hotel offers a cozy beach, romantic cruises, fine dining, and Thai cooking classes.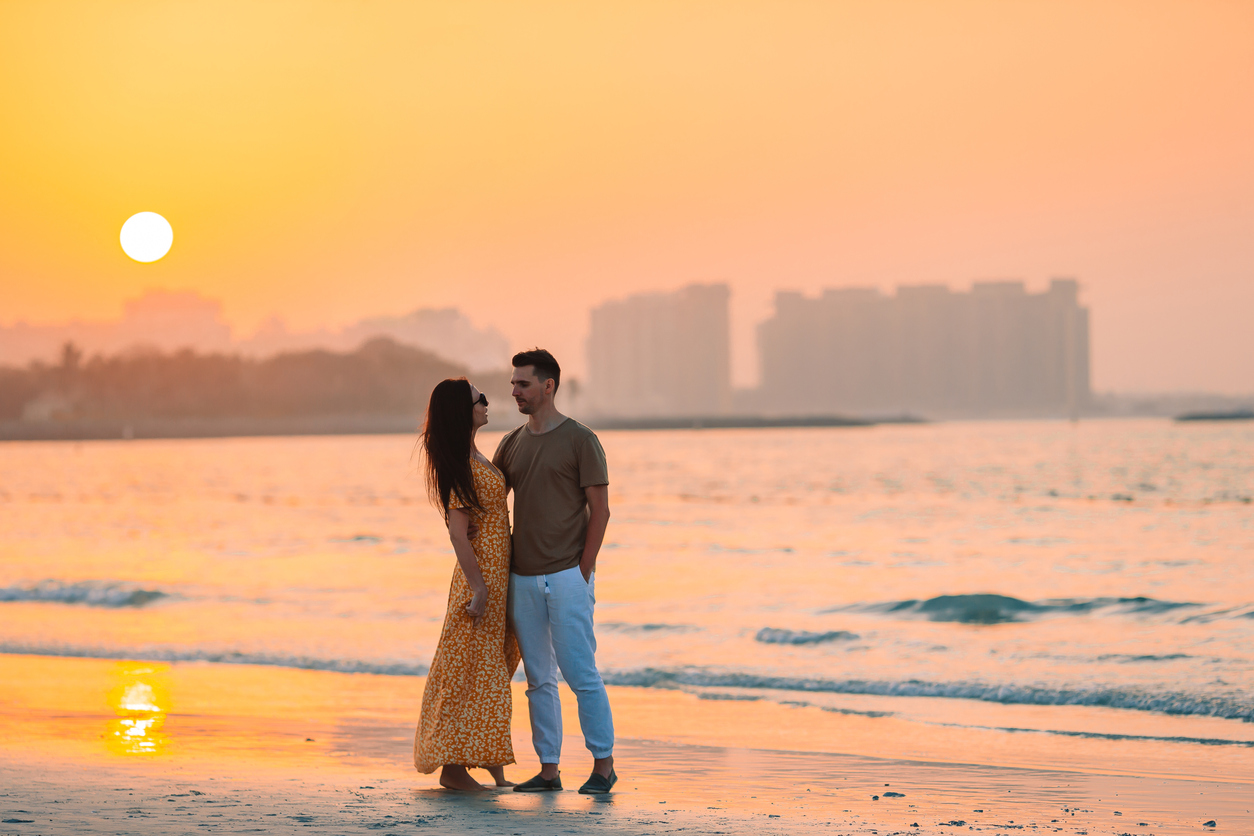 Dubai is the ultimate glamorous, glitzy honeymoon, and January is the ideal month for a visit. The weather is comfortable without yet reaching Dubai's summer heat and humidity. In the midst of the desert, Dubai is an opulent indulgence for adults. What more can one ask of a honeymoon? One note: Dubai is a Muslim country, so it's best to keep the "get a room" behavior until you reach your glamorous room.
While Dubai does have bargain accommodations, most visitors rightly expect something spectacular. And it doesn't get much more spectacular than the Atlantis Dubai.
Honeymooners will embrace the opulent lifestyle in one of Atlantis' suites with large terraces and pools. Some come with Butler Service.
The Atlantis has 17 restaurants, including 3 that are Michelin-starred: Dinner by Heston Blumenthal, Ossiano, and Hakkasan Dubai. This is culinary mastery as the highest level. Of course, a proper British tea is served in the Royal Tea Room every afternoon.
For romantic things to do in Dubai, a helicopter tour over the city provides the best private ways of getting memorable photographs of your honeymoon. Another way to see the sights is by taking a fabulous dinner cruise with a buffet dinner, a glass of wine, and live entertainment. Guests will be picked up at their hotel and pass by Dubai's important landmarks, such as the Grand Mosque.
Honeymooners should not leave Dubai before seeing Dubai's Grand Mosque with its amazing 82 domes. This architectural marvel welcomes visitors from all backgrounds. It took 1,300 artisans just to hand-knot the prayer carpet. The garden is filled with marbled mosaic, tall columns, and reflective pools. The Mosque offers free guided tours.
Keep in mind this is a house of worship and dress accordingly.
Dubai is not known as a bargain destination, but each January, people from around the world swoop down on the Shopping Festival, where major discounts on name-brand items can be found throughout the city. It's the time for some serious shopping.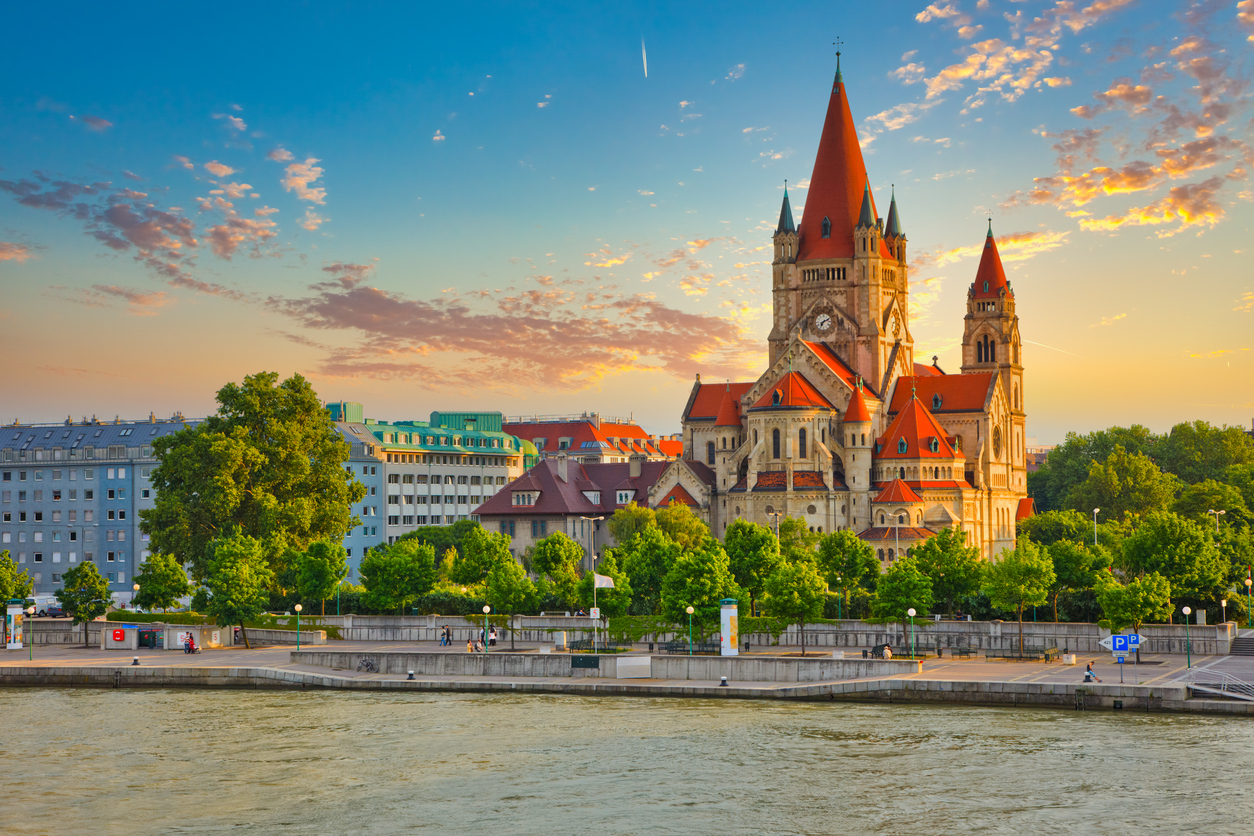 It does indeed get cold in Vienna in January. However, with countless museums and snug coffee houses, this could be the best time to visit. Bring a good coat and gloves and wander in the footsteps of Sigmund Freud and Wolfgang Mozart.
Take advantage of the season and visit the many Christmas markets still open. One of the best is the holiday market by Schönbrunn Palace. It would even convince Scrooge to celebrate. Mozart's music plays from the stunning castle. The lighting is breathtaking, especially at night. Shopping here is high quality and traditional; ornaments are handmade and stunning. As is the food available throughout the market, from Viennese pastries and real gingerbread.
Vienna is a city of museums, Explore its history at the magnificent Sisi Museum or the Sigmund Freud Museum. And there is no palace to equal Schonbrunn Palace, the home of the Hapsburg family, for a guided tour. Those Hapsburg were the most powerful family in Europe for generations.
Couples can relax and snuggle in one of Vienna's soothing thermal spas, the Therme Wien in Oberlaa. The spa goes back to Roman times, when sulfur springs were a popular healing method. Oberlaa has 26 pools, 2 dozen saunas, and hundreds of loungers. If the water isn't soothing enough, their peerless massages are bound to be. Guests can relax and snuggle in the fireside lounge.
The Belvedere Complex is the largest palatial complex in Vienna consisting of two magical Baroque palaces. It is also the home of the Belvedere museum. The grounds are magnificent with their fountains and sculptures.
Art is at the heart of the complex, with a permanent collection of middle age and Baroque paintings. There is also a vibrant modern collection of Rodin, Monet, and van Gogh. Four hundred glorious pieces of art span 800 years of history. The Complex's artistic touch includes the vibrant gardens.
Vienna, the home of kings and queens, can take luxury for granted. One of the most romantic places to stay in the city is the palatial Hotel Imperial, serving as a royal symbol with its marble bathrooms and personal butler service.