Photo Courtesy of Jamaica Tourist Board
Destination Overview
With its sprawling white sand beaches and a thriving nightlife scene, Montego Bay is among the most popular and colorful honeymoon resort areas in Jamaica. Throughout the year, planes and cruise ships bring visitors – sunscreen in hand – to the beloved destination on the country's northern coast thanks to the presence of both of Jamaica's second-largest port, Montego Bay Port, and Sangster International Airport.
Containing thrilling activities on both land and in the sea, historic colonial sites, and live music nightly at the area's numerous restaurants, Montego Bay has something for every type of honeymooner. In fact, the city is a central arrival point for a significant portion of travelers, so it's a great city to explore even if your eventual destination is Ocho Rios or Negril. And exploring is something you'll certainly want to do in Montego Bay thanks to a copious number of jungles, rivers, beaches, lush green hills and turquoise harbors nearby. Plenty of couples decide to spend their entire honeymoon in the city after falling in love with the gorgeous beaches and hip nightlife scene.
After an epic day exploring the area's magnificent caverns with Cockpit Country Adventure Tours, coasting down the Martha Brae River aboard a handmade bamboo raft, or simply stretching out on the beautiful sands at Doctor's Cave Beach, Montego Bay's restaurant scene will exceed all expectations. From succulent jerk chicken at the Pork Pit or Scotchies to fine dining at The Sugar Mill or Marguerite's, a culinary adventure is waiting to be enjoyed. Plus, there are plenty of unique options to dine right on the beach including seafood at Sky Beach or aboard the HouseBoat Grill.
Accommodations are where Montego Bay truly excels. With innumerable all-inclusive resorts, luxury villas, and delightful guesthouses and apartments, the city is always ready to accommodate couples in any price range and length of visit. Your honeymoon is a once-in-a-lifetime trip, and you'll find that Montego Bay has everything needed to make your trip the best it could possibly be.
---
About Montego Bay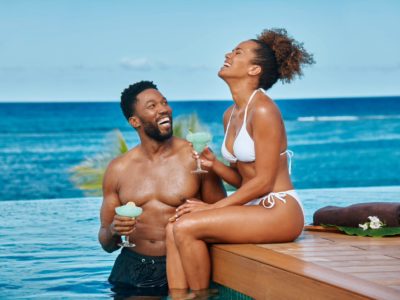 At a Glance
Golden sand, translucent blue waters, and gentle surf make Doctor's Cave Beach the most popular in Montego Bay. Excellent amenities such as beach chair and umbrella rentals, bathrooms, gift shops, and even a cybercafe make it well worth the modest entry fee. Stretch out on the warm sand and watch the world go by or get in the mood of the beach party atmosphere. Find this place between the Hip Strip and the Montego Bay Marine Park, and you'll experience the true definition of "A Day at the Beach!"
Cornwall Beach is a relatively new two-acre wonderland for fun and sun that has become popular with visitors. Available amenities include snorkel gear, chair and umbrella rentals, a restaurant, gift shop lockers, and live music. Every honeymoon should include at least a few hours here!
Couples who seek the utmost in privacy and luxury on the beach can spend a day at the exclusive, secluded Rose Hall Beach Club 11 miles out of town. Stake out a spot just for the two of you on the half-mile-long stretch of white sand bordered by crystal clear water and be as lively or as lazy as you like. A restaurant, a bar, hammocks, showers, and a watersports program are just part of the attraction.
Gloucester Avenue at the heart of Montego Bay is action-packed. It is choc-a-block with hotels, restaurants, shops, hair braiders, and just about everything else under the sun.
If you're not a shopper but still want to pick up small gifts for the folks back home, Old Fort Craft Park is the place to visit. Straw items, sculptures, wood carvings, and other souvenirs can be found at the myriad of stands. Bargaining is part of the scene, but vendors are licensed by the Jamaican Tourist Board.
Don't miss the local street food! Snacks from stands along the Hip Strip can be delicious, and authentic jerk pork or grilled spareribs with hot sauce serve as inexpensive treats.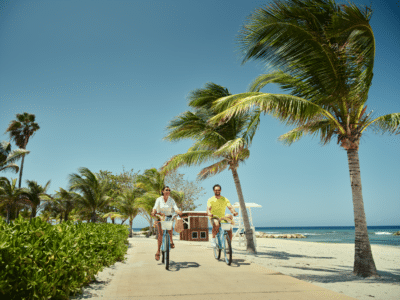 Travel Tips
GETTING THERE: Sangster International Airport is one of the leading entry points to the island as Montego Bay is a great place to spend a few days before taking off to other Jamaican destinations. Getting from the airport to your hotel can be a breeze if you make arrangements for an airport pickup in advance.
GETTING AROUND: Everything is right at your fingertips when you enter Ocho Rios, though you'll probably want to rent a car to take full advantage of the area's attractions and activities. Public transportation via buses and taxis is also available.
WHEN TO GO: The winter months are peak travel season in Jamaica due to the mild nature of the weather, though temperatures throughout the country remain remarkably steady throughout the year. Some of the best travel deals can be found during the summer months, but be sure to keep hurricane season (June through November with a peak in August and September) in mind when making plans. Regardless of the season you choose to travel, you'll be able to enjoy the region's picturesque beaches, magnificent waterfalls, and boundless outdoor activities.
WEATHER: Ocho Rios, like all of Jamaica, enjoys some of the most beautiful weather in the Caribbean. Expect temperatures in the 70s or low-80s in January and mid-80s in July with little variation. The region averages at least 225 hours of sunshine each month and receives a majority of its precipitation during hurricane season.