June, with its balmy days and extended daylight, offers a delightful backdrop for those embarking on their honeymoon journey. The allure of a June honeymoon is undeniably magnetic, offering a blend of sun-soaked beaches, bustling cities, and cultural hotspots. For couples looking to indulge in a worry-free escape where every detail is meticulously planned, all-inclusive resorts become a tantalizing option. Imagine sipping on a cocktail by the turquoise waters of Ibiza or Mallorca, or perhaps diving into the rich cultural experiences of Rome and Paris without having to fret about meal plans or activity bookings. From the luxurious getaways of Riviera Maya, Mexico and the Caribbean gems of Aruba and Curacao to the refreshing landscapes of Cape Cod and Lake Tahoe, these destinations ensure unforgettable memories. Not to forget the vibrant vibes of cities like Barcelona, Copenhagen, Chicago, and the mesmerizing streets of Seoul, South Korea. Ready to embark on an unforgettable June honeymoon? Let this list be your compass to romance, relaxation, and all-inclusive reverie.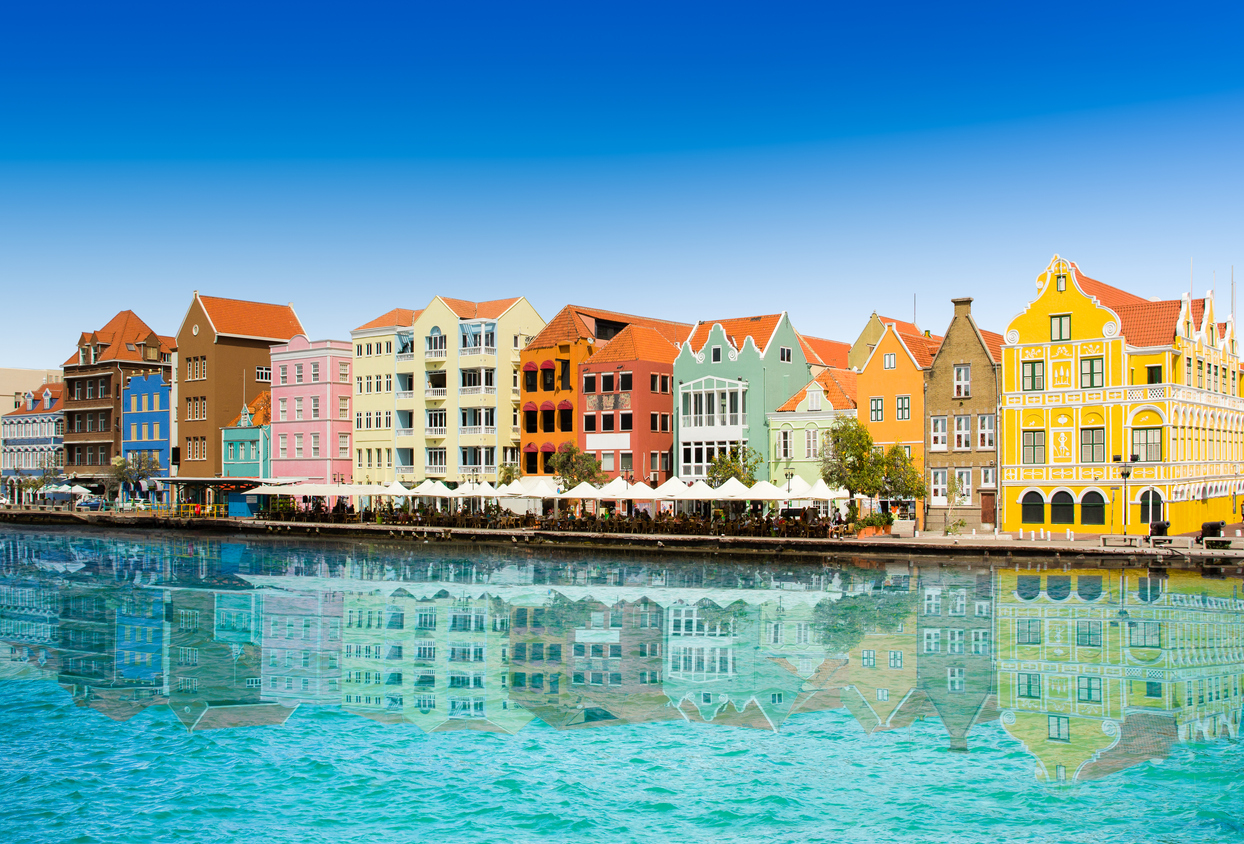 Curacao is very similar to Aruba, which isn't surprising since they are only 70 miles apart. However, there are differences. While Aruba may win the beach competition, Curacao has other advantages. Curacao is more affordable on most levels, and the wind is much gentler, simply offering a nice breeze rather than a gust.
Willemstad, Curacao's capital, also has a more defined Dutch culture and architecture that resembles Amsterdam with lots of eateries and shopping.
All-inclusive Sandals Curacao has everything available at one price. No need for cash or credit cards. There is unlimited dining and 13 bars offer unlimited top-shelf liquor. The resort offers certified Scuba lessons and unlimited water sports. Evenings bring live entertainment.
Couples can snuggle on a cruise while enjoying a glass of wine and toasting their new life. More snuggles happen during Sandal's open-air movie night on Mambo Beach.
Begin your new life together by becoming an impressive power couple. Take private Caribbean cooking classes in Willemstad and discover the secrets of Caribbean spices and flavorings. Prepare dishes and learn how to recreate them at home for friends and family. Imagine how impressed they will be.
---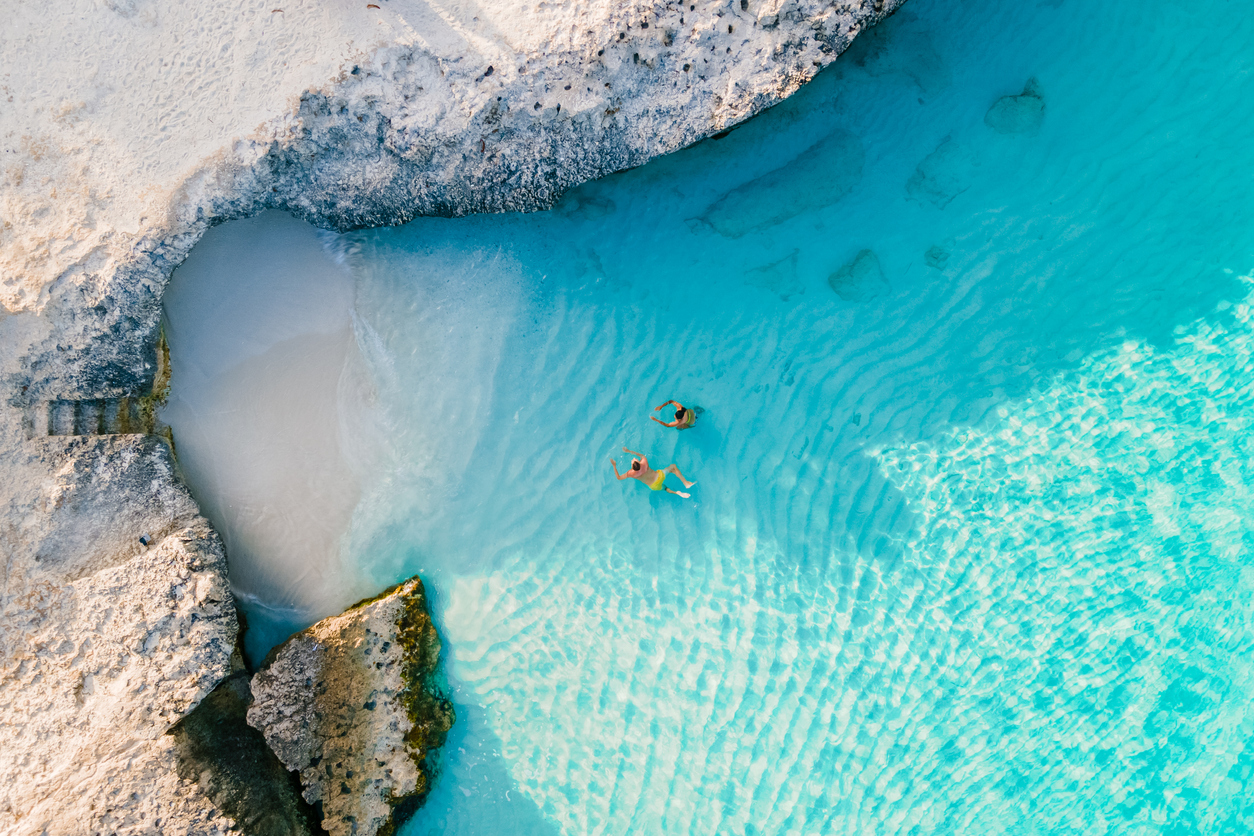 Aruba the Caribbean's Lesser Antilles is easy to reach from the U.S. The island is borderline but quite dry in June. This is the month that Aruba celebrates its annual harvest with music, food, and dancing. There are many individual events scheduled for this big day that couples can join. It's Aruba's most exciting month.
It's the never-ending white beaches and azure waters that make Aruba a preferred honeymoon destination. The color contrast is surreal and a bit overwhelming but very welcome after hectic weeks of planning a wedding.
The Hilton Caribbean Resort and Casino is Aruba's original luxury resort and helped turn the island into a favorite getaway as it stretches along Palm Beach. The special Palm Beach Club package includes champagne, special concierge service, special lounge access, breakfast, afternoon tea, and pre-dinner cocktails, as well as preferred restaurant seating and discounts on cabana rentals. In other words, they truly pamper their guests.
The Mira Solo lounge has nightly entertainment and stunning views of the beach.
The concierge will arrange cruises and other island excursions. Or couples can try their luck in the casino with its 200 slots and poker tournaments.
Gusto Night Club is a nightclub in Palm Beach. It was voted the number one bar in Aruba three times. Their happy hour – 9:00 p.m. to 11:00 p.m. – serves half-priced drinks and beers for $3.00. There is dancing on the Terrace, in the VIP Section, and on the inside of the Club.
---
Ibiza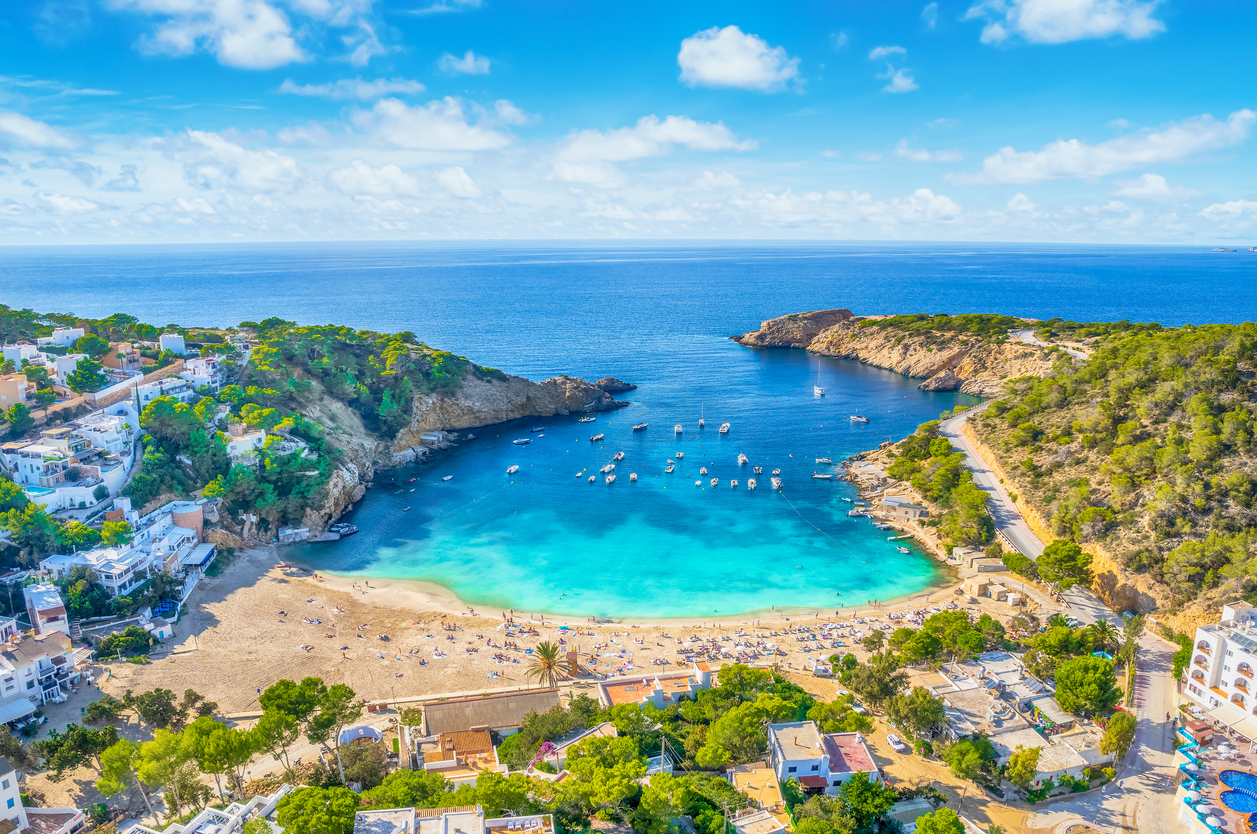 Ibiza is an island off the coast of Spain with world-class beaches. It is mostly known for its parties, and they welcomes the summer with huge crowds and crazy celebrations that attract an A-list crowd. While it's your honeymoon and you have eyes only for each other, people-watching here is real. Can you spot Taylor Swift or one of the younger Kardashians? Keep looking ….
For an action and music-filled honeymoon, Ibiza is the top choice as it bursts into life in June.
The beachfront, deluxe Hotel Torre del Mar is located just a few steps from Ibiza's hot nightlife to get your honeymoon started right. There are several types of rooms and restaurants, all with a view of the Mediterranean. The suites come with a terrace and a private jacuzzi. The heated pool and the gym were all designed with the comfort of guests in mind. For something upbeat, it even has its own discotheque.
The resort's spa has several different showers, a sauna, a steam bath, and a cooling-off area. Treatments are available indoors or outdoors.
Ibiza is for party lovers. Many couples sleep during the day and party at night. Hi Ibiza is a high-end club voted the best 2018 club in the world as well as the largest and boasts of hosts such as P. Diddy and Madonna. During the summer, it's party time all the time.
Amnesia, also named the 'best club in the world,' comes to life at midnight and attracts as many as 4,000 guests. For a quieter evening of sipping cocktails, couples can visit the relaxed Ibiza Ocean Pearl Lounge.
For honeymooners with a need to escape the clubs, the Ibiza Cathedral, built in 1234, has incredible medieval art that is cared for by local nuns. The climb up the hill can be a challenge, but it is certainly worthwhile. On the northern part of Ibiza, the Cova de Can Marca has caves that are 100,000 years old with lakes and waterfalls inside. Quite romantic.
---
Mallorca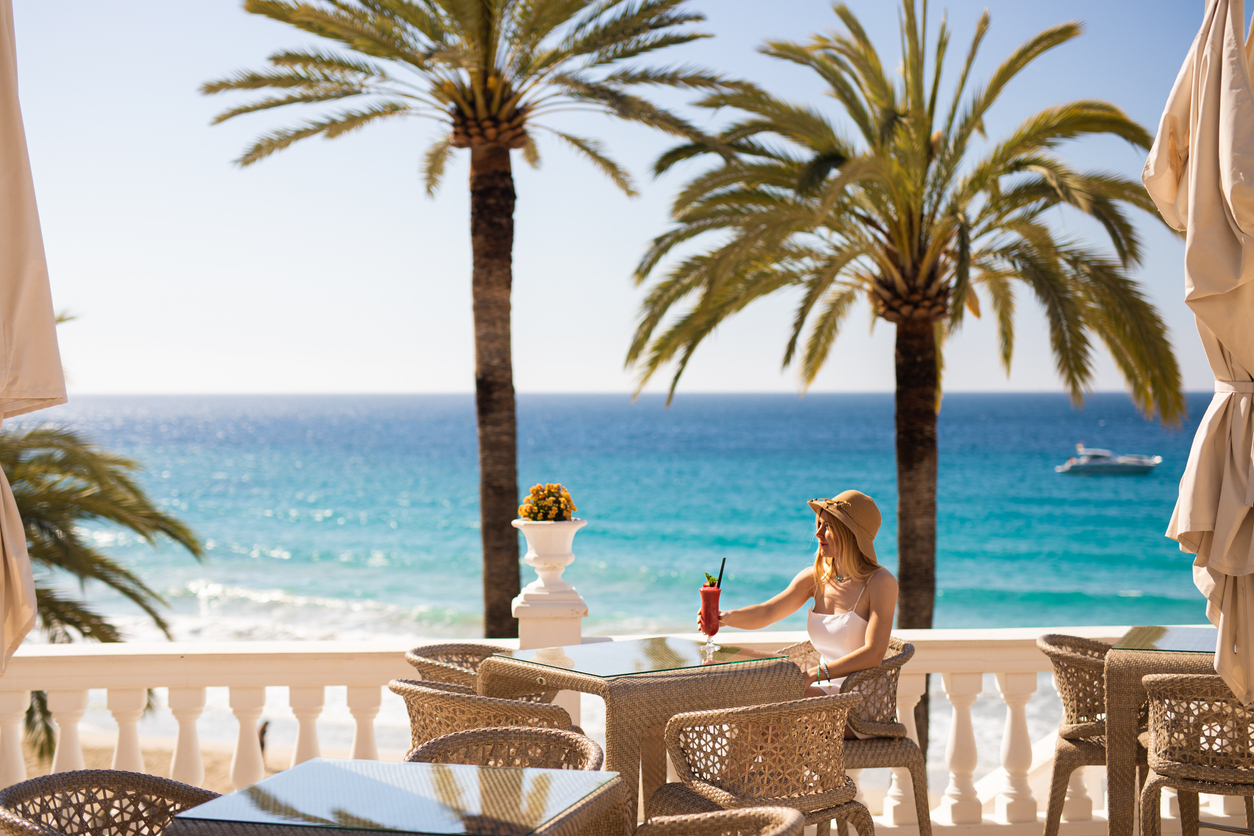 Mallorca (also known as Majorca) is another Spanish Mediterranean island with all the gorgeousness of Spain that has attracted vacationers and honeymooners for years due to its beaches, magical cliffs, hiding coves, and fabulous medieval architecture. Mallorca offers both a great beach vacation and, like its sister island Ibiza, can party like crazy. By June, the weather is in the mid-80s, and the water should be warm enough for swimming. The air is filled with fragrant orange blossoms.
The adult-only Castillo Hotel Son Vida, with its view of the Bay of Palma, offers 164 luxury rooms and suites, three golf courses, and a pool. Several restaurants take inspired dining to the next level.
Couples can take a tour of Bodegas Angel, a winery outside of Palma, for a romantic tour of the vineyard that explains barreling and aging and is followed by a tasting of several vintages.
When in Palma, a visit to the hilltop 14th-century Bellver Castle guarantees an outstanding view and remarkable Gothic architecture. The castle is a part of the Palma City Sightseeing bus tour. The castle still has its original drawbridge and a two-tiered courtyard. A tour of the castle includes the kitchen and the chapel. It now houses a museum filled with Spanish, Roman, and Arab memorabilia. So much history in one remarkable building.
A tour through the Cuevas del Drach in Porto Cristo includes a boat ride through the underground lakes with accompanying classical music. Spanish-style romance in high gear.
---
Cape Cod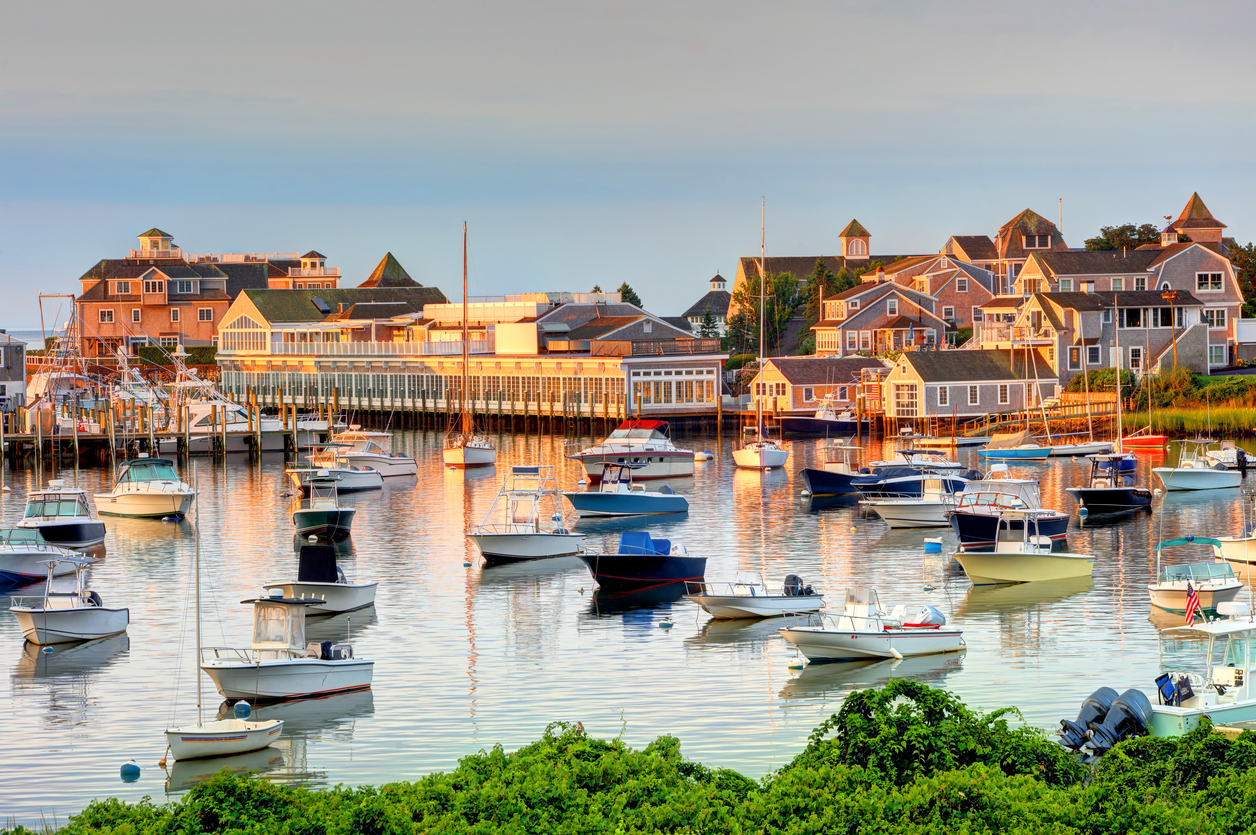 Cape Cod is the secret gem of Massachusetts, especially in June when its beaches, entertainment, and dining options come to life. The Cape area includes 15 towns with amazing shopping and dining. In June the temperature is still in the low 70s, and the summer crowds are still a month or so away.
Honeymooning in the Cape is a blend of water activities on prime beaches and the ability to enjoy some historic museums.
The Chatham Bars Inn and its beach have captured the famed beauty that is Cape Cod. Forbes Travel Guide and Conde Nast both have awarded it 5 stars. Conde Nast places it in the top 45 resorts in the world, while USA Today calls it a top ten waterfront hotel. Here, guests can enjoy a private beach, a beach bar, loungers, and a pool. They can also play tennis, enjoy private clambakes on the back, and lay back in the Zen garden.
Private cottages and suites with an ocean view ensure a delightful stay. Whether the dining is indoor or outdoor, great food comes with an even better view.
In the town of Sandwich, couples can get incredible frozen treats in the Ice Cream Sandwich shop, including ice cream donuts. These are can't-miss treats.
June is prime whale-watching time in Cape Code. Hyannis Whale Watcher Cruises in Barnstable conducts 4-hour guided tours with three viewing levels. The tour is $75.00 for adults and $3.00 for children.
The Kennedy family came close to owning Cape Cod, and the JFK Hyannis Museum is keeping the President's memory alive. Although his time was short, it included civil rights, revolution, and societal changes. Both his life and death are commemorated at the Museum.
For honeymooning foodies, visiting Seafood Sam in Falmouth for the best seafood on the Cape is a must.
---
Copenhagen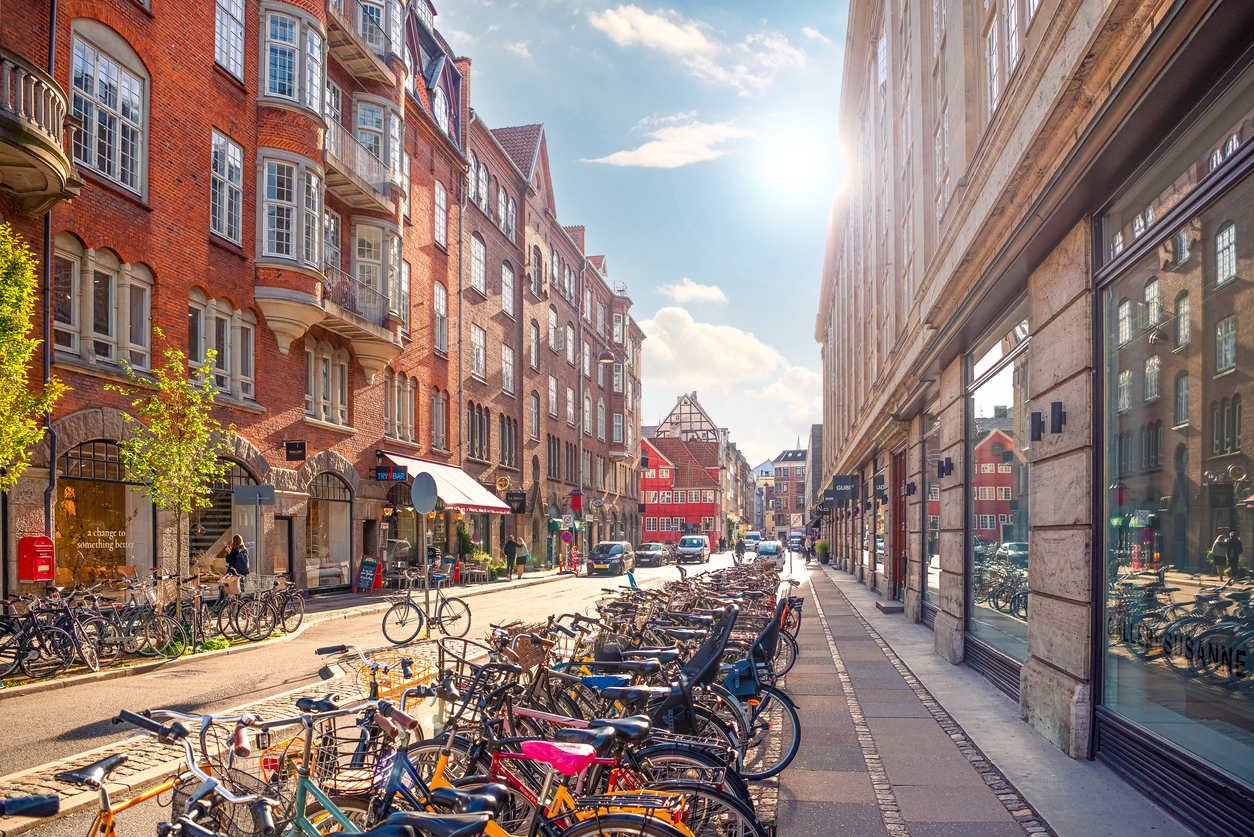 June brings the warm weather back to life following a cold winter. With temperatures in the 60s, sweaters are still advisable, but it is a great time for exploring this great Danish capital. Copenhagen is known to have the happiest citizens on earth, and couples can immerse themselves in the spirit, relax, and become a part of this happiness zone.
From the end of May to the first week in June, Distortion is an annual street festival that includes daytime public parties and nighttime clubbing with 100,000 Copenhageners celebrating life and moving around different areas of the city. Anyone is welcome to join them.
Also for a week in June, Copenhagen has its annual Photo Festival, Europe's premier photography gathering. Guests can view exhibitions and enhance their knowledge by attending workshops. Following a five-day tsunami of parties, couples can relax in the peaceful gardens of Rosenborg Castle, which was built in the 17th century and now contains four centuries of royal jewels and artifacts. The garden is a popular picnicking venue for everyone; in the past, only the royals could revel in its charm.
The adult-only 82-room Manon Les Suites combines bohemian with luxury for a relaxed honeymoon experience close to most major Copenhagen attractions, including the Tivoli Gardens. The modern suites, the indoor swimming pool, and the incredible rooftop terrace with its sauna and steam room elevate this to a true getaway.
Copenhagen has several guided canal tours that are perfect for viewing the city and landmarks such as the opera house, beautiful townhouses, the famous Little Mermaid statue, and Amalienborg Castle.
Enjoy a date night at three-Michelin-starred Noma, where complex dishes are the norm. It's the chicest restaurant in the Verterbro neighborhood.
---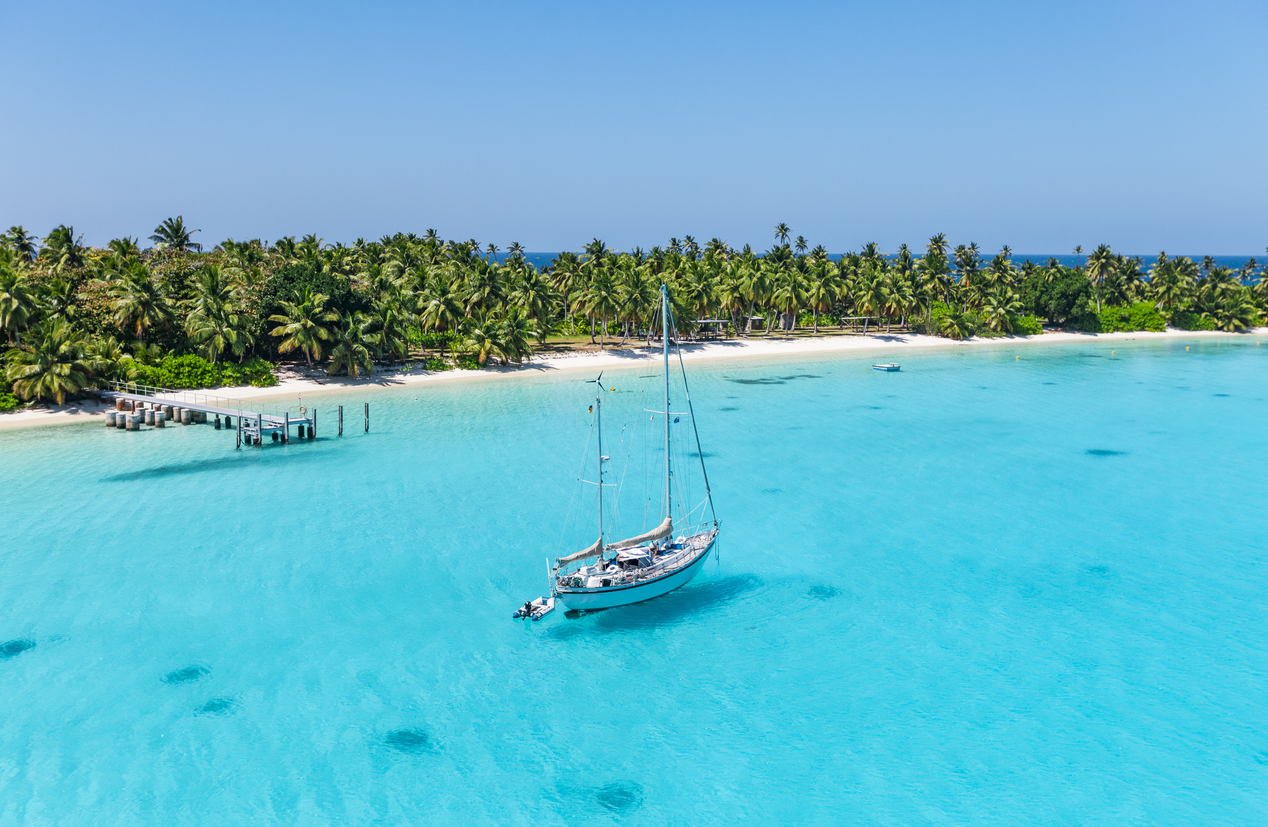 It's winter in Australia in June, and everyone heads for the Cook Islands in the Pacific for a tropical getaway where the weather remains warm but not too hot, around the 80s, and the water is comfortable enough to swim and dive. June is the Cook Islands' main season with lots of activities. There are 15 islands in all, so there is much to see, from hidden beaches to waterfalls, and tropical jungle mountains.
Rarotonga remains the heart of the Cook Islands. It is marvelously unspoiled, with no traffic lights or tall buildings. There are also no McDonalds. Just pure charm and enjoyment.
The adult-only Aitutaki Lagoon Resort is on a private island and one of the few accommodations with over-the-water bungalows. The lagoon itself has been named the World's Most Beautiful Lagoon. It is located a mere minutes from the main island of Aitutaki by ferry.
The romantic bungalows offer blue water as far as the eye can see, complimentary marine equipment, and the ability to jump into the water from the front porch.
The Flying Boat Beach Bar & Grill serves a tropical menu with a stunning view. Elites such as John Waye, Cary Grant, and Marlon Brandon loved to eat here.
The resort has a plethora of tours to discover Aitutaki and its surroundings.
Dive Aitutaki offers diving packages and whale watches.
---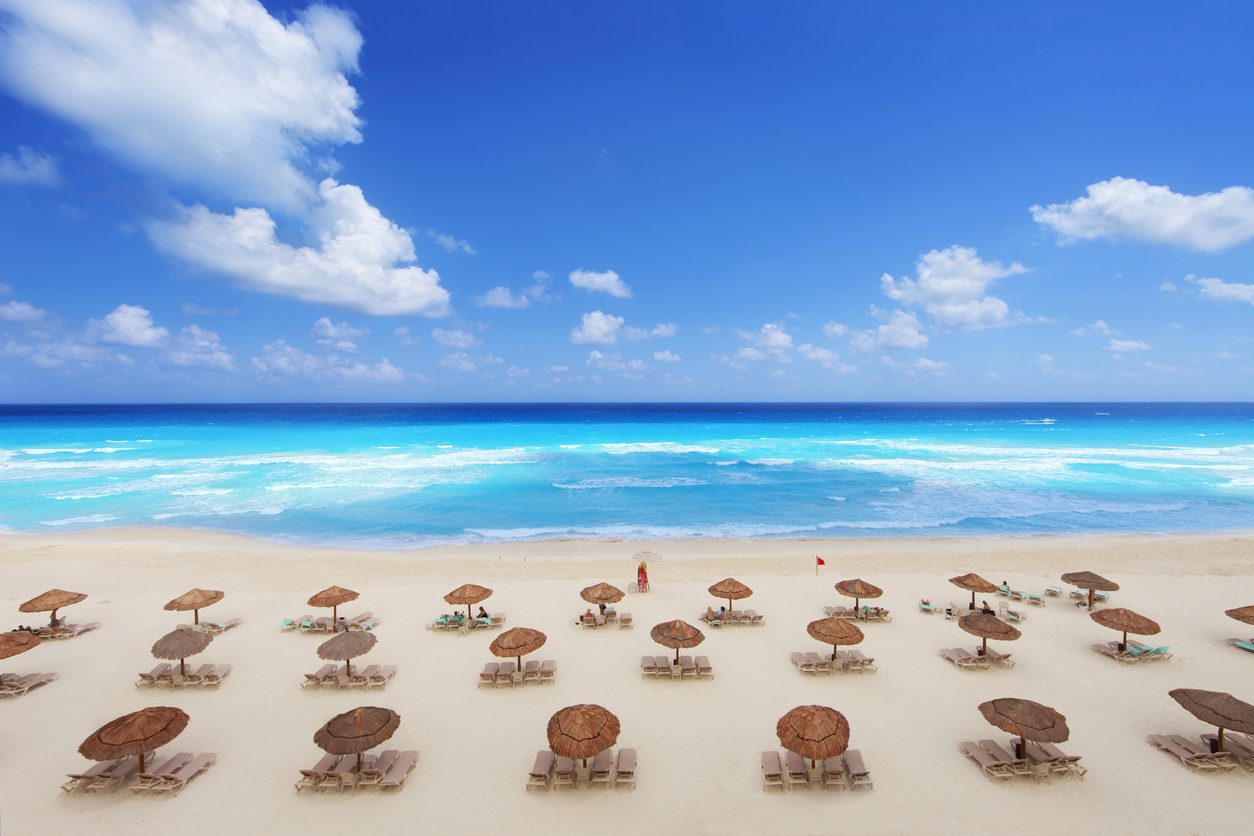 June in the Caribbean makes Riviera Maya a sought-after destination. There may be a few rain showers, but nothing long and nothing serious. The days are sunny and long, usually from 6:00 a.m. to 7:30 p.m. Fortunately for honeymooners, Riviera Maya is equally enchanting but far less crowded than its neighbor, Cancun. Call it Cancun's better-behaved sibling.
June is also the start of the whale, shark, and dolphin season which can be spotted from many beaches.
With great beaches and Mayan pyramids, this is the place for fun, relaxation, and culture.
The Riviera Maya Grand Velas is surrounded by a tropical jungle and the Caribbean Sea. Couples can enjoy suites with terraces, private plunge pools, and a view of the sea. Couples massages can be scheduled in-suite. Zen suites are hidden away in the jungle while the Ambassador suites are by the beach.
The Grand Velas will arrange excursions to Mayan ruins, tropical jungles, and underwater caves.
While honeymooning in Riviera Maya, snorkeling and exploring the Mayan ruins are some of the major activities.
A secret gem is the underground river, Rio Secreto, with caves and other wonders waiting to be discovered.
---
Spring is still in the air in Rome during the month of June. It precedes the summer heat and there is very little rain. Everything adds up to the perfect honeymoon.
Rome can boast of 28 centuries of culture and history. The capital of Italy thrives on romance with its cobble-stoned streets, the best pasta and wine on earth, architecture that is serious art, and structures and ruins from medieval times. It's a honeymoon filled with La Dolce Vita – like walking through a Shakespearean play and being a part of the cast.
The Hotel Artemide in Rome couldn't have a better location next to shops, cafes, galleries, and nightclubs. The world is just a few steps from the front door. The Honeymoon Suites are specially designed for newlyweds with a veranda, a terrace with a jacuzzi, and a separate sitting area.
The spa uses chocolate treatments and provides a couples' bath to be concluded with champagne and strawberries.
There are plenty of fountains and ruins in Rome. Couples should start at the Trevi Fountain and toss in the traditional coins. Then continue to explore the Pantheon and Colosseum for a taste of ancient Rome.
The Eternal City has plenty of wine and cheese tours that should be explored. As should the memorable four-hour Night Photography Tour which begins at twilight and goes into the night. A professional photographer will help capture the special effects of a nighttime Rome.
Couples should not miss a visit to the Vatican and its great works of art, the famed St. Peter's Basilica, as well as Michelangelo's Sistine Chapel.
---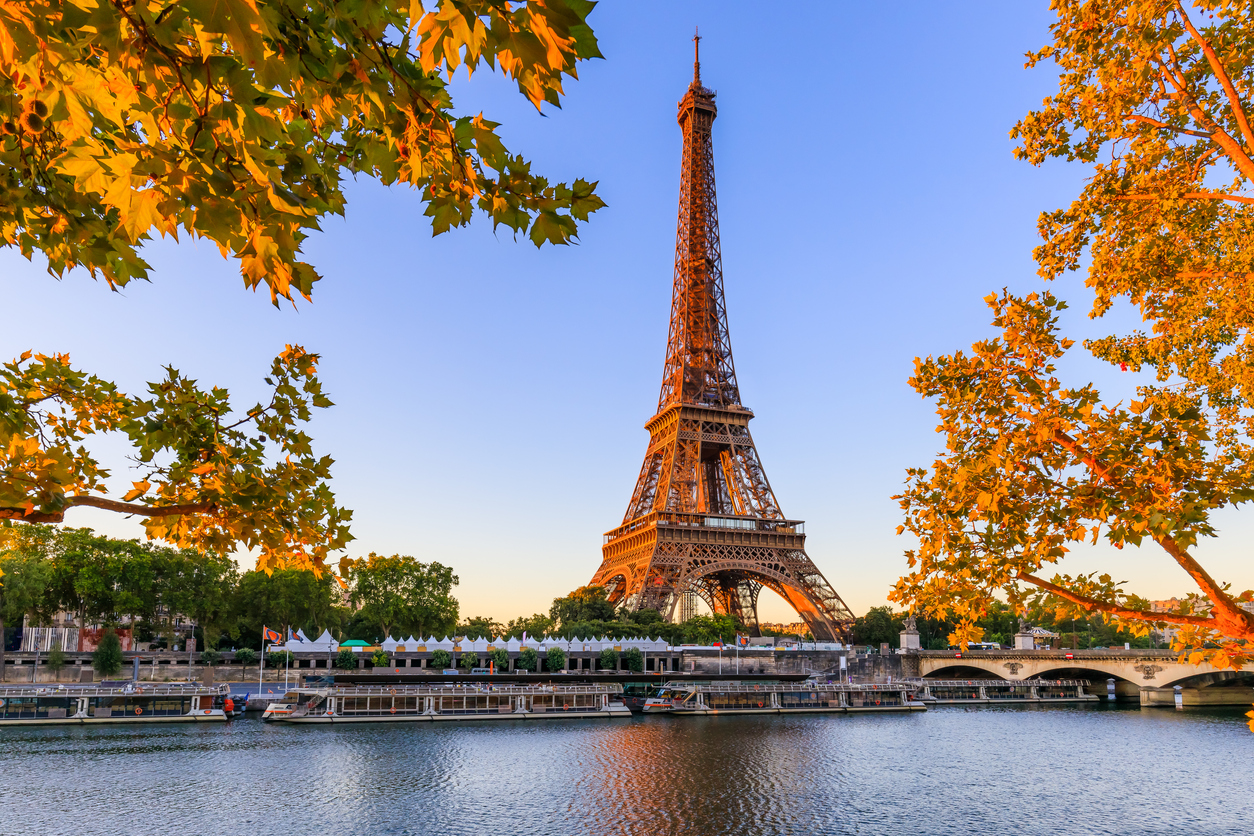 It's always lovely to visit Paris. In the spring, the temperature reaches the 80s as parks and gardens burst into colorful bloom.
Paris was made for honeymooners who are looking forward to Michelin-starred restaurants and some of the world's best museums. Just strolling hand in hand along the Seine becomes an event.
La Reserve hotel has a view of the Eiffel Tower and the Grand Palais and is near the Champs-Elysees. The 25 suites and 15 rooms are French chic, and each one has its own butler who will tend to guests' needs, run baths, and ensure a perfect stay. The La Reserve restaurant is a two-star Michelin eatery that serves the best of French cuisine.
Couples will love a romantic cruise with Bateux Mouches. Consider a lunch, dinner, or even a dinner and cabaret show cruise down the Seine.
The beautiful Luxembourg Gardens overlooking the Luxembourg Palace are the perfect setting for a picnic among colors flowers and trees.
The Palace of Versailles embodies luxury and decadence with its 700 rooms, all with frescoed ceilings, and the famed Hall of Mirrors. The gardens are in full bloom by June.
---
Barcelona Spain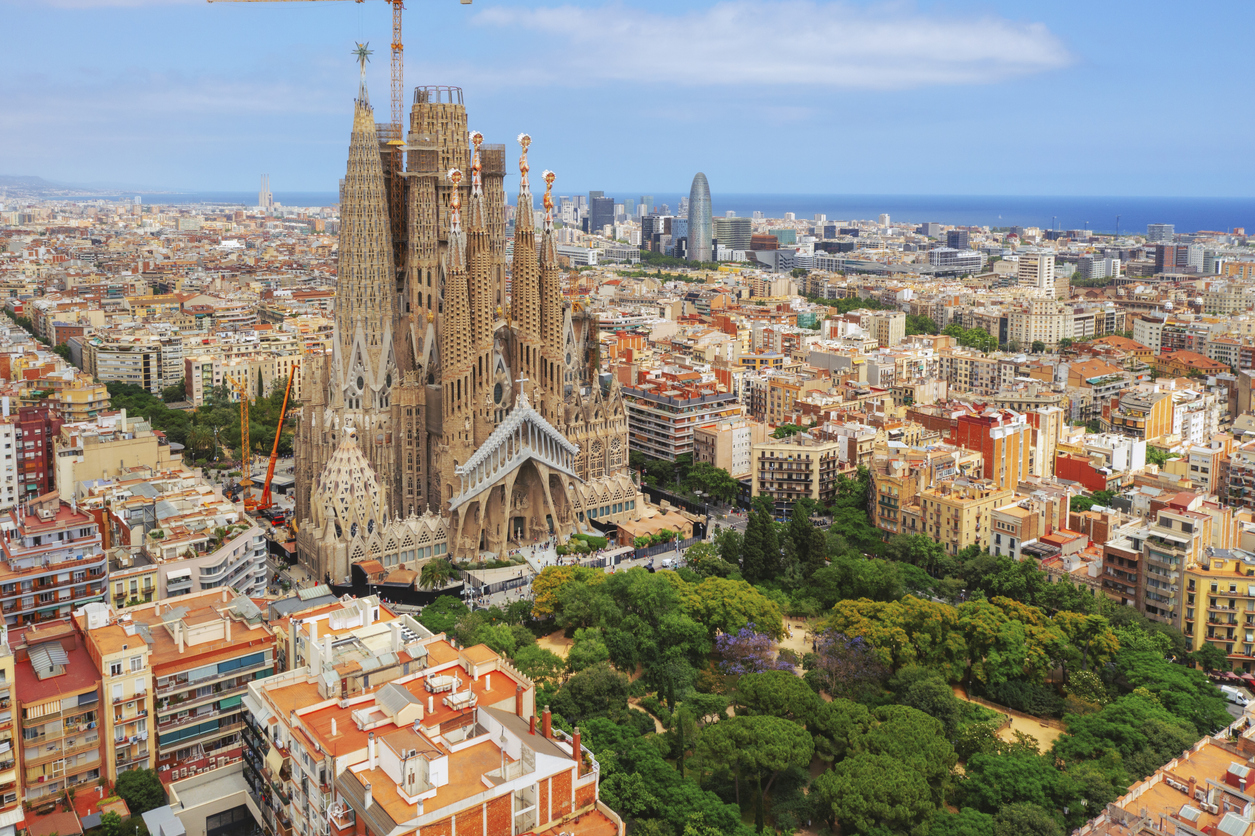 It's the beginning of summer, and Barcelona is turning warm for the best hikes and watersports of the year. For music lovers, the annual Primavera Sound festival in June is one of the biggest rock concert experiences of the year and growing annually as it offers innovative sounds to true music aficionados.
The Abac Barcelona is a true home away from home. A former mansion in downtown Barcelona, its 15 rooms are exquisitely designed, and the three-Michelin star Abac Restaurant serves a top-of-the-line Catalon cuisine. The Gourmet Package includes a tour of the kitchen, a personal wine selection, two breakfasts, and one dinner.
The Parc Guell is a bit of a green paradise in the middle of the city designed like a blooming English garden. Its Instagram perfection makes it ideal for a stroll.
The Paella Barcelona offers newlywed foodies a shopping guide, paella cooking lessons, and tapas and sangria pairing.
Couples can stroll through the city's Gothic Quarter in La Rambla with its mysterious alleyways and historical buildings and investigate shops that are hundreds of years old with atmospheric bars and restaurants. And should newlyweds need some visual sexual details, the Erotic Museum of Barcelona comes to their aid with 800 paintings, sculptures, and photographs.
---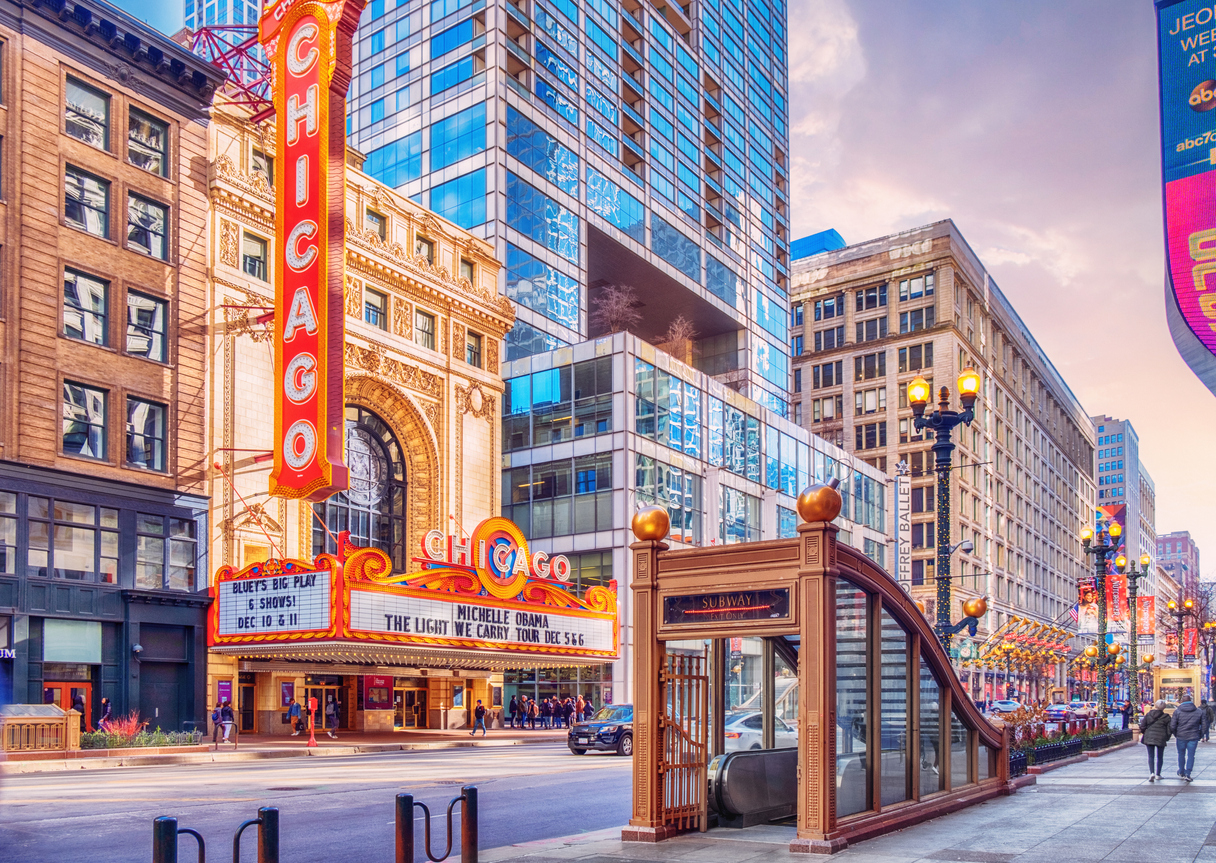 Chicago can be an overlooked honeymoon destination – and it shouldn't be. The food scene is over the top, shopping on the Magnificent Mile is the best, and a cruise on Lake Michigan is the perfect honeymoon activity. June is a great month to visit as it is prior to the onset of the upcoming July heat.
The fabulous Magnificent Mile is Chicago's Fifth Avenue, and that is where couples will find the Sofitel Chicago Hotel with rooms overlooking the elite Gold Coast neighborhood. Both La Terrace and Le Bar offer an indulgent French menu with memorable cocktails with music and happy hours.
Couples can get a view of the entire city from the 103rd floor of the John Hancock Building (renamed Willis Tower).
Navy Pier has a bit of everything, from art to restaurants and tall rides with a view of Lake Michigan. Couples can avail themselves of several types of Lake Michigan cruises here, including fast thrill rides, architectural tours, and dinner cruises. Navy Pier will have its summer fireworks for the entire month of June.
Lake Michigan is lined with beaches, and the water should be warm enough in June for some swimming.
Chicago has more to offer than the White Sox and Cubs. There are many Broadway tour houses, the Chicago Symphony Orchestra, the huge Shedd Aquarium, and the Art Institute of Chicago.
---
Seoul South Korea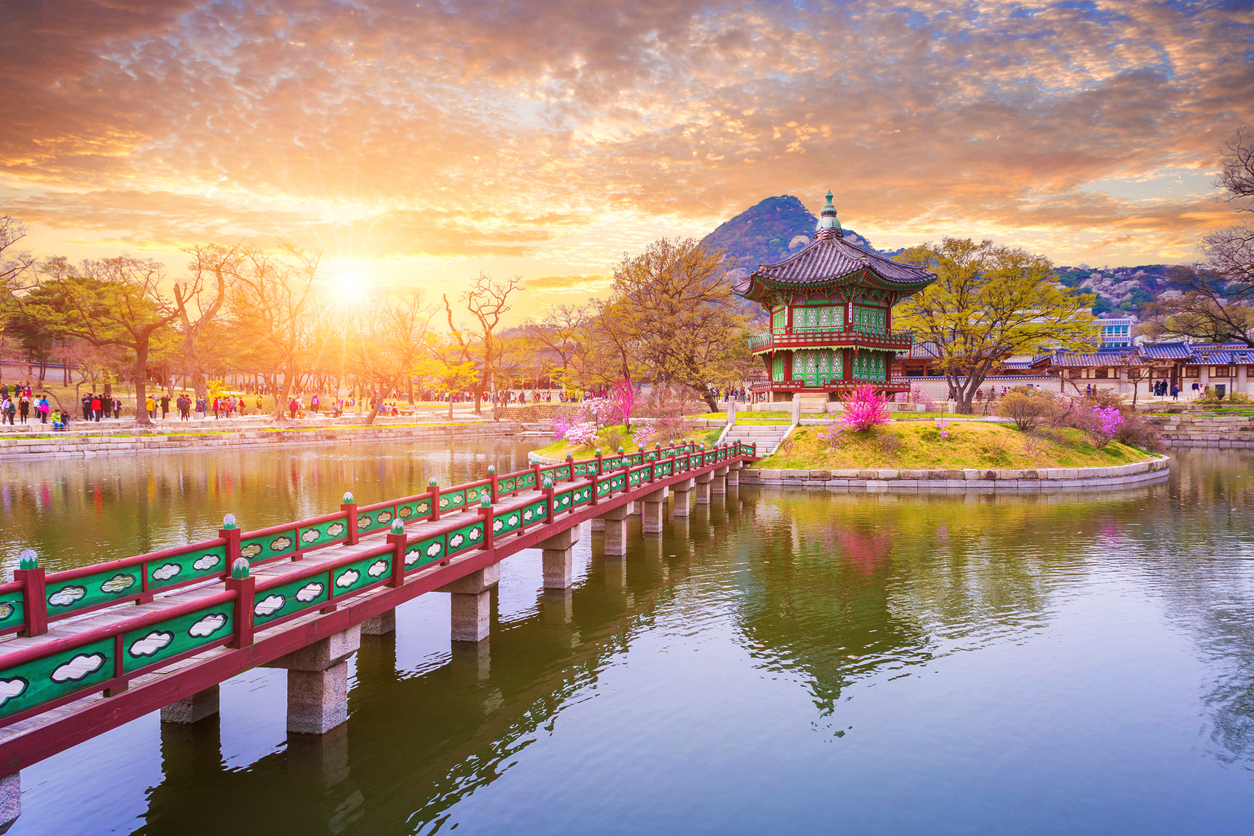 Early June still beats the hot season in South Korea. June offers low prices with some great activities before the heat climbs up into the 90s. And it is a wonderful opportunity to experience a different culture.
Honeymooners may be surprised at the level of luxury to be found in Seoul's Shilla Hotel. Rooms and Suites come with marble bathrooms and a city or mountain view. Restaurants offer Korean, French, Japanese, and French cuisine.
The large outdoor pool offers cabanas for privacy and relaxation. Or couples can stroll along the scenic Shilla trails.
Yeouido Park in the middle of Seoul links the city with its forest. It has a pond, walking trails, and a lawn surrounded by trees.
For fun memories, couples can have genuine professional Korean wedding photographs taken as a great souvenirs. The staff with provide garments, accessories, and make-up for outdoor and indoor shots. They have several photo packages available.
---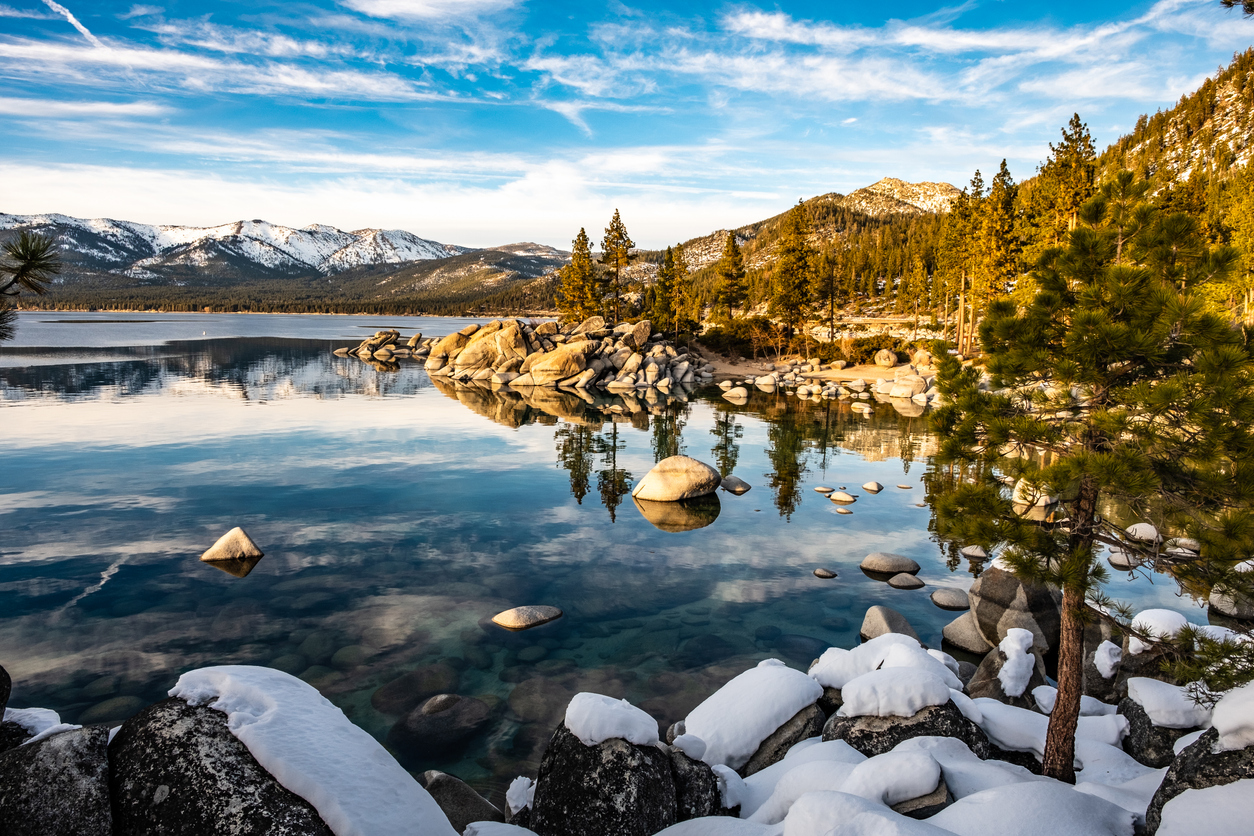 Lake Tahoe is one of the most popular destinations in the US as it spans between California and Nevada. The crystal clear waters surrounded by tall mountains are a fantastic draw for visitors.
June is the start of the summer season when outdoor activities become very popular. It's the time for hiking, biking, and a large assortment of watersports. Couples can also romp through medieval England at the Valhalla Renaissance Fair and enjoy juggling and knightly skills. Four stages feature costumed actors playing Shakespeare, dancing to Renaissance dances, battling for their fair ladies, and much more.
The waterfront Hyatt Regency Lake Tahoe is surrounded by the mountains. The rooms, suites, and private cottages with patios or balconies have dazzling views of Lake Tahoe, and couples can dine by the waterfront with a view of the Sierra Nevada mountains. Why not hang back and have a drink at the floating pier bar on the lake?
Couples can take the Heavenly Gondola two and a half miles up Heavenly Mountain for an extraordinary view, especially from the observation deck.
Lake Tahoe's incomparable landscape can also be enjoyed by taking a hot air balloon ride beginning between 5:15 a.m. and 6:45 a.m. to catch the golden sun rising over the lake. The ride ends with a champagne toast.