Paris, often hailed as the "City of Love," beckons honeymooners with its timeless allure. Imagine strolling hand in hand along the Seine River, framed by the Eiffel Tower's shimmering lights. Share passionate kisses beneath the Arc de Triomphe and explore the charming Montmartre district, where artists once found inspiration. Indulge in decadent pastries at sidewalk cafes, savor gourmet cuisine in Michelin-starred restaurants, and discover the world's finest art in the Louvre. Paris, with its historic architecture, poetic ambiance, and romantic ambiance, offers couples a dreamlike setting for an unforgettable honeymoon filled with love, culture, and enchantment.
The 13 Best Honeymoon Resorts in Paris
---
About Paris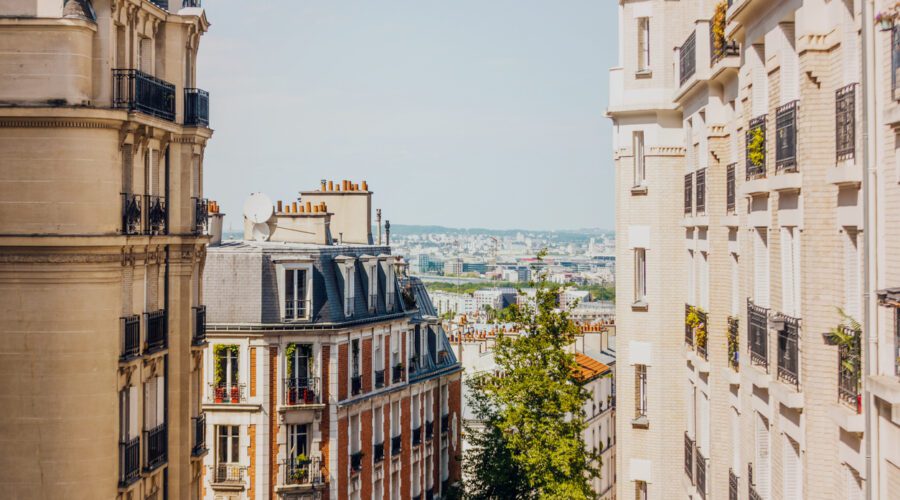 Average Cost of a One Week Paris Honeymoon
Paris, with its romantic ambiance and cultural richness, is a dream honeymoon destination. Here's a general cost breakdown for a one-week honeymoon in the City of Love:
Airfare
The cost of round-trip airfare for two adults from the United States or Canada to Paris can vary greatly depending on factors like departure city, season, and booking in advance. On average, it might range from $800 to $1,500 per person, so roughly $1,600 to $3,000 for a couple.
Accommodations
Paris offers a wide range of accommodations, from luxury hotels to charming boutique guesthouses. On average, a mid-range hotel might cost around $150 to $300 per night, while luxury options can go beyond $500 per night. For a one-week stay, this could add up to $1,050 to $2,100 or more.
Daily Expenses
Daily expenses for food, transportation, activities, and shopping will vary based on personal preferences. On average, a couple might spend around $150 to $300 per day. Over seven days, this amounts to $1,050 to $2,100.
Average Total Cost
Airfare: $1,600 – $3,000
Accommodations: $1,050 – $2,100
Daily Expenses: $1,050 – $2,100
So, the average cost for a one-week honeymoon in Paris for a couple can range from approximately $3,700 to $7,200 or more. Keep in mind that these are general estimates, and actual costs can vary widely based on factors like your travel style, dining preferences, and the time of year you visit. It's essential to create a budget tailored to your specific plans and priorities.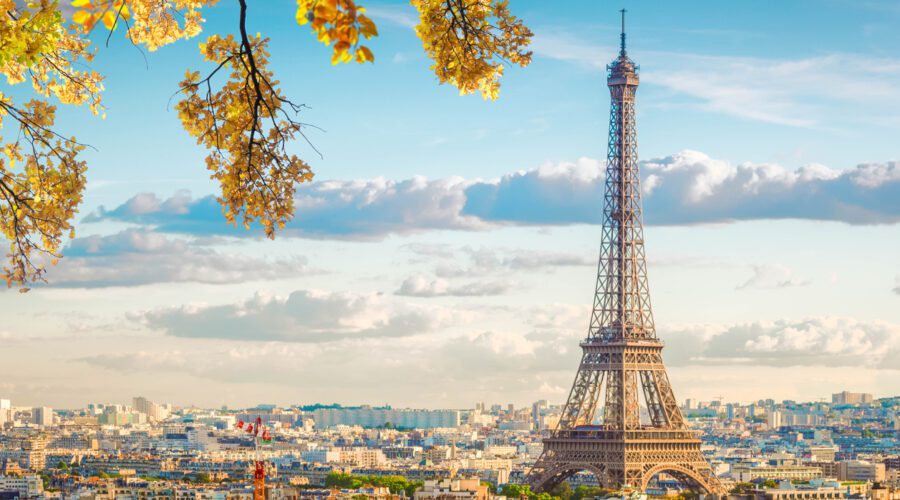 Best Time to Visit Paris
The best time to visit Paris for your honeymoon largely depends on your preferences and what kind of experience you want. Paris is a year-round destination, and each season has its unique charm:
Spring (March to May):

Spring is a popular time to visit Paris. The city awakens from winter, and gardens like the Tuileries and Luxembourg start to bloom.
Mild temperatures and blooming flowers make for romantic strolls along the Seine River.
It's an ideal time for outdoor activities and picnics.

Summer (June to August):

Summer is a high tourist season in Paris, so expect larger crowds and higher prices.
Warm weather and longer daylight hours mean you can explore the city late into the evening.
You can enjoy open-air concerts, outdoor dining, and festivals.

Fall (September to November):

Fall offers pleasant weather and fewer tourists compared to summer.
The changing foliage in parks like Parc des Buttes-Chaumont adds a touch of romance to the city.
It's an excellent time for cultural events and exhibitions.

Winter (December to February):

Paris in winter can be enchanting, with festive decorations, Christmas markets, and fewer crowds.
You can cozy up in cafés and enjoy hot chocolate or visit world-famous museums.
If you love the idea of a romantic winter escape, this is a great option.
Consider your preferences for weather, crowds, and seasonal activities when choosing the best time. Spring and fall are often considered ideal for a honeymoon due to milder weather and fewer tourists. However, if you enjoy the festive atmosphere of Christmas or the long daylight hours of summer, those seasons can also be wonderful for a honeymoon in Paris.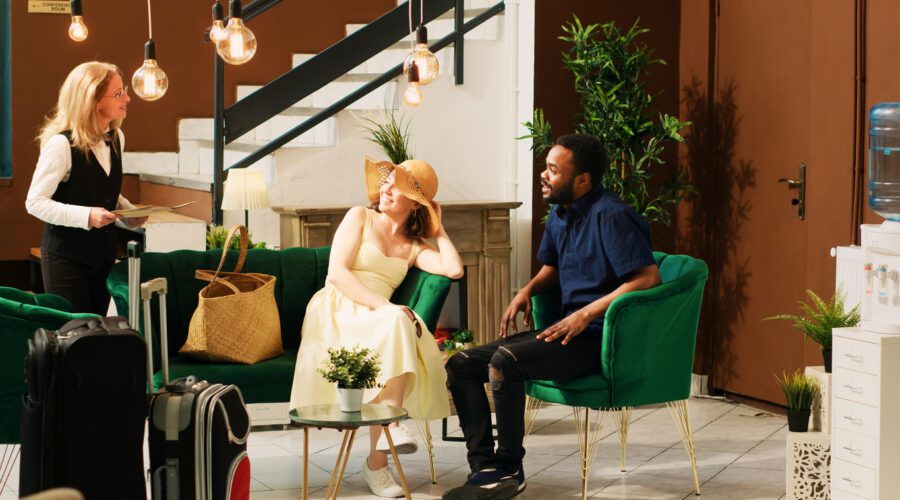 About Honeymooning in Paris
Honeymooning in Paris is a dream come true for many couples. To make the most of your romantic getaway, here are some key things to know about the culture, currency, and cuisine in the City of Love:
Culture
Romantic Ambiance: Paris is renowned for its romantic atmosphere, so take advantage of it. Enjoy leisurely walks along the Seine River, picnics in charming gardens, and sunset views from iconic landmarks like the Eiffel Tower.
Fashion and Style: Parisians are known for their fashion sense. Pack your best attire for dining at upscale restaurants or attending cultural events. Don't forget comfortable walking shoes for exploring the city.
Language: French is the official language, and while many Parisians speak English, learning a few basic French phrases can enhance your experience and show cultural respect.
Café Culture: Parisians love their cafés. Spend time people-watching at sidewalk cafés, sipping coffee, and indulging in pastries.
Currency
Euro (€): The currency in Paris is the Euro. Make sure to check the exchange rates and inform your bank about your travel plans to avoid any issues with your credit or debit cards.
Cash vs. Card: Credit and debit cards are widely accepted in Paris, especially at hotels, restaurants, and shops. However, it's a good idea to carry some cash for small purchases in case you visit places that don't accept cards.
ATMs: ATMs (Distributeurs de Billets) are readily available throughout the city. They are a convenient way to withdraw Euros.
Cuisine
Fine Dining: Paris is known for its exceptional dining scene. Treat yourselves to gourmet meals at Michelin-starred restaurants for a special occasion.
Local Delicacies: Don't miss trying classic French dishes like croissants, escargot, coq au vin, and crème brûlée. Visit local patisseries and boulangeries for delicious pastries.
Wine and Cheese: Paris is a paradise for wine and cheese lovers. Enjoy wine tastings, and pair local cheeses with baguettes for a delightful experience.
Markets and Cafés: Explore local markets, such as Marché des Enfants Rouges, for fresh produce and artisanal goods. Cafés serve a variety of coffees, but trying a café au lait or espresso is a must.
Tipping: Service charges are included in restaurant bills, but it's customary to leave a small tip for excellent service. A few Euros are usually sufficient.
Dining Etiquette: Parisians appreciate politeness. Greet with "Bonjour" (good morning) and "Bonsoir" (good evening) at the appropriate time of day. Wait for the server to bring the bill; it's considered polite not to rush diners.
Embrace the rich culture, savor the delectable cuisine, and immerse yourselves in the romantic ambiance of Paris for an unforgettable honeymoon experience.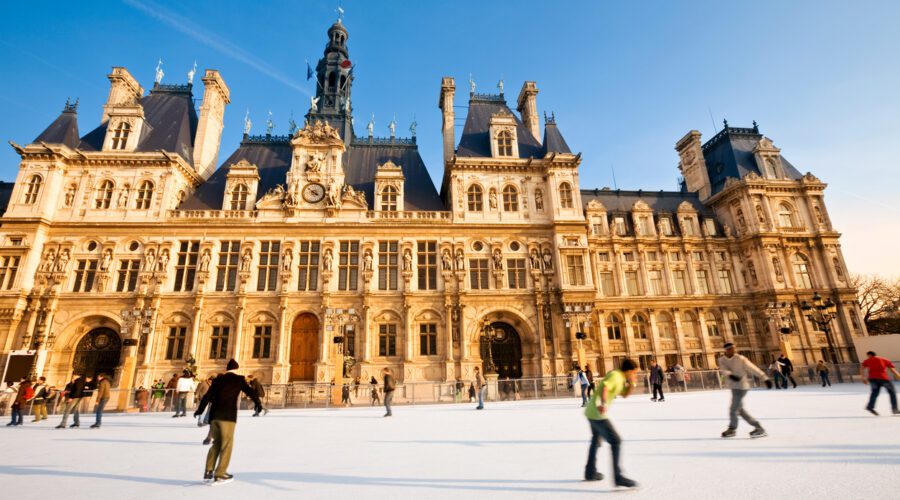 Best Activities for a Paris Honeymoon
Paris offers a plethora of romantic activities for honeymooners to create lasting memories. Here are some of the best activities to consider:
Eiffel Tower: A visit to the iconic Eiffel Tower is a must. Take an elevator ride to the top for breathtaking panoramic views of the city. Consider booking a dinner reservation at one of the tower's restaurants for a romantic meal.
Seine River Cruise: Enjoy a romantic cruise along the Seine River, passing by famous landmarks like Notre Dame Cathedral, the Louvre, and the Musée d'Orsay. Sunset or evening cruises add a touch of magic.
Louvre Museum: Explore the Louvre, home to thousands of works of art, including the Mona Lisa. Stroll through the museum's stunning architecture and beautiful courtyards.
Montmartre: Wander through the charming streets of Montmartre, known for its artistic history. Visit the Sacré-Cœur Basilica for panoramic city views and explore the Place du Tertre, where artists display their work.
Luxembourg Gardens: Enjoy a leisurely walk in the Luxembourg Gardens, a beautiful oasis in the heart of Paris. Rent a traditional wooden sailboat and float it on the pond.
Palace of Versailles: Take a day trip to the Palace of Versailles, a symbol of opulence and grandeur. Explore the Hall of Mirrors and stroll through the stunning gardens.
Romantic Dinner: Paris is renowned for its dining scene. Reserve a table at a Michelin-starred restaurant for a special culinary experience or opt for a cozy, candlelit bistro for classic French cuisine.
Wine Tasting: Embark on a wine-tasting adventure in Montmartre or visit a wine cellar for a tasting session. Discover the rich flavors of French wines.
Picnic in the Park: Pick up fresh bread, cheese, wine, and other treats from a local market and have a picnic in one of Paris's beautiful parks, such as Champ de Mars near the Eiffel Tower.
Couples' Spa Day: Pamper yourselves with a couples' spa day at a luxurious spa. Enjoy massages, facials, and relaxation in a serene setting.
Shopping: Explore designer boutiques along the Champs-Élysées or shop for unique souvenirs at charming Parisian markets and boutiques.
Cultural Performances: Attend a classical music concert, ballet, or opera performance at one of Paris's renowned venues like Palais Garnier.
Cooking Class: Learn to prepare delicious French dishes together at a cooking class. It's a fun and educational way to bond over food.
Love Lock Bridge: Visit the Pont des Arts bridge and attach a love lock as a symbol of your commitment. Many couples have done this over the years.
Hot Air Balloon Ride: For a truly unique experience, consider a hot air balloon ride over the picturesque countryside surrounding Paris.
Whether you're exploring historic landmarks, indulging in gourmet cuisine, or simply strolling hand in hand along the charming streets, Paris offers endless opportunities for romance and adventure during your honeymoon.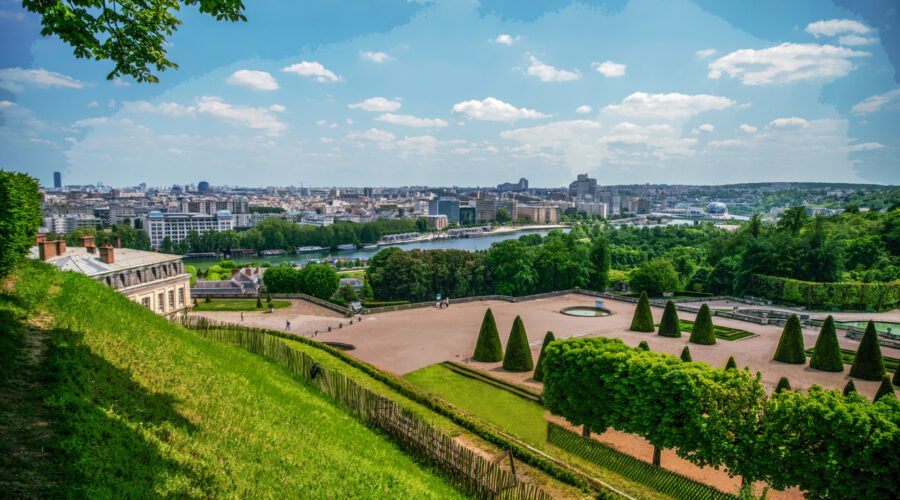 Weather in Paris
Paris experiences a temperate oceanic climate, characterized by mild temperatures and relatively moderate rainfall throughout the year. Here's a general overview of the weather in Paris:
Spring (March to May): Spring in Paris is a lovely time for a honeymoon. Temperatures gradually rise, with daytime highs ranging from 11°C (52°F) in March to 19°C (66°F) in May. Blooming flowers and green parks add to the city's charm.
Summer (June to August): Summer is a popular time to visit Paris. Days are long and warm, with average highs around 25°C (77°F). However, occasional heatwaves can push temperatures into the 30s°C (90s°F). Rainfall is relatively low during this season.
Autumn (September to November): Fall is another great season for a Paris honeymoon. The weather remains pleasant, with temperatures gradually cooling from around 21°C (70°F) in September to 12°C (54°F) in November. Fall foliage in parks like Parc des Buttes-Chaumont is a highlight.
Winter (December to February): Paris in winter can be quite chilly, but it has its own charm. Highs hover around 6°C (43°F) in December and January but may drop below freezing at night. Snowfall is rare, and rain is more common.
Keep in mind that weather can vary from year to year, so it's a good idea to check the forecast closer to your travel dates. Regardless of the season, Paris offers enchanting experiences and romantic settings for honeymooners.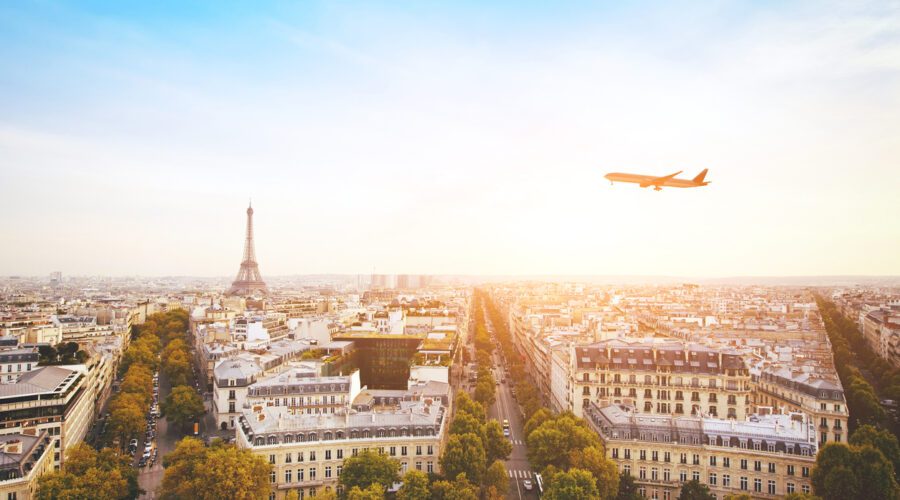 Is Paris Safe for a Honeymoon?
Paris is generally considered a safe destination for honeymooners and tourists alike. However, like any major city, it's essential to take certain precautions to ensure a safe and enjoyable trip:
Stay Alert: While Paris is relatively safe, it's essential to stay alert and aware of your surroundings, especially in crowded areas, tourist spots, and public transportation.
Beware of Pickpockets: Pickpocketing can be a concern in crowded places and tourist areas. Keep a close eye on your belongings, use anti-theft bags, and avoid carrying large sums of cash.
Use Reputable Transportation: Stick to official taxis, reputable ride-sharing services, or public transportation. Be cautious of unofficial or unlicensed transport services.
Stay in Safe Neighborhoods: Choose accommodations in safe neighborhoods. Paris has many charming and secure districts, such as Le Marais, Saint-Germain-des-Prés, and the Champs-Élysées area.
Avoid Street Scams: Be cautious of street scams, including petitions, "gold ring" scams, and individuals claiming to be deaf or mute asking for donations.
Emergency Contacts: Familiarize yourself with emergency contact information, including the local police (dial 17), medical services (dial 15), and the embassy or consulate of your home country.
Respect Local Customs: Learn about and respect local customs and etiquette. A little knowledge of French phrases can also go a long way in enhancing your experience.
Travel Insurance: Consider purchasing comprehensive travel insurance that covers medical emergencies, trip cancellations, and lost or stolen belongings.
Overall, Paris is a beautiful and romantic destination for a honeymoon. By taking common-sense precautions and staying informed, you can have a safe and memorable experience in the City of Light.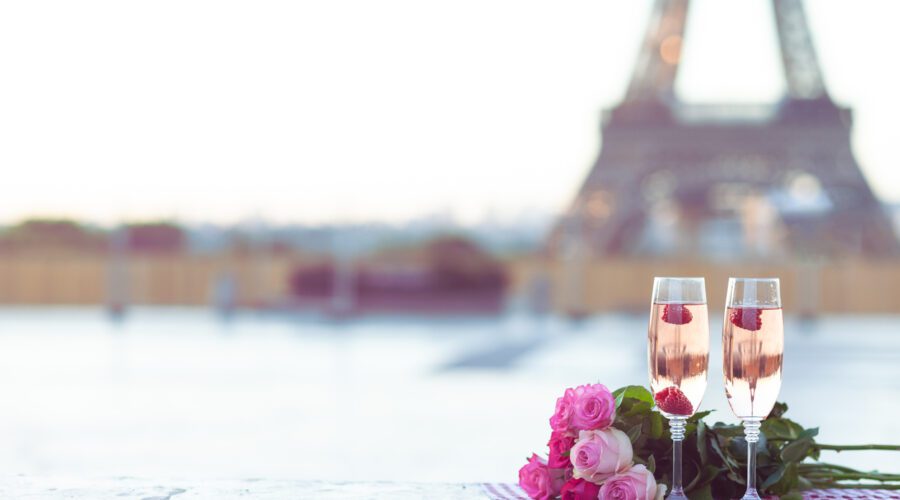 Most Romantic Spots in Paris
Paris is often considered one of the most romantic cities in the world, making it a perfect destination for a honeymoon. Here are some of the most romantic locations and activities you can consider for your honeymoon in Paris:
Eiffel Tower: The iconic Eiffel Tower is a must-visit for any romantic trip to Paris. You can take an elevator ride to the top for breathtaking views of the city, or enjoy a romantic dinner at one of the tower's restaurants.
Luxembourg Gardens: These beautifully landscaped gardens offer a serene and romantic escape from the bustling city. You can enjoy a leisurely stroll, rent a rowboat on the pond, or simply relax and have a picnic.
Montmartre: This charming neighborhood is known for its artistic history and its picturesque streets. Visit the Place du Tertre, where you can have your portrait drawn by a local artist, and don't forget to see the stunning Sacré-Cœur Basilica at the top of the hill.
Seine River Cruise: Take a romantic cruise along the Seine River, where you can admire Paris's stunning architecture, including famous landmarks like Notre-Dame Cathedral, the Louvre, and the Musée d'Orsay, all lit up at night.
Romantic Dining: Paris is famous for its world-class cuisine. Consider dining at intimate, Michelin-starred restaurants like Le Jules Verne in the Eiffel Tower, Le Meurice, or Le Cinq. Or, have a romantic picnic with gourmet treats from local markets like Marché des Enfants Rouges.
Love Lock Bridge: While the famous Pont des Arts love lock bridge was dismantled due to the weight of the locks, you can still find love lock locations around Paris, such as Pont de l'Archevêché and Pont Neuf. It's a sweet tradition to symbolize your love.
Le Marais: This historic neighborhood is full of narrow, cobblestone streets, trendy boutiques, and cozy cafes. It's a great place for a leisurely walk hand in hand and exploring the local culture.
Museums and Art: Explore the Louvre Museum, home to the iconic Mona Lisa, or the Musée de l'Orangerie to admire Monet's Water Lilies. These museums offer a cultural and romantic experience.
Palace of Versailles: Take a day trip to the magnificent Palace of Versailles, a symbol of opulence and grandeur. Explore the stunning palace, its beautiful gardens, and the Hall of Mirrors.
Wine and Cheese Tasting: Savor the flavors of France with wine and cheese tasting at a local wine bar. It's a delightful and intimate way to enjoy the city's culinary offerings.
Remember that the most romantic experiences often come from exploring the city together and creating your own special moments. Paris is full of hidden gems waiting to be discovered by you and your partner on your honeymoon.