The golden glow of August brings with it a promise of endless adventures, making it a perfect month for those seeking a dreamy and unforgettable honeymoon. An August honeymoon, especially at an all-inclusive resort, ensures that every moment is wrapped in luxury, allowing couples to bask in the joys of love while everything else is taken care of. Imagine the allure of listening to classical melodies in the historic heart of Salzburg or embarking on a majestic Alaskan Cruise, where glaciers and wildlife come to greet you. The vast, breathtaking landscapes of Glacier National Park in Montana, the laid-back charm of Bend, Oregon, and the pristine waters of Lake Geneva, Wisconsin offer a tranquil retreat.
For those with a penchant for European elegance, the thermal spas of Aix-les-Bains in France, the sun-kissed streets of Lisbon, the rugged beauty of Scotland, or a romantic Danube River Cruise await. Further afield, the azure waters of Koh Tao in Thailand and the pristine beaches of Seychelles beckon with their exotic appeal. Wildlife enthusiasts can immerse themselves in the wonders of Uganda and Madagascar, while the urban and cultural melting pot of Kuala Lumpur offers a different taste of escapade. And for those looking for sheer opulence against a backdrop of majestic mountains, Switzerland provides an unmatched alpine romance. Whatever your dream, these destinations promise to make your August honeymoon a chapter of your love story you'll cherish forever.
Salzburg, Austria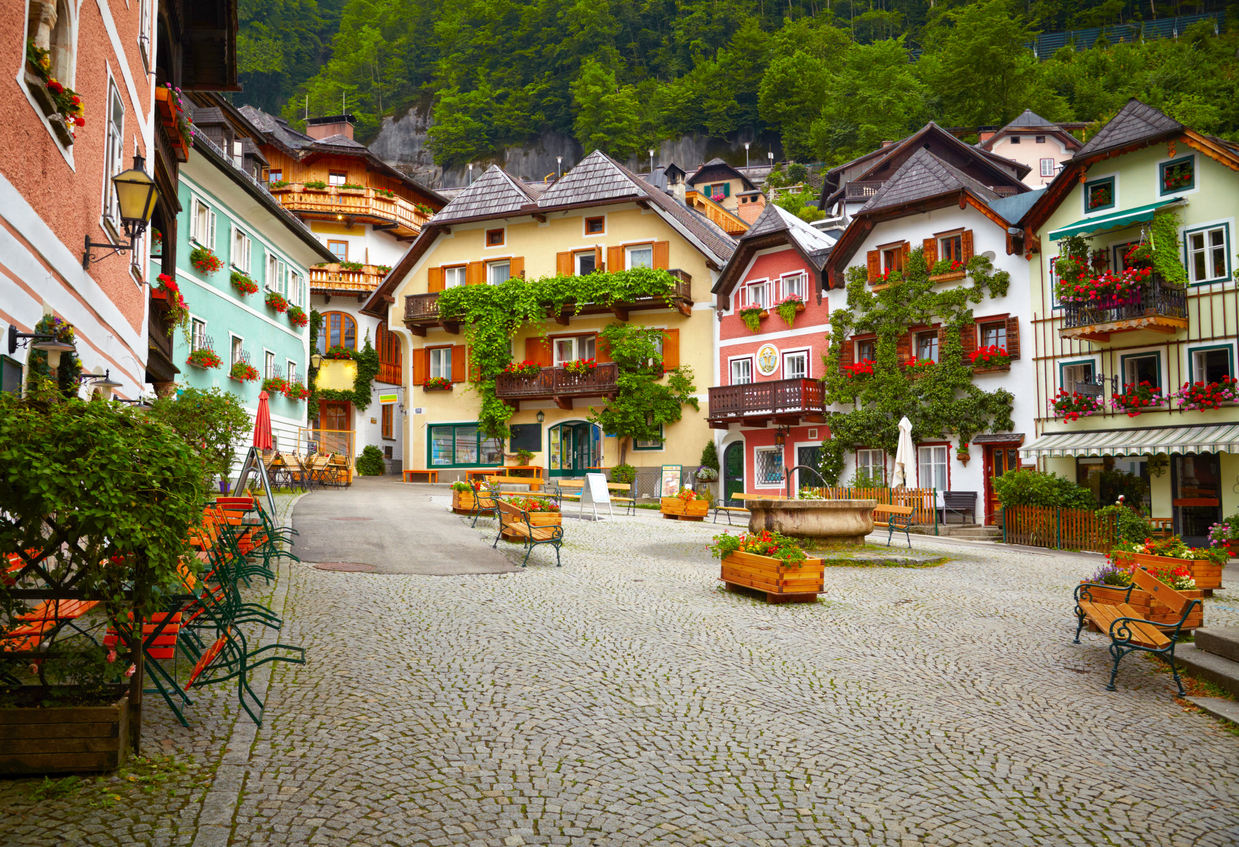 The capital of Austria is nestled within the scenic Alps, which is reason enough for a visit. The alpine weather is simply wonderful during the summer. As any fan of "The Sound of Music" can attest, Salzburg, with its hills, lakes, and lush greenery offers an ideal setting for romance.
The Sheridan Grand Salzburg is located by the famed Mirabell Garden and Palace as it overlooks the entire city. All 168 rooms and suites provide a breathtaking mountain view. Guests enjoy fine dining at the Restaurant Mirabell and cocktails and music at the Piano Bar.
The Mirabell Palace and Gardens are the highlight of any Salzburg tour. The gardens were featured in the Sound of Music. The Palace's Marble Hall has been called "one of the most beautiful wedding halls in the world."
---
Alaskan Cruise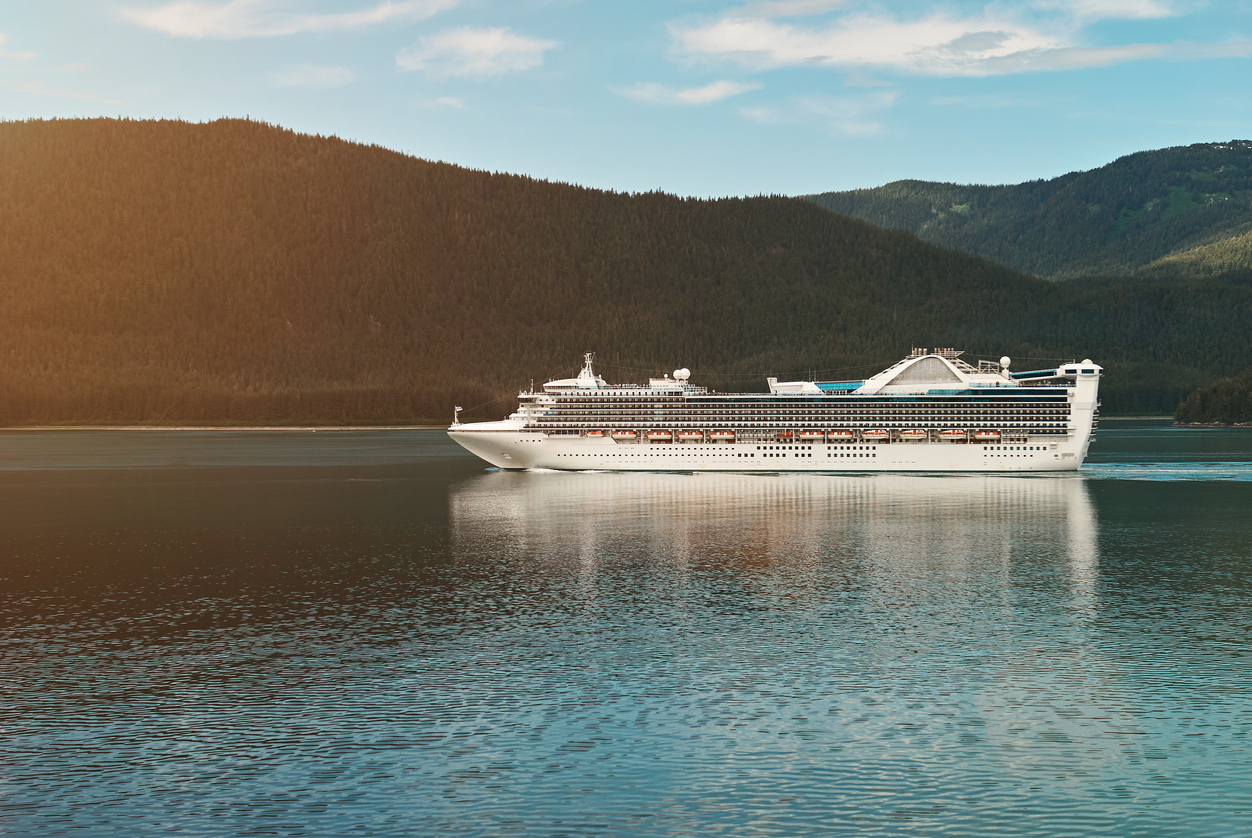 The August temperature in Alaska ranges from the 50s to the mid-60s, which is perfect for those exciting cruise excursions. August is the end of the peak season, so good deals are still available.
During August, there are 15 hours of daylight, which is a lot of time to see all the sights, such as big bears trying to catch their salmon lunch.
The Seven Seas Explorer is the Taj Mahal of Alaskan Cruises. Its 307 all-inclusive suites are high-end and come with a private balcony. Some suites have butler service. The beautiful atrium with its chandelier much resembles the grandeur of the atrium in the movie Titanic. The explorer has an infinite pool, a bocce court, a card room, a paddle tennis court, a kitchen for cooking classes, and excursions to designated port cities. There is a library for quiet moments. Some excursions include culinary tours.
---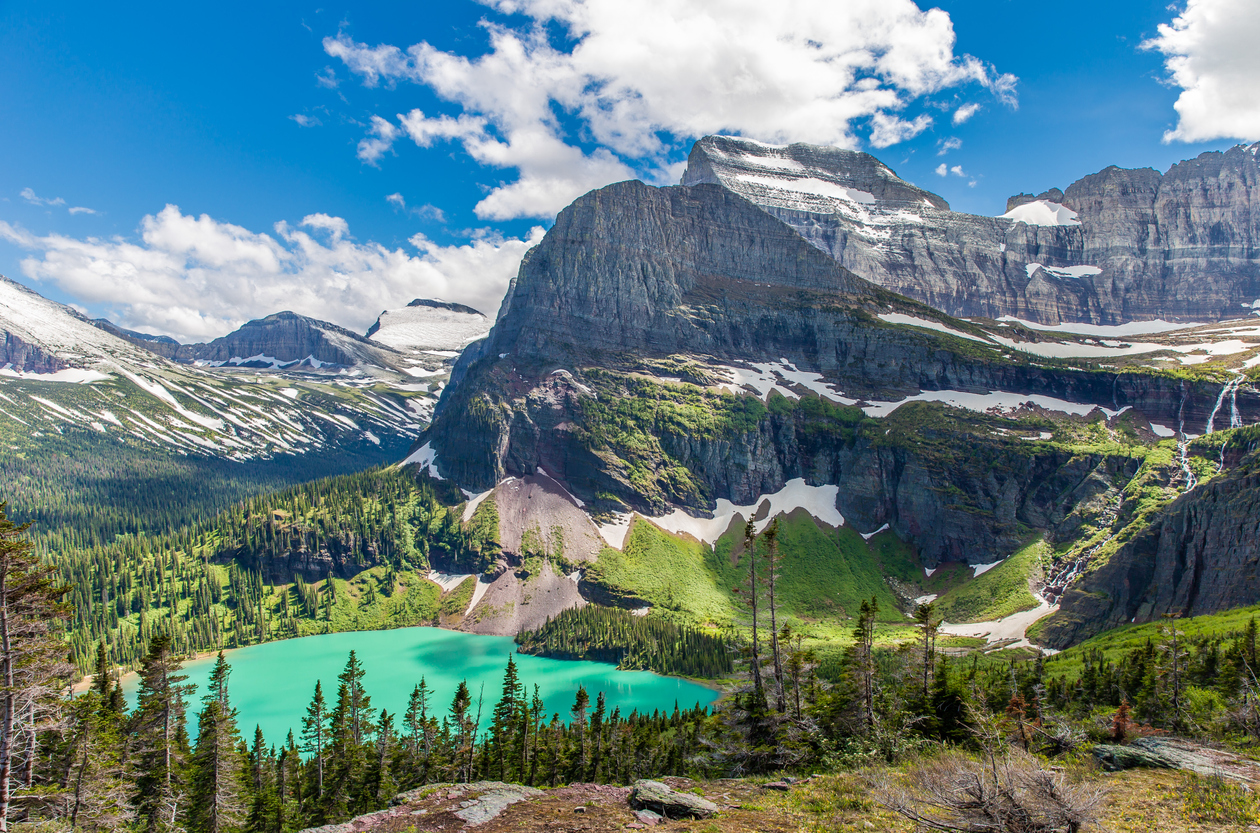 With temperatures in the low 80s, August is the best time to visit Glacier National Park, even if the higher elevations get a bit chilly. The park is a stunning destination for any honeymoon, with its mountains, forests, fabulous lakes, and meadows. Bear, sheep and moose freely roam the mountains. So much to explore!
The 50-mile Going-to-the-Sun Road should be included in any trip. Sights include stunning valleys and waterfalls, glaciers, and impressive mountains as the road crosses the Continental Divide. For anyone not wishing to drive, Red Bus Tours offers tour services.
The Lodge at Whitefish Lake is surrounded by mountains and the crystal waters of Whitefish Lake. It is located mere minutes from downtown and all activities. There are several types of accommodations, from the main lodge with its lounge, restaurant, and spa, to the lakefront Viking Lodge filled with condominiums and a private patio or balcony.
The lodge can arrange just about any activity., such as guided boat tours, Going-to-the-Sun Road trips, hiking, biking, and zip-line excursions. Of course, they will organize whitewater rafting, fishing, and horseback riding adventures.
There are eight golf courses near the lodge, so couples can take their pick.
While in Glacier National Park, couples have a choice of 700 miles of scenic hiking trails. One trail on the eastern side of the park leads to the cascading St. Mary Falls which is spectacular in its beauty. There are also plenty of lakes, with Lake McDonald having the best kayaking and hidden caves waiting to be discovered and beaches to be enjoyed.
Glacier National Park is recognized as a dark sky park. That means the area's darkness is legally protected. City couples probably have never experienced such genuine darkness or strolled beneath true starlight. Lake McDonald is one of the dark protected sites.
---
Bend, Oregon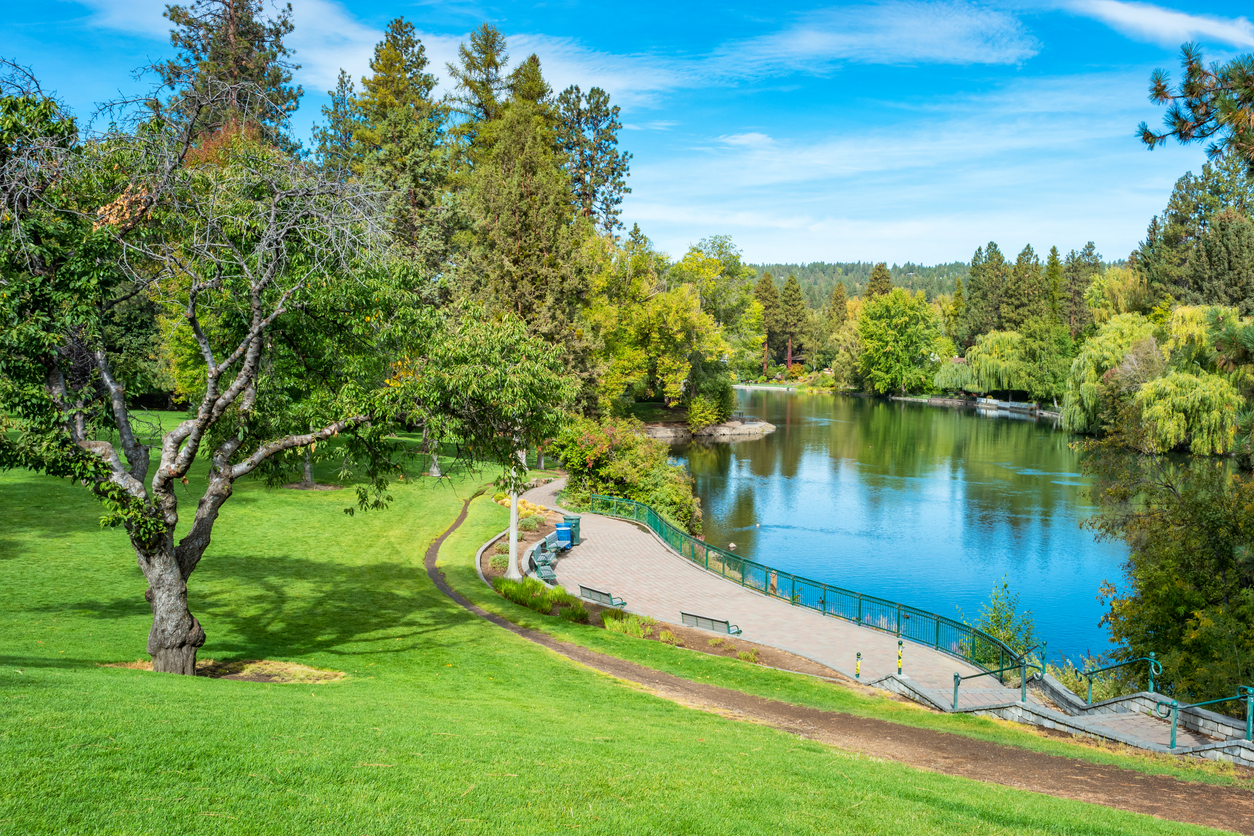 Why honeymoon in a delightful small town? Bend has the perfect August temperature in the 90s. But it's not just the temperature. Travel and Leisure listed Bend as one of America's most romantic towns. Livability.com gave it a number one rating of US top romantic cities.
The romance begins at Oregon's top romantic hotel, the Five Pines Lodge, located less than half an hour from Bend. Couples can revel in the 36 cozy cabins and lodge suites.
The Romance Cabin offers privacy, a view of the forest, a soaking tub, a fireplace, and a couple's shower, as well as an hour Swedish massage and a facial at the spa. In addition, couples receive two tickets to the local movie house, a romance basket, sparkling wine, a scented candle, and a bubble bath.
All guests are welcome at the nightly wine and beer party during Happy Hour, the hot tub, and the lap pool.
Bend offers a surprising number of romantic activities. Beer lovers can visit the Deschutes Brewery for beer tastings and brewery tours Monday through Saturday from noon to 6:00 p.m. and until 5:00 p.m. on Sunday.
Between Memorial Day and Labor Day, the Deschutes River is filled with tubes, paddleboards, or kayaks for a leisurely float down the river.
For the perfect day trip from Bend, couples can experience a rejuvenating soak at the Paulina Lake Hot Springs within the Deschutes National Forest. They are located on the Hot Spur Trail (just over a mile through the lake's eastern shores) and provide instant relaxation. The lake has five small mineral pools with temperatures up to 115 degrees. August is one of the best months to enjoy the full heat of the water. For outdoor types, the lake and natural spring area have camping facilities that include restrooms.
Also in Deschutes National Forest is the North Fork Trail leading to the incredible Tumalo Falls, which plunges 97 feet into Tumalo Creek. It is a popular picnicking spot with restroom facilities.
---
Lake Geneva, Wisconsin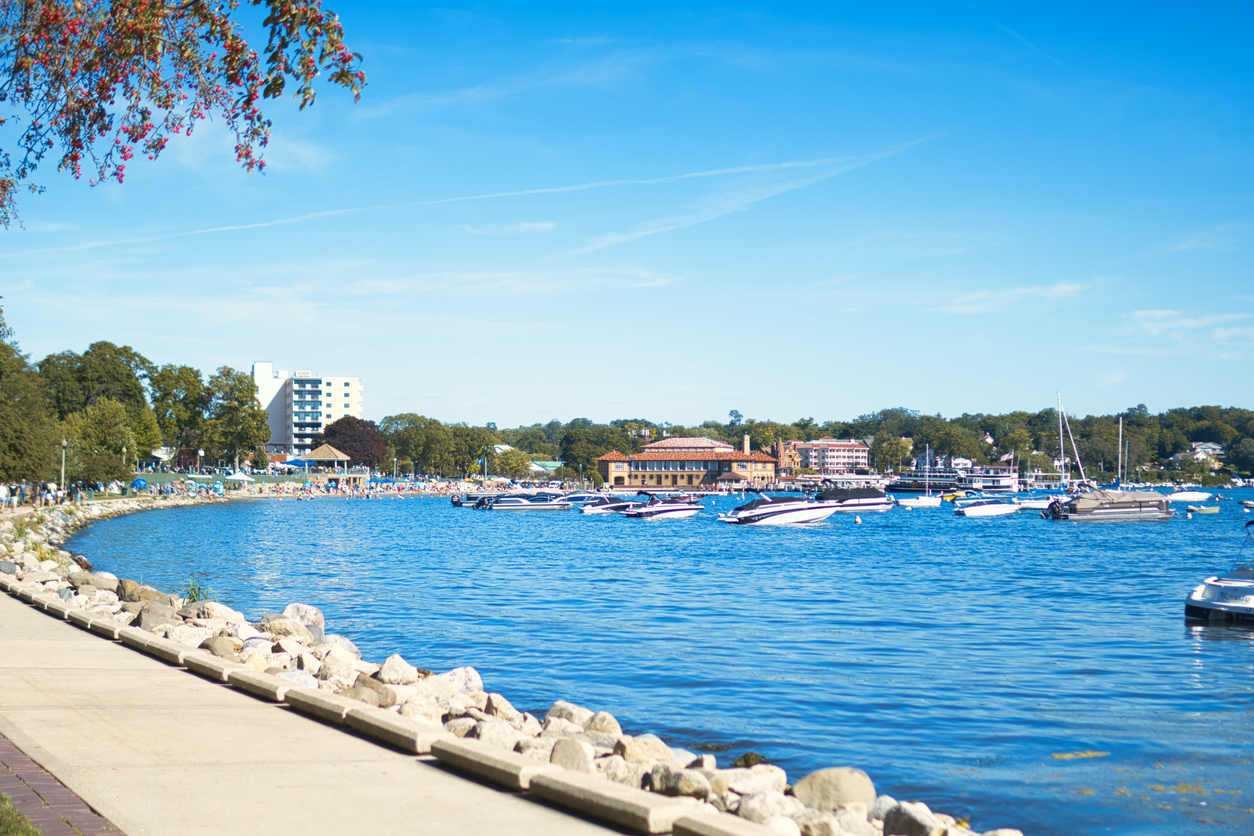 With its northern location, Lake Geneva's August temperature is relatively low, usually around the 80s. In August, the lake is warm enough for a swim. This elegant, romantic resort town has been called the Newport of Wisconsin for its estates and top-rated restaurants. It has beaches surrounded by luxury resorts and a natural beauty uniquely its own. In addition, Chicago is only an hour and a half away and makes an ideal day trip.
The Abbey Resort spans over 90 acres of lakefront property. It has an indoor and outdoor pool and dining by the lake. Over three hundred suites and rooms have a balcony or patio.
The resort is especially loved for its spa packages. The Avani Getaway package offers a room discount daily spa admission (a daily value of $30.00) and a $75.00 dining credit.
The resort has also boats for rent and provides lessons in their use.
For the best view of the mansions surrounding the lake, couples can stroll along the Geneva Lake Shore Path. This 25-mile path circles the entire lake. Some people opt for the entire ten-hour hike, although most of them only do a portion of the walk.
The Maxwell Mansion brings some history to Lake Geneva. The 1920s Speakeasy hidden in the basement requires a special code for entry – assuming guests can actually find the entrance. Entry code clues can be found on the mansion's Facebook site. The mansion also has cabaret shows, a friendly 1880s Apothecary Bar, and murder mystery evenings.
Lake Geneva Cruise Line has eight historical boats for tours, dinner cruises, and for private parties. Tours that display the estates around the lake are very popular.
---
Aix-les-Bains, France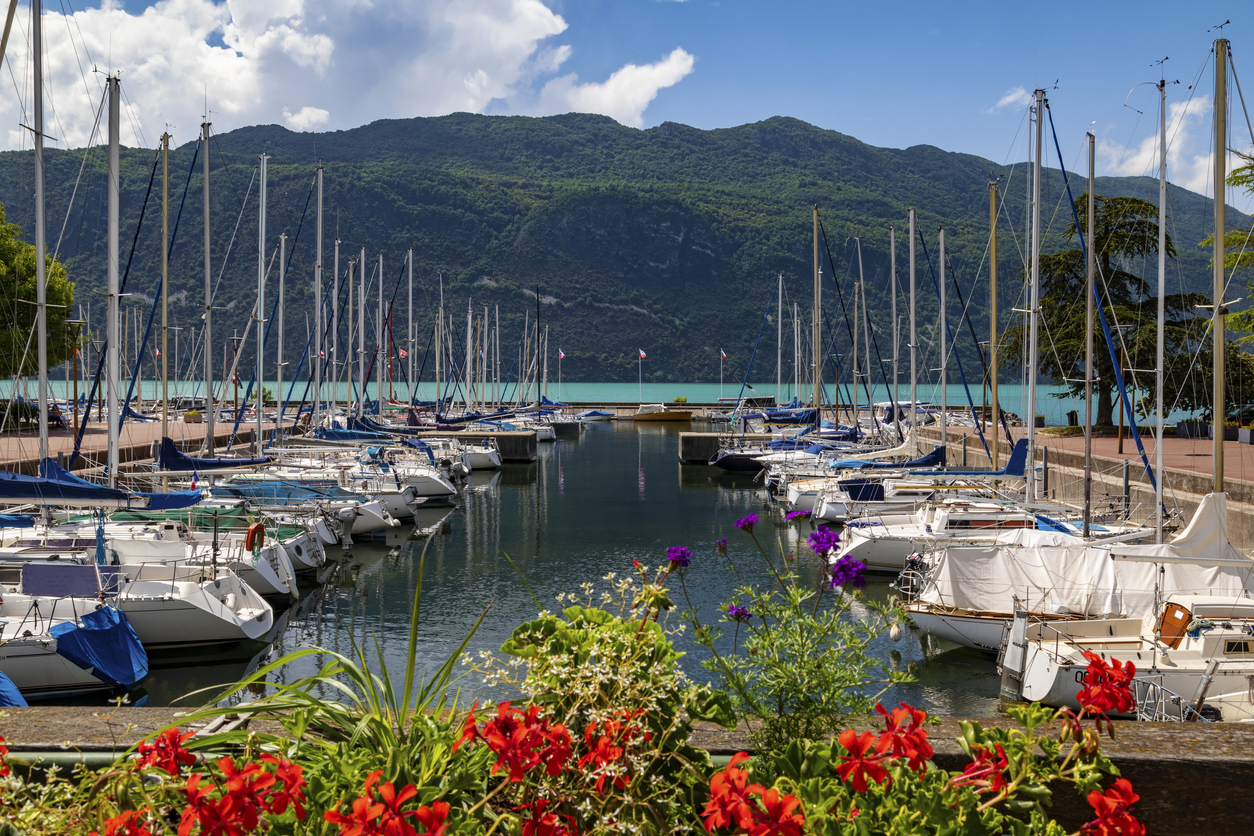 Located in the French Alps, Aix-les-Bains is France's second best-known spa town. Surrounded by Lake Bourget and the mountains, it has long been a draw for hydrotherapy (bain means bath in French) and vacationers looking for a high-end getaway.
The average August temperature is pleasant and mild 80 degrees with some rainfall.
The entire town caters to its hydrotherapy visitors. However, it also offers Roman ruins, great shopping and resorts, a beach, as well as a casino.
The Golden Tulip Hotel near Lake Bourget is conveniently located in the center of the town. The rooms are chic and elegant. Guests can delight in the first-rate cuisine with a splendid view of a Japanese park.
Of course, the Golden Tulip is all about its three-story spa with 7 treatment rooms and an aqua area, which includes a pool, sauna, jacuzzi, solarium, a hydro-massage bed, and a relaxation room. For the pure joy of it, there is a waterfall, as well.
And for some fun, there is the Casino Grand Cercle with its gambling rooms and entertainment.
The thermal spas in Aix-les-Bains have been a favorite since the Romans. Even Queen Victoria made a few visits. The major healing spas are the Spa Aix Les Bains, Valvital Chevalley Aix-les Bains, the Institute and Spa Aix-Les Bains, and many others. Each of them has thermal pools, solariums, saunas, and more. Aix-les-Bains has been designated as a "healing city" by the World Health Organization.
There is more to Aix-les-Bains than healing, however. Lake Bourget is a favorite for boating and swimming. Overlooking the lake, the Chateau de la Roche du Roi is a castle with great architecture and an interesting history.
---
Lisbon, Portugal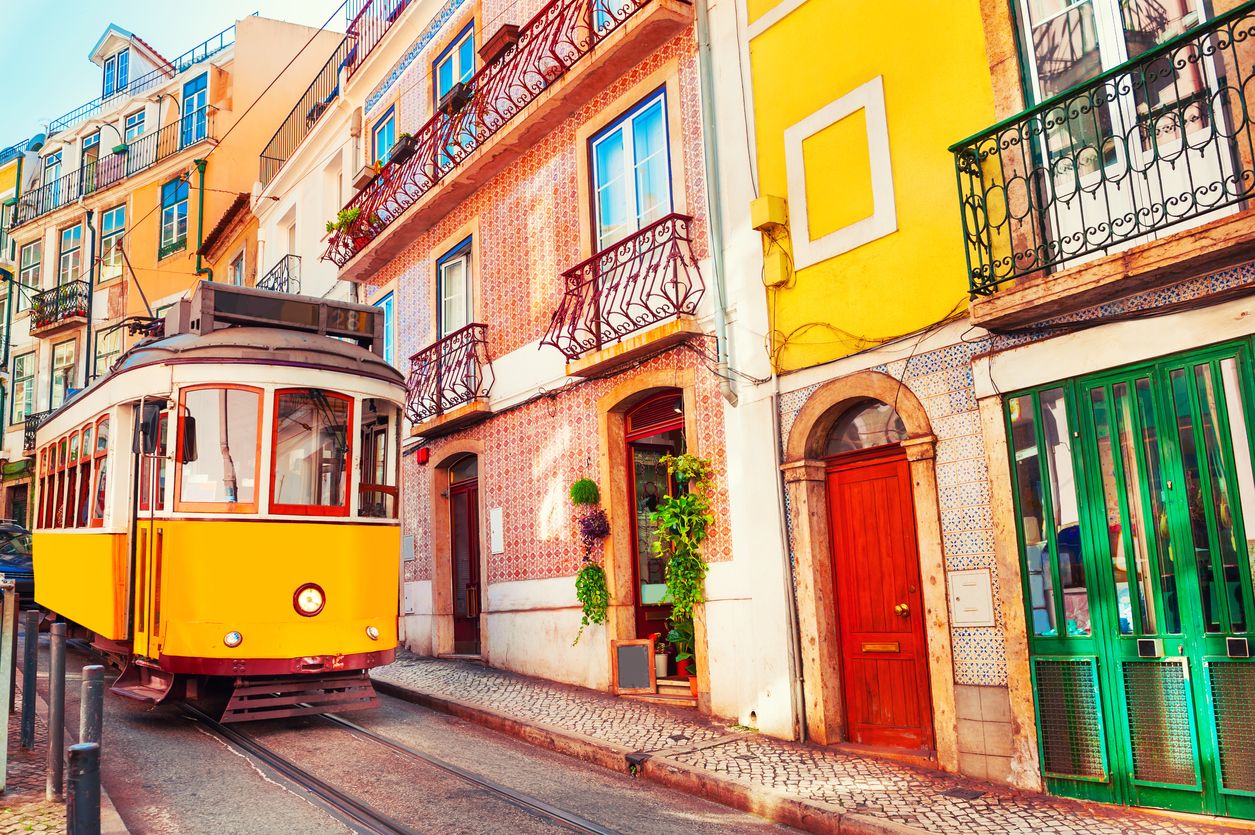 Lisbon in August can get hot; fortunately, the sea breezes cool things down. The beaches near Portugal's capital are a wonderful place to escape.
Lots is going on in August. Jazz em Agosto is the most important jazz festival of the year. It takes place outdoors in the public gardens.
The Avenida Palace Hotel is located in the center of the city and offers both modern luxury and old-world charm. There are 82 suites and rooms with views of Lisbon or the courtyard. The restaurant on the second floor serves breakfast only, but room service is available 24.7.
Couples will find many activities in romantic Lison.
The Palacio Nacional de Queluz can easily be compared in grandeur with Versailles. It is a magical 18th-century feat, as are the surrounding royal gardens. The decorations are fit for a queen (the palace was gifted to Queen Maria I, whose throne room is a marvel of gilded woodwork and mirrors). The garden sparkles with fountains, ponds, and statues of mythological beings.
The best and most romantic dinner in Lisbon calls for an evening at Senhor Vinho. Elites from around the world flock here for a treat, and the prices reflect that. But so does the food, which is incomparable. Major Portuguese artists entertain dinners with their songs.
---
Scotland's beauty can leave you breathless. With its lochs, castles, coastline, friendly Scottish villages, and green hills, it is the very epitome of a storybook romance. From the US, there are plenty of direct flights to Edinburgh and Glasgow.
However, it's a fact that stunning Scotland is not weather-friendly. For much of the year, it can be chilly and rainy. In mid-summer, however, the temperatures, in the mid-60s, are mild and inviting, and the days are 15 hours long, so there is enough time for exploration, especially up north.
The Balmoral Hotel in Edinburgh is a landmark building with stunning views and 167 rooms and 20 suites fit for royalty. The Brasserie serves delicious French cuisine, while the Palm Court offers a traditional afternoon tea.
As a special treat, the Balmoral takes its guests on an excursion to Holyrood Palace and the Royal Yacht Britannia, the former royal floating palace. The outing will end at the hotel with a masterclass in British tea rituals and traditions which includes how to expertly pour and lay out classic finger sandwiches and scones. Keep those pinkies up and ready.
Following a regal tea, couples can take a day trip to Inverness in search of the elusive Loch Ness Monster, Nessie. The lake itself, so large it holds more water than all lakes in Great Britain combined, has some moody and exciting landscapes, with castles and green hills. There are accommodations for overnight stays.
The Isle of Skye houses the royal family's favorite getaway, Balmoral Castle. The green hills have been a favorite since Queen Victoria. Possibly one of the best accommodations and places to snuggle is in one of the Isle's camping pods which come with all amenities including television, en-suite bathrooms, and kitchen. The views simply cannot be surpassed.
---
Koh Tao, Thailand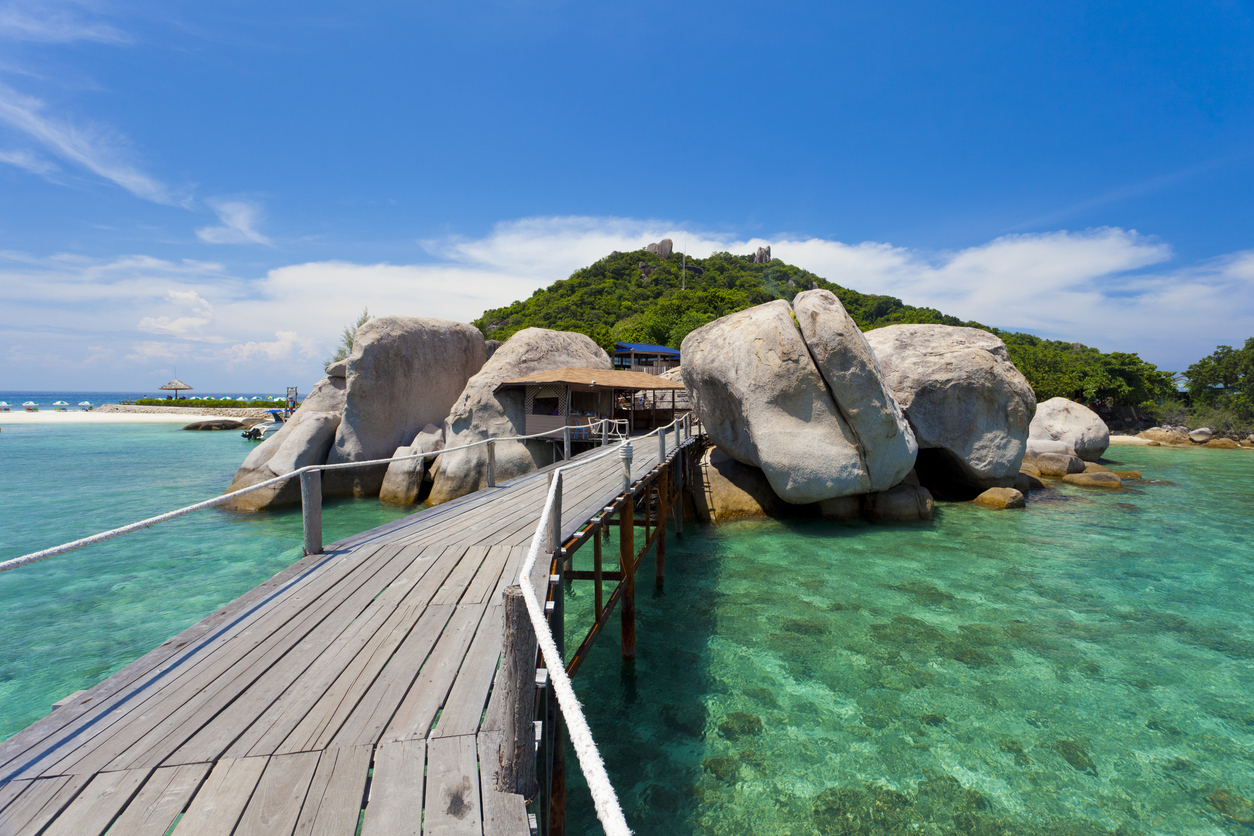 Thailand usually expects plenty of rain in August. However, Koh Tao Island provides the best water visibility for scuba diving at this time. Diving courses are available and get booked quickly.
Sai Daeng is a private resort overlooking the Gulf of Thailand. Its private villas with balconies are nestled by tropical vegetation and a view of the Gulf, and the beach is the most popular diving site on the island. In addition to first-rate diving, the resort has kayaks and offers Thai cooking classes.
The Uncle Soon's Restaurant serves its meals right on the beach. There is also an infinity pool with a swim-up bar.
The beaches on Koh Tao are close together and can all be explored during one trip. Couples should check out the white sand Had Sairee Beach and Chalok Baan Kao Beach, both offering stunning sunsets, and Tanote Bay Beach with its Black Tip Dive Resort and fantastic snorkeling opportunities.
For the most romantic dinner on Koh Tao, couples can visit Thaita Italian Restaurant and share homemade pasta with a great view and gentle music by candlelight. Spaghetti is indeed romantic. So is the fresh seafood they serve. For dessert, don't skip the luscious Mattonella di Cioccolato Croccante.
---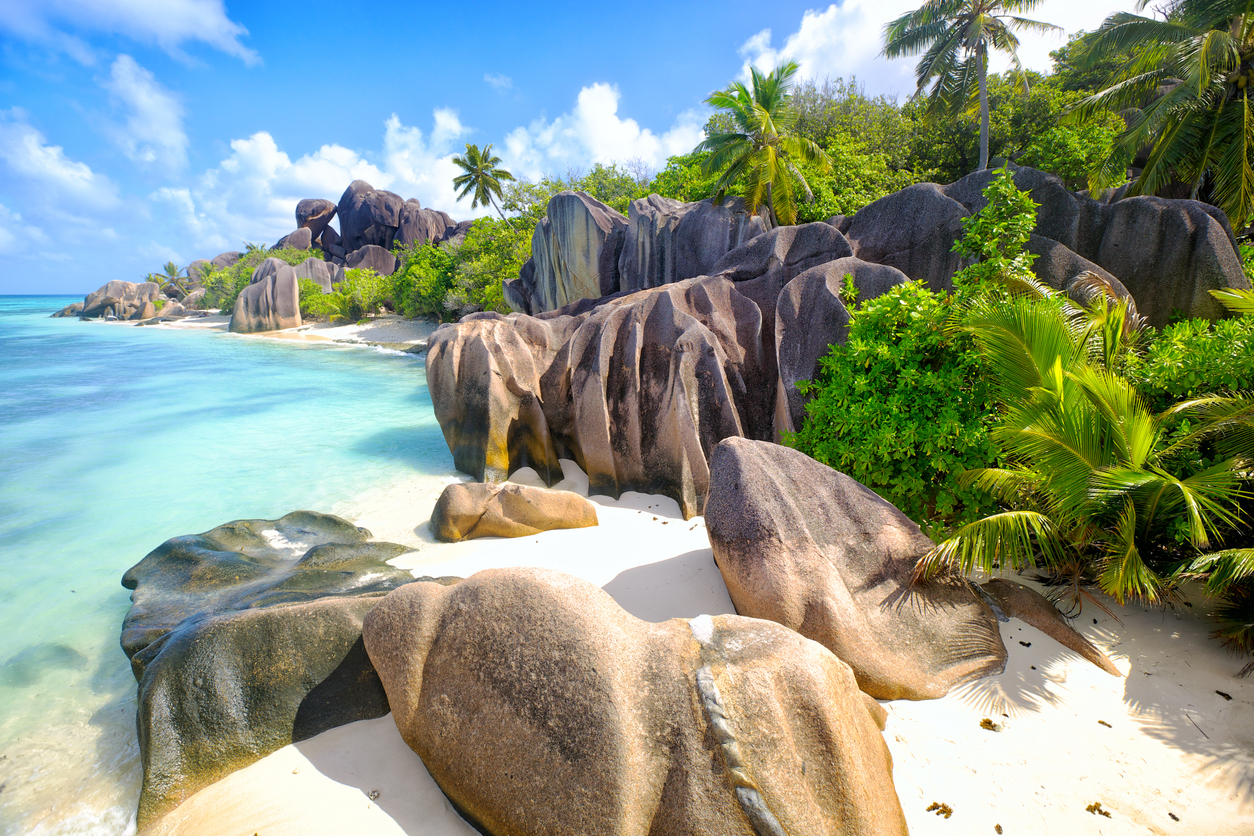 Seychelles is an archipelago of 16 tropical islands in the Indian Ocean. Their temperature remains fairly equitable throughout the year, and when it gets too tropical, there is always a cool ocean breeze. August is both the driest the breeziest month. Its beaches are world famous and the water is clear and blue.
Welcome to paradise.
The Anantara Resort on the island of Mahé has 30 private villas with pools tucked away in gardens by the resort's secluded beach. Every villa stay includes a bottle of champagne, an hour-long massage, and a dining-by-design personal chef.
Even more exciting, the romance package includes a champagne, breakfast, a bath for two, a helicopter ride, and a candlelit dinner.
Zil Air helicopters will fly couples across the Seychelles to showcase the islands in all their glory and beauty.
The town of Victoria is the world's smallest capital with only two street lights and is located on the Island of Mahe. It hosts several museums, a Hindu temple, the Seychelles National Botanical Gardens, a replica of London's clock tower, and it has wonderful Creole restaurants. Victoria is more certainly worthy of a visit.
---
Uganda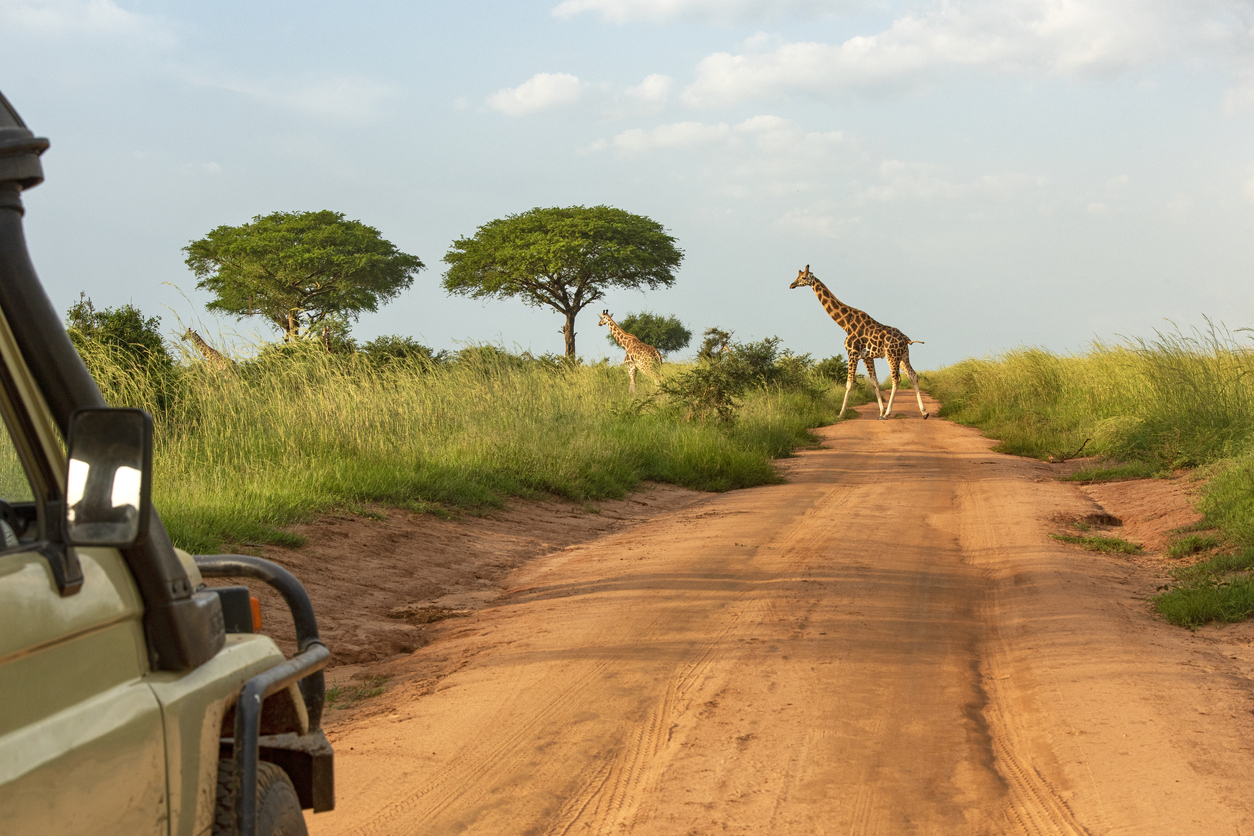 Uganda is a prime August honeymoon destination due to its comfortable mid-70s degrees without much rain. Dried-out watering holes will ensure a great deal of wildlife sightings as they look for water. It's the perfect time for game drives. Winston Churchill called Uganda the "Pearl of Africa" due to its incredible landscapes, forests, and snow-capped mountains.
The 0 Latitude Hotel in Kampala has 47 suites and rooms, two restaurants, three bars, and several pools. The spa has two private rooms for couples to enjoy a massage and total relaxation.
One of the major activities in Uganda is gorilla trekking in the Bwindi Impenetrable National Park and the Mgahinga Gorilla National Park.
Couples can also take a safari in Murchison Falls National Park with its waterfall. The waterfall can also be seen from a cruise on the Nile River. The wildlife here includes big cats, elephants, and the rare Rothchild's giraffes. Also located in Murchison Falls National Park is the Ziwa Rhino Sanctuary.
Each August, the Festival on the Nile takes place in Jinja, Uganda, to celebrate this mighty river. There are parades along the shore, and the river fills with kayakers and rafters. It's a party, and everyone can come to watch.
---
Kuala Lumpur, Malaysia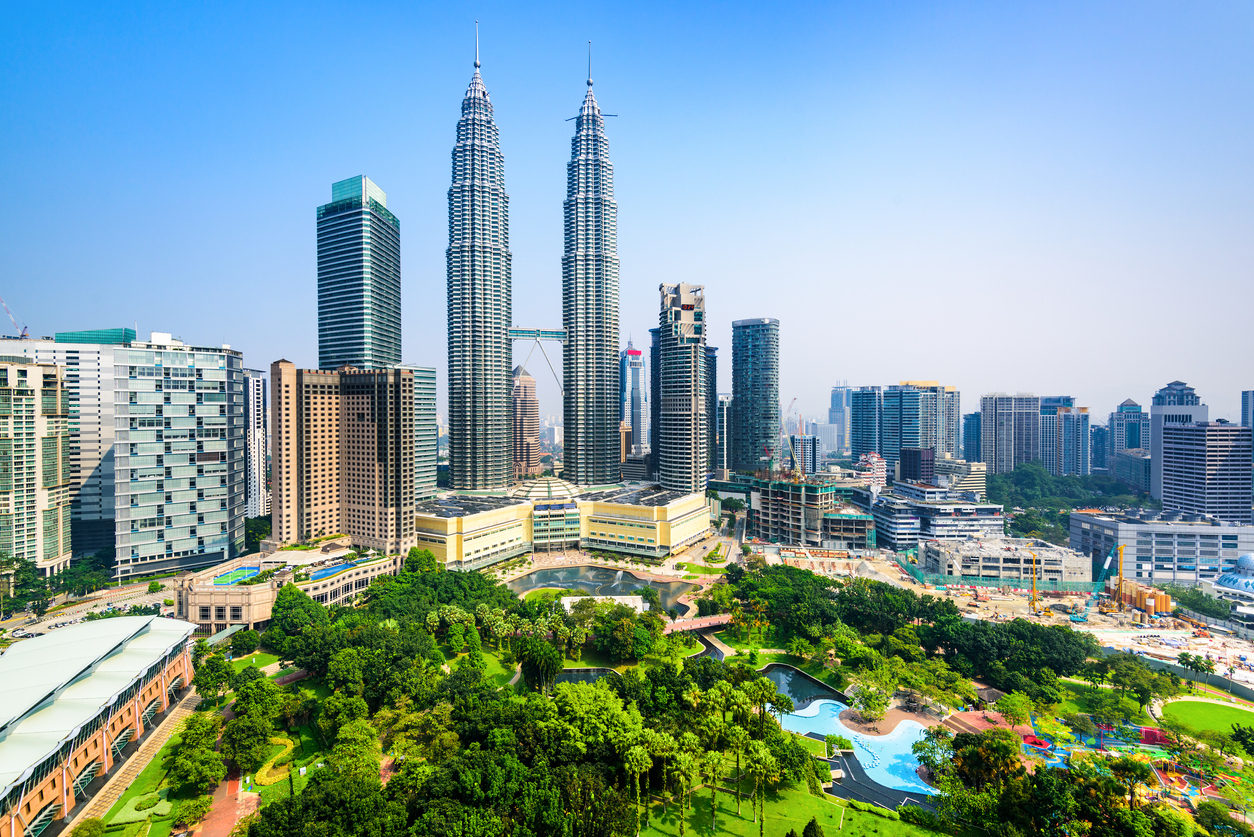 There is a lot of history here, great architecture, and white beaches, as well as a rainforest. Kuala Lumpur has become a major wedding destination for couples seeking a blend of traditional and exotic. Kuala Lumpur itself is a very modern, vital city filled with skyscrapers blending with colonial structures. And foodies may simply never leave – there is every delicacy here that anyone could want, from strolling around Little India to Chinatown to a Portuguese eatery.
The daytime temperature in August is in the mid-80s with some humidity, so it is a good time to be here.
The EQ Kuala Lumpur Hotel has received Travel and Leisure's 2023 "The World's Best" Award. This is not just any award, but the most prestigious in the travel industry. Many hotels vie for such a distinction; few ever achieve it. The hotel's 440 rooms and suites are located on the top floors of the incredible Equatorial Plaza with its striking view of the city.
The rooftop's infinity pool offers a dramatic view of the skyline, as do most of the hotel's restaurants. An entire top floor is dedicated to the Sky51 Restaurant with its open-air bar.
EQ Kuala Lumpur's Equator Club elevates its guests' stays to an even greater level, with special concierge services, all-day soft drinks and snacks, afternoon tea, pre-dinner hors d'oeuvres, and free ironing daily of two garments.
One of the major attractions in Malaysia and Kuala Lumpur is its Batu Caves, a hill with temples, shrines, and scenic caves. The gilded statue of the Hindu God of War is a major draw. There are 272 steps to climb, which may be a challenge, especially with the local monkeys jumping out and attempting to snatch whatever is in your hand.
Visiting the world's tallest towers – the Petronas Towers – is a must for every couple, complete with selfies.
Changkat Bukit Bintag is Kuala Lumpur's lively club district where the Pisco Bar stands out. It is a chic tapas restaurant during the day that turns into a sexy dance bar with live entertainment in the evening.
---
Madagascar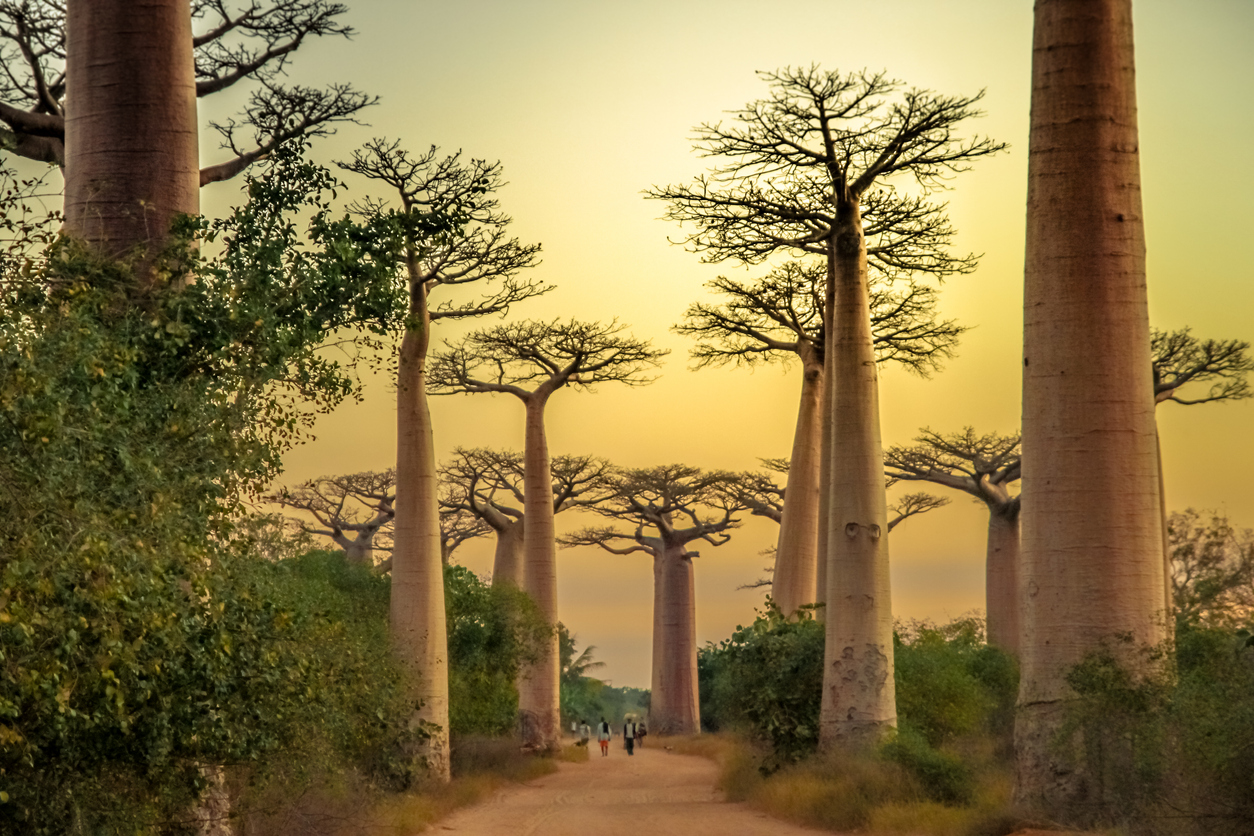 In August, Madagascar has daytime temperatures hovering in the 70s, making it a great time to explore the Reniala Forest and the Isalo National Park, which dates back to the Jurassic Era. Madagascar's coastal areas are very busy during the month of August.
The Hotel Sakamanga is located in Madagascar's capital, Antananarivo. Rooms are elegantly decorated, and the Sakamanga restaurant offers tasty French cuisine. Lunch can be enjoyed on the terrace with a view of the garden. The spa pampers its guests with both foot and back massages using local massage oils.
Couples will be kept busy during their stay in Antananarivo.
The Rova Palace Complex, once the home of 17th and 18th-century rulers, is quite spectacular with three separate buildings and a tomb. Couples can take a self-guided tour daily between the hours of 8:00 a.m. and 5:00 p.m.
The Museum of Art and Archeology consists of 7,000 artifacts that were assembled during digs in Madagascar, including religious and ceremonial items. The museum showcases the country's rich culture with displays of musical instruments, pottery, and other items.
---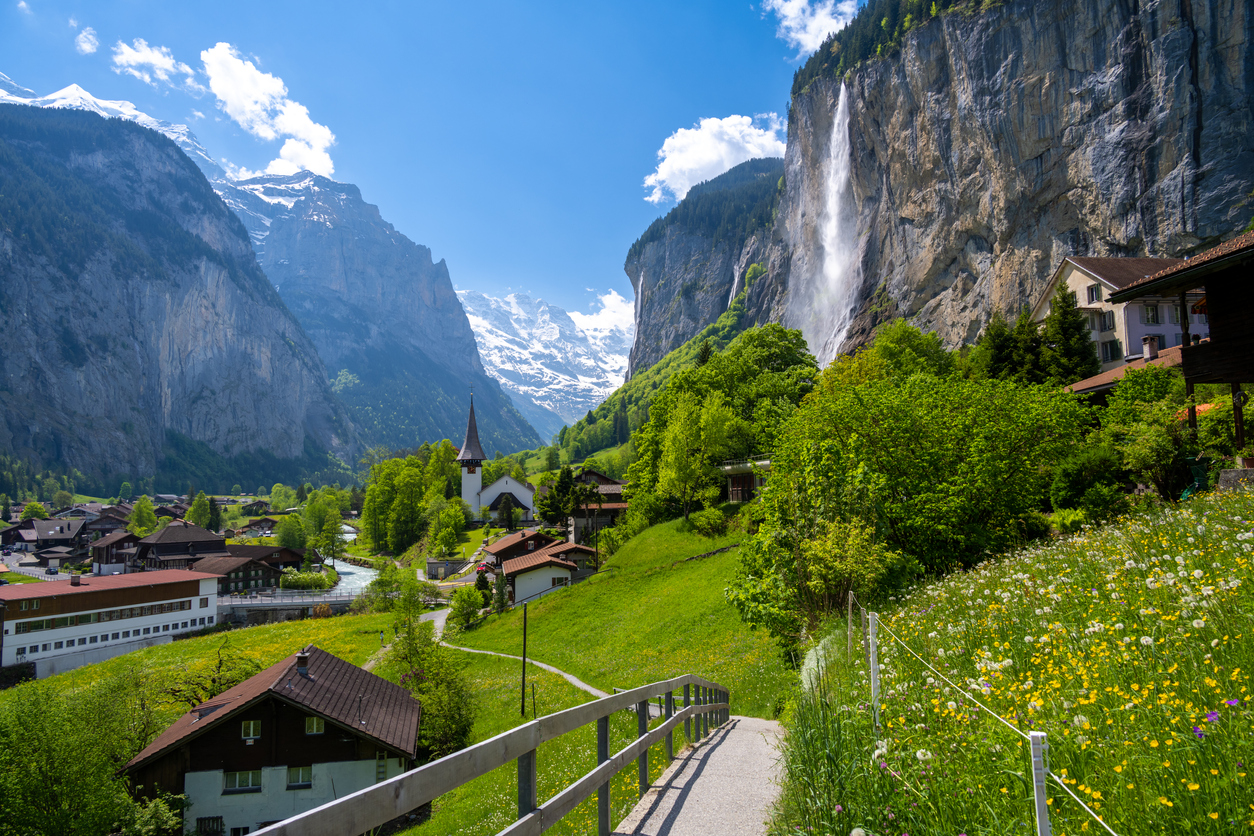 Everyone knows Switzerland is a ski paradise in the winter. Couples should consider what this panoramic Eden has to offer in the summer, from touring Mont Blanc to reveling in the country's largest and most vibrant city, Zurich, with its cafes and museums. And let's remember those fine Swiss watches, Prada, and Tiffany lining the windows of Zurich shops.
With the temperature in the high seventies, it never gets unbearably hot, so strolling the streets is pure pleasure.
The Dolder Grand in Zurich has 75 deluxe rooms and suites and an art collection worthy of the best museum. It has hosted Elizabeth Taylor, Leonardo Di Caprio, Bill Clinton, and other political and Hollywood luminaries.
The Restaurant provides diners with 2-Michelin star cuisine for an unforgettable dining experience of six to eight-course meals.
As a pampering treat, the hotel's award-winning spa has a 25-meter pool, steam bath, whirlpool, and outside terrace.
Couples will love a private cruise across Lake Zurich while passing Zurich's high points, such as the Biergarten, major churches, and the China Garden. There will be a stop for a swim.
The architectural marvel that is the Zurich Opera offers opera, theater, ballet, and concerts at their finest.
Visitors can shift from Switzerland to China when strolling through the Chinese Garden, one of the highest-rated Chinese gardens anywhere outside of China. It is a temple garden for meditation. In addition, there are several pavilions and a small palace to transport couples to another place.
---
Danube River Cruise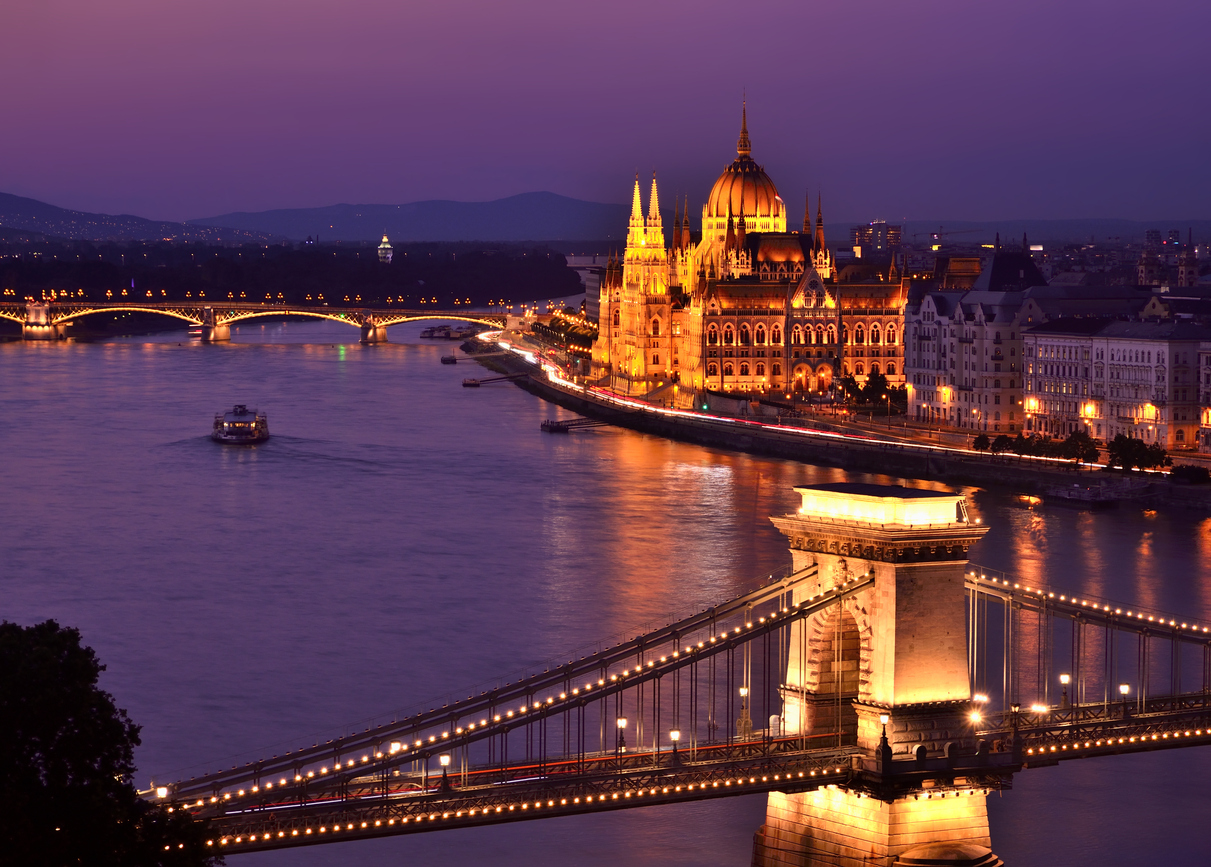 Danube River Cruises is a classic way of floating through Europe and seeing the countries at their best. The riverboat S.S. Maria Theresa, named after Austria's empress, has created a chic atmosphere, elegant dining, and top-rated accommodations. Luxury fit for an empress.
The large staterooms with balconies have a walk-in closet, television, living area, and a marble bathroom. A butler will tend to all the guests' needs, such as serving breakfast, bringing fresh fruits and cookies, as well as an evening snack. He also takes care of the laundry and shoe shines.
During the Enchanting Danube cruise, the boat will float down the Danube and stop at different sites. Stops provide access to venues available only to cruise guests, such as a private showing of the Kunstkammer art collection.
Couples will spend two nights in a Budapest hotel with breakfast being served, and there will be a walking tour of the city. The cruise will hit four countries in eight days, including Vienna, until it disembarks in Passau.
Meals are truly extraordinary and include unlimited wine and beer.
For couples, a river cruise provides luxury, intimacy, and the opportunity to socialize, if desired.