The Seychelles have been called the most idyllic island getaways in the world. They are a romantic beachcomber's dream come true. Picture yourselves walking hand in hand along a long stretch of white sand beach bordered by clear aquamarine water. The only footprints in the sand for miles are yours! Stop to share a kiss in the shade of a graceful palm. Take a cooling dip in the clear aquamarine waters. Soak up the sun at the water's edge. Dine under the stars as you remember all the funny things that happened at the wedding and talk about the happy days to come in your new life together. This could be your honeymoon in the Seychelles!
One hundred fifteen island jewels are sprinkled over 5,400 square miles of the Indian Ocean, 1,000 miles from the coasts of Africa and India. Only 1/3 of the islands are populated and only 16 of them are large enough to sustain at least one resort. Almost all hotels are small and intimate and many are comprised of a number of freestanding villas which assures the utmost in privacy and romance.
You can make one of these islands your very own honeymoon paradise as the royal couple Will and Kate did. Celebrities, statesmen and tycoons from the world over enjoy them too. Hollywood stars like Pierce Brosnan, Brad Pitt, Leonardo DiCaprio, Jennifer Aniston, Michael Douglas and Katharine Zeta Jones have fallen in love with them. Beatle George Harrison and comedian Peter Sellers bought land here, and hosts of other stars and dignitaries have touched their shores.
Mahe, the largest and most populated is the only port of entry. Other islands like Praslin La Digue, Silhouette, Frigate, Dennis and Bird are also popular. Smaller islands may have only one resort so you have the entire island to yourselves to explore, relax and dream.
Yes, the price of paradise is relatively high, but the unique and stunning beauty that is all around you and the unforgettable romantic experiences that these islands offer is well worth it!
Every honeymoon day is a dream-come-true in the Seychelles!
The 1 Best Honeymoon Resorts in Seychelles
Chateau de Feuilles
With just 9 intimate rooms and suites, all surrounded by dream-like stretches of white beach and lush islands dotting the bright blue water, Chateau de Feuilles is an intimate luxury boutique resort escape. Sitting on a hill at the edge of a lagoon that fades into the brilliant sea, every…
---
About Seychelles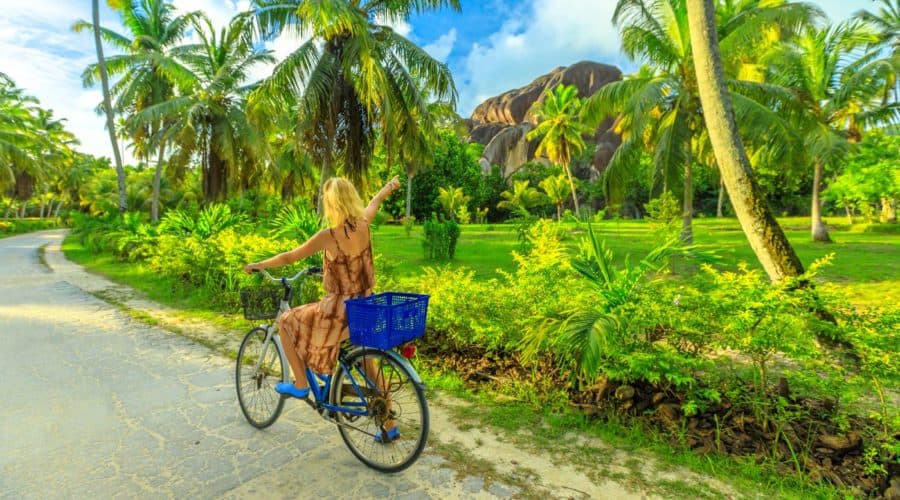 Don't Miss
TRY A LOCAL DRINK: Eku or Seybrew are the beers. A lemon grass drink, Citronel, after dinner is said to aid digestion. Proceed with caution if you try kalu, baka, or lapire, the very strong local moonshines. Tap water is safe to drink everywhere.
TAKE A HELICOPTER RIDE from the Mahe Airport get an aerial view of the major islands and the beautiful Sainte Anne Marie Marine Park. Or, fly the national airline, Air Seychelles, to a handful of other islands.
BUY A SMALL PAINTING OR A PIECE FROM A LOCAL ARTIST to decorate your new home. It will bring back memories of your happy honeymoon for years to come. There are a number of galleries on Mahe, but you can find artists selling their wares elsewhere.
FIND YOUR FAVORITE BEACH: There are thousands to choose from. Almost all of them have pristine white sand bordered by unusually clear waters and sloping palm trees. Take a box lunch and make a day of it!
BE A SPORT: Cycling, sailing, game fishing, diving, snorkeling, windsurfing, bird watching, hiking, horseback riding and golf are all available, but not all are on all islands. Check with your Travel Agent or your hotel.
TRY TO VISIT one of the two national parks or one of the seven marine parks.
SEE VICTORIA MARKET on Mahe. Local fruits, vegetables, spices and seafood are on display, and you can find an array of souvenirs upstairs.
Fast Facts
DOCUMENTATION: You need a valid passport, and a return air ticket. The passport must be valid 6 months from the day you leave the islands. You will be issued a Visitors' Entry Permit upon arrival. Keep it with you at all times. It must be presented to Immigration when you leave.
BOOK YOUR HOTEL AND FLIGHTS WELL AHEAD to avoid disappointment. The popularity of this destination is growing and most hotels are small and fill up fast, especially during the Christmas season and June and July vacation seasons.
AREA CODE: 248.
DRIVE on the left.
CURRENCY: Rupee. Hotels must be paid in foreign currency or by credit card. Local currency is only used for services such as sightseeing excursions, entry fees, local transportation, and tips. Banks are open from 8:30-2:00 Monday-Friday and until 11:00 a.m. on Saturday. Changing money on the black market is not advisable.
LANGUAGE: There are three official languages: English, French and Creole.
ELECTRICITY: 220-Volts. A three pin square plug is used. Bring an adaptor.
Honeymoon Hints
PRESCRIPTION MEDICINES & TOILETRIES: There are very few pharmacies in the islands, so bring your own medicines and toiletries. You'll also need plenty of sunscreen.
GETTING AROUND: There is ferry service from Mahe to Praslin and Le Digue. You have to take an excursion or charter a boat to other islands. Mahe and Praslin have inter-island bus service. A few taxis are available on Mahe, Praslin and La Digue. Agree on the fare before entering. Car rentals are available on Mahe and Praslin but rates are high and breakdowns can be frequent due to the lack of spare parts.
TRY A CURRY WITH COCONUT MILK if you prefer mild flavors.
PACK A SMALL FLASHLIGHT: It will help find the paths at night!