A honeymoon usually means disconnecting from the world and creating your own piece of paradise as a couple. In November, however, that can mean combining a fabulous honeymoon with a traditional Thanksgiving.
We have some ideas of how to indulge in the perfect honeymoon while still enjoying a traditional Turkey feast. Below are some suggestions.
Plymouth, Massachusetts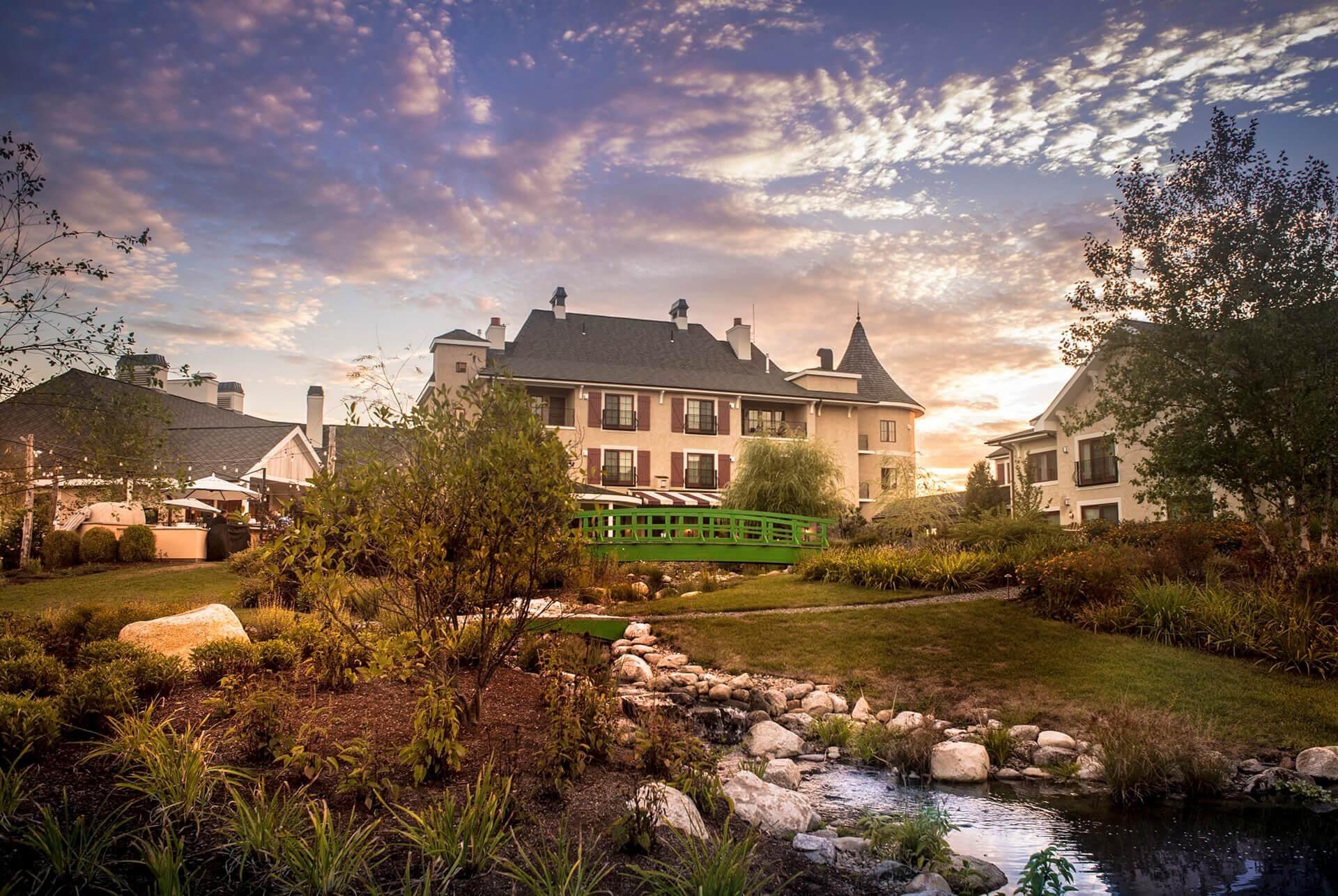 Thanksgiving officially began in Plymouth in 1620. It is one of the US's oldest cities, and couples on their honeymoon can celebrate in a charming historical style by taking part in "America's Hometown Thanksgiving" which includes a parade, food, entertainment, and going back in time to the beginning.
The Mirbeau Inn and Spa has 16 rooms in the Manor House with some of the suites having a fireplace and balcony. The Guest House has 34 rooms, some with a fireplace and a view of the golf course.
Dining is casual and, weather permitting, can be outdoors. The hotel's romance package includes top accommodations, a 50-minute massage, dinner at the Bistro Restaurant, and breakfast.
The Mirbeau offers its guests bicycles, daily fitness classes, yoga and meditation therapy, and wine tasting.
All of Plymouth celebrates Thanksgiving weekend with a rousing parade and tasty food at the New England Food Festival. Step back in time to the Wampanoag Pavilion where the first Thanksgiving is explained and celebrated. Inside this historic village, guests can watch 17th century reenactments and see settlers at work.
The Plimoth Patuxet Museum has a special Thanksgiving dinner each year. Indians and pilgrims break bread together in gratitude for life. The meal, roast turkey with giblet gravy and stuffing, is as traditional as it can get.
---
The Winelands, South Africa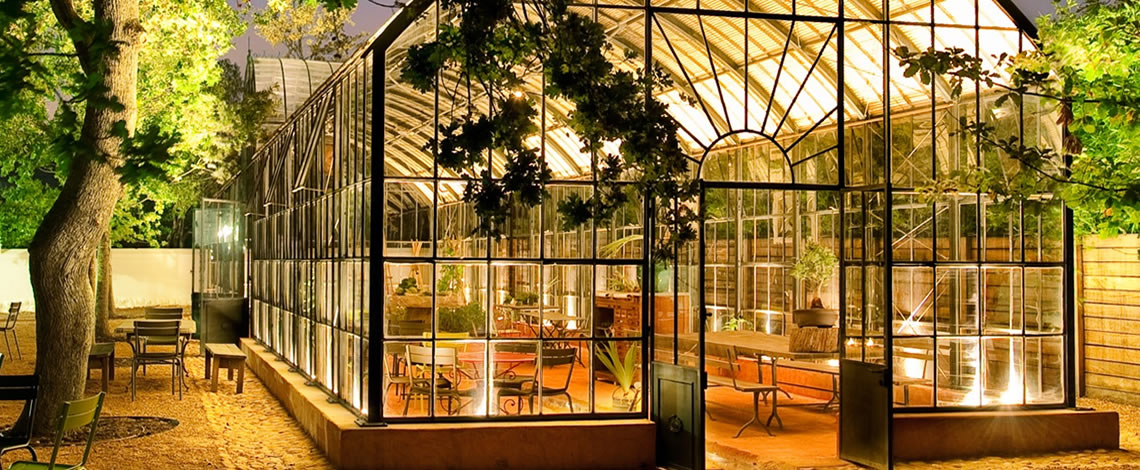 An hour from Cape Town is the South African version of Napa Valley – the rolling green hills of Winelands. It is spring here in November, before the overwhelming summer heat makes an appearance. The Winelands are, of course, a haven for wine lovers. Wine tastings and pairings and plain great food rule here.
The region is comprised of three towns, Paarl, Stellenbosch, and Franschhoek, and each is prepared to welcome wine-loving foodies. Stellenbosch is filled with stunning Victorian mansions.
Franschhoek's Babylonstoren is the largest wine farm in the region, with vineyards, farms, and a hotel within the gardens with cottages that have fireplaces. Guests love the fresh food in the restaurant and the pampering in the spa.
The eight-acre garden is at the heart of Babylonstoren, and daily tours allow visitors to taste and smell the freshest of vegetables.
There is a wine cellar, of course, and tastings begin with seven different types of South Africa's best wines. Babylonstoren was named the "best innovative wine tourism experience" in South Africa in 2022. For more wine experience, the Wine Tram will take guests through eight different wine estates.
The Winelands offer a stunning landscape from the ground. Even better, Winelands Paragliding gets the heart pumping with its tandem paragliding experiences. Soar over the Winelands all the way to Cape Town.
---
Sao Paulo, Brazil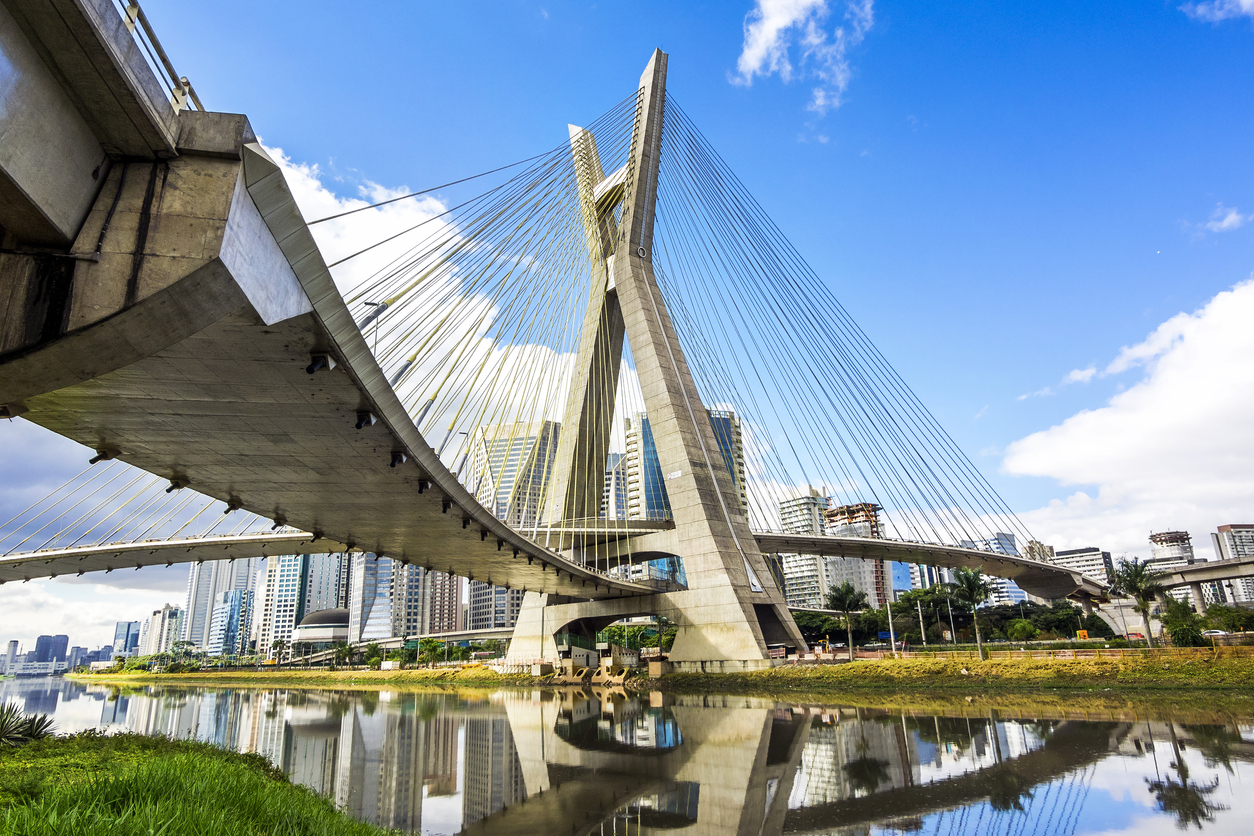 The temperature in November in Sao Paolo spans between the 60s and the 70s. November is also the month that the city hosts its annual highly anticipated Fashion Week as well as its Formula 1 Grand Pix Race. It's a busy month.
Sao Paolo can easily be overlooked in favor of Rio de Janeiro, and it should not be. Sao Paolo is South America's most sophisticated city with a vibrant nightlife, many options for international dining (it has the only Brazilian two-star Michelin restaurant), and an urban landscape to rival New York City. In addition, it is home to one of the few venues in Brazil that serves a genuine Thanksgiving dinner.
Tivoli Mofarrej Resort is situated in Sao Paolo's best neighborhood with a grand view of the city. The resort has won Travelers Choice's Best of the Best Award from 2020 through 2023. Conde Nast Traveler named it one of the "Top 20 Hotels in South America."
Most of the large rooms and suites have a view of the city. The Must Bar overlooks Sao Paolo and offers live jazz several evenings each week. A Romance Package includes breakfast in bed, flowers, candles, wine, chocolate-covered strawberries, and chocolates, and the Spa Package treats guests to breakfast, fruit, and an hour-and-a-half body massage.
The exclusive Disco Bar is where to see and be seen in Sao Paolo at 3:00 a.m. Music, a high-level dance floor, and two bars make this the place where celebrities hang out.
P.J. Clarkes serves a traditional Thanksgiving dinner of turkey, gravy, and mashed potatoes.
---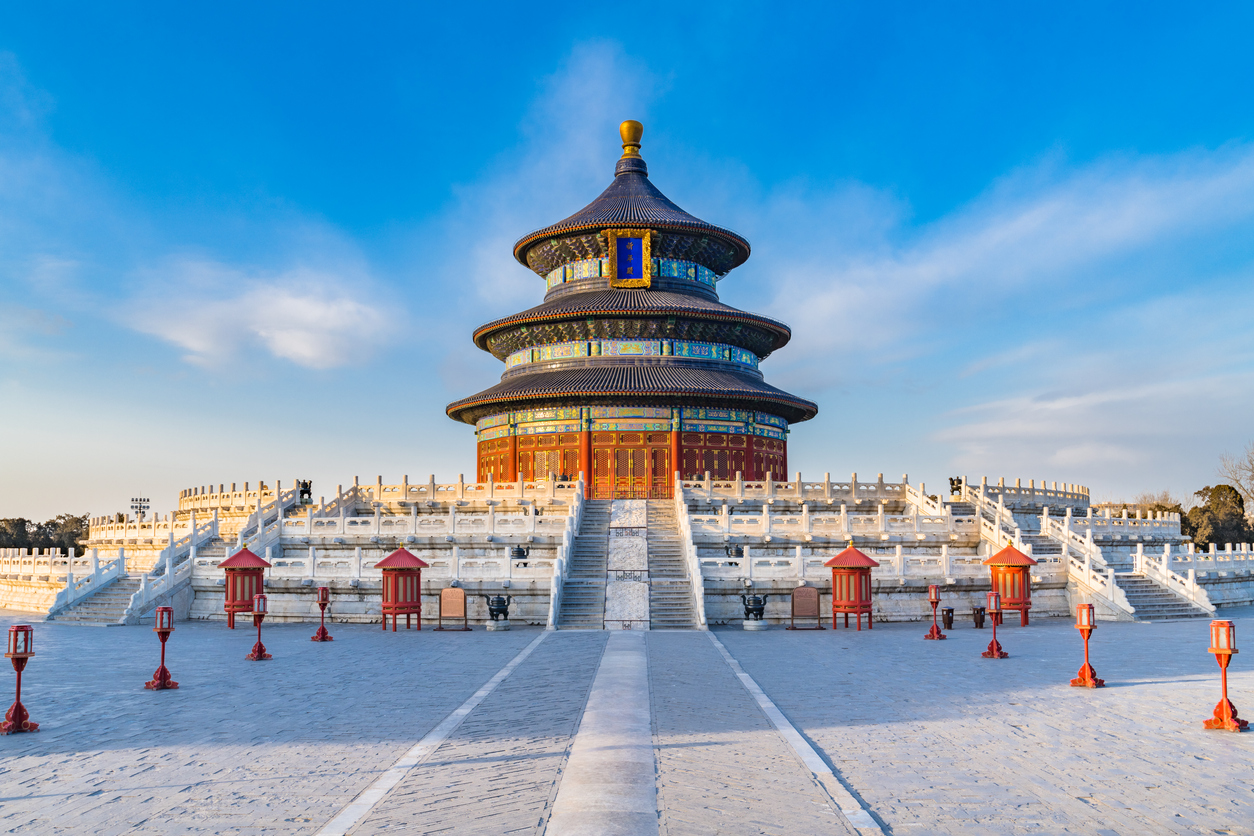 Thanksgiving in Beijing? Indeed; they know how to give thanks in November. The month usually starts off mild and gets chillier. But then, Beijing is no ordinary beach vacation. Early in the month, couples can see Beijing's bright foliage; by the end, they may stroll the Great Wall while it is covered with snow. Beijing is as non-traditional as honeymoons come, so their Thanksgiving celebrations may come as a pleasant surprise. Welcome to the Forbidden City, Nirvana for the adventurous.
Beijing is a thrill, from exploring the Great Wall to strolling the hidden alleys.
The Mandarin Oriental has the largest rooms and suites in Beijing with a breathtaking view of the Forbidden City. It has two restaurants, one supervised by a Michelin-starred chef, and a bar with access to a rooftop garden terrace. At the Oriental, guests have an indoor lap pool and a wide array of soothing spa treatments. Couples can become "Fans of Mandarin Oriental" for additional benefits, such as free breakfast, dining credit, room upgrade, and late check-out.
In Beijing, it is called "Gan'en Jie," which the Chinese celebrate on the fourth Thursday in November. This is a deliberate re-enactment of an American holiday with Western food. Turkeys may be difficult to find, so many restaurants prepare a goose or a chicken instead, along with potatoes and a pink sauce that substitutes for cranberries. Some of the larger hotels do serve turkeys.
Nanluoguxiang is a small district with alleyways featuring the culture of Old Beijing. It's all about history and preserving it. The alleys are frequently used for high fashion magazine shots, so they may seem a bit familiar to some. Visitors will find an abundance of shops, genuine restaurants and bars.
During the evening, Nanluoguxiang turns into a favorite bar zone, where fun is the name of the game.
Visiting the Forbidden City and its palace complex is a must. The grandeur is monumental, as any emperor who lived here took unlimited luxury for granted. Ordinary mortals were not permitted access. The Forbidden City now serves as a historic museum, and an official tour is highly recommended.
For a special evening out, couples can visit the Atmosphere Bar on the 80th floor of the China World Tower to see across all of Beijing.
---
Punta Cana, The Dominican Republic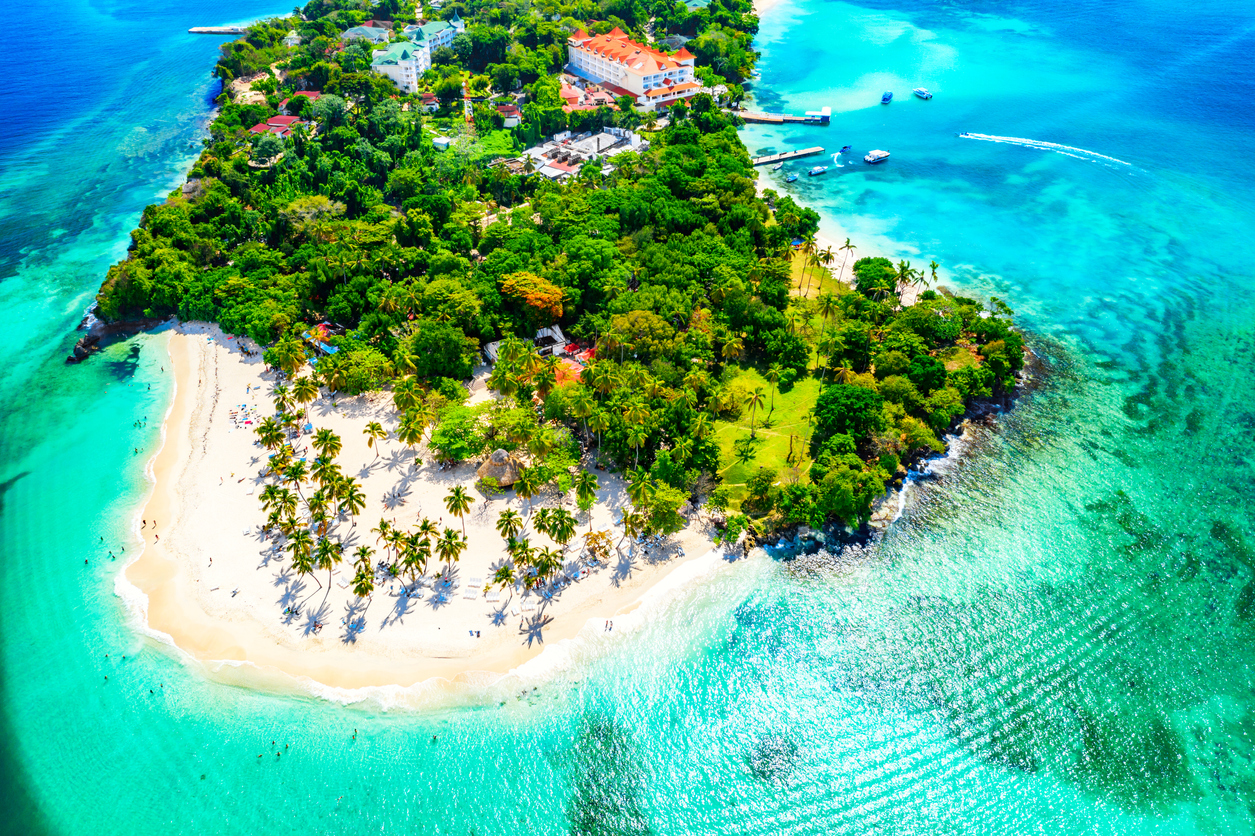 November marks the end of the rainy season and usually holds steady at 80 degrees plus weather. It's a great time to frolic on 30 miles of palm-lined white beaches. Its many all-inclusive resorts make this a great honeymoon value.
Majestic Elegance Punta Cana is a five-star, all-inclusive honeymoon haven surrounded by unspoiled beaches that are rated some of the best in the world. Its elegant rooms have indoor or outdoor Jacuzzis.
There are numerous restaurant choices, including the main buffet which serves a full traditional Thanksgiving dinner, and the Beach Bar situated on the resort's private beach.
The pool area includes loungers and beds. Live shows entertain each evening.
Couples can relax on a fun catamaran booze cruise along the shoreline or prepare to impress family and friends with skills acquired at the Punta Cana Shopping Services where they will not only learn how to prepare fabulous Dominican Republic meals, but how to prepare those all-important pre-dinner cocktails, and how to host a special event. Every honeymoon couple should learn these skills and amaze the folks back home.
---
Philippines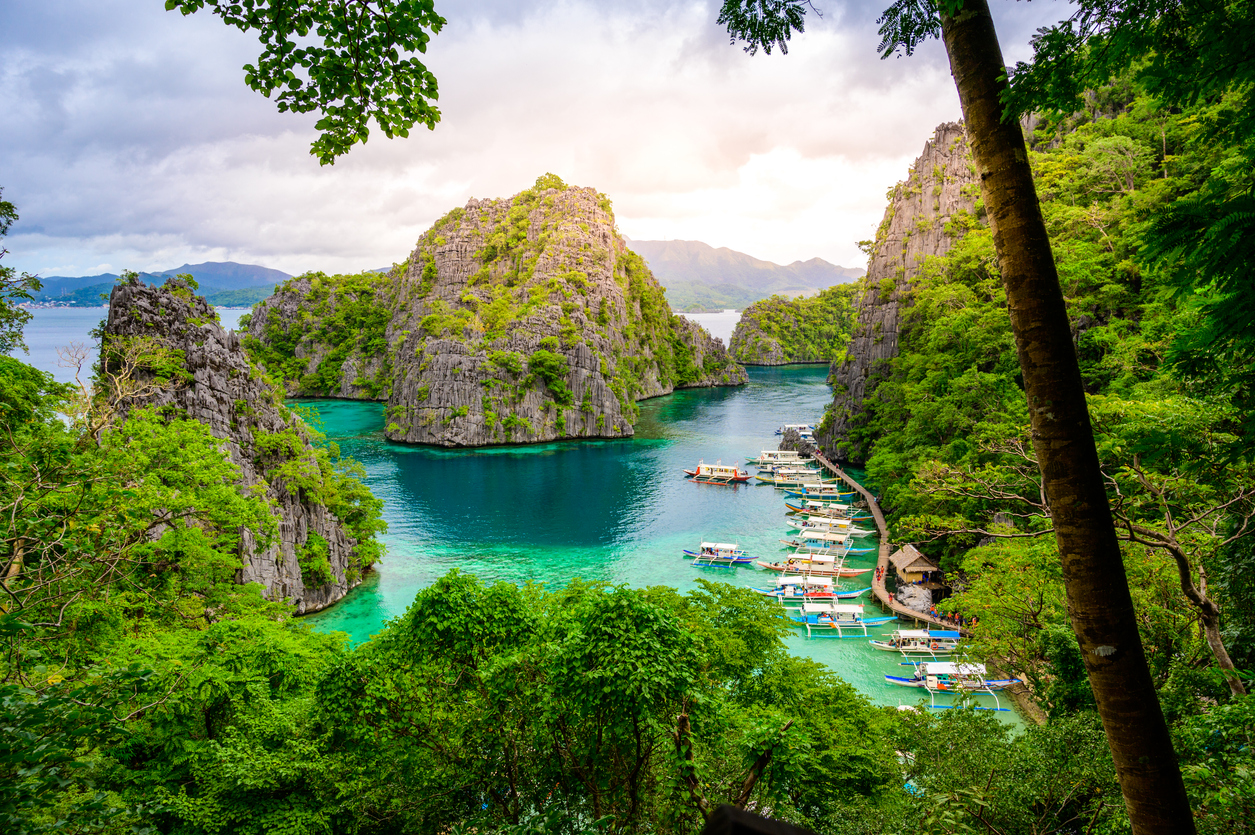 The Philippines is an archipelago of 7,641 islands, 2,000 of which are inhabited. November welcomes in the dry season, which makes it a desirable – and sometimes crowded – vacation spot to hike or lull on a gorgeous beach. Couples can expect a wonderful adventure filled with romance and surprises.
Thanksgiving in the Philippines, which is most frequently celebrated on the fourth Thursday in November, is a feast for giving thanks as well as a celebration of major life milestones. While turkey is available, Filipinos seem to prefer a roast pig.
Palawan is one of the best island groups in the Philippines for anyone seeking luxury and is ranked one of the world's best islands for its white beaches, stunning marine life, and huge cliffs. One of the best islands in Palawan is Puerto Princesa and its underground river. Puerto Princesa is one of the 7 new wonders of nature.
Astoria Palawan is surrounded by the sea and mountains with some of the most beautiful landscapes anywhere. It has rooms, some with kitchenettes, and private villas. Dining is available both al fresco and indoors. Guests can indulge in the infinity pool, recreation area for games and karaoke, and a fun on-site waterpark.
A can't miss for couples is the Puerto Princesa Subterranean River National Park with its boat tours floating through a five-mile underground river with caves. Also, they can create their own adventure at Ugong Rock, where guides will lead groups through underground caves and take them ziplining over the jungle canopy. Turkey Day has never been this much fun.
---
Glenmere Mansion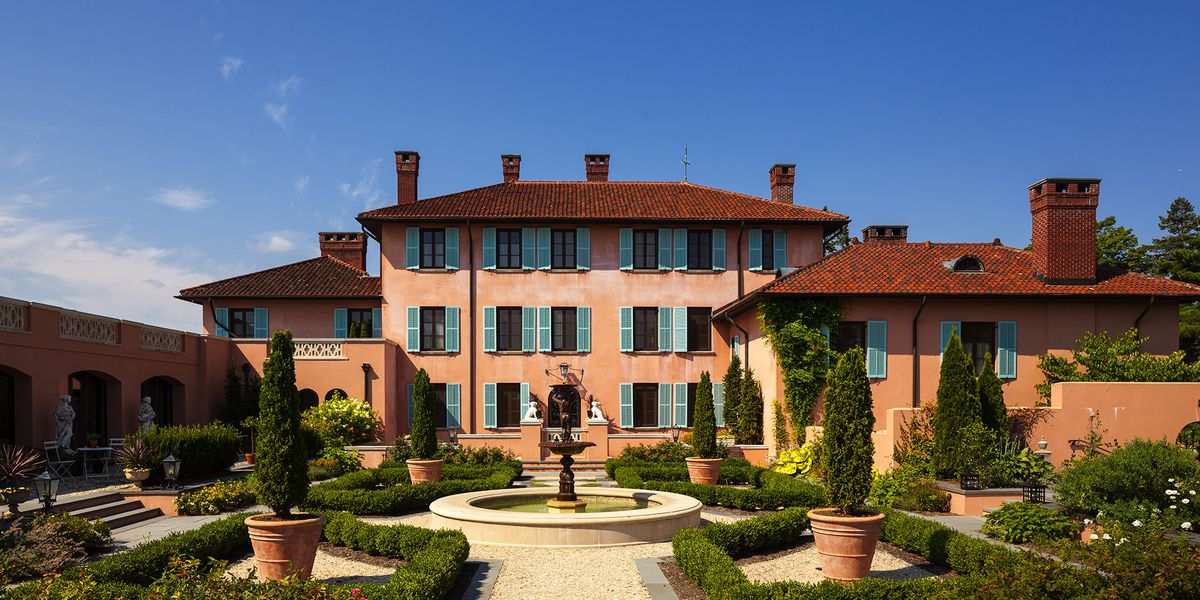 Glenmere Mansion, approximately one hour from New York City in Chester, NY, was voted the number one romantic hideaway in the world by Hideaways International. Its elegant and formal gardens bring European chic and style to mind.
This former private villa was once host to the elite, including royalty. It is now an 18-room hotel with two restaurants, a spa, a breathtaking antique and art collection, two tennis courts, and a whirlpool spa. Most of the rooms have a fireplace and a terrace.
The Supper Room serves dinner by candlelight and a large fireplace and wine from its own cellar every day. Guests can also enjoy the regular Thursday evening wine tastings which have won the Wine Spectator Best of Award of Excellence between 2019-2022.
A three-course prix-fixe Thanksgiving dinner with wine pairing is served in the Supper Room.
The Sugarloaf Performing Arts Center is a hub for touring companies, film festivals, and art exhibits with great lake and mountain vistas.
---
Lake Placid, New York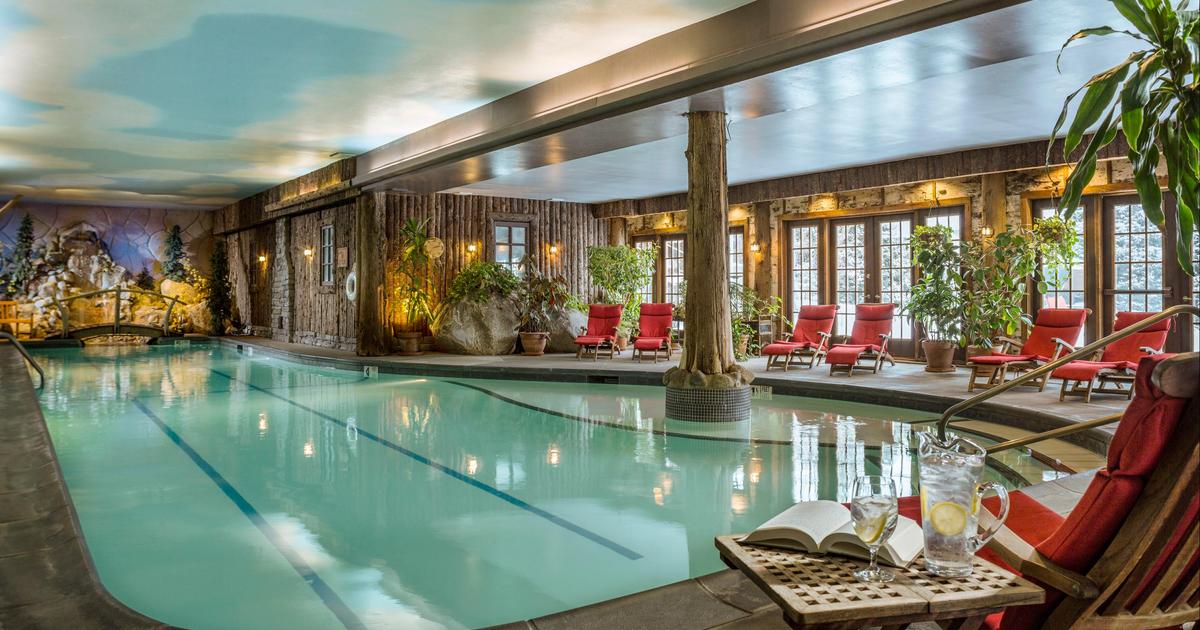 Lake Placid may be famous for having been a part of the Olympics, but it is also the original winter resort for the rich and elite who recognized the beauty of the Adirondack long before it became an East Coast treasure. By the early 20th century, it had turned into an ideal winter resort and has given Olympic hopefuls a competitive edge ever since. From first-rate hotels to a cultural opera house, Lake Placid became the place to be, especially when the snow began, and visitors reveled in the warmth of a fireplace and a hot cup of cocoa.
Mirror Lake Inn has a crackling fireplace waiting for couples coming in out of the cold. Rooms and suites overlook the beauty of Mirror Lake and the Adirondack High Peaks. The View Restaurant is Lake Placid's sole AAA Four Diamond restaurant serving up exceptional cuisine and a winning wine list. It officially opens the holiday season with one of Lake Placid's best Thanksgiving dinners.
Guests have access to an indoor pool, sauna, and whirlpool.
Couples can take Lake Placid's famed gondola ride, visit the Olympic Ski Jump Complex to watch Olympic skiers train, and check out the Adirondack Equine Center for horse riding tours around the lake.
---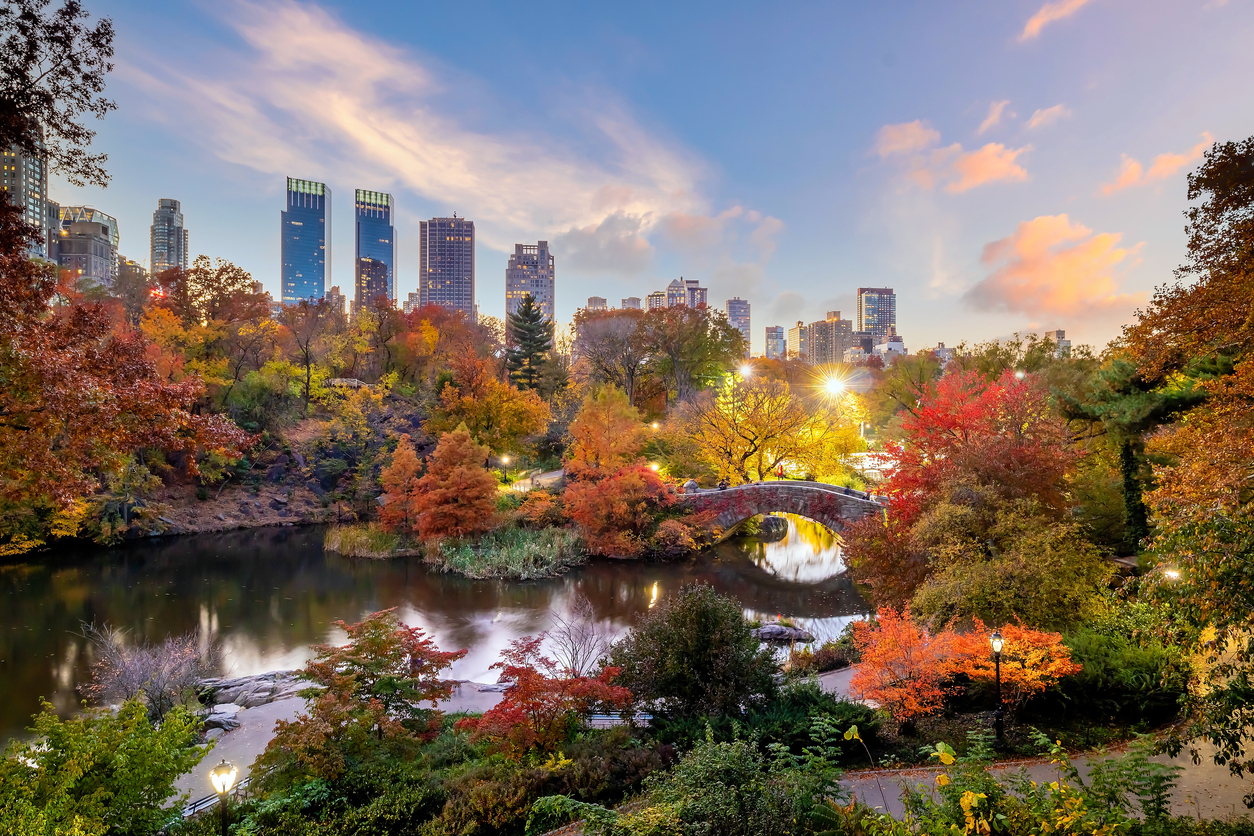 Anyone who thinks Thanksgiving in New York is just about its famous parade is in for a surprise. There are plenty of fantastic activities throughout Thanksgiving Day weekend. The City that Never Sleeps is brimming with honeymoon romance.
The month of November hosts the New York City Marathon and the NYC Comedy Festival. And then comes the best day of all – Thanksgiving.
There is no shortage of restaurants that will serve a gourmet Thanksgiving dinner. Couples may wish to raise the bar and take a Thanksgiving Buffet Cruise along the Hudson River and East Rivers. It's two-and-a-half hours of turkey with all the trimmings, the best view of Manhattan's landmarks, a stocked bar, and live entertainment. Where else can anyone cruise past the Statue of Liberty on Thanksgiving?
For anyone not wishing to fight the Thanksgiving Parade crowd, the New York Hilton Midtown on Sixth Avenue is right along the route and near Radio City Music Hall, Rockefeller Center, and Broadway. The Hilton has special rooms and suites for watching, which is followed by a Thanksgiving feast.
Couples can see traditional shows on Thanksgiving Day, starting with the kickin' Rockettes at Radio City Music Hall or a Broadway show. Not to be missed is the Christmas tree lighting at Rockefeller Center or skating around the center's famed ice rink.
Both the National Museum of the American Indian and the 9/11 Museum are open.
Take part in the Thanksgiving Eve Pub Crawl which crawls through four pubs in the West Village with karaoke, DJs, free shots, and beer pong.
---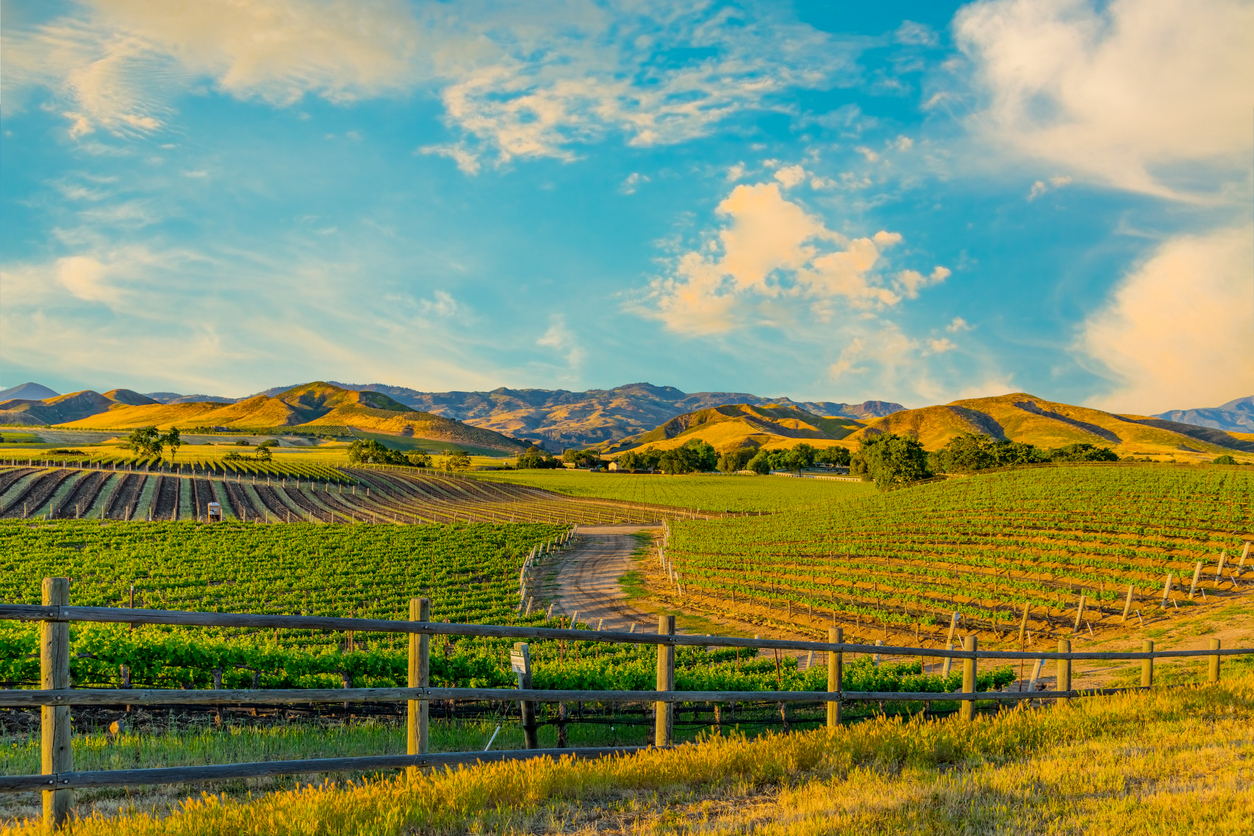 By November, the summer heat has abated, and a nice breeze rules the air. The water is too cool for swimming, but there are stunning mountains and vineyards to visit, letting Santa Barbara earn its name as the American Riviera as it gives off French Côte d'Azur vibes. Couples can book a wine tour and get a head start on the celebration. Many restaurants offer a first-rate Thanksgiving dinner.
Santa Barbara reflects its Spanish culture and architecture, especially the Mission Santa Barbara, which is rich in the town's history.
The Ritz Carlton Santa Barbara has almost 400 rooms and suites with beaches and mountains as a backdrop. There are three infinity pools, six restaurants, and a 12,000-bottle wine collection. Rooms and suites have a garden or ocean view, and some have a balcony. The Club Lounge elevates any stay with increased amenities, personal dining presentations, afternoon tea, hors d' oeuvres, and a personal concierge.
The elegant Angel Oak restaurant treats its guests to a three-course prix fixe dining with wine pairing.
Restaurants such Caruso and the Chandelier Ballroom at Rosewood Miramar Beach entice with a wonderful traditional Thanksgiving feast.
The Old Mission is a wonderful example of Spanish architecture, and its sweeping rose garden invites strolls and romantic picnics. For something fun and out of the ordinary, not to mention elite, couples can join the well-to-do at the Santa Barbara Polo Club; it's where Prince Harry trains.
For a casual date, the Cold Spring Tavern, which functioned as a 19th century stagecoach stop, now serves as a restaurant during the week. On weekends, the bar offers live entertainment along with its famous barbeque sandwiches.
---
Leavenworth, Washington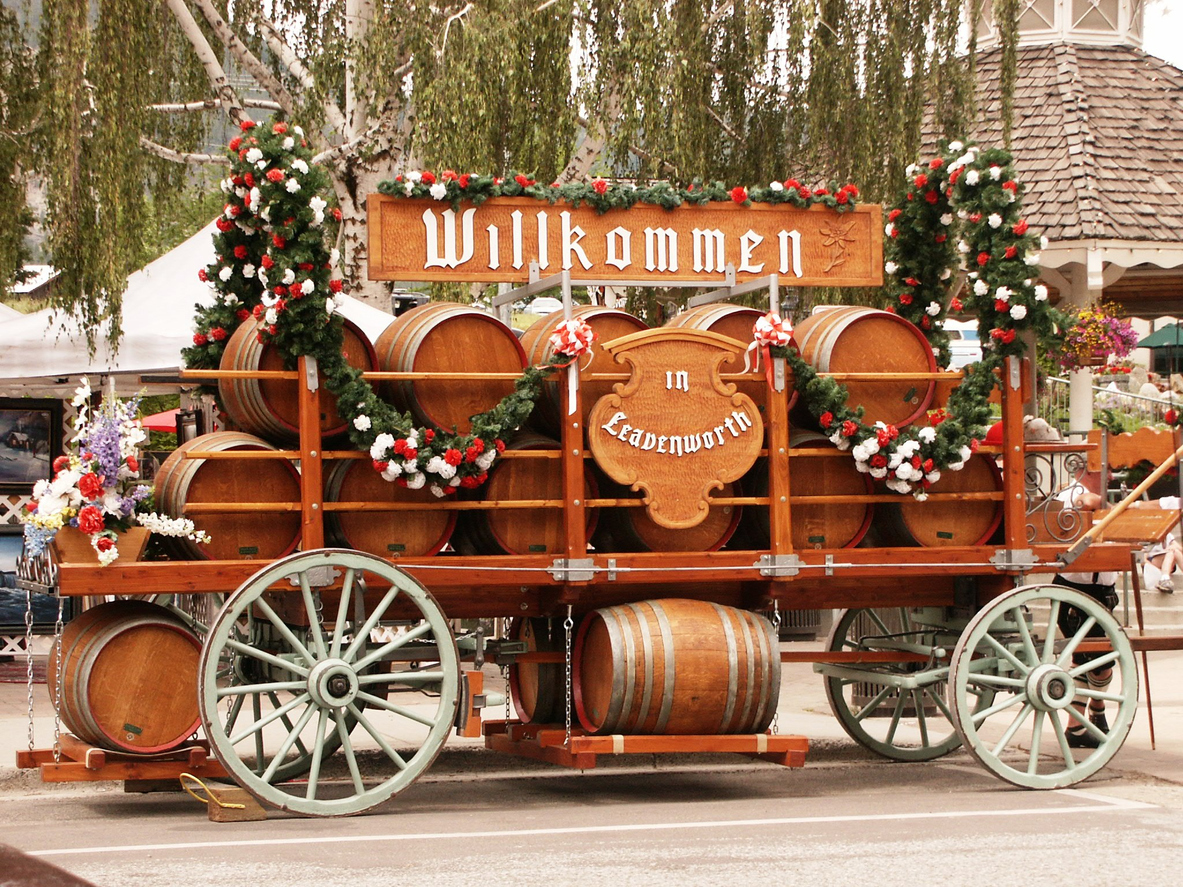 Honeymoon in Leavenworth, WA? Yes! It's starting to get snowy and chilly in November, making Leavenworth one of the most romantic winter honeymoons in the US. Leavenworth is a delightful replica of a Bavarian village getting ready for its alpine holidays. It is one of the top destinations in Washington where couples can stroll through the Bavarian Village with its decoration, German food, and great beer.
By the end of November, the town gazebo features carolers and holiday characters. The surrounding mountains invite visitors to cross-country ski, sledding, and participate in other winter activities – that includes snuggling and sipping a soothing hot cup of cocoa.
The Bavarian Lodge is all about alpine comfort. Rooms include a fireplace, a balcony, Starbucks coffee, snacks, and a full breakfast. The lodge has outdoor hot tubs and a pub serving snacks and beer.
Visit the reindeer farm and feed these beautiful animals, climb onto Santa's sleigh, and get prepared for Christmas. See the Nutcracker Museum, the only place in the world to find 9,000 nutcrackers from 50 different countries. Thirty-thousand people come here from everywhere to find their personal nutcracker. Everyone should have one.
For authentic dining straight from the Alps, couples can go to Andrea Keller Restaurant, the Munchen Haus, and Mozart's. No one will be disappointed.
---
Williamsburg, Virginia
In November, the air in Williamsburg is crisp and ideal for exploring the sights in Colonial Williamsburg and Bush Garden's Christmas Town. Colonial Williamsburg is a living museum recreating 18th century colonial times, with authentic buildings, shops, taverns, and costumed guides. It's a different time and place to begin a marriage.
The Williamsburg Inn represents the Regency elegance of the 18th century and has the sole Forbes five-star rating in the area. The Rockefeller Room Restaurant features a five-course prix-fixe dining experience with impeccable wine pairings.
The activities in Williamsburg are endless. After exploring Colonial Williamsburg, couples can indulge in some fun at Bush Gardens. The annual November Chowfest has local restaurants offering delicious chowder tasting with live music.
Christmas Town in Bush Gardens lights up more than 1 million lights – the largest such display in the US – with all its Christmas activities beginning November 11th for an exciting start to the holiday season.
For history buffs, Thomas Jefferson's home, Monticello, offers tours.
---
Greenbrier Valley, West Virginia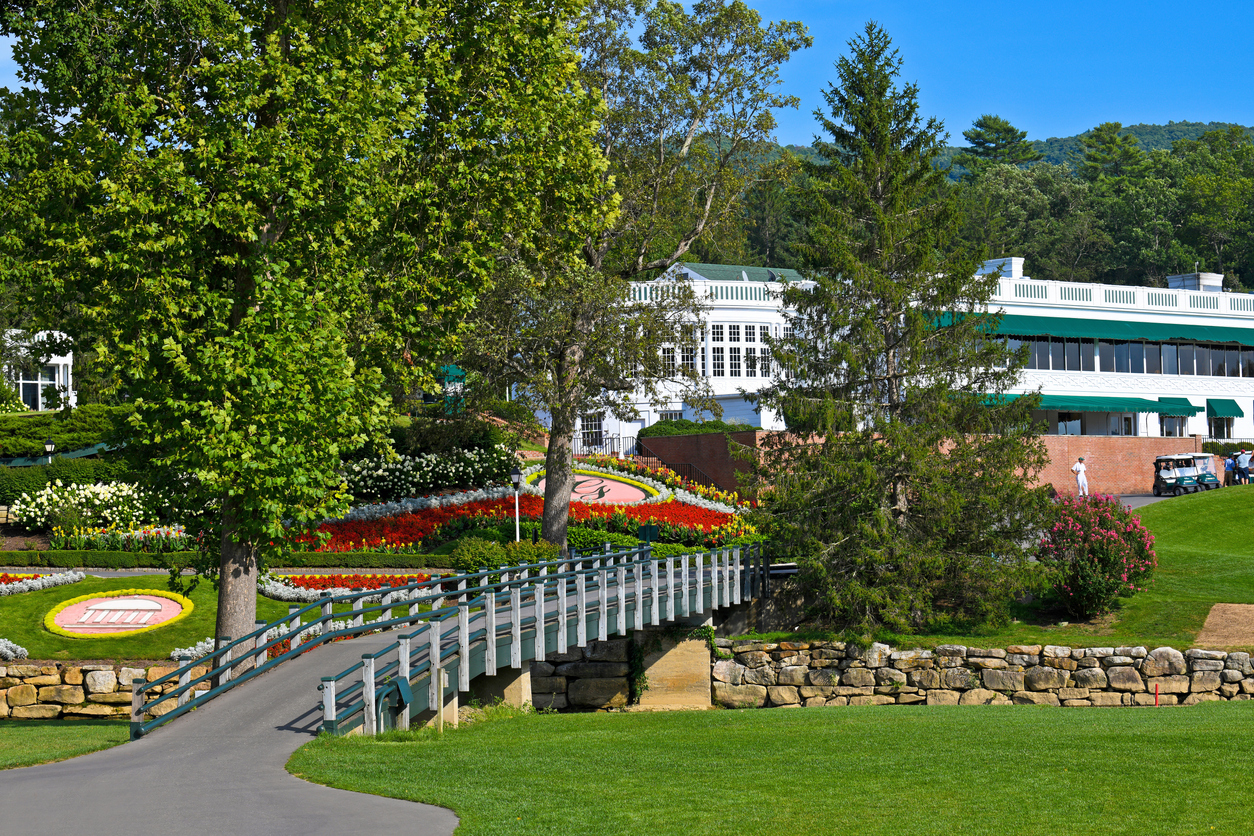 The temperature in Greenbrier Valley varies between 50 and 70 degrees and has been popular as a luxurious destination.
The valley's downtown Lewisburg regularly tops must-see lists from around the country with its museums, shops, and galleries. Lewisburg is also home to the Greenbrier Valley Theater, Carnegie Hall, and plenty of historic museums. The North House Museum leads excursions downtown, black history tours, and walks through historic cemeteries.
Energetic couples will enjoy the 78-mile-long Greenbrier River Trail through the Alleghany Mountains and paddling along the Greenbrier River.
Visitors know to explore the stunning Pomona Salt Cave and Spa. A favorite destination, the offers spa pampering in caves coated with healing Himalayan salt. Vapor therapy, foot soaks, massages, and yoga all add up to relaxation and healing.
The standard of luxury in the valley is set by the Greenbrier Resort, 11,000 acres of beauty waiting to the explored. For accommodations, the Windsor Club, named after the Duke and Duchess of Windson, provides the ultimate in accommodation and personal service. There is an abundance of dining options, including the Main Dining Room, with its chandeliers and classic dishes. Dinner is a dress-up occasion.
The casino at Greenbrier Games has been named the 18th Best Casino in the US. Guests have a choice of 30 tables and 180 slots.
Thanksgiving Day at Greenbrier is an event that begins with a wine-tasting Thanksgiving Eve and a mouthwatering Thanksgiving Day Brunch. The fun continues with a tree lighting ceremony on Friday.
---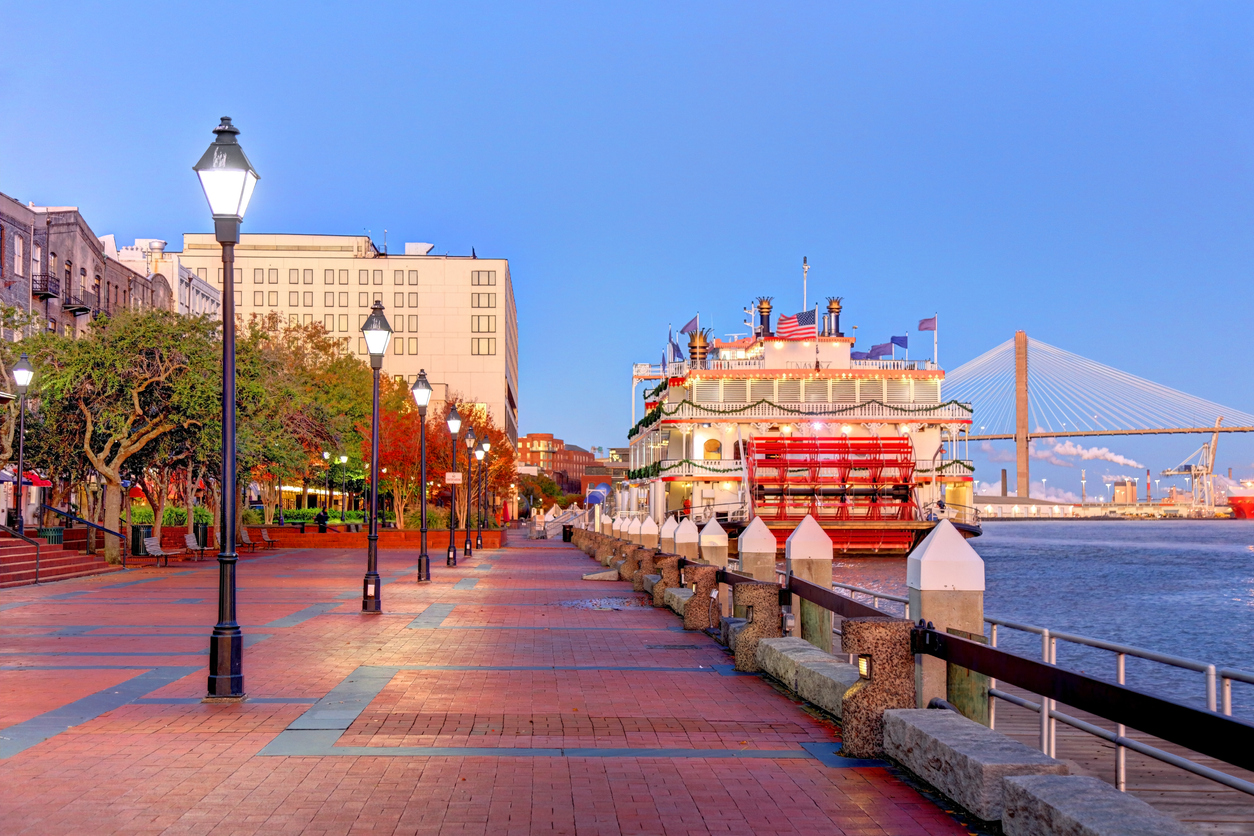 Beautiful Savannah has temperatures in the low 70s in November, with little expectation of rain, and with fall colors still blazing. It's perfect for couples taking a stroll through Georgia's oldest city. There are three rivers beckoning people to kayak and paddleboard and enjoy a honeymoon with genuine Southern hospitality.
Ballastone is a five-star hotel that exudes romance and is named Savannah's most distinguished inn with a distinct Victorian flair. Breakfast is served daily, and the courtyard is designed for relaxation. Its historic charm, with its antiques and fine silver, would have made Scarlett and Rhett feel very much at home.
Newlyweds are celebrated with breakfast, chocolate truffles, champagne, cake, and a dozen roses.
For Thanksgiving, Mrs. Wilkes Dining Room has been called "Thanksgiving on Steroids" by TripAdvisor. Eating is comfortably family style, and the food is unlimited, creating the ambiance of being at Grandma's house.
Beginning on November 26th, the Old Town Trolley whisks guests through Savannah for a view of the old, traditional mansions, a tour through the Davenport House, and the holiday sights and glitter.
---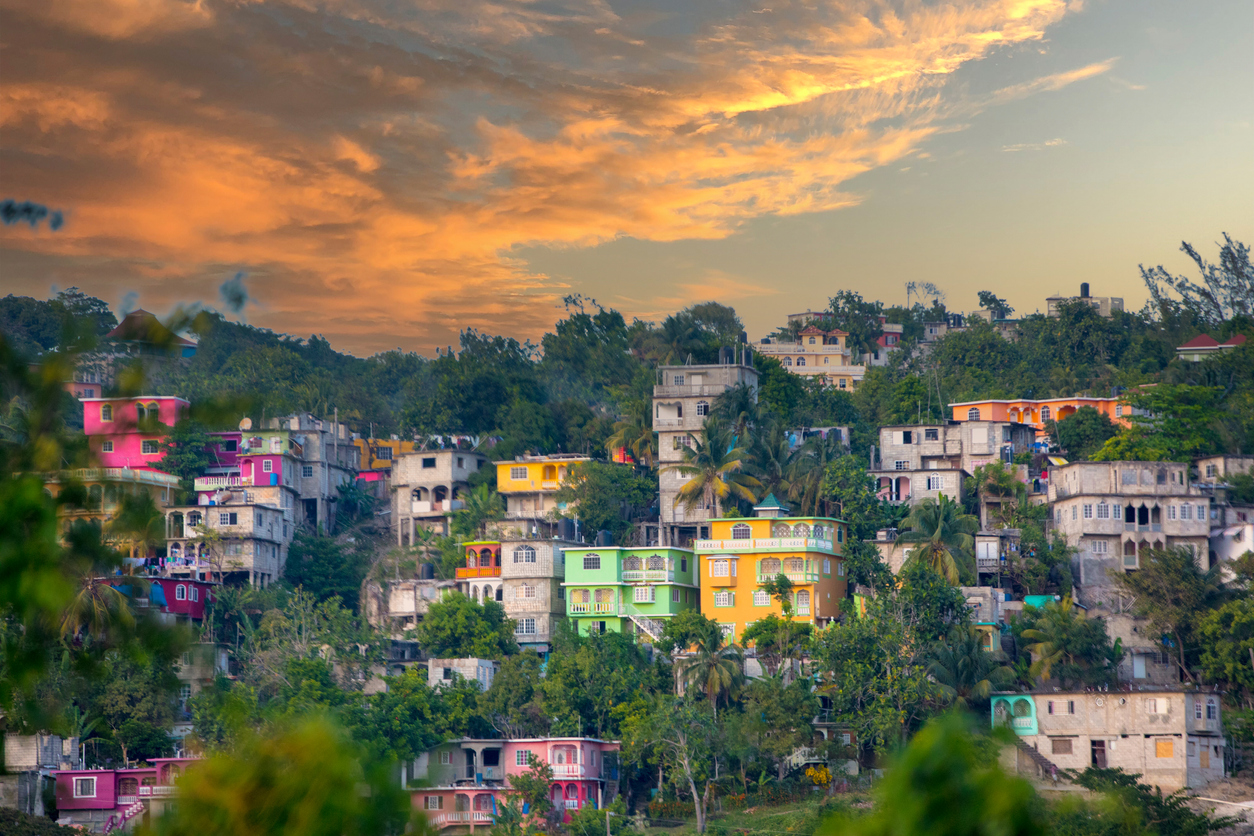 As far as Caribbean islands go, Jamaica chimes in with all the bells with a great landscape for hiking and charming towns. November welcomes in the dry season, so there will be plenty of sunshine. Seven Mile Beach in Negril has earned the title of "Caribbean's Best Beach." Away from the perfect shores and crystal waters, couples can expect a flourishing jungle, lots of hiking opportunities, and horseback riding.
The all-inclusive and all-adult Sandals Negril hugs the fabulous Seven Mile Beach and is widely referred to as "Seven Miles of 7th Heaven." It has won awards for "top all-inclusive resorts in the Caribbean" and for the "most romantic hotel in the Caribbean." Elite suites come with butler service and every imaginable amenity, and guests have a choice of seven all-inclusive restaurants.
Sandals has a full range of water sports, including diving certification, and every evening offers a party.
Couples can follow in the footsteps of Scarlett Johansson and Harrison Ford and head for a stunning dinner in Negril's Caves. Within the caves, tables for two with candles are set for a five-course meal.