Photo Courtesy of Jamaica Tourist Board
Destination Overview
A premiere coastal community located on Jamaica's extraordinary north coast, Ocho Rios has become an essential honeymoon destination thanks to a wide variety of activities and accommodations. The historic port town was originally settled by the Taínos more than 3,000 years ago, and the rich history is inherent in every aspect of local life. Whether you're looking to stretch out on the beach and sip "shaken, not stirred" martinis like James Bond did in the countless James Bond scenes filmed in Ocho Rios, rocket down the towering mountains on a zipline, or dance the night away at a pulsing club, the destination has it all.
Adventure-seekers cannot afford to miss Mystic Mountain, which is situated at the center of the flourishing town. The attraction features a 700-foot peak that can be explored via the Rainforest SkyExplorer chairlift, as well as a gravity-propelled bobsled track called the Rainforest Bobsled Jamaica that will thrill you with more than half a mile of adrenaline-fueled fun.
Honeymooners would be remiss to skip Dunn's River Falls and Park; an unbelievable waterfall that is a wonder of the natural world on account of its ever-changing slope of travertine rock. The base of the falls is open to swimming, so you'll definitely want to prepare for a wet afternoon at one of the most gorgeous locations in Jamaica.
One of the major draws of Ocho Rios for honeymooners is the nightlife scene, which transforms the idyllic island paradise into an after-hours party each night. From Margaritaville to Rum Punch Party, the rhythm of Jamaica is embodied in live musical performances and mouthwatering island cocktails.
For a more laid-back excursion, the quaint village of Rio Nuevo is well worth traveling to, with the nearby Jamaica Beach serving as perhaps the best scuba-diving location in the country. The Rio Nuevo Wall is a 25-foot vertical dive that is home to a plethora of aquatic creatures that are only found in the warm, tropical waters. Art lovers won't ever want to leave the bustling Ocho Rios Craft Market on Main Street, where you'll find all kinds of handmade goods that make perfect souvenirs and thank-you gifts for wedding attendees.
All of this is to say that Ocho Rios has something for everyone. It's a welcoming community that cherishes its culture and loves nothing more than to share it with visitors. Plus, with a plentiful supply of luxury hotels, guesthouses, and villas, a stay can be arranged on any budget. The only question is whether you'll stay for a vacation or a lifetime.
---
About Ocho Rios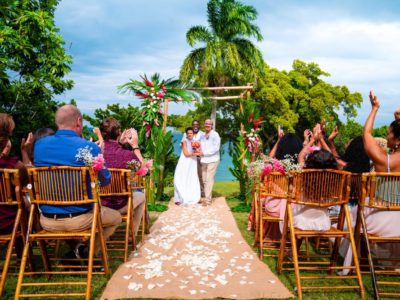 At a Glance
Located west of downtown, Dunn's River Falls are some of the world's most beautiful. Set in the breathtaking Jamaican jungle, you'll hear the roaring falls long before you see them. The unbelievable waterfall is a wonder of the natural world on account of its ever-changing slope of travertine rock. The base of the falls is open to swimming, so you'll definitely want to prepare for a wet afternoon at one of the most gorgeous locations in Jamaica.
Reggae lovers and Rastafarian devotees will want to take a quick trip to pay tribute to the Bob Marley Mausoleum, the musical genre's foremost legend. Located in Nine Mile, the rural village where he was born, the scenic country drive is a worthy outing all its own. Once you arrive you can get a guided tour from a local Rastafarian to learn all there is to know about one of music's most legendary icons.
Ocho Rios' main beach is an elongated crescent of white sand with the bay's azure waters sparkling in between. Also known as Turtle Beach, Ocho Rios Bay is a must-see couple's spot for relaxing and romancing no matter which name you use.
One of the most famous individuals to call Jamaica home was Ian Fleming, author of the acclaimed James Bond novels. Famously the setting for the first-ever James Bond film, Dr. No, James Bond Beach is a luxurious spot to take envy-inducing photos, enjoy some excellent snorkeling, or get jerk chicken and a cocktail at the beach bar. Fleming's expansive estate, Goldeneye, has been turned into a luxury resort that is home to beach villages, lagoon cottages, and more. There's a beloved tradition at the resort where guests will plant a fruit tree in the gorgeous gardens before leaving, with the donation fee supporting the Oracabessa Foundation.
Firefly, the former home of English playwright and actor Noël Coward, is one of the best spots to enjoy the expansive beauty of Jamaica's north coast. The statue of Mr. Coward that overlooks the majestic coastal view is a favorite photography spot for honeymooners.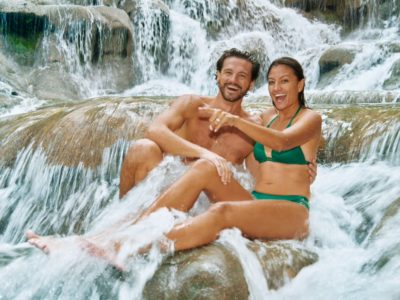 Honeymoon Hints
Worthy of the short trip east of Ocho Rios, Runaway Bay is home to beautiful beaches and the famous Green Grotto Caves. The network of caves, which includes Green Grotto Cave and Runaway Cave, is home to an astounding underwater cave and rock formations that date back hundreds of thousands of years. If you're looking for more stunning caves, Cave Valley on the banks of the Cave River is also worth a visit.
Jamaica is a haven for snorkeling, diving, tubing, kayaking, and nearly every other activity you can think of. You can get lots of fun in the sun in the Caribbean, but there's lots more to be enjoyed in the winding rivers, cave systems, and waterfalls of the Ocho Rios interior. Check out Chukka Caribbean Adventures, Mystic Mountain, or Yaaman Adventure Park for a thrilling afternoon.
Right outside of Ocho Rios is where you'll find Laughing Waters. The idyllic natural setting is found at the intersection of lush green jungle, a roaring waterfall, and the turquoise Caribbean waters, and is perfect for a relaxing day trip.
If you're only planning to spend the day in Ocho Rios on a wider Jamaican tour, there are plenty of activities near the Ocho Rios Port to enjoy before embarking to your next destination.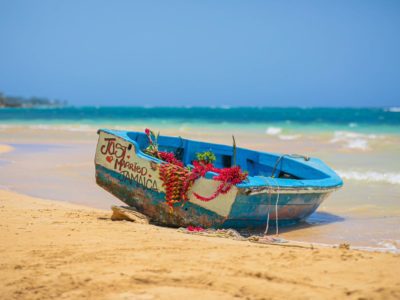 Travel Tips
GETTING THERE: The best way to travel to Ocho Rios is to land at Sangster International Airport, which has daily incoming and outgoing flights from around the world. The airport is located about 60 miles east of Ocho Rios, so you'll either want to rent a car and take a leisurely drive along the beautiful northern coast or arrange for a taxi. There's also the Ian Fleming International Airport right in Ocho Rios for smaller aircraft.
GETTING AROUND: Everything is right at your fingertips when you enter Ocho Rios, though you'll probably want to rent a car to take full advantage of the area's attractions and activities. Public transportation via buses and taxis is also available.
WHEN TO GO: The winter months are peak travel season in Jamaica due to the mild nature of the weather, though temperatures throughout the country remain remarkably steady throughout the year. Some of the best travel deals can be found during the summer months, but be sure to keep hurricane season (June through November with a peak in August and September) in mind when making plans. Regardless of the season you choose to travel, you'll be able to enjoy the region's picturesque beaches, magnificent waterfalls, and boundless outdoor activities.
WEATHER: Ocho Rios, like all of Jamaica, enjoys some of the most beautiful weather in the Caribbean. Expect temperatures in the 70s or low-80s in January and mid-80s in July with little variation. The region averages at least 225 hours of sunshine each month and receives a majority of its precipitation during hurricane season.