Destination Overview
Lovingly known as "The Spice of the Caribbean," Grenada is a West Indies wonder overflowing with world-class beaches, luxury accommodations, and sensational watersports. Small in size but brimming with culture, Grenada is made up of its main island and the lovely smaller islands of Carriacou and Petite Martinique to the north. The island country's endless opportunities for beach lovers, foodies, and thrill-seekers make it one of the Caribbean's premier honeymoon destinations.
Click here to receive a custom Grenada honeymoon quote from one of our certified honeymoon specialists today!
---
About Grenada
The Most Romantic Spot in Grenada
Two miles of pristine white sands await at Grand Anse Beach. Grenada's most beloved beach is known internationally for its breathtaking Caribbean views and availability of watersports, though lovebirds flock to the beach for the most relaxing experience of their lives. Its prime location in southern Grenada puts it within steps of some of the island's best all inclusive resorts, though its large size means there are always quiet spots for romance.
Whether newlyweds choose to unwind on the sands, grab a rum punch or Carib beer at Umbrella's Beach Bar, enjoy a snorkeling trip, or do a little shopping at the Grand Anse Craft and Spice Market, Grand Anse Beach offers the ideal blend of relaxation and island activities. Plus, at sunrise and sunset, the beach is transformed into a real-life watercolor painting that is the most romantic backdrop imaginable.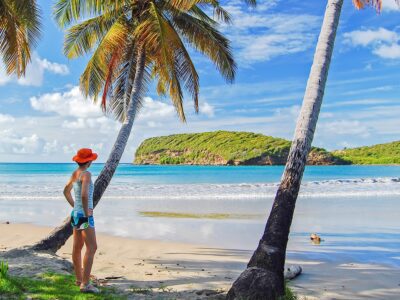 More Romantic Things to Do in Grenada
Grand Anse Beach is a lovely spot with unlimited Caribbean pleasures, though the country has an array of romantic activities that will make for an unforgettable honeymoon.
Grenada's main island offers more than enough natural marvels and excitement for an entire honeymoon, though a trip to Carriacou or Petite Martinique is the best way to enhance your experience! Carriacou is home to gorgeous beaches like Anse La Roche, Tyrrel Bay Beach, and Paradise Beach, while Petite Martinique is known for its 750-foot Piton peak, the captivating Darant Bay Cave, and plenty of cherished beaches of its own.
There's nothing quite like a Grenadian sunset, and the Lover's Rock Sunset Catamaran Cruise out of St. George's is an unmissable romantic excursion. As the sky above the turquoise Caribbean bursts with rich oranges, reds, and pinks, you and your sweetheart will be treated to a scene you'll forever treasure.
With 75 sculptures to discover in a single scuba-diving excursion, the Grenada Underwater Sculpture Park in The Lime is a must for adventurous couples. The sculptures look ancient, but they're actually part of an art project completed in 2006! Many of the sculptures are only submerged around 15 feet below the surface, so they're accessible to snorkelers and beginner scuba divers alike.
All Inclusive Honeymoon Resorts in Grenada
Honeymooners seeking grandeur on an island oasis will be delighted by the highly-rated Grenada all inclusive resorts. Bask in a tranquility soaking tub while overlooking the Caribbean, wade across your own private infinity pool to your immaculate butler villa, indulge in romance in a beachfront honeymoon suite, or take in the fresh aromas from your private tropical gardens at a luxury pool suite. All inclusive resorts throughout Grenada blur the line between heaven and earth.
From seaside couples massages to VIP butler service, there are endless reasons for choosing an all inclusive resort for your Grenada honeymoon. Add in unlimited dining at award-winning restaurants, immaculate pools and beaches, and the finest luxury amenities, and your dream honeymoon is ready to be enjoyed. You'll skip all the guesswork of planning a phenomenal honeymoon, and you'll stay on budget while enjoying everything your five-star resort has to offer.
Here are some of our favorite all inclusive resorts in Grenada:
The South Seas Honeymoon Butler Villa with Private Pool Sanctuary and Italian Oceanview Penthouse SkyPool Butler Suite with Balcony Tranquility Soaking Tub are just two of the available luxury accommodations at Sandals Grenada. This adults-only all inclusive is located on the southeastern tip of the main island with sweeping views of the Caribbean. In addition to prime beach access with included scuba diving and watersports, couples can indulge in a sensuous Tropical Paradise Couples Massage right on the sands of Pink Gin Beach. End your day in paradise with a private candlelit dinner on the beach—or in a private oceanfront gazebo for two—with white-glove VIP service for a romantic capstone like no other. Add direct round-trip airport transfers, ten renowned dining options, and an exclusive Club Sandals experience with additional concierge services, and you have the makings of a fantasy Grenada honeymoon.
Among Royalton Grenada's 269 luxury rooms are Diamond Club suites that will take your breath away. From the Luxury Room Beach Walkout with direct beach access and a palatial rain shower to the swim-out Luxury Junior Suite with an exclusive pool and picturesque Caribbean views, the accommodations are nothing short of spectacular. Begin each day by waking up in your signature DreamBed and stepping out onto your private balcony with a scrumptious breakfast served by personal waitstaff. When you're ready for a full pampering, you and your loved one can visit The Royal Spa for a "Time To Connect" spa treatment that includes hydrotherapy, body scrubs, facial treatments, and a therapeutic massage. The heavenly amenities and extensive suite selections will provide the basis for an intimate, romantic honeymoon even at this all-ages resort!
The honeymoon package at Spice Island Beach Resort ensures that your once-in-a-lifetime getaway will be the height of romantic bliss. You'll enjoy gourmet dining on your private terrace, a sensuous couple's massage at Janissa's Spa, a sunset sailing cruise along the main island's stunning coastline, champagne and chocolate truffles, and fresh tropical flowers throughout your suite. The package enhances the already-breathtaking luxury suites, like the Royal Cinnamon and Saffron Beach Suite with a four-poster bed and spa-style bathroom, and the Royal Collection Pool Suite with a cedar sauna and a private pool. Unmitigated access to Grand Anse Beach, beachside yoga, and complimentary golfing at Grenada Golf & Country Club elevate this all inclusive to dreamlike proportions.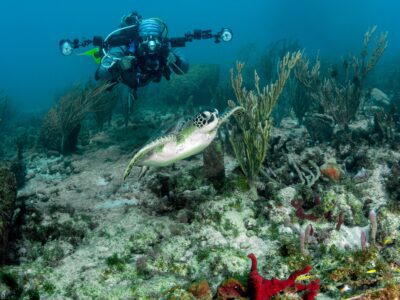 The Best Things To Do in Grenada
Once you step away from some of the Caribbean's most glorious beaches, you and your sweetheart will find adventures perfectly suited for honeymooning.
The 65-foot Concord Falls in Morne Docteur are nestled among huge expanses of lush greenery for an unrivaled natural oasis.
Expert Tip: After a visit to the falls, book a tour to visit the nearby Gouyave Nutmeg Processing Station and Diamond Chocolate Factory, too!
Morne Rouge Beach in St. George's is another one of the island's most romantic beaches with white sands and gently lapping waves.
Couples will find themselves among 300 years of local history at Fort George on Grenada's west coast. Beyond the fascinating stories, the elevated spot affords some of the best ocean views in the area.
A visit to Grand Etang National Park in St. Andrew Parish includes the secret Seven Sister Falls as well as countless acres of preserved flora and fauna.
One of the most unique ways to explore the country is on a Coastline Explorer ATV Adventure, which treats adventurous couples to a thrilling ride through the island's best natural attractions.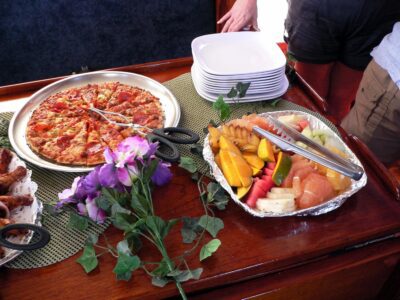 Grenada Restaurants & Local Cuisine
It's no surprise that "The Spice of the Caribbean" is known for its rich and flavorful dishes. At the core of the country's cuisine are fresh seafood, local fruits and vegetables, and a variety of spices that include nutmeg, ginger, and cinnamon. Don't miss the country's savory national dish, Oil Down, that incorporates meats, vegetables, breadfruit, coconut milk, and spices. And thanks to the West Indies Beer Company, River Antoine Royal Rum Distillery, Clarke's Court Rum Distillery, and Westerhall Rums, washing down the tasty dishes is just as delicious!
Here are some of our favorite restaurants for romantic dining:
Newlyweds will not want to miss dining by candlelight on Rhodes Restaurant's patio. Beautiful vines interweave with wooden beams for a truly unique St. George's setting, and the upscale dishes and elegant dress code only enhance the romance.
Bogles Round House on Carriacou is the perfect finish to a day on the charming island. Candlelit dining is offered in both a cozy indoor dining area and outside with stunning Caribbean sunset views.
Sails Restaurant & Bar in St. George's offers expansive Caribbean views and delectable seafood dishes like seared ahi tuna and rock lobster. The personal lantern on each table is the perfect accent to the spectacular sunset.
Grenada is also overflowing with laid-back restaurants and beachfront bars. Try these great spots:
Stop by La Plywood Beach Bar in St. George's for handcrafted cocktails and fresh seafood served right on Morne Rouge Beach.
Cummin' Up is a Grand Anse Beach favorite for authentic Caribbean cuisine, including the most succulent jerk chicken in the country.
Off The Hook Bar & Grill calls Paradise Beach home. It's both an essential lunch spot and a nightlife favorite with bonfires and live music.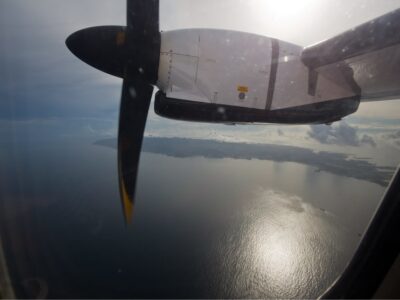 Traveling to Grenada
Weather in Grenada
Plan on enjoying warm temperatures whenever you visit Grenada. The country's average temperature stays between 78 and 82 degrees year-round, with temperatures rarely falling below 72 degrees or exceeding 88 degrees. The most popular time for travel is during the dry season between January and April, though there are plenty of travel deals during the rainy season from June through November. As showers are typically brief and temperatures consistently warm, every day is ideal for enjoying the country's natural wonders.
COVID-19 Considerations
The country's current regulations require a negative COVID-19 test and a completed Health Declaration Form upon arrival. At this time, all visitors must be fully vaccinated as well, but be sure to check on Grenada's official tourism site or with your travel advisor for the latest updates before traveling.
Flights to Grenada
Flying into Grenada is simple thanks to Maurice Bishop International Airport (GND) in the parish of St. George's. The airport is located on the southwestern tip of the main island, just minutes from the majority of Grenada's hotels and resorts. American Airlines, Delta, and JetBlue all offer non-stop flights for stress-free travel from U.S. cities including New York, Miami, and Atlanta. The airport also includes a state-of-the-art Jet Centre with VIP services and premium amenities for first-class travel. Inter-island flights to Carriacou are available through Lauriston Airport (CRU) in Lauriston.
Ground Transfers
There are a number of rental car companies operating in Grenada for private travel. Just note that temporary driving permits must be secured at either a police station or through your rental car company. Grenada's small size makes renting a car optional, and there are plenty of public buses that can take you wherever you want to go.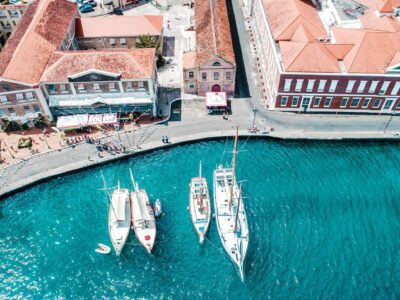 Grenadian Culture & Considerations
Language
The official language of Grenada is English, so no preparation is required for English speakers. Grenadian Creole French (patois) is spoken in a few select rural areas, though the main dialect is Grenadian Creole English. You might hear locals talk about "liming around" in reference to relaxing activities, "drivay" for "drive," and "allyuh" for "all of you." Locals tend to call their country "Greens," but be sure to pronounce it "Greh-nay-da" if you're using the full name!
Safety
As Grenada ranks among the safest Caribbean countries, only the most basic travel precautions should be considered. Simple steps like locking up your valuables at your resort and being aware of your surroundings are really the only things to be mindful of. Grenada is a Caribbean oasis in just about every regard!
Tipping
Most Grenadian restaurants and hotels will add a service charge of 10-18% to bills, with additional tipping being entirely discretionary. Tipping is quite common for services, including at resorts, so be sure to consider tips for butlers, bartenders, and assorted staff to ensure that your service is the best of the best!
Grenada's overwhelming natural beauty and terrific amenities are designed for reveling in a new marriage. From the astonishing sunsets to the boundless couples activities, romance is simply effortless on the country's islands. Your only regret will be not staying longer!
Click here for your personalized Grenada honeymoon quote from one of our certified honeymoon specialists today!