Honeymooners at Sandals Emerald Bay in the stunning Great Exuma of the Bahamas are immersed in the breathtaking beauty of the island. The resort's expansive white-sand beach provides the perfect backdrop for couples to indulge in a variety of experiences. Whether it's unwinding in luxurious cabanas, indulging in beachside spa treatments, or partaking in world-class golfing, tennis, or watersports, there are endless opportunities for relaxation and adventure.
The resort offers a range of luxurious accommodations exclusively for adults, including beachfront villas and suites that boast some of the most spectacular views on the island. Sandals Emerald Bay goes above and beyond to fulfill the dreams of honeymooners, creating unforgettable memories of romantic luxury in the Bahamas.
The ambiance at Sandals Emerald Bay is a harmonious blend of tropical scenery and classic Bahamian architecture, providing a unique and authentic island feel. The resort features swim-up bars and oceanfront dining options, allowing couples to savor delicious cuisine while enjoying the beauty of the surrounding ocean. For those seeking privacy, the secluded suites and gardens offer an intimate and tranquil atmosphere. However, when the mood strikes, lively beach parties and a vibrant nightlife scene provide opportunities to socialize and create unforgettable moments. The resort's luxurious cabanas and contemporary outdoor seating areas are designed to enhance romantic moments and create lasting memories for honeymooners.
Highlights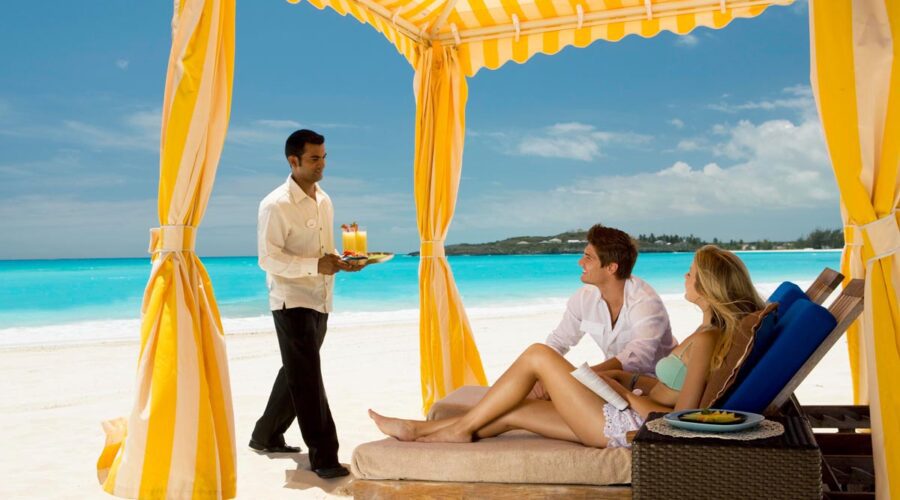 Beach & Water
Couples flock to the Bahamas in search of pristine beaches, and Sandals Emerald Bay delivers the ultimate beach experience. Located along a picturesque mile-long stretch of the island's finest coastline, the resort offers couples a front-row seat to paradise.
At Sandals Emerald Bay, courteous beach valets cater to your every honeymoon desire, ensuring you have a truly relaxing and luxurious beachside experience. As you unwind by the tranquil Caribbean waters, they attend to your needs, providing attentive service and creating a seamless beach experience.
The resort's idyllic location allows you to witness breathtaking sunrises and sunsets, setting the stage for unbelievably romantic photos. The captivating hues of the sky create a mesmerizing backdrop, capturing the essence of your special moments in an enchanting way.
Surrounded by crystal-clear waters, renowned for their vibrant shades of blue, Sandals Emerald Bay is nestled in one of the world's most stunning coastal settings. The azure waters create a captivating allure, inviting couples to explore and revel in the beauty of the Bahamian seascape.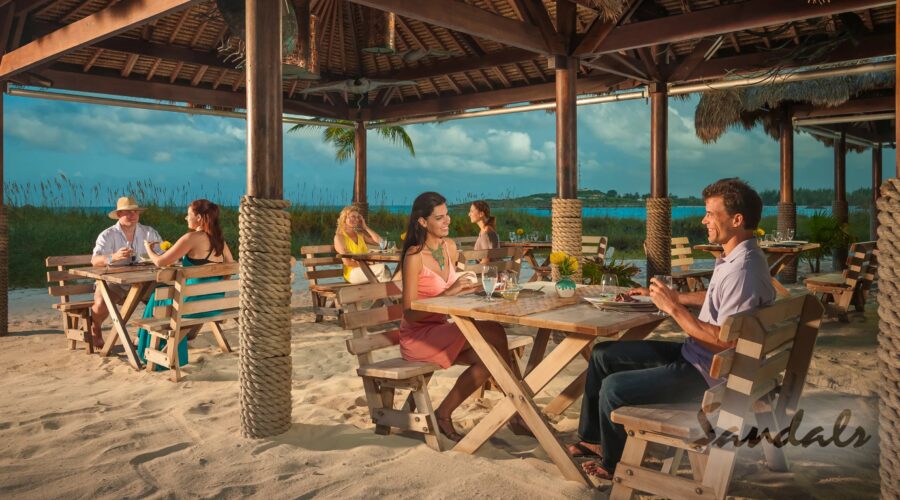 Dining
Il Cielo is a fine dining Italian restaurant that offers a taste of Tuscany and a stunning view of Emerald Bay. Guests can enjoy exceptional service in an elegant setting.
Barefoot by the Sea is a romantic open-air restaurant located by the sea. Guests can indulge in delicious seafood while feeling the warm sand beneath their toes. The atmosphere is relaxed and perfect for a romantic evening.
Drunken Duck is a rustic English pub that provides a cozy atmosphere for guests to unwind. They can enjoy traditional English pub fare along with a cold pint of beer.
Le Parisienne French Cuisine is a fine dining restaurant that transports guests to Paris with its chic decor, impeccable service, and delectable menu choices. It offers an exquisite dining experience in a paradise-like setting.
Bahama Bay is an innovative restaurant that serves a buffet-style breakfast and lunch, as well as a la carte dinners. Guests can savor mouth-watering Caribbean dishes and delicious treats from around the world.
Dino's Pizzeria Italiana allows guests to create their own pizza combinations or choose from a selection of signature wood-fired pizzas. It is an ideal spot to enjoy authentic Italian flavors at any time.
Café de Paris is a Parisian-style patisserie with a superb cafe ambiance. Guests can indulge in a variety of delectable treats, including amaretto, hazelnut, chocolate, and vanilla flavors.
A Candlelit Dinner offers a private dining experience for couples. Whether on the beach, in the garden, or on a terrace, guests can enjoy a romantic candlelit dinner for two in a picturesque setting.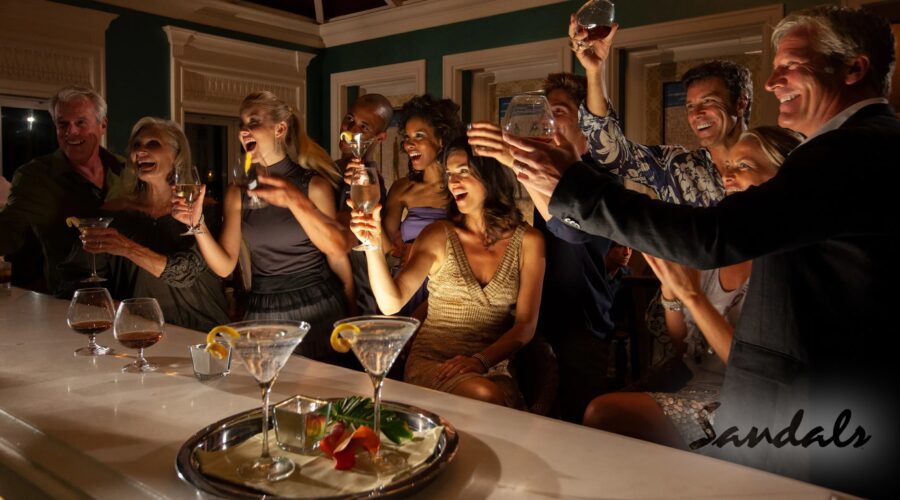 Restaurants & Bars
During your stay, you will have the pleasure of experiencing unlimited gourmet dining at eleven different restaurants. Japanese Teppanyaki, Tuscan delicacies, Jamaican jerk chicken, Caribbean seafood, and exquisite French dishes are just a few of the many international options available to tantalize your taste buds. Additionally, you can enjoy a swim-up pool bar and the cozy atmosphere of the Drunken Duck Pub among the six unique bar choices.
As part of the recent additions, the Soy Sushi Bar and Kimonos Oriental Cuisine have been introduced, offering delectable Japanese Teppanyaki and fresh sushi to further enhance your dining experience. If that's not enough, there are ten more restaurants available (bringing the total to 21!) at Sandals Royal Bahamian in Nassau through the included Sandals Exchange Program.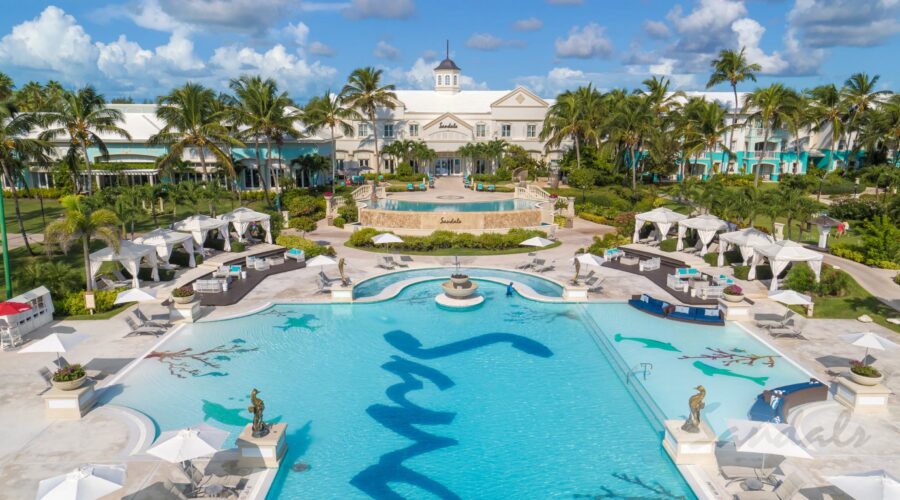 Pools
The main pool area is expansive and features a remarkable zero-entry pool, allowing for easy access and a seamless swim. For those seeking a serene and peaceful experience, there is also a tranquil "Quiet Pool" where you can take a soothing dip and unwind.
To add to your relaxation, there are two spacious whirlpools available where you can fully stretch out and enjoy the therapeutic benefits of the bubbling water.
If you're looking to enhance your scuba diving skills, there is a designated scuba dive pool where you can practice and refine your techniques before embarking on a guided tour. This ensures you feel confident and prepared for your underwater adventure.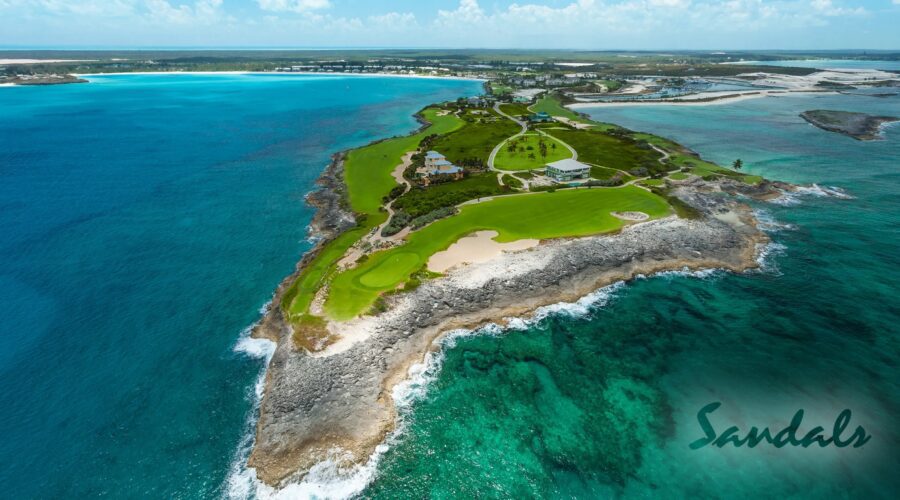 Unique Features
Prepare to be swept away by the unparalleled romance that awaits you in the Royal Estate Beachfront Villa suite. This two-story haven of love offers a private pool and a beachfront balcony, providing you with absolutely breathtaking views of the ocean. Your every desire will be catered to by attentive butler service, ensuring an unforgettable experience. Enhanced amenities such as French doors and a luxurious marble bath make it a dream come true for honeymooners.
If you prefer a beachfront room with direct access to the Caribbean waters, we offer other options such as the Prime Minister Honeymoon Beachfront Villa Suite and the Beachfront Walkout Villa Suite. These rooms are just a few steps away from the pristine shoreline, allowing you to immerse yourself in the beauty of the sea.
For those who enjoy golfing, our resort features an exceptional 18-hole championship golf course, complete with multiple holes offering stunning oceanfront views. Whether you're looking to perfect your drives or master your putts, this course provides the perfect setting for a memorable golfing experience.
Tennis enthusiasts will find their own slice of heaven with our six tennis courts, including a stadium court. With lighting available for night games, both professionals and amateurs alike can enjoy their favorite sport in a beautiful setting.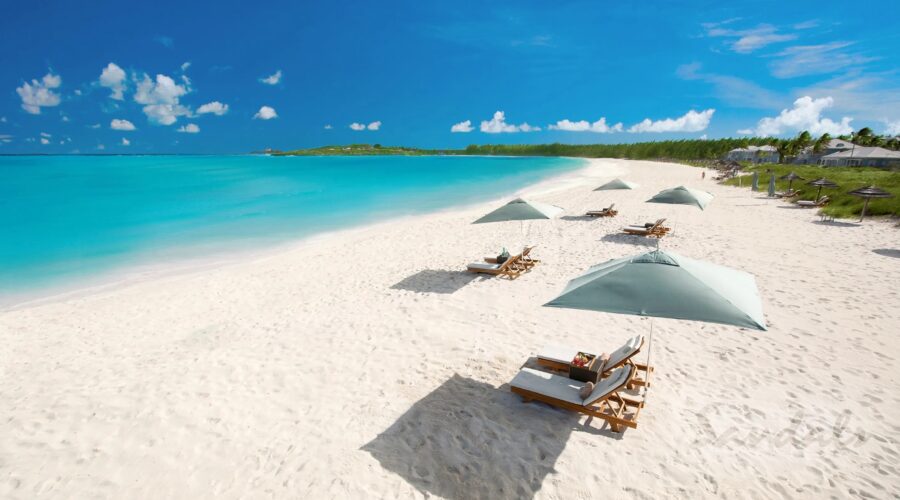 Romantic Elements
Experience a truly romantic evening with a candlelit dinner for two, complete with VIP service, right on the beach. For the ultimate in privacy, you can enjoy the intimate setting of curtained cabanas on the white-sand beach.
Indulge in pure bliss with a luxurious 'Scents of Love' Couples Massage, where you and your partner can relax and rejuvenate together in a lavish spa environment.
Immerse yourself in the soothing melodies played by a live pianist at the piano bar, creating a serene atmosphere for you to unwind and enjoy each other's company.
For cozy moments, snuggle up next to the inviting firepits located along the beachfront and in the garden, allowing you to revel in the warmth of the flames while basking in the beauty of your surroundings.
Take a leisurely stroll hand-in-hand with your loved one through the tranquil Zen Garden, appreciating the serenity and harmony it offers.
Capture the precious moments of your honeymoon bliss with the assistance of professional photographers who are available on-site, ensuring that your memories are preserved in stunning photographs.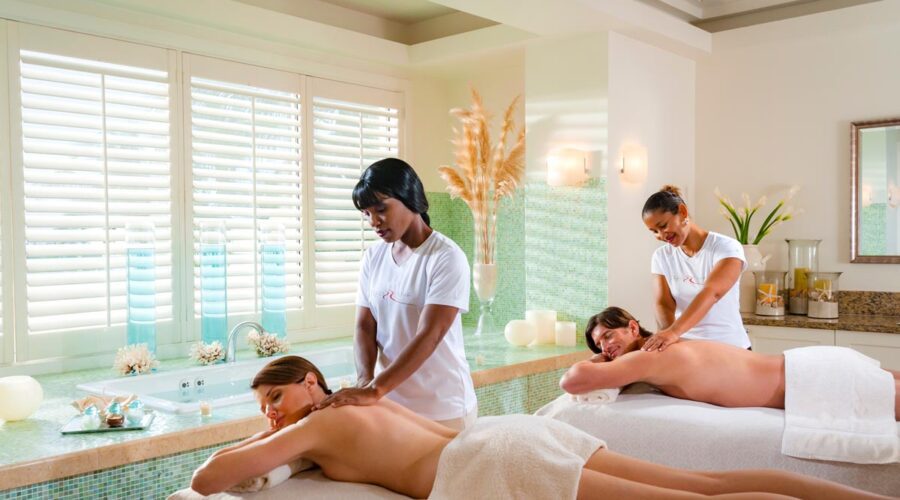 Honeymoon Highlights
Sandals offers an enchanting Honeymoon Package, ensuring your romantic experience is enhanced. All couples traveling within a month of their wedding will receive this complimentary package. Upon arrival, you will be greeted with a chilled bottle of sparkling wine, setting the tone for your celebration. As a special touch, a romantic turndown service with delicate flower petals will be provided on your first night. Additionally, you'll have the opportunity to select a morning to indulge in a delightful breakfast in bed, accompanied by fresh flowers.
The breathtaking island backdrop serves as the perfect setting for a variety of land and watersports activities, all included in your stay. Whether you're up for paddleboarding, golfing, tennis, kayaking, windsurfing, or beach volleyball, each day presents exciting opportunities for adventure. Live entertainment is also available daily, adding an extra touch of enjoyment to your stay.
One of the unforgettable experiences exclusively for honeymooners is the iconic Swimming Pigs of Exuma. These lovable pigs have become a beloved part of the Bahamas, and Sandals' concierge desk is ready to assist you in booking an incredible adventure through an Island Routes excursion.
After a day of sun-soaked fun or peaceful relaxation on the beach, you can look forward to an array of nightly entertainment options. From the captivating "Night of Love" to the vibrant "Junkanoo Beach Party," a variety of lively and romantic themes await, creating the perfect atmosphere for couples to cherish intimate moments together.
Satisfy your culinary desires with the diverse range of international cuisines available at the resort's eleven dining options. From classic Italian dishes to sushi and Japanese Teppanyaki, fresh seafood, Jamaican jerk, Caribbean specialties, and exquisite French cuisine, your palate will be delighted with a wide array of flavors to choose from.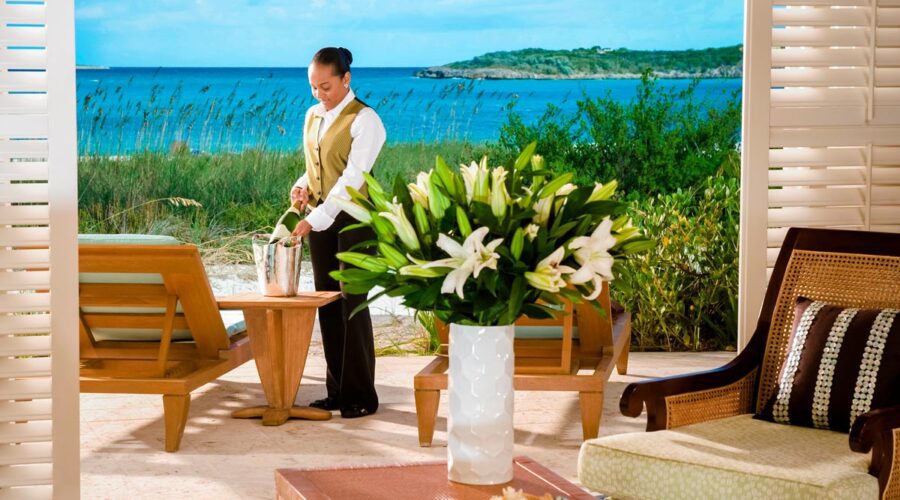 Luxury Inclusions
The resort offers luxurious in-room amenities, including king-size beds, nightly turndown service, room service, and plush couples' robes.
The fully-stocked mini-bar features local beers and select wines. On-site amenities include Butler Elite Service in certain rooms, access to the exclusive Club Sandals Lounge with personalized assistance, and a 16,000 square feet Red Lane Spa for rejuvenating treatments.
Additionally, guests can enjoy the amenities of Sandals Royal Bahamian in Nassau through the "Stay at One, Play at All" program. Sandals follows a 'No Tipping' policy, but gratuities can be given for exceptional service from spa therapists, shuttle drivers, and personal butlers.