United Arab Emirates
Dubai
Why not begin your new life together with a Dubai honeymoon? Dazzling Dubai, leader of the United Arab Emirates, is a striking, newer-than tomorrow oasis of futuristic buildings bordered by a majestic desert and the clear waters of the Arabian Gulf. A young look and a sophisticated vivacity that is palpable make it one of the most exciting destinations in the Middle East.
Its ultra-modern facilities are the perfect combination of 21st century business and pleasure. Though it is a centuries-old trading center and an ancient pearl diving capital, the city of Dubai is just over 20 years old and growing fast.
Some of the world's most avant-garde architecture surrounds you from the moment you step off the plane into the ultra-modern airport. Hotels are off the charts for luxury and design. Many are part of skyscrapers that also include giant shopping malls and sightseeing attractions. Some, which feature the latest perks for business travelers, are also sprawling seaside resorts with meandering gardens and pristine, white-sand beaches.
You can step into yesterday by visiting a Bedouin camp in the desert, seeing the Spice Market and the Gold Market, or crossing the creek that intersects the city on a typical dhow (boat.) The future is just across the street in the world's highest building and the world's longest automated metro.
"Awesome" is a word you'll find yourselves saying over and over on every Dubai honeymoon day.
The 11 Best Honeymoon Resorts in Dubai
---
About Dubai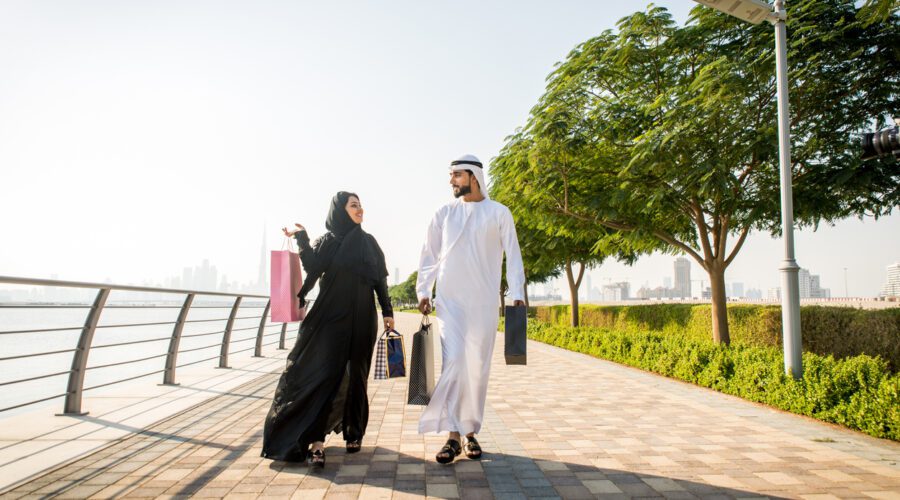 Average Cost of a One Week Dubai Honeymoon
Dreaming of a romantic getaway in the enchanting city of Dubai? We've got you covered! In this comprehensive guide, we'll break down the average cost of a one-week Dubai honeymoon, helping you budget for airfare, accommodations, and daily expenses.
Airfare
Your journey to Dubai begins with booking the perfect flights. Depending on your departure location and airline preferences, expect to allocate between $800 to $1500 per person for round-trip airfare. Securing your flights well in advance can unlock potential savings, so keep an eye out for deals that align with your travel dates.
Accommodations
Dubai boasts a range of accommodations that cater to every honeymooner's style. Whether you're seeking opulent luxury or cozy comfort, we've got you covered:
Luxury Hotels: Indulge in the lap of luxury with options ranging from $250 to $700+ per night. Immerse yourself in the city's extravagance and enjoy world-class amenities.
Mid-Range Hotels: Balancing comfort and cost, mid-range hotels offer a delightful stay for $150 to $250 per night. Experience Dubai's charm without compromising on quality.
Budget-Friendly Options: For savvy spenders, budget hotels or Airbnb listings start at $80 and go up to $150 per night. Embrace affordability without skimping on the essentials.
Daily Expenses
Embrace the allure of Dubai's experiences while managing your daily expenses with these insights:
Meals: Savor Dubai's diverse culinary scene with an average meal cost of $30 to $50 per person at mid-range restaurants. For a budget-friendly approach, local eateries offer delectable options at $10 to $20 per person.
Transportation: Traverse the city seamlessly with a daily transportation budget of $10 to $30. Dubai's efficient metro system and available taxis make exploring a breeze.
Sightseeing and Activities: Immerse yourselves in Dubai's attractions with a daily allocation of $50 to $100. From desert safaris to iconic landmarks, your experiences await.
Miscellaneous: Factor in $20 to $50 per day for shopping, souvenirs, and unexpected delights.
Total Estimated Cost
It's time to tally up your budget and set the stage for an unforgettable Dubai honeymoon:
Luxury: Prepare to spend between $4500 to $11,000+ for a week of lavish experiences.
Mid-Range: Find your sweet spot with a budget of $2800 to $5000, balancing comfort and indulgence.
Budget: Embark on an affordable adventure with an estimated cost of $1600 to $3000.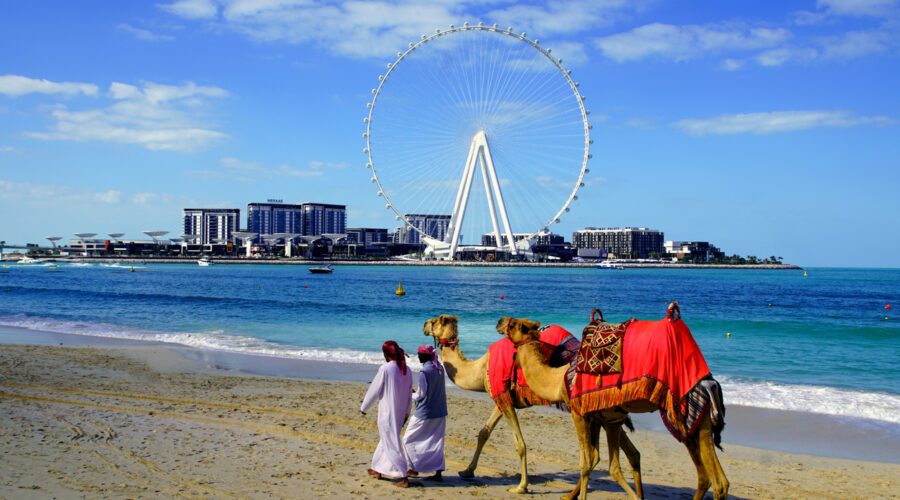 Best Time to Visit Dubai
While weather is a significant consideration, there are other factors that can make or break your dream getaway. In this guide, we'll help you navigate the best time to visit Dubai for your honeymoon, taking into account various factors that ensure a truly unforgettable experience.
Ideal Time for Weather
Dubai's weather plays a pivotal role in crafting your honeymoon experience. The best time to visit is during the cooler months, from November to April. Temperatures are milder, ranging from 70°F to 85°F (21°C to 29°C), creating a comfortable atmosphere for exploration and relaxation. This period also aligns with Dubai's peak tourist season, offering a vibrant atmosphere and a plethora of activities to enjoy.
Avoiding the Heat
Dubai's summer, from May to September, brings scorching temperatures that can exceed 100°F (37°C). While it's considered the off-peak season, you might find fewer crowds and potentially better deals on accommodations. However, outdoor activities become challenging due to the intense heat, making it a less favorable option for a romantic Dubai honeymoon experience.
Festivals and Events
Beyond the weather, consider aligning your honeymoon with Dubai's vibrant festivals and events. The Dubai Shopping Festival (January-February) offers world-class shopping, entertainment, and fireworks, while the Dubai Food Festival (February-March) tantalizes taste buds with a culinary extravaganza. These events infuse your Dubai honeymoon with cultural richness and a festive spirit.
Ramadan
If your Dubai honeymoon falls during the holy month of Ramadan (dates vary each year), it's important to be aware of local customs and practices. While Dubai remains open for tourists, some restaurants may have limited operating hours during daylight hours. Planning your activities and meals accordingly can ensure a respectful and enjoyable experience.
Special Occasions
Is your Dubai honeymoon coinciding with a special occasion? Dubai offers a wealth of options for celebrating love and milestones. Consider reserving a private desert dinner, indulging in a couples' spa day, or enjoying a romantic cruise along the Dubai Marina. Tailoring your activities to celebrate your unique love story adds an extra layer of enchantment to your honeymoon.
Budget and Peak Seasons
While peak tourist seasons offer vibrant energy and a plethora of activities, they often come with higher costs for accommodations and attractions. If budget is a consideration, consider traveling during the shoulder seasons (April-May, September-October) when the weather is still pleasant, and you can enjoy a more relaxed atmosphere with potentially more affordable rates.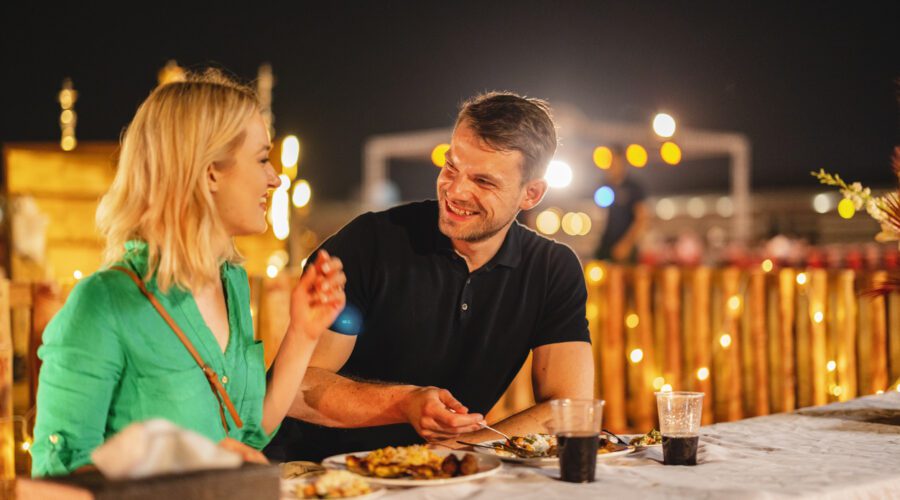 About Honeymooning in Dubai
A Dubai honeymoon is a captivating blend of luxury, culture, and culinary delights that promises an unforgettable experience.
Culture
Dubai's culture is a mosaic of modernity and tradition. Respect for local customs is essential:
Clothing: While Dubai is modern, dressing modestly in public areas is appreciated. Pack light, breathable clothing, and consider bringing scarves or shawls to cover your shoulders.
Punctuality: Punctuality is valued, whether for dining reservations or guided tours. Arriving on time is a gesture of respect.
Greeting Etiquette: A warm "As-salamu alaykum" (peace be upon you) is a gracious way to greet locals. A smile and handshake are also well-received.
Ramadan: If your visit coincides with Ramadan, be mindful of eating, drinking, and smoking in public areas during daylight hours. Many restaurants and cafes may be closed during this time.
Currency
Dubai's currency is the United Arab Emirates Dirham (AED). Here's what you need to know:
Currency Exchange: Exchange currency at airports, banks, or authorized exchange offices. Credit and debit cards are widely accepted, but it's wise to carry some cash for smaller establishments.
Tipping: Tipping is customary, usually around 10% to 15% in restaurants. It's also appreciated for hotel staff, guides, and taxi drivers.
Costs: Dubai offers a range of experiences, from affordable to extravagant. Plan your budget accordingly and be aware that some attractions and accommodations may have entrance fees or service charges.
Cuisine
Dubai's cuisine reflects its diverse population and heritage, offering a symphony of flavors. Don't miss out on trying traditional Emirati dishes like Al Harees (slow-cooked wheat and meat) and Al Machboos (spiced rice with meat or fish). Dubai's culinary scene is a melting pot of international flavors. Savor Lebanese, Indian, Persian, and Mediterranean cuisines at world-class restaurants.
Venture to local markets and street stalls to taste shawarmas, falafels, and other delectable street food. Alcohol is mainly served in hotels, bars, and licensed restaurants. Remember to consume alcohol only in designated areas to respect local norms.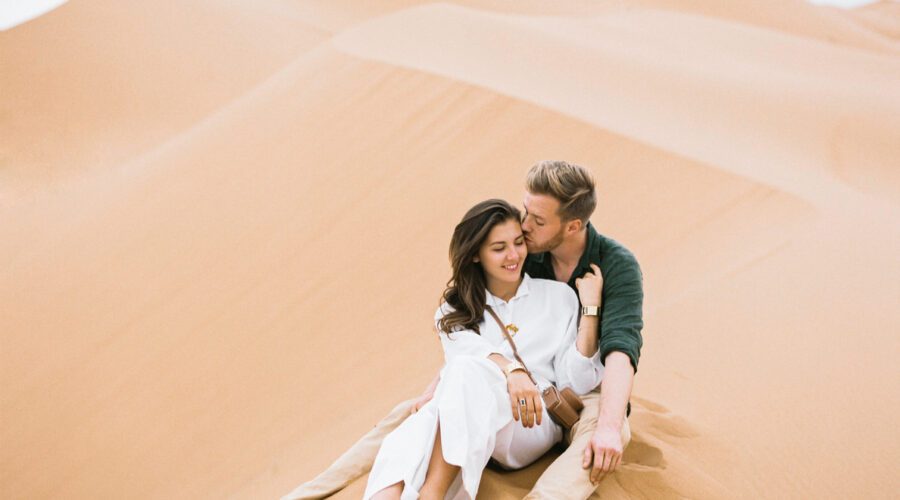 Best Activities for a Dubai Honeymoon
From luxurious experiences to cultural delights, Dubai offers a plethora of activities to create cherished memories with your partner.
1. Dune Bashing and Desert Safari
Experience the magic of the desert with an exhilarating dune bashing adventure. Hold your partner close as you traverse the golden sand dunes in a 4×4 vehicle. Afterward, indulge in a desert safari complete with camel rides, sandboarding, and a mesmerizing sunset that paints the sky in breathtaking hues.
2. Dubai Marina Cruise
Set sail on a romantic Dubai Marina cruise aboard a traditional dhow. Enjoy a gourmet dinner under the stars as you glide along the city's glittering skyline. The serene waters and stunning views create an intimate ambiance that's perfect for celebrating your love.
3. Hot Air Balloon Ride
Drift above the city's iconic landmarks in a hot air balloon for a once-in-a-lifetime experience during your Dubai honeymoon. As you soar high above, you'll be treated to panoramic views of the desert, skyscrapers, and the stunning coastline.
4. Private Beach Picnic
Escape to a secluded spot on one of Dubai's pristine beaches for a private picnic. Bask in the sun, savor gourmet treats, and relish the tranquility of the ocean breeze as you create cherished moments together.
5. Romantic Dinner at Burj Al Arab
Elevate your honeymoon with a romantic dinner at the iconic Burj Al Arab. Dine at one of its world-renowned restaurants with breathtaking views of the Arabian Gulf. The lavish ambiance and exquisite cuisine promise a dining experience like no other.
6. Couples' Spa Retreat
Your Dubai honeymoon itinerary must be packed, so it would be a great idea to ensure some downtime for you and your spouse. Indulge in relaxation and rejuvenation with a couples' spa day at one of Dubai's luxurious spas. Enjoy side-by-side massages, facials, and wellness treatments that will leave you both feeling refreshed and pampered.
7. Dubai Fountain Show and Burj Khalifa
Witness the mesmerizing Dubai Fountain show set against the backdrop of the Burj Khalifa, the world's tallest building. Afterward, ascend the Burj Khalifa's observation deck for stunning panoramic views of the cityscape.
8. Traditional Abra Ride
Take a serene abra (traditional boat) ride along Dubai Creek, where you'll be transported back in time to the city's historic roots. Explore the bustling souks and immerse yourselves in the vibrant local culture.
9. Helicopter Tour
Soar above Dubai's architectural marvels on a helicopter tour. Admire the Palm Jumeirah, the World Islands, and the futuristic skyline from a unique vantage point.
10. Private Yacht Charter
Charter a private yacht for a romantic cruise along Dubai's coastline. Revel in luxury, sip champagne, and enjoy the stunning views. This will for sure create a core memory for your Dubai honeymoon.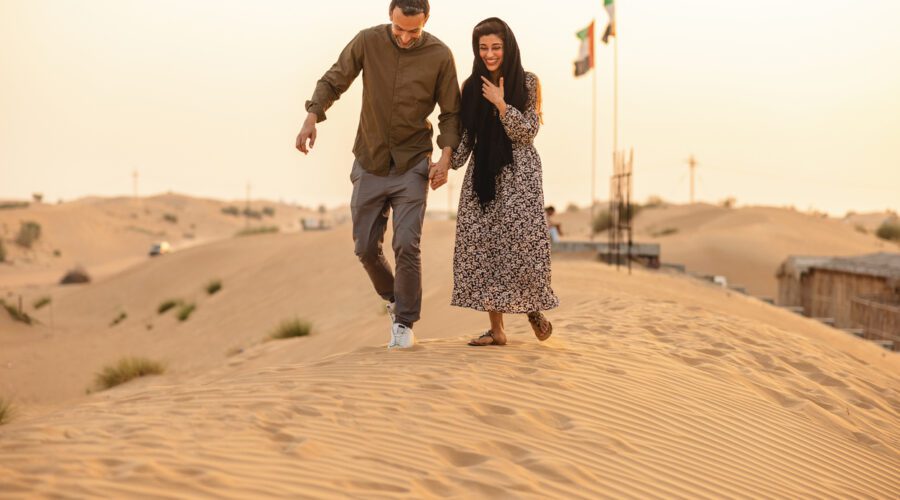 Weather in Dubai
Dubai experiences a desert climate characterized by hot and sunny conditions throughout most of the year. The weather can vary significantly between the seasons.
Winter (November to March)
Winter is the most pleasant time to visit Dubai. The weather is mild and comfortable, making it popular among tourists. Average daytime temperatures range from around 70°F to 85°F (21°C to 29°C), while evenings can be cooler, averaging around 55°F to 65°F (13°C to 18°C). This is the peak tourist season, so expect larger crowds and higher hotel prices.
Spring (April and May)
Spring is a transition period with gradually warming temperatures. Average daytime temperatures start to rise, ranging from 80°F to 95°F (27°C to 35°C), while nights remain relatively mild. This can be a good time to visit before the scorching heat of summer sets in.
Summer (June to August)
Summer in Dubai is extremely hot and humid. Daytime temperatures can soar well above 100°F (38°C), and humidity levels can be quite high. This is considered the off-peak tourist season due to the uncomfortable weather. If you choose to visit during summer, be prepared for indoor activities, and many hotels and attractions offer air-conditioned comfort.
Autumn (September and October)
Autumn is another transitional period, with temperatures beginning to cool down from the peak of summer. Average daytime temperatures range from around 85°F to 100°F (29°C to 38°C). It's a bit more comfortable than summer, but still quite warm. As the weather becomes more pleasant, this can be a good time to explore outdoor activities and attractions.
It's important to note that while Dubai is a year-round destination, the weather can greatly influence the types of activities you can enjoy during your visit. For a more comfortable and enjoyable experience, many travelers opt to visit during the milder winter months when outdoor exploration and sightseeing are more appealing. If you're planning a visit during the hotter months, be sure to stay hydrated, wear appropriate clothing, and take advantage of air-conditioned spaces.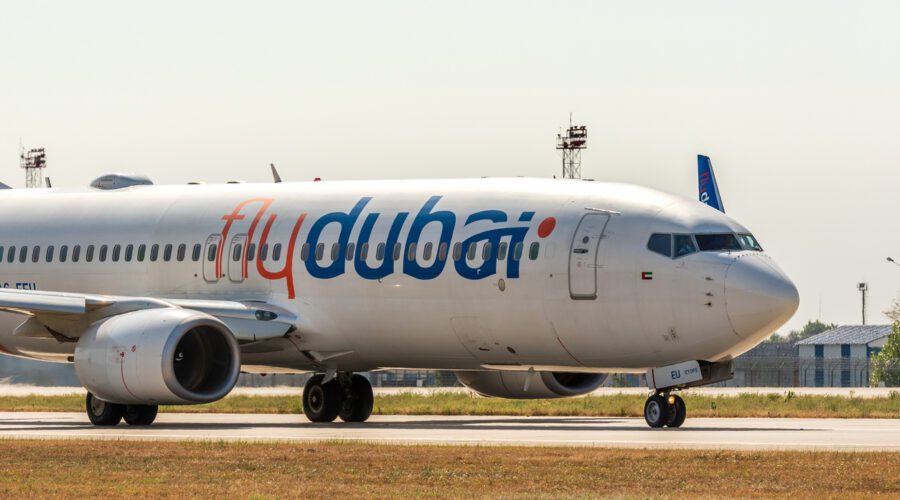 Is Dubai Safe for a Honeymoon?
Dubai is generally considered to be a safe destination for a honeymoon. The city takes pride in its efforts to maintain a safe and secure environment for both residents and visitors. However, as with any travel destination, it's important to be aware of your surroundings, follow local laws and customs, and take necessary precautions to ensure a safe and enjoyable trip. Here are some factors to consider:
Low Crime Rates
Dubai has a low crime rate compared to many other major cities around the world. Violent crime is rare, and the city is known for its well-maintained public spaces and generally safe streets.
Strict Laws
Dubai has strict laws and regulations that visitors are expected to adhere to. It's important to be aware of and respectful of local customs and cultural norms. For example, public displays of affection may be frowned upon in more conservative areas.
Cultural Sensitivity
Dubai is a diverse city with a mix of cultures and nationalities. While it's relatively cosmopolitan, it's still important to be culturally sensitive and respectful of local traditions.
Travel Insurance
Just like with any international travel, it's advisable to have comprehensive travel insurance that covers medical emergencies, trip cancellations, and other unexpected situations.
Health Precautions
Check with your healthcare provider about any recommended vaccinations or health precautions before your Dubai honeymoon.
COVID-19 Considerations
Keep in mind that travel conditions may be influenced by the ongoing COVID-19 pandemic. Stay updated on travel advisories, entry requirements, and health protocols in place for Dubai.
Natural Elements
While Dubai is generally safe in terms of crime, it's important to also be aware of natural elements such as the strong desert sun and potential heat during certain times of the year. Stay hydrated, use sunscreen, and take necessary precautions to avoid heat-related issues.
As long as you are respectful of local customs, exercise common sense, and stay informed about the local regulations and guidelines, you can have a safe and enjoyable Dubai honeymoon. Research and plan ahead, and consider reaching out to your country's embassy or consulate in Dubai for any specific travel advice or assistance you might need.
Most Romantic Spots in Dubai
From stunning desert landscapes to luxurious beachfront settings, here are some of the most romantic locations in Dubai that will help you create unforgettable memories:
1. Jumeirah Beach
The pristine sands and turquoise waters of Jumeirah Beach provide a romantic backdrop for leisurely strolls, picnics, and sunset gazing. Many luxury resorts and hotels line the beach, offering private beach access and stunning views.
2. Burj Al Arab Terrace
The Burj Al Arab, an iconic sail-shaped luxury hotel, boasts a breathtaking terrace with infinity pools and cabanas overlooking the Arabian Gulf. It's a perfect spot for couples seeking luxury and privacy.
3. Dubai Miracle Garden
Stroll hand in hand through the Dubai Miracle Garden, a floral paradise with vibrant blooms arranged in intricate patterns. This whimsical garden is a unique and charming spot for couples to explore.
4. Dubai Marina
Take a romantic evening stroll along Dubai Marina's promenade, with its impressive skyline and yachts reflecting on the water. Consider a romantic dinner cruise on a traditional dhow to enjoy the views from the water.
5. Desert Sunset
Embark on a desert safari and experience the romance of the desert at sunset. The vast sand dunes create a magical setting for a private moment with your loved one.
6. The Dubai Fountain
Witness the mesmerizing water and light show of the Dubai Fountain set against the backdrop of the Burj Khalifa. It's a romantic spectacle best enjoyed in the evening.
7. Dubai Creek
Take a traditional abra (boat) ride along Dubai Creek, passing by historic buildings and markets. The charming ambiance and views of the city's skyline create a romantic atmosphere.
8. At.mosphere at the Burj Khalifa
Elevate your romantic experience by dining at At.mosphere, the world's highest restaurant located in the Burj Khalifa. Enjoy breathtaking views while savoring a gourmet meal.
9. Al Qudra Lakes
A hidden gem, Al Qudra Lakes offers a serene oasis surrounded by desert landscapes. Pack a picnic and enjoy a day by the tranquil lakes.
10. Private Yacht Charter
Charter a private yacht for a romantic cruise along Dubai's coastline. Bask in luxury, enjoy the sea breeze, and take in the stunning views together.
11. Love Lake
Discover Love Lake, a heart-shaped lake located in Al Qudra. This unique spot is perfect for a leisurely stroll and a chance to capture romantic photos.
The city's blend of modern luxury, cultural experiences, and stunning natural beauty provides a variety of romantic settings for your Dubai honeymoon.