Croatia, a gem on the Adriatic Sea, is a captivating honeymoon destination that blends romance with stunning natural beauty. With its charming coastal towns, crystal-clear waters, and historic architecture, Croatia offers couples an idyllic setting for their romantic getaway. Explore the ancient streets of Dubrovnik, relax on the pristine beaches of the Dalmatian Coast, or cruise along the picturesque islands. Indulge in delectable Mediterranean cuisine and sample local wines in charming seaside restaurants. Whether you're seeking adventure, relaxation, or cultural experiences, Croatia's diverse landscapes and rich history create the perfect backdrop for a honeymoon filled with unforgettable moments.
The 13 Best Honeymoon Resorts in Croatia
---
About Croatia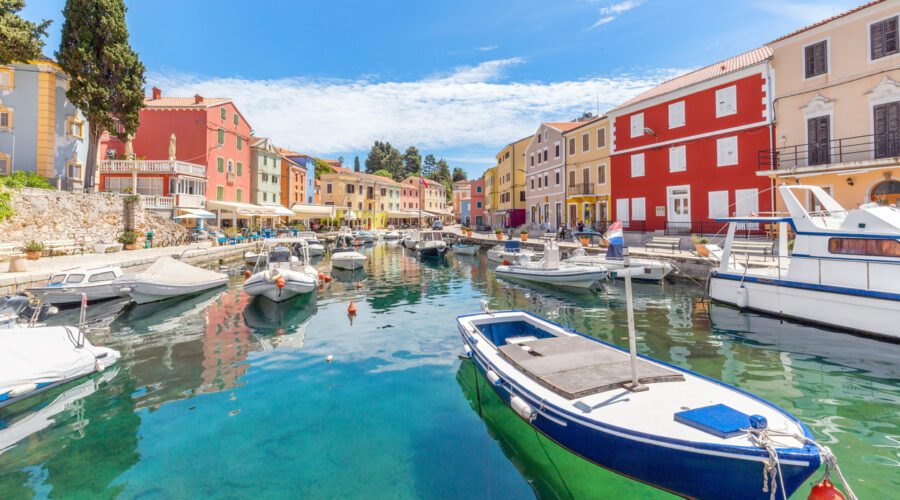 Average Cost of a One Week Croatia Honeymoon
Planning a one-week honeymoon in Croatia can be a memorable experience. Here's a general breakdown of the average costs for a honeymoon trip to Croatia, including airfare, accommodations, and daily expenses:
Airfare
The cost of airfare can vary widely depending on your departure location, the time of year, and whether you book well in advance. On average, expect to spend between $800 to $1,500 per person for a round-trip flight from major US cities to Croatia.
Accommodations
Accommodation costs can vary significantly based on your choice of hotels, location, and the level of luxury you desire. On average, you can expect to spend:
Budget travelers: $70 – $150 per night for mid-range hotels or guesthouses.
Mid-range travelers: $150 – $300 per night for 4-star hotels or boutique accommodations.
Luxury travelers: $300 and above per night for 5-star hotels or upscale resorts.
Daily Expenses
Daily expenses in Croatia can vary based on your spending habits. On average, budget-conscious travelers can plan for around $50 – $100 per person per day. This should cover meals, local transportation, entrance fees to attractions, and some leisure activities.
Mid-range travelers can budget $100 – $200 per person per day, allowing for more dining options and activities.
Luxury travelers can anticipate spending $200 or more per person per day, enjoying fine dining, private tours, and premium experiences.
Average Total Cost
Keep in mind that these are average costs, and your actual expenses may vary. It's essential to consider your specific preferences, such as the regions you plan to visit, dining choices, and the activities you want to enjoy. Additionally, exchange rates and seasonal fluctuations can impact costs, so it's wise to plan and book well in advance to secure the best deals and availability for your dream Croatian honeymoon.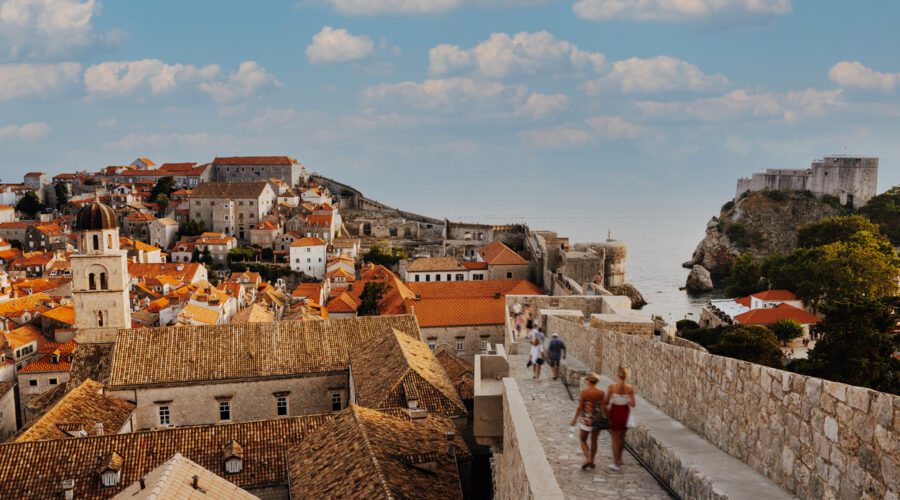 Best Time to Visit Croatia
The ideal time to travel to Croatia for your honeymoon will largely rely on your preferences and what kinds of weather and activities you're searching for. Following is a list of the ideal seasons to visit Croatia based on several considerations because each season offers something special:
Summer (June to August):

Weather: This is the peak tourist season when the weather is warm and sunny. It's great for beach lovers and water activities as the Adriatic Sea is at its warmest.
Activities: You can enjoy outdoor festivals, explore historic cities, and indulge in water sports. However, be prepared for larger crowds and higher prices, especially in popular destinations like Dubrovnik and Split.

Spring (April to May) and Early Autumn (September to October):

Weather: These are often considered the best times to visit Croatia. The weather is pleasant, not too hot, and not too crowded.
Activities: You can explore the cities, visit national parks, and enjoy outdoor activities without the summer crowds. It's a great time for a more relaxed honeymoon experience.

Late Autumn to Winter (November to February):

Weather: The winter months can be quite cold, and some tourist areas may become quiet. However, if you're looking for a unique experience and enjoy a more serene atmosphere, you can visit during this time.
Activities: You can explore historic sites without the crowds and even enjoy winter sports in the interior regions like Plitvice Lakes National Park or go truffle hunting in Istria. Zagreb also has charming Christmas markets in December.
When organizing your honeymoon, take into account your tastes and the activities you both want to do. In order to balance nice weather and fewer tourists, many individuals favor the shoulder seasons (early spring and late fall). However, if you enjoy going to the beach and enjoying the lively summertime scene, the summertime may be more enticing. Croatia, with its magnificent coastline, ancient cities, and picturesque landscapes, has a lot to offer for a romantic honeymoon, regardless of when you travel there.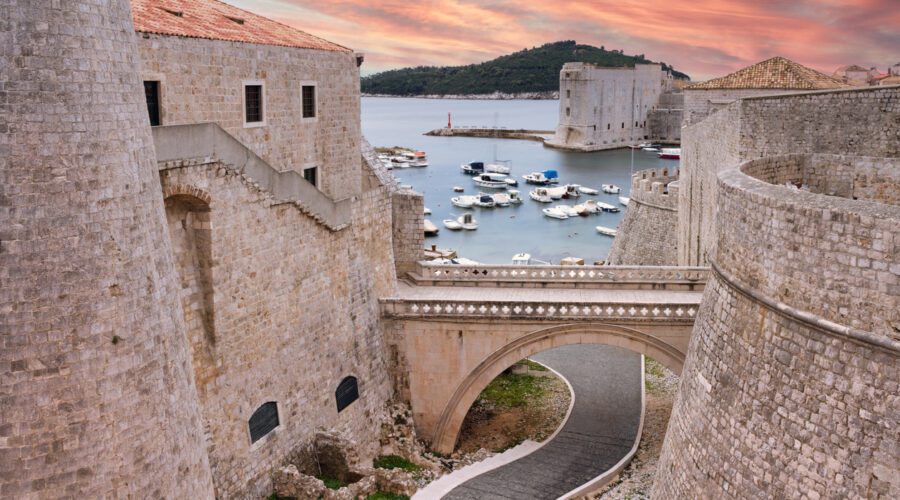 About Honeymooning in Croatia
Honeymooning in Croatia can be a wonderful experience, but it's essential to be prepared and understand the culture, currency, and cuisine to make the most of your trip:
Culture
The official language is Croatian, but English is widely spoken in tourist areas, so communication should not be a significant issue. Croatians are known for their warmth and hospitality. Don't be surprised if locals strike up a conversation with you or offer helpful tips.
While casual attire is generally acceptable, some upscale restaurants may have a dress code, so it's a good idea to bring some semi-formal or formal clothing if you plan on dining at such places.
Tipping is customary in Croatia. In restaurants, it's common to leave a tip of 10-15% of the bill if service is not included. In bars and cafes, rounding up the bill is appreciated.
Currency
Currency: The currency in Croatia is the Croatian Kuna (HRK). While credit cards are widely accepted, it's advisable to have some cash on hand, especially for small purchases or in rural areas.
Currency Exchange: You can exchange currency at banks, exchange offices (mjenjačnica), or ATMs, which are readily available. Avoid currency exchange at hotels or airports, as they often offer less favorable rates.
Cuisine
Seafood: Croatia's coastline offers an abundance of fresh seafood. Don't miss trying dishes like grilled fish, octopus salad, and black risotto (made with cuttlefish ink).
Local Wines: Croatia has a growing wine scene. Sample local wines like Plavac Mali, Malvazija, and Pošip, which pair well with seafood.
Traditional Dishes: Try traditional Croatian dishes like Peka (slow-cooked meat and vegetables), pasticada (marinated beef), and cevapi (grilled minced meat).
Cheese and Olive Oil: Croatia produces excellent cheeses and olive oils, which you can often find in local markets.
Dining Hours: Croatians typically dine later than some other European countries. Restaurants may open for lunch around noon but are usually busier for dinner from 7 or 8 PM onwards.
Vegetarian and Vegan Options: While Croatian cuisine leans heavily on meat and seafood, you can find vegetarian and vegan options, especially in larger cities.
To properly experience Croatian food, keep in mind to appreciate the regional flavors, wander the markets, and eat at regional establishments. The rich culinary history of Croatia is a crucial component of the whole tourism experience.
Furthermore, do your homework and make travel plans well in advance, particularly if you have certain activities or locations in mind for your honeymoon. Explore Croatia's historic cities like Dubrovnik and Split or take in the natural splendor of the Plitvice Lakes National Park or the breathtaking Adriatic shoreline.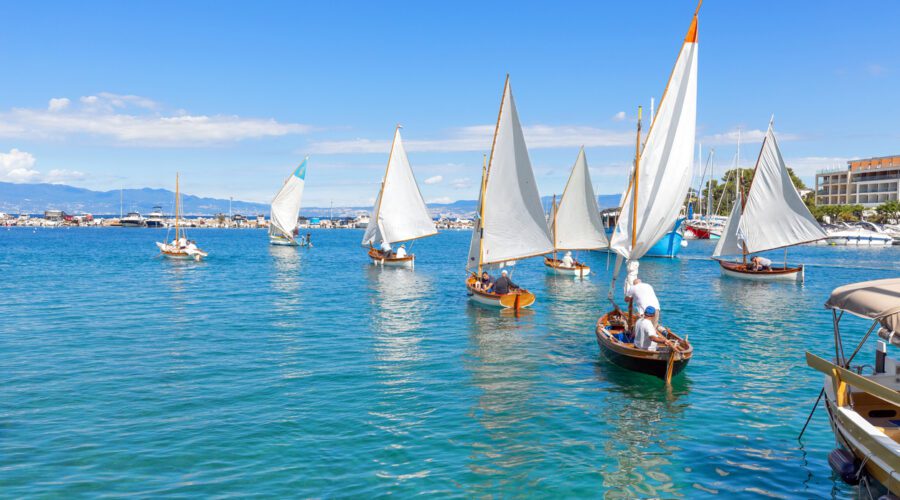 Best Activities for a Croatia Honeymoon
Croatia offers a wide range of romantic activities for honeymooners, whether you're interested in cultural experiences, outdoor adventures, or simply relaxing by the stunning Adriatic Sea. Here are some of the best activities for a honeymoon in Croatia:
Explore Dubrovnik: Wander through the charming streets of the Old Town, visit historic sites like the Dubrovnik Walls and Rector's Palace, and enjoy panoramic views from Mount Srđ.
Visit Split: Discover the Diocletian's Palace, a UNESCO World Heritage Site, and take a stroll along the Riva promenade. Don't miss the Marjan Hill for a romantic hike and stunning views.
Island Hopping: Croatia has numerous beautiful islands along the Adriatic coast. Consider visiting Hvar, Korčula, Brač, or Vis for their picturesque landscapes, charming towns, and crystal-clear waters.
Plitvice Lakes National Park: Explore this natural wonder with its cascading waterfalls, emerald lakes, and lush greenery. It's a paradise for nature lovers and photographers.
Wine Tasting: Croatia has a growing wine scene. Enjoy wine tasting in the vineyards of Istria, Pelješac Peninsula, or the Dalmatian coast.
Game of Thrones Tour: If you're fans of the show, take a Game of Thrones tour in Dubrovnik to visit filming locations and immerse yourselves in the world of Westeros.
Cruise the Adriatic: Consider booking a private yacht or joining a cruise to explore hidden coves, swim in secluded bays, and enjoy the breathtaking coastal scenery.
National Park Krka: Similar to Plitvice, Krka National Park features waterfalls and beautiful landscapes. You can even swim in some of the designated areas.
Culinary Experiences: Take a cooking class to learn how to prepare traditional Croatian dishes together. Enjoy local seafood, cheese, and wine at traditional restaurants and konobas.
Relax on the Beaches: Croatia has some stunning beaches along the coast. Relax, sunbathe, and swim in the crystal-clear waters of the Adriatic.
Adventure Activities: If you're an adventurous couple, consider activities like kayaking, snorkeling, scuba diving, or zip-lining in some of the picturesque locations.
Sunset Views: Enjoy romantic sunsets at various coastal spots, such as Zadar's Sea Organ or Oia's Bell Tower in Dubrovnik.
Spa and Wellness: Treat yourselves to a spa day at one of the many wellness centers and resorts along the coast.
Cultural Festivals: Check the local event calendar for cultural festivals, concerts, and events happening during your visit. Croatia hosts various music and arts festivals throughout the year.
Hot Air Balloon Ride: For a truly unforgettable experience, consider a hot air balloon ride over the picturesque landscapes of Croatia.
Remember to plan your activities according to your interests and the season you're visiting, as some activities are more suitable for specific times of the year. Croatia's diverse offerings ensure that you'll have a memorable and romantic honeymoon tailored to your preferences.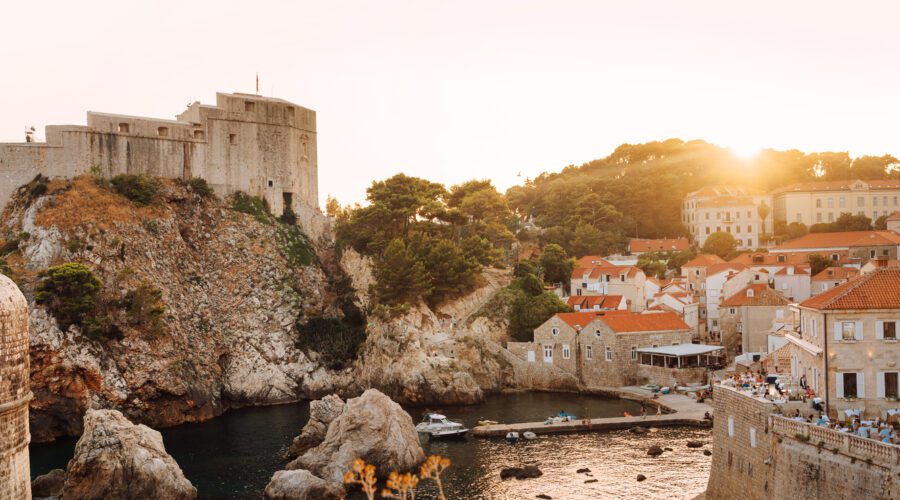 Weather in Croatia
Croatia's weather varies depending on the region and the time of year. Generally, Croatia experiences a Mediterranean climate along its coast, with hot, dry summers and mild, wet winters. Inland regions, especially in the north and east, have a continental climate with more distinct seasons. Here's a breakdown of the weather in Croatia by season and region:
Spring (March to May):
Coastal Regions: Spring in coastal Croatia sees milder temperatures, with daytime highs ranging from 15°C to 20°C (59°F to 68°F) in March and climbing to 20°C to 25°C (68°F to 77°F) by May. It's a great time for sightseeing and outdoor activities.
Inland Regions: Inland areas can be cooler, with temperatures ranging from 10°C to 15°C (50°F to 59°F) in March and April. May is warmer, with temperatures increasing to around 15°C to 20°C (59°F to 68°F).
Summer (June to August):
Coastal Regions: Summers along the Adriatic coast are hot and dry, with temperatures often reaching 30°C to 35°C (86°F to 95°F) or higher in July and August. The sea is warm and inviting for swimming and water sports.
Inland Regions: Inland areas also experience warm to hot temperatures, with July and August being the warmest months.
Autumn (September to November):
Coastal Regions: Autumn is a pleasant time to visit the coast, with temperatures gradually cooling from around 25°C (77°F) in September to 15°C to 20°C (59°F to 68°F) in November. It's less crowded than summer but still suitable for outdoor activities.
Inland Regions: Inland Croatia experiences a gradual decrease in temperature during the autumn months, with temperatures ranging from 10°C to 20°C (50°F to 68°F) in September and cooling down further in October and November.
Winter (December to February):
Coastal Regions: Winters along the coast are mild, with temperatures rarely dropping below freezing. Average daytime temperatures range from 10°C to 15°C (50°F to 59°F).
Inland Regions: Inland Croatia has a continental climate, so winters can be cold, with temperatures often below freezing. Snowfall is common in the interior regions, making it suitable for winter sports enthusiasts.
Keep in mind that the weather can vary from year to year, so it's a good idea to check the forecast for your specific travel dates. Also, the Adriatic Sea has a moderating effect on coastal temperatures, making the coastal regions more temperate and suitable for year-round travel. Your choice of travel season should align with your preferences for weather and activities. Summer is the peak tourist season, while spring and early autumn are often considered the best times to visit for a balance of pleasant weather and fewer crowds.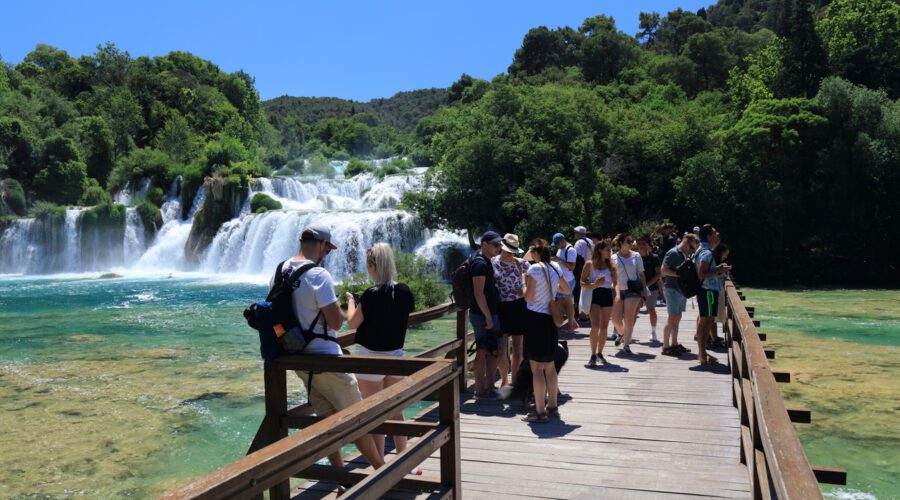 Is Croatia Safe for a Honeymoon?
Croatia is generally considered a safe and popular destination for honeymooners and tourists alike. It has a well-developed tourism infrastructure, beautiful landscapes, historic cities, and a welcoming local population. However, like any travel destination, it's essential to be aware of potential safety considerations:
1. Crime: Croatia has a low crime rate, and violent crime is rare. Most visitors experience no issues related to personal safety. However, like in any tourist area, petty crimes such as pickpocketing can occur, particularly in crowded places. It's advisable to be cautious with your belongings, especially in tourist hotspots.
2. Scams: Be aware of common travel scams, such as overcharging in taxis or restaurants. Always ask for a menu with prices before ordering, and consider using reputable taxi companies.
3. Natural Hazards: Croatia is susceptible to natural hazards like earthquakes and wildfires, although these are infrequent. It's advisable to stay informed about any potential natural events during your visit and follow local authorities' guidance.
4. Road Safety: If you plan to rent a car, be cautious on the roads, especially if you're not accustomed to driving in Europe. Follow traffic rules and be mindful of local driving customs.
5. Water Safety: While Croatia's coastline is beautiful, be aware of strong currents and adhere to safety warnings at beaches. Always swim in designated areas and pay attention to lifeguards.
6. Health and Healthcare: Croatia has a good healthcare system, but it's essential to have travel insurance that covers medical emergencies. Make sure you have any necessary vaccinations before your trip.
7. Emergency Services: Familiarize yourself with the emergency numbers in Croatia, including 112 (general emergency), 192 (police), and 194 (fire).
By exercising standard safety precautions and staying informed about your surroundings, you can have a safe and enjoyable honeymoon in Croatia. It's also a good idea to check for any travel advisories or updates from your country's embassy or consulate in Croatia before your trip. Remember that situations can change, so staying informed is key to having a smooth and safe experience.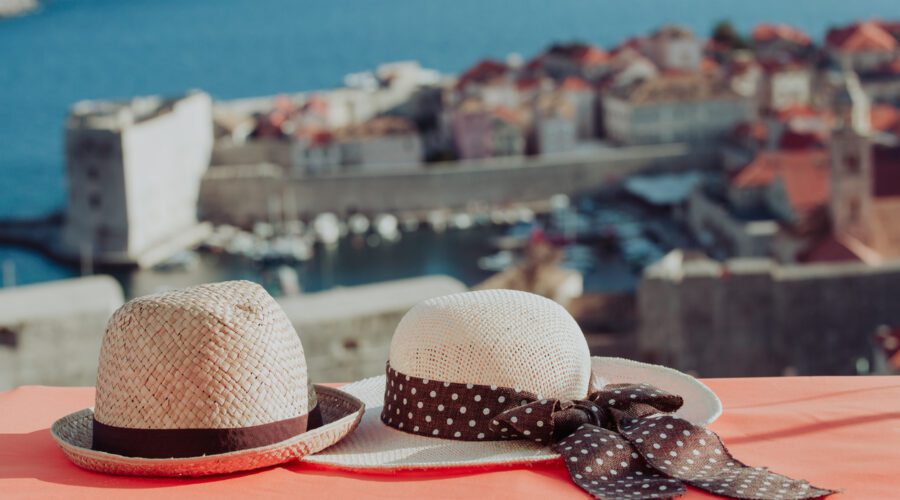 Most Romantic Spots in Croatia
Croatia offers a plethora of romantic locations that are perfect for a honeymoon. Whether you prefer charming coastal towns, historic cities, or serene natural landscapes, there's something for every couple. Here are some of the most romantic locations in Croatia:
Dubrovnik: Known as the "Pearl of the Adriatic," Dubrovnik is a stunning walled city with narrow cobblestone streets, historic architecture, and breathtaking views of the sea. Walk along the city walls, dine at romantic restaurants, and watch the sunset from the city's famous fortifications.
Hvar: Hvar Island is a picturesque destination with a laid-back atmosphere. Explore the charming town of Hvar with its historic streets, visit lavender fields, and relax on beautiful beaches. The island's lavender-scented air adds to the romantic ambiance.
Rovinj: This coastal town in Istria is often described as one of the most romantic places in Croatia. Stroll through the Old Town's narrow streets, enjoy seafood dinners by the harbor, and take a boat trip to the nearby islands.
Plitvice Lakes National Park: If you and your partner love nature, the cascading waterfalls, emerald lakes, and lush forests of Plitvice Lakes National Park make for a serene and romantic setting. Explore the park's well-maintained trails and boardwalks.
Korčula: Often compared to a smaller Dubrovnik, Korčula is a beautiful island with medieval walls, charming squares, and excellent seafood restaurants. It's a quieter, more intimate alternative to some of the busier islands.
Trogir: Trogir is a UNESCO-listed town known for its well-preserved medieval architecture. Explore the historic streets, visit St. Lawrence Cathedral, and enjoy a romantic meal at a waterfront restaurant.
Zadar: Zadar offers a unique blend of history, culture, and natural beauty. Visit the Sea Organ and the Sun Salutation installation along the waterfront, and enjoy the city's stunning sunsets.
Split: Explore Diocletian's Palace, a UNESCO World Heritage Site, and take romantic walks along the Riva promenade. Split offers a blend of history and modernity, making it an appealing honeymoon destination.
Bol, Brač Island: Bol is known for its famous beach, Zlatni Rat, often considered one of the most beautiful in Croatia. Spend your days sunbathing and swimming in the crystal-clear waters.
Motovun: This hilltop town in Istria offers panoramic views of the countryside and is known for its truffle delicacies. Enjoy the romantic ambiance and dine at local restaurants.
Mljet Island: Mljet is a peaceful, unspoiled island with a national park featuring saltwater lakes and a 12th-century Benedictine monastery. It's an ideal destination for couples seeking tranquility and natural beauty.
Lokrum Island: A short boat ride from Dubrovnik, Lokrum Island is a nature reserve with lush gardens, hidden coves, and a sense of seclusion that's perfect for honeymooners.
These romantic locations offer a mix of history, natural beauty, and ambiance that's perfect for celebrating your honeymoon in Croatia. Consider your interests and preferences to choose the destination that suits you best.