Anyone who has considered a fall wedding knows the advantages of a fall honeymoon. The fall will lack the summer's obsessive heat while still offering ideal weather for the beach or for exploring the blazing color changes in the landscape. Fall has countless breathtaking colors! It is nature's time to shine along with the new couple.
In many cases, the fall also means fewer crowds and fewer expenses. Always a nice advantage for newlyweds. Below are some suggestions for dream fall wedding destinations.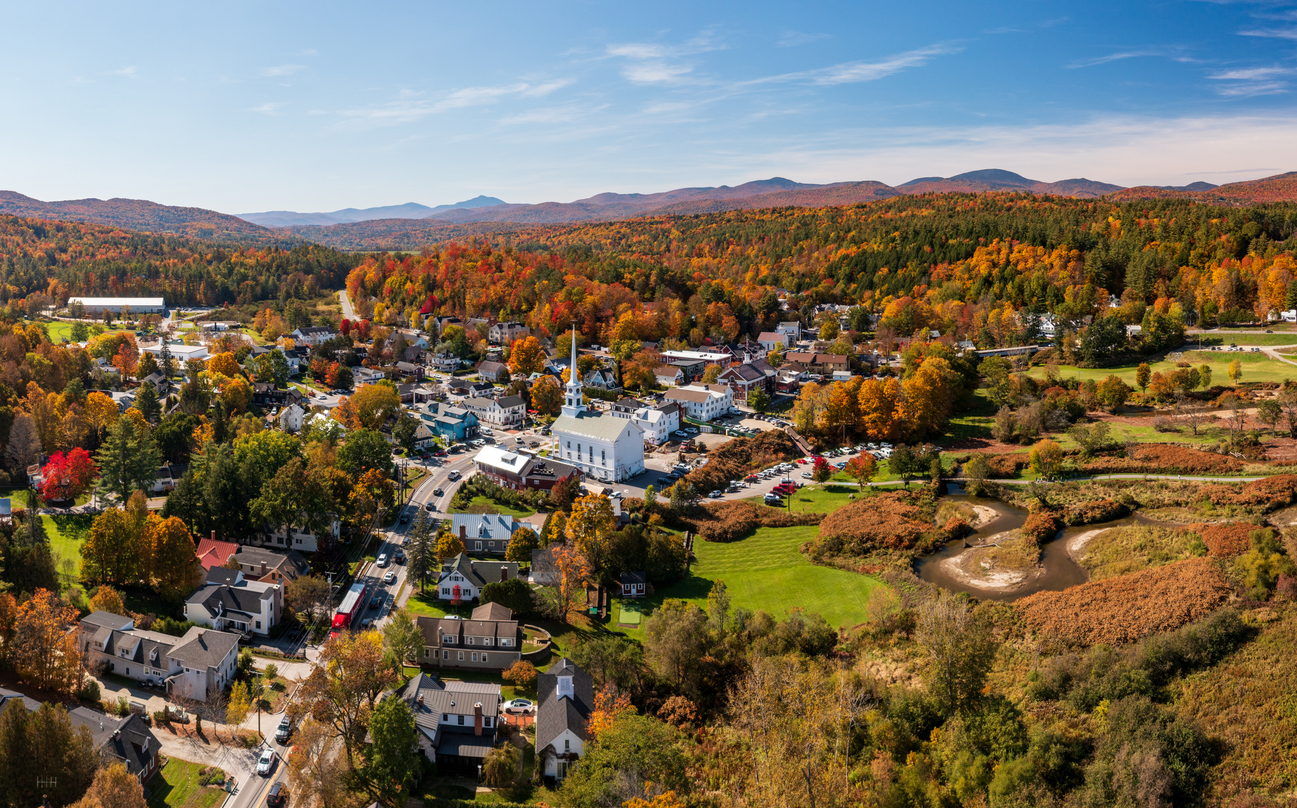 The Green Mountain State of Vermont, located just three hours from Boston, is a prime honeymoon destination for outdoor aficionados and food lovers. The fresh air is perfect for a scenic road trip, and in the fall, the foliage creates an explosion of colors.
Burlington is the largest city in Vermont and conveniently located near fabulous Lake Champlain. Everything changes here in the fall, as your life changed when you were married. Driving along the lake provides stunning vista, especially at sunset. Couples can revel in the fall foliage, go apple picking, visit Ben and Jerry's, and revel in the outdoors.
The Blind Tiger Hotel is a 19th century mansion on a tree-lined street in Burlington surrounded by more grand historic homes. Lake Champlain is nearby, as is downtown. It is located in one of the city's most exclusive neighborhoods.
Stay in any of the individually decorated 14 guest rooms that blend the Colonial Georgian Revival styles of a long-ago luxury era. The hotel is surrounded by restaurants; it recommends the nearby Daedalus Wine Bar for dinner.
Things to do:
Burlington is a mere half-hour drive from Stowe's Von Trapp Family Lodge, which in the fall is engulfed in stunning foliage.
As if the Blind Tiger Hotel were not homey enough, a couple can enjoy a drink or coffee at the Wallflower Collective. Not your usual bar, here, guests can sink back into sofas and just make themselves comfortable and hold hands while listening to the music. Forget about bar stools.
Visit the country's sixth-largest lake, Lake Champlain. The lake is gorgeous and offers plenty of excitement, from cruises to hikes, to golf. Best of all, it is still underdeveloped and lacks the hustle and crowds of many tourist destinations.
---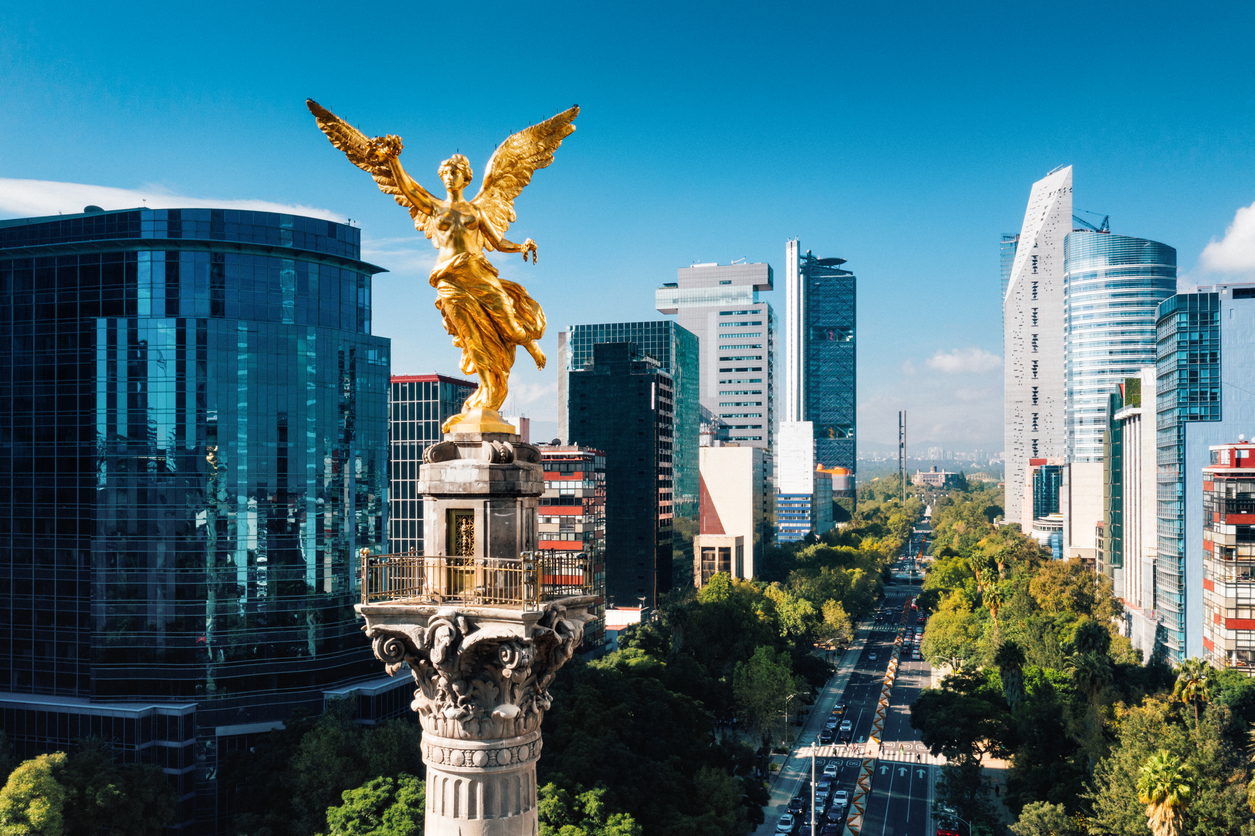 In the fall, the colors in Mexico City explode into vibrant colors, especially the city's famed Cempasúchil flowers. This time of year provides the best opportunity to explore Mexico City's culture, such as the popular albeit spooky Day of the Dead. Couples can celebrate Independence Day, "Viva Mexico."
The Four Seasons Mexico City is a hacienda-style structure built around a romantic inner courtyard. Once inside, the bustle of the city is left outside. Guests have a choice of 11 suites or rooms.
The hotel specializes in top-rated Mexican cuisine served both indoors and outdoors, and honeymooners may wish to sign up for the Bed and Breakfast package, which includes in-room breakfast each day.
The Fifty Mils Bar and its unique cocktails are one of the best in Mexico City. The rooftop pool is a delight, made even more so when receiving a half-hour body massage.
Things to do:
Chapultepec Park is at its best in the fall with its gardens and museums. The park makes for a great stroll.
One of Mexico City's greatest fall festivals is its Day of the Dead. It may sound ghoulish, but it is a joyful honoring of lost loved ones with parades, food, shows, dancing, and special events.
---
Munich, Germany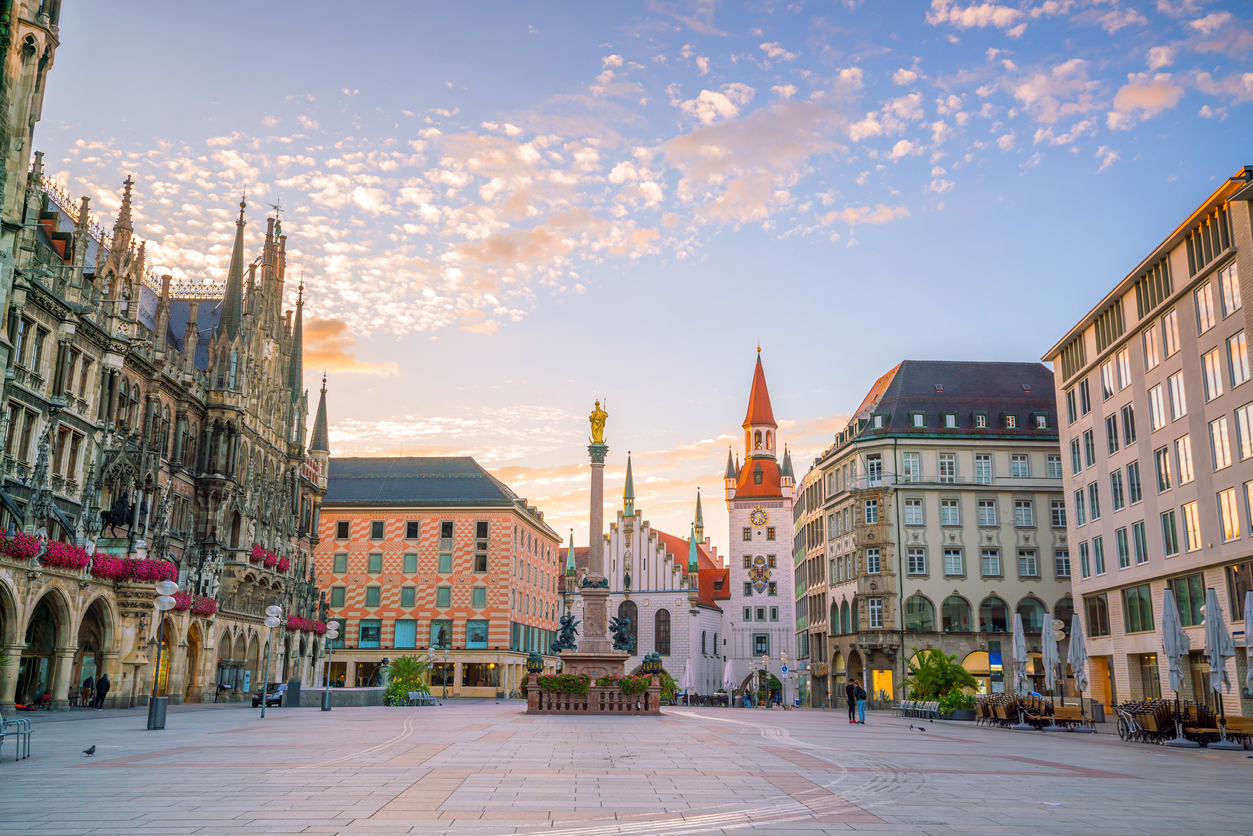 The weather in Munich begins to acquire a chill by November, but fall is a great time for a visit. Here everything is about "gemütlichkeit," or comfortableness. Munich is a cozy place that has much to offer newlyweds.
The Bayerischerhof is in the downtown district. It has five restaurants, including the 2-Michelin star Atelier. Each of the rooms and suites is individually decorated. For something special, the 8th-floor Penthouse Garden Suite is surrounded by its own terrace and a stunning view.
The Blue Spa has a pool, steam room, sauna, and spa treatments.
The Roof Garden Lounge starts the day off right with a breakfast champagne buffet. There is plenty to keep guests entertained, such as the private theater, comedy show, a nightclub, and a relaxed piano bar.
Things to do:
Munich has lovely gardens that become a fantasy in the fall. This includes the Hirschgarten, Luitpoldpark, and Nymphenburg Park. Just hold hands and stroll.
The Octoberfest is the major draw in September and October, of course. Two weeks of the world's best beer, rides, great food, and plenty of oom-pah.
An ideal day trip to the Alps is a visit to Neuschwanstein Castle. This castle can be compared with the magnificent Paris Versailles, but they served different purposes. Louis XIV built Versailles to show off; King Ludwig II created Neuschwanstein as a personal fairy tale hideaway. Here, the reclusive king retreated into his own world, which is the most visited palace in the world. The only way to get inside is by taking a tour of the 200 rooms, including the incomparable throne room, where lonely Ludwig probably spent much time by himself.
---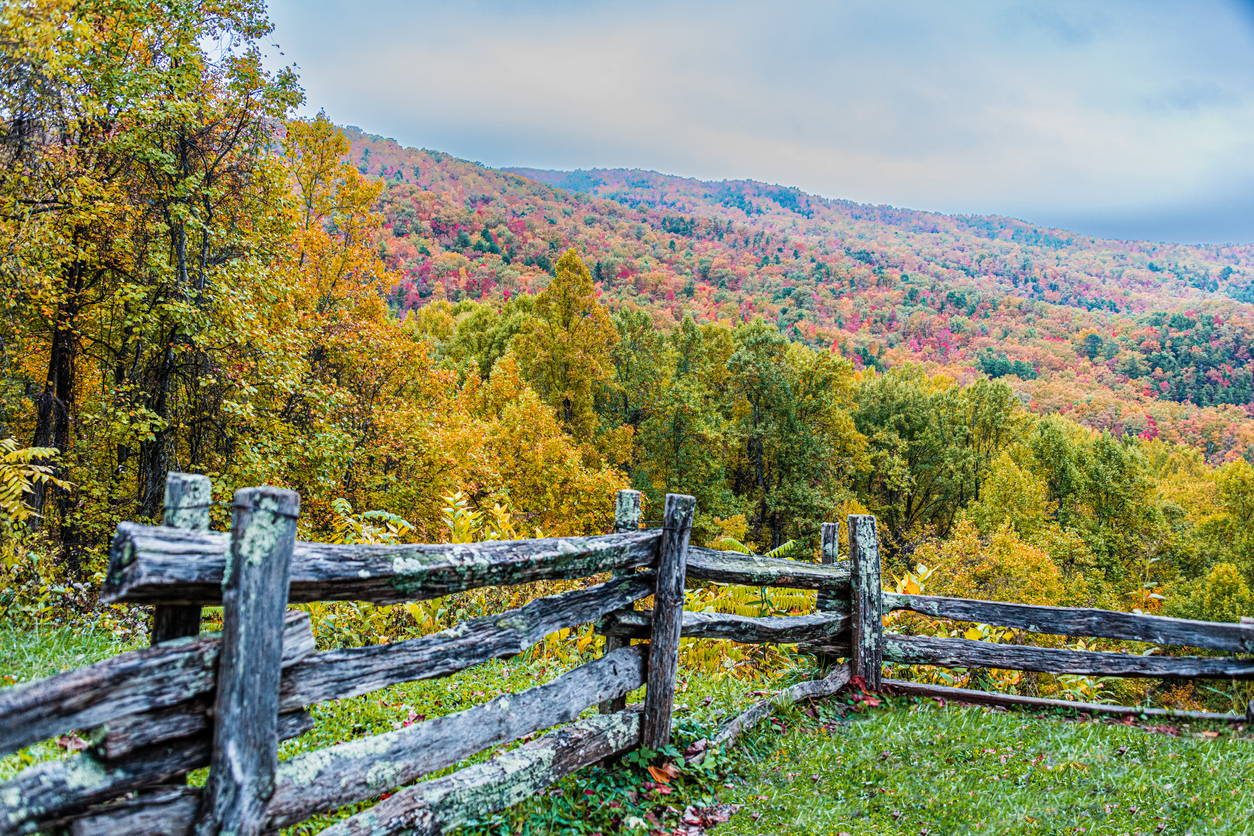 Hiking through the Great Smokies is like hiking through a fall foliage paradise as the temperature is still extremely comfortable. This enchantment consists of half a million acres stretching through eastern Tennessee and western North Carolina and is a mecca for fall foliage. Visitors from around the world come here for the vibrant shades of red and orange. The change in nature's colors begins in mid-September and continues through the beginning of November. There are many available accommodations, including camping, but the most popular and convenient city is probably Gatlinburg.
Margaritaville Resort Gatlinburg, surrounded by scenic mountains, is the perfect destination for hiking through the fall foliage. It is steps away from the Great Smoky Mountains National Park, shops, and restaurants. Upscale dining and delicious hamburgers are available.
All the rooms and suites are comfortably decorated. For a retreat within this mountain retreat, there is Jimmy's Hideaway, a hidden bungalow on a private island just steps from the main resort. Guests can enjoy a fire pit and patio, a fireplace, and a Jacuzzi tub. What happens at Jimmy's stays at Jimm's.
Things to do:
Gatlinburg in the fall is Nirvana for foodies. During Gatlinburger Week in September, all restaurants compete for the best burger. Visitors get to taste and judge the winning burger. winning
The Gatlinburg Chili Cookoff happens during the first week in November. This start to the holiday season includes live entertainment and a huge array of chili prepared during the official cookoff.
Gatlinburg's Craftmen's Fair is an exhibition of local crafts that make treasured holiday gifts.
Mount Cammerer, with an elevation of almost 5,000 feet, does not experience peak foliage until late October.
Couples can snuggle on the Gatlinburg SkyLift which ascends from downtown to the peak of Crockett Mountain. After snuggling, hold on to each other while crossing (carefully) the country's longest suspension bridge.
---
San Diego, California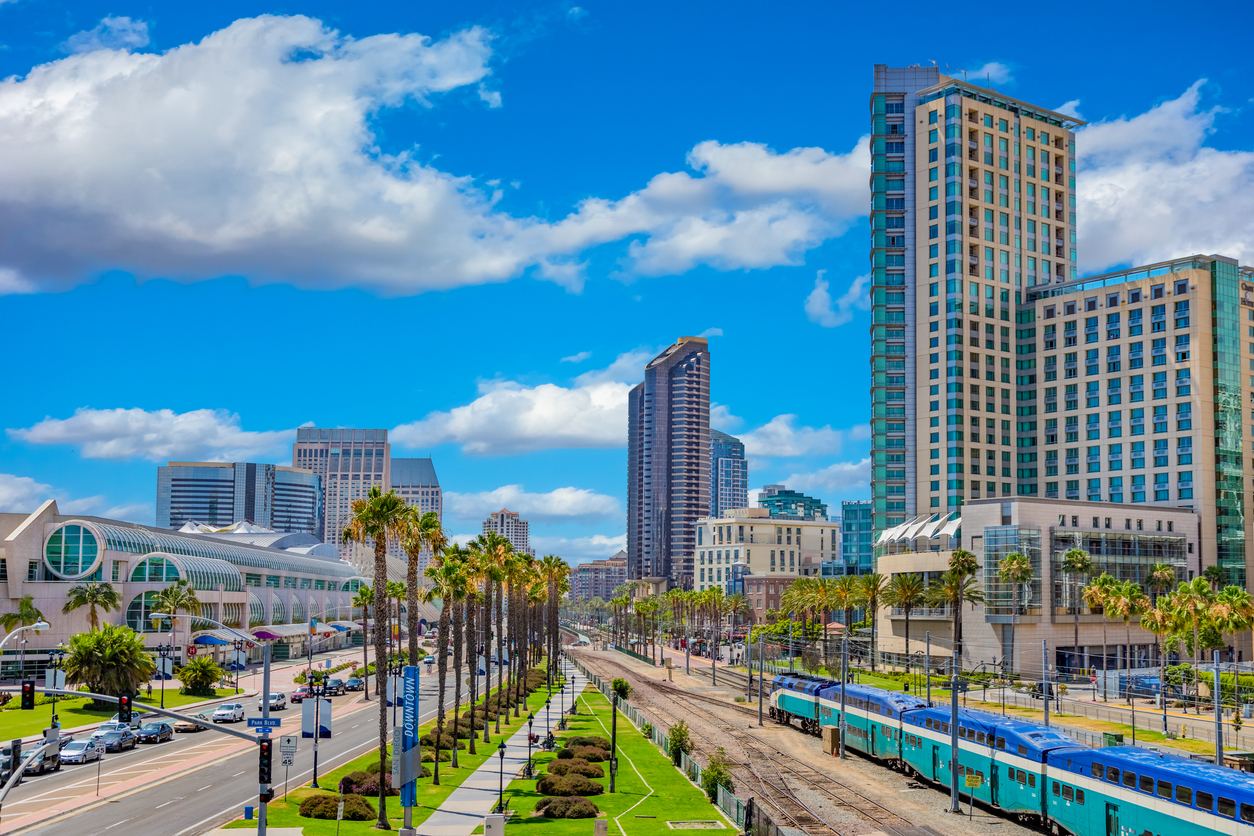 The summer heat is abetting by fall, and there are more festivals and parades than can be listed. The water is still warm, the sun still shines brightly, and it's a great time to be in Southern California's loveliest city. The crowds have diminished by October, making most things more affordable.
Bahia Hotel is tucked into Mission Bay with lush gardens and endless clear sandy beaches. Rooms and suites come with a garden or Bay view. Most have a balcony or patio.
Couples can snuggle on the beach nightly next to the beach bonfires. The resort's Bahia Bells provides catamaran excursions for its guests, or they can relax within their private cabana by the pool and whirlpool. The Bay is a great place for boating and kayaking.
Tennis and pickleball clinics are available.
Things to do:
San Diego is unusual in that all of its important museums are located in one place – Balboa Park. Stroll through the fall foliage and see some amazing gardens and museums. An hour-and-a-half private tour will introduce you to the paths and incredible architecture of Balboa Park.
The San Diego Zoo is one of the country's largest zoos. See your favorite animal (not your spouse) while enjoying some fine dining.
San Diego's MurderNMayhem provides tours through the city's Gaslight District and discusses some of the more unsavory aspects of this sunshine city.
---
Turin, Italy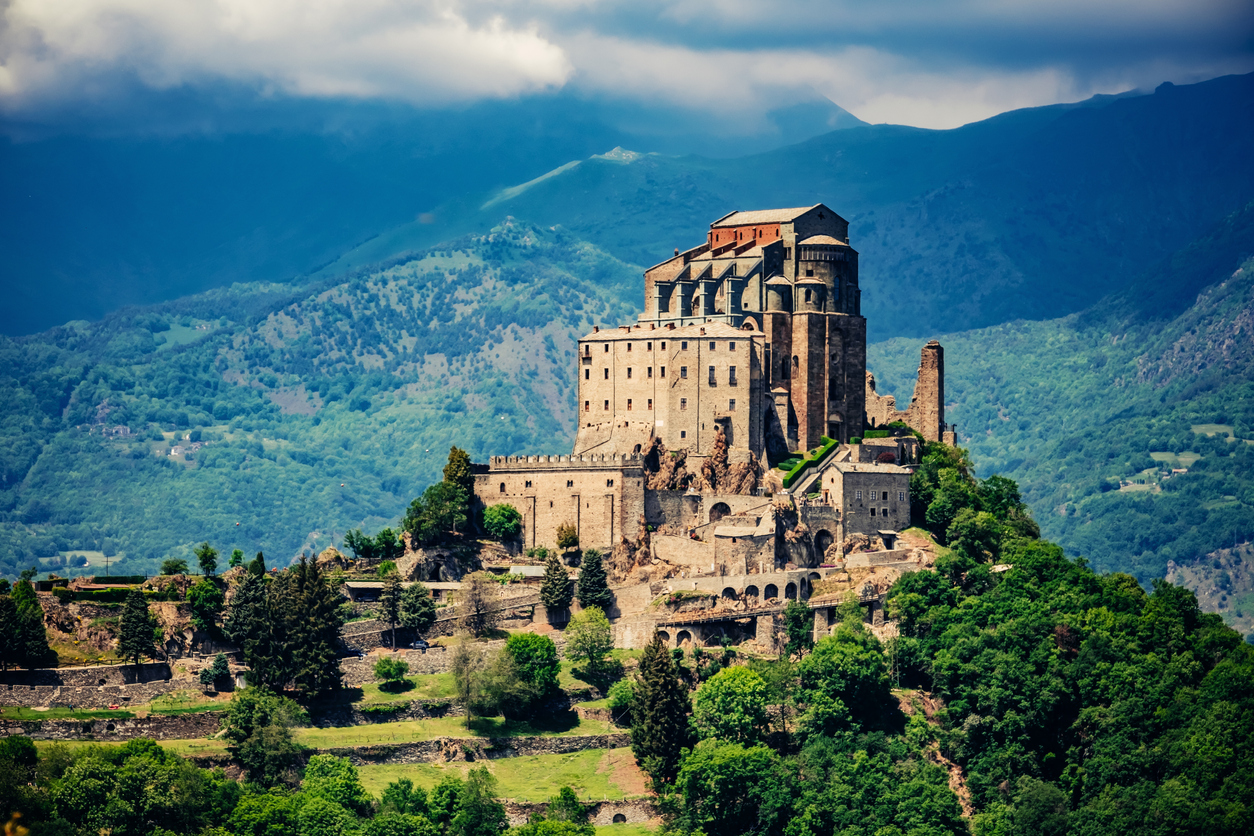 October is wine season in Turin, and it's a great place for wine-loving couples. The temperature is in the moderate mid-60s, perfect for exploring the city and the vineyards in the Langhe and Piedmont regions located near the Piedmont Alps. As a delicious aside, it is also the chocolate capital of Italy.
Barolo Wine and Food Tasting will include some of Italy's best reds. Visitors will receive a tour of the vineyard and taste-test dozens of different wines along with meats and cheese. A private Langhe Wine Tour will arrange for a Turin pickup and travel to the Piedmont region, where guests will visit two vineyards and enjoy taste samples and lunch.
The Principi-di-Piemonte is Turin's five-star hotel in the city's best location. Everything about the palace whispers about an era when splendor was appreciated and this was the architectural icon of the time.
The rooms are all above the eighth floor and offer a striking view. Meals concentrate on sophisticated Italian cuisine.
The spa has a genuine Turkish bath and a Finnish sauna and provides soothing massages.
Things to do:
Who can resist a two-hour chocolate tour? Take a walking tour through the Capital of Chocolate and devour chocolate in every form available.
Turin as a secret and dark life underground. This tour will explore the underground tunnels for three hours and learn about Turin's darker history, including a recently discovered underground prison.
Just outside of the city, the Royal Palace of Venaria is one of the most spectacular European palaces with its 17th century Baroque architecture, spectacular gardens, and magnificent collection of art. The garden is its most beautiful during October.
---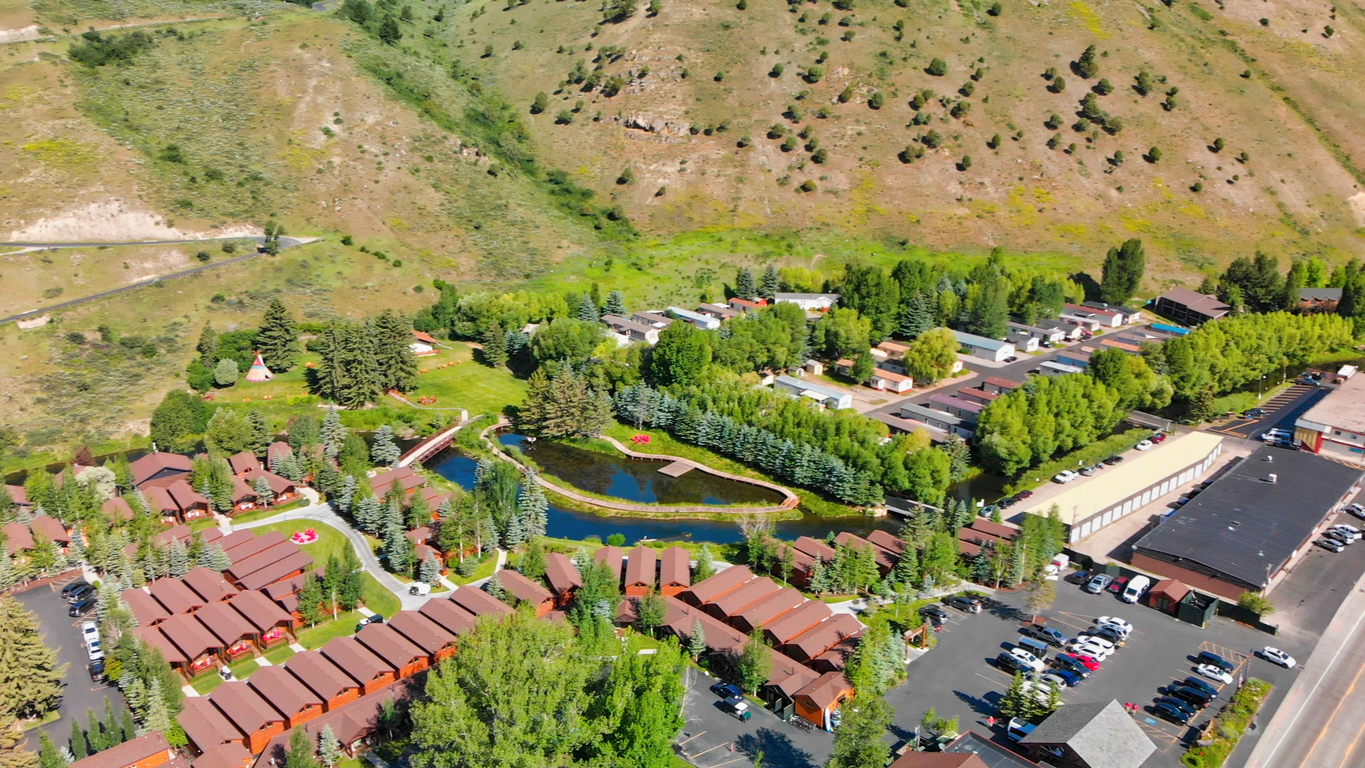 With the temperature hovering in the 70s, fall is the optimal time for an outdoorsy Jackson Hole honeymoon. Situated by Yellowstone National Park and Grand Teton National Park, it is at the center of peak foliage. Nature's own beauty can be unbelievable at times, and it is not just about the outdoors. The town has a surprising number of museums and is known for its delicious food.
Amangani Resort, located at the bottom of the Tetons by the Snake River Valley, is an Old West remnant. Suites and rooms face the majestic Tetons. Each room comes with non-alcoholic beverages, wellness class, coffee, and pastries.
Few resorts come with true adventure anymore. Ideal for wildlife enthusiasts, Amangani offers a wildlife package with a minimum three-night stay which includes a four-hour dusk or dawn wildlife tour in a BMW with a complimentary breakfast.
The spa, in anticipation of a certain amount of hiking, offers foot scrubs along with their massages.
Things to do:
The Wyoming Balloon Company soars over the Tetons for a spectacular view of the mountains while guests breeze in the fresh air and maybe wave at a bald eagle flying next to them.
Have a date at the Million Dollar Cowboy Bar, a Jackson Hole institution visited by celebrities who enjoy a great steak. Entertainment draws top names such Tanya Tucker, the James Cotton Blues Band, Carly Pearce, and others.
Visit Colter Bay Village for the best access to Jackson Lake, boat rentals, and fishing equipment.
---
Toronto, Canada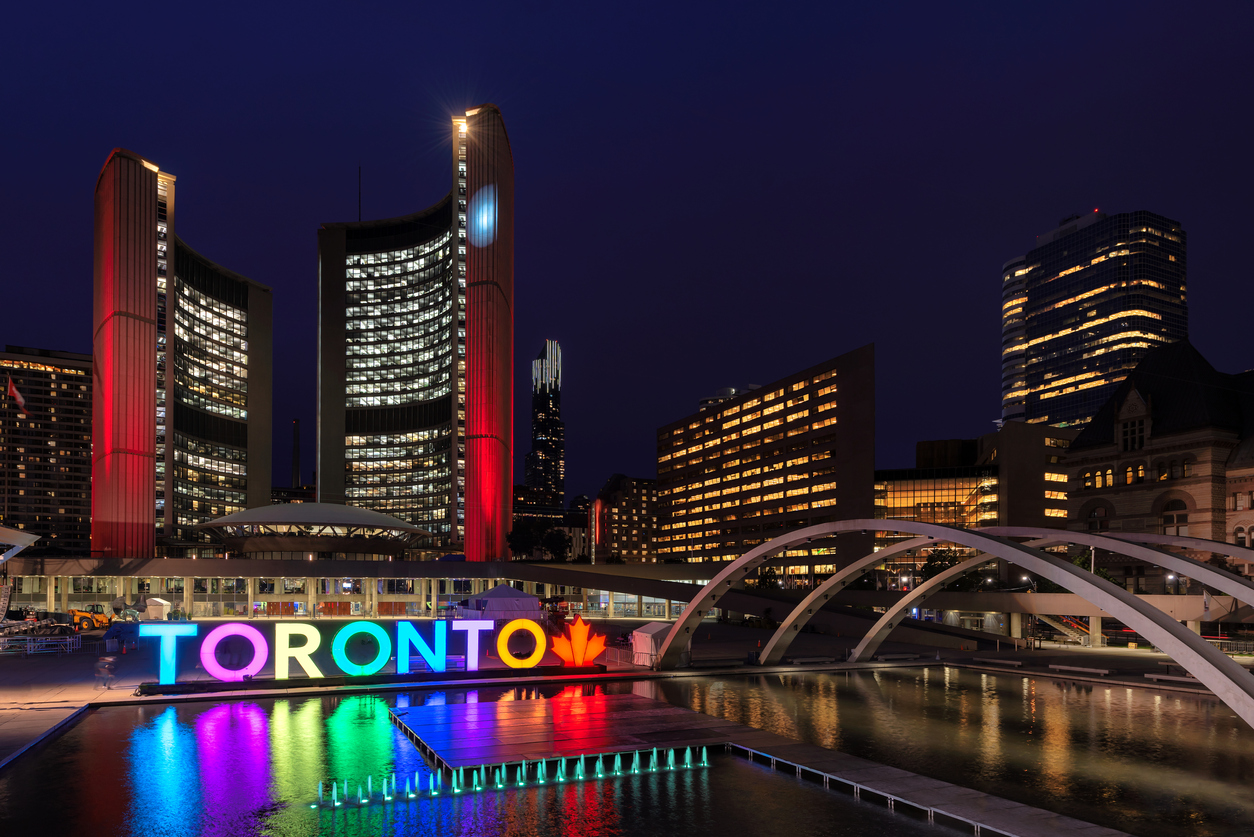 Fall in Toronto means enjoying the stunning landscape and skyline, where visitors can revel in the array of colors, apple, and pumpkin picking, and even catch some salmon migration at the Humber Bay Shores by Lake Ontario.
Even better, it's easy to take a daytrip to the ultimate honeymoon destination – Niagara Falls.
The Hazelton Hotel is the only Forbes Five Star hotel in Toronto, as well as the number one hotel in Canada and number 21 in the world. The rooms and suites are reminiscent of 1940s glamor.
The One Restaurant serves up memories on its candlelit patio. The One Lounge is a chic place to sit back and enjoy a nightcap. The lounge has access to all the restaurant's dinners, as well.
The spa stands out not just because of its treatments and steam room, but because of its indoor saltwater pool.
The hotel offers tours within the Yorkville neighborhood such as local galleries, candle-making classes, and even a style conference for anyone wanting to up their honeymoon looks.
Things to do:
There is trusting your partner, and then there is trusting. Visiting Toronto's famed CN Tower is for those yearning to touch the sky on the 116th floor EdgeWalk without touching their partner. Maneuvering that edge may give new meaning to couples walking on clouds….
Gothic Revival-style Casa Loma was once Canada's largest private house with 98 rooms and a working shower – unheard of at the time. Now, it is a museum and a frequent location for filming the latest movies and television shows. Visitors can stroll through the impressive rooms, including the library with its 10,000 books, and then take a staircase to the towers for a splendid view of Toronto.
Equally worth seeing are the gardens, especially in the fall. A tunnel beneath the house provides evidence of Toronto's dark times, such as the Great Fire, the Depression, and the plague. The carriage room holds several authentic early 19th-century antique cars.
For film enthusiasts, there is a movie gallery with posters and behind-the-scenes pictures of movies shot here.
---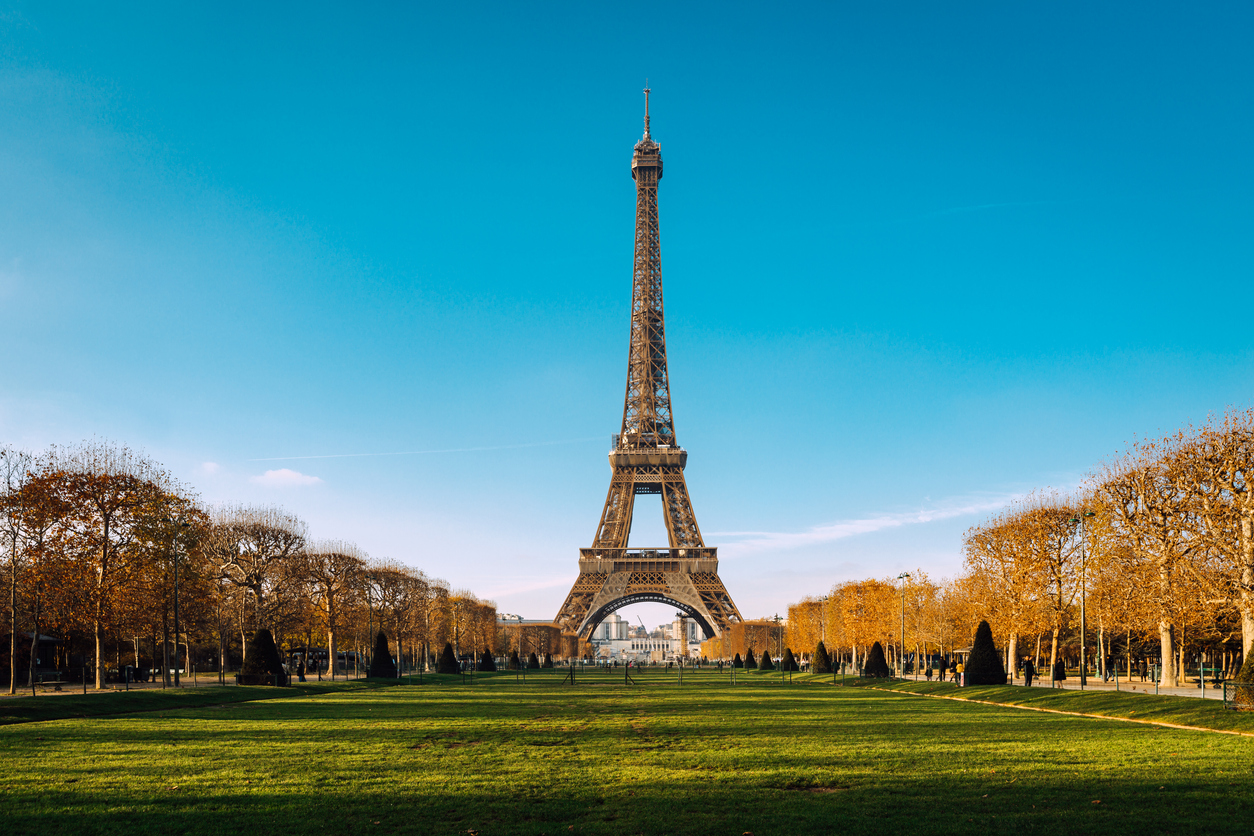 Truthfully, there is no bad time to honeymoon in Paris. The magical City of Lights embraces its visitors every day of the year. However, in the fall, the days get cooler, and the parks take on greater colors than some of the famed museums. In addition, the summer crowd has dispersed, making it much easier to visit icons such as the Eifel Tower and the Louvre. Welcome to your fall Paris honeymoon.
Le Pavillon de la Reine and Spa is located in the fashionable La Marais district. All the rooms are large and inviting, and the Queen's Suite has a chandelier, a marble bathroom, and a fireplace, and it very much resembles an elegant 17th century Parisian flat.
The lounges come with a cozy fireplace, and the Restaurant Anne has been awarded a Michelin star for its exceptional French cuisine.
Concierge Clefs d'or services are available to all guests as an insurance that every wish is fulfilled, whether it is a restaurant reservation or tickets to the opera. Guests only need to ask.
Things to do:
There are many Seine tours, but none get any better than an evening cruise with music. Let the City of Lights guide on this hour-long tour with music, snacks, and champagne.
When the Louvre and d'Orsay get too crowded, the Sculpture Garden at Musee Rodin is a hidden treasure filled with beauty. Enjoy the sculpture and the fall blooms.
The Deux Margots has drawn a literary breakfast crowd for almost 150 years. This is where Ernest Hemingway, Jean-Paul Sartre, Simone de Beauvoir, and many others came to discuss the future of thought and literature. It still serves one of the most popular breakfasts in Paris and still attracts a literary crowd.
---
Alaskan cruises are wonderful, and they are usually associated with winter. However, that may not be the optimal season.
Cruise prices are much lower during the shoulder season – possibly discounted as much as 50 to 75 percent. The fall is the season for fabulous deals, and after an expensive wedding, those savings feel good. The lines are shorter, no waiting for food or drinks, and there is a greater choice of shore excursions.
Another reason to take a fall Alaskan cruise is to get the full benefit of the foliage in Juneau and the nearby Tongass National Forest, which is a popular stop. Taking a foliage hike is a must on a port call in Juneau. Some cruise ships also stop at Denali National Park.
Seeing the northern lights is a huge part of visiting Alaska, and the time for them starts around September when the nights are darkest.
Wildlife is at its most abundant in the fall. The bears are outstuffing themselves with salmon before winter hibernation. Humpback whales may be seen heading toward warmer climates, while the sea lions and otters stay in Alaska to be viewed, as can moose and caribou. Fall is an excellent season for wildlife.
Most rooms on a cruise ship face the ocean, and many have a private verandah.
Activities will vary, but most cruises will include glaciers, Alaskan helicopter tours, wildlife excursions, a scenic railroad ride, dog sledding, and fishing.
---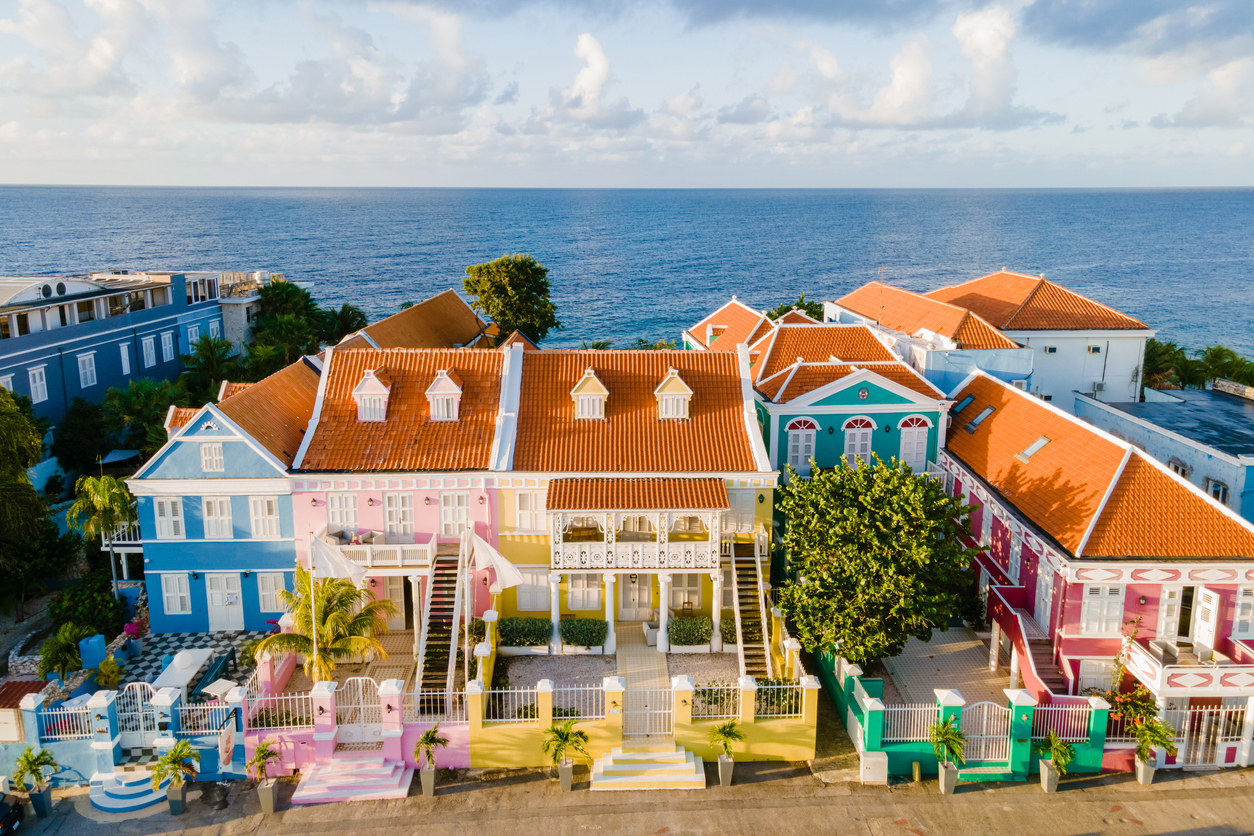 Fall is the off-peak season in Curacao and an excellent time for a Caribbean honeymoon with some of the best beaches in the world. Combine those with excellent weather, and you have the honeymoon of a lifetime.
All-inclusive Sandals Royal Curacao is located within the Leeward Antilles and is one of nature's natural romantic settings. The water here invites guests to snorkel and dive while the mountains hover in the background.
The beachfront Butler Bungalows with their private pool are unrivaled as a honeymoon getaway, except for perhaps the bungalows lining a semi-private pool. Guests are pampered by 24-hour butler attention.
All restaurants are all-inclusive, as are the three food trucks on the property. For guests staying a minimum of a week, Sandals Curacao offers a $250 dining certificate to a local restaurant.
As on any Sandals property, activities are close to endless. Sandals offers certified PADI scuba training. Paddleboarding, kayaking, and snorkeling are always available. Whether lounging by the beach or the pool, cabanas are available, along with the services of a private cabana butler.
Evenings are filled with exciting beach or pool parties, live shows, and karaoke. During the day, couples can engage in tennis, croquet, volleyball, cricket, and lawn chess.
Things to do:
A 2-hour day trip to the uninhabited Klein Curacao is a must for couples. The beaches and snorkeling are the absolute tops, and the small island is a delight to explore.
Couples should visit Curacao's capital, Willemstad, and stroll across the marvelous floating Queen Emma Bridge. Then, check out Willemstad's colorful buildings that give a new meaning to picture postcards.
Willemstad has floating Venezuelan markets selling their ware by the shore. On the streets, kiosks sell clothing, jewelry, and all types of souvenirs. Definitely worth investigating.
---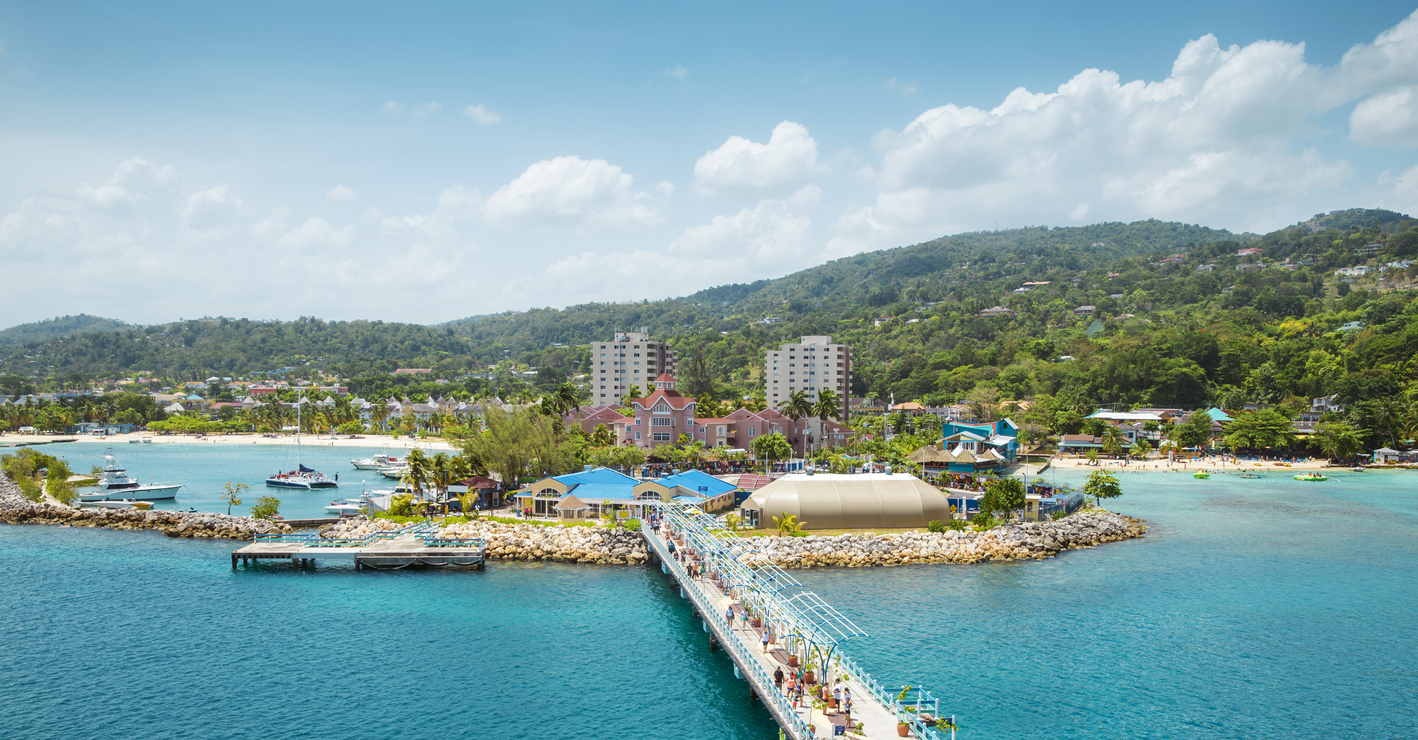 Scenic Ocho Rios began as a fishing village. Surrounded by grand waterfalls, beaches, and a jungle, it has turned into a major Jamaican honeymoon destination with luxury resorts and reggae music. There is a lot of cultural history in Bob Marley's birthplace.
The all-inclusive Sandals Ochi Rios is a private Garden of Eden with great golf and vibrant nightlife, and the Travvy winner of the 2018 Best Destination Wedding Resort in the Caribbean.
Many rooms and villas come with a pool and hot tub as well as 24-hour butler service for perfect honeymoon coziness, as do the 16 all-inclusive restaurants. Green fees at the Upton Estate Golf and Country Club are included.
Sandals Ochi has PADI-certified diving and unlimited watersports. The resort provides nightly parties, live shows, fire dances, karaoke, and more.
Things to do:
This is where to find the Margaritaville that Jimmy Buffet sang about. It is an amazing place to dine and party.
James Bond fans will want to spend time at James Bond Beach. It was named for 007 after it was featured in the movie, "Dr. No." This is something all couples can say yes to.
---
Madrid, Spain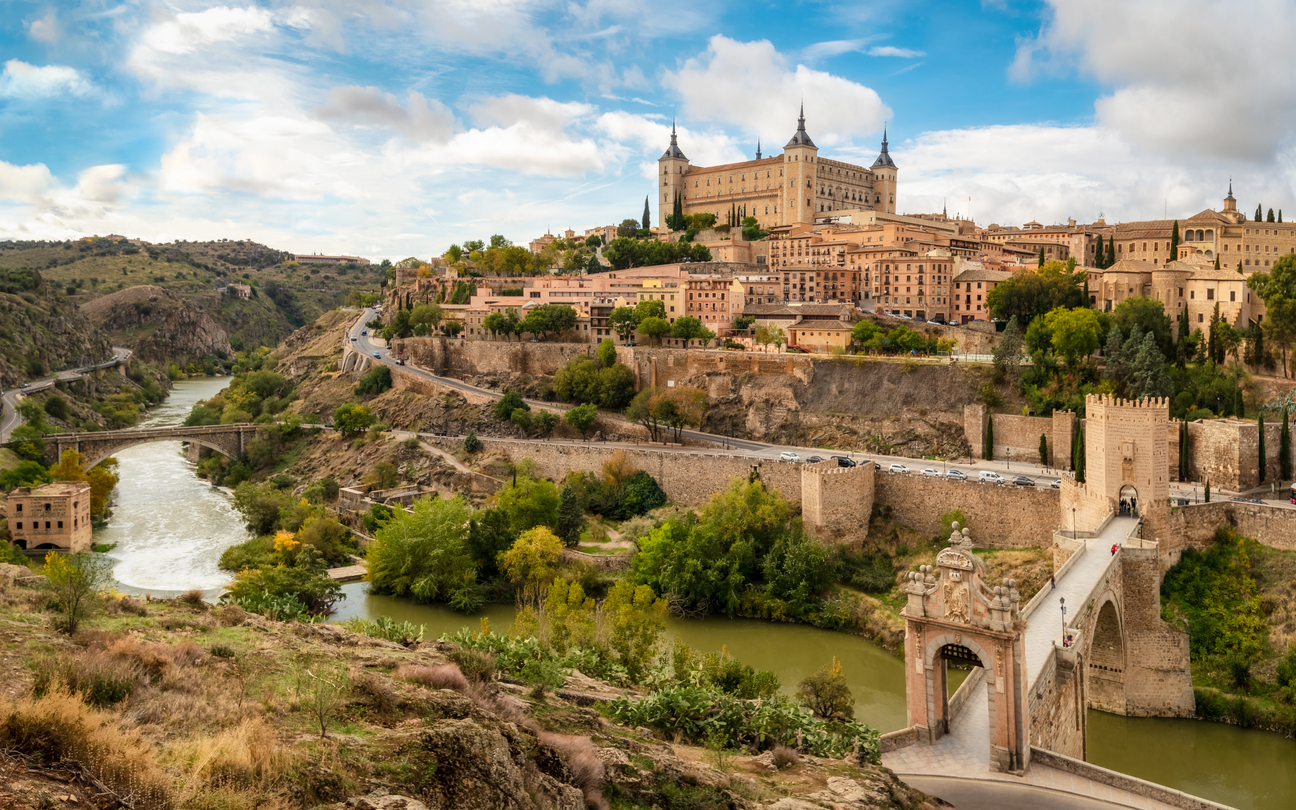 Madrid's fall temperatures hover around 70 degrees, perfect for couples anxious to explore this beautiful city filled with parks. The capital of Spain is a lively destination that will pique all interests.
From watching (or participating in) a striking flamenco show to dining at the world's oldest restaurant, or to enjoying the many museums that showcase outstanding artists such as Picasso and Dali, Madrid will delight everyone.
Gran Melia is an art-laden 19th century palace that treats its guests like royalty. Guests even receive access to an Audi to explore the city. The Gran Melia has the longest infinity pool in Europe, and accommodations and cuisine invariably exceed expectations. The hotel garden provides a tranquil retreat in a busy city.
Guests opting for Red Level receive extra attention and access to spaces and services not available to other guests.
Things to do:
Retiro Park served as a retreat for the royal family. These days, anyone can stroll through and enjoy the flower-filled gardens and statues.
The Crystal Palace is made from glass and has an impressive art collection. It is surrounded by a lovely lake.
The Teatro Real has been a stunning house for opera and ballet since 1850. It seats 1,800 people and enthralls its audiences with its orchestra and resident choir. The foyer's chandeliers hold a remnant of old, Spanish glamor.The Botin Restaurant was established in 1725 and is considered the world's oldest restaurant, especially famous for its suckling pigs and lamb dishes.