Familymoons are a great way for newly blended families to share in once in a lifetime experiences while creating a bond that will last forever. It may be that first time you all go to Europe together, travel cross country, volunteer in Costa Rica as a family or become a kid again at Disney. At Honeymoons.com we have researched some of the best Familymoons ideas for you and your new family to adventure to and have that trip you will never forget.
But just to get you started, here are our own picks for the top ten must-do Familymoons!
10. Costa Rica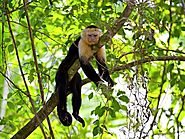 There's the trip that is forgotten as quickly as the resulting suntan fades…and then there's an adventure that redefines who you are, an experience in travel that lingers with you for years to come and becomes the benchmark by which all other vacations are measured. Enjoy a Costa Rica Familymoon Volunteer Adventure where you can stay at luxurious hotels, hike, bike and hang in the rainforests and volunteer at a wildlife rescue center. Learn more about the culture by choosing to stay with a nearby host family who will prepare local meals, teach the local customs and guide you around town. It will be an unforgettable Costa Rican holiday.
Want to Read More Interesting Top Ten Lists?