Another year, another crop of celebrity weddings that most of us could only dream about. 2016 saw everyone from Olympic heroes to  Hollywood actors and reality TV darlings tying the knot. Here, we've compiled the biggest celebrity weddings of the year, and sure enough, there's enough "star power" in this year's list to make Darth Vader jealous.
Ciara & Russel Wilson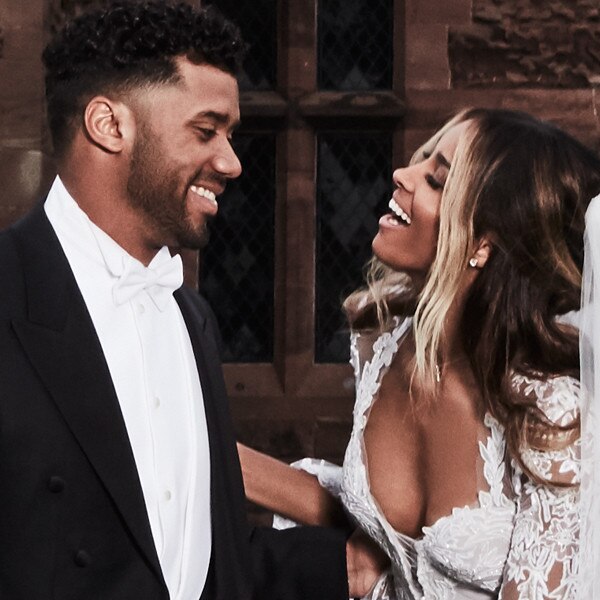 Saucy songwriter and model Ciara wed NFL star Russell Wilson said "I do" at  stunning Peckforton Castle in England over the summer, taking the ultimate vow only about a year after they started dating. Will their love last the test of time? We can't know for sure, but for now it looks like Wilson scored the ultimate touchdown by putting a ring on his talented and beautiful new bride.
Michael Phelps & Nicole Johnson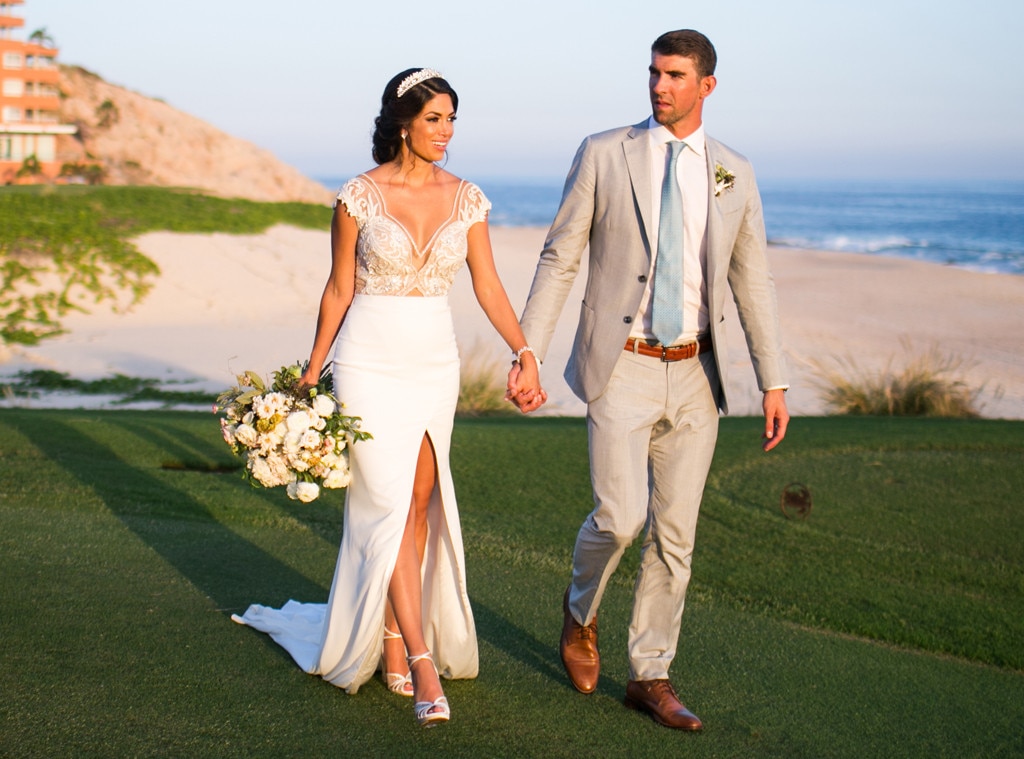 Olympic legend Michael Phelps held a super-secret summer ceremony with beautiful Nicole Johnson, later holding a more public and formal destination wedding celebration in Cabo San Lucas, Mexico. With their baby son Boomer Phelps watching on from the cradling arms of an elegant bridesmaid, this celebrity wedding scored extra cute points with our staff. With 23 Olympic gold medals, a baby boy, and a beautiful bride to boot, Phelps has more than ever to celebrate and we couldn't be happier for him.
Anna Camp & Skylar Austin
After being charmed by their performances when they co-starred in the hit movie Pitch Perfect, we're delighted to see that Anna Camp and Skylar Austin are just as adorable in real life! They booked a gorgeous California winery on the coast for their nuptials, and the star-powered ceremony included guests from Elizabeth Smart to fellow Pitch Perfect alum Brittany Snow. These newlyweds do everything together, so let's hope they stay in perfect tune for years to come.
Shawn Johnson & Andrew East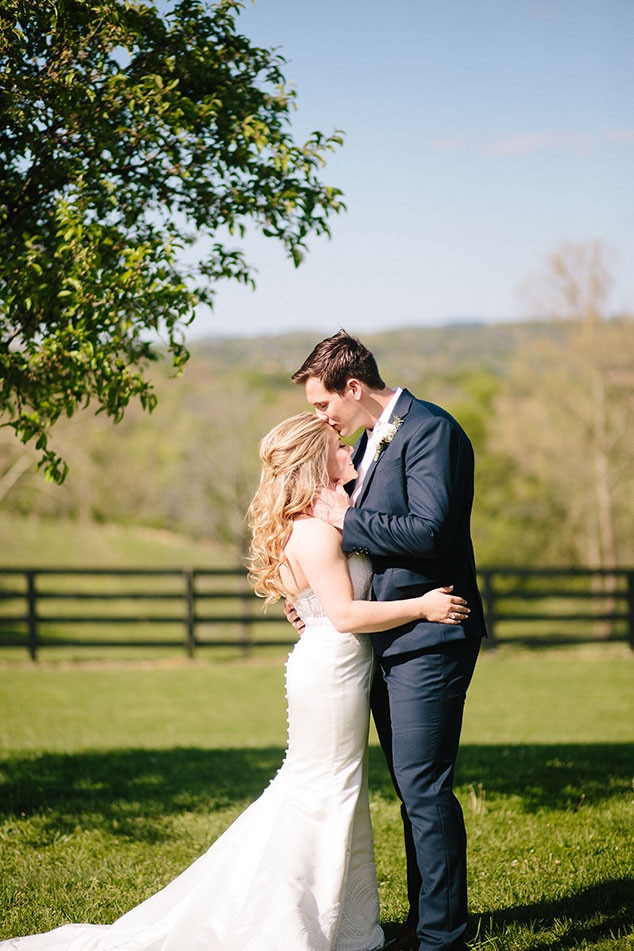 In another story of pure wedding gold, Olympic gymnast Shawn Johnson married NFL star hubby Andrew East in a countryside Tennessee  ceremony. For many couples the exchanging of vows is the highlight of the day, but this time it was when East, supported by his father on the piano, shocked the crowd with a surprise serenade of his new bride. "You've Got a Friend in Me" might have been the perfect song choice, setting the stage for a friendship--and romance--that we hope will last a lifetime.
Bob Guiney & Jessica Canyon
The Bachelor's Bob Guiney said "I do" with his beaming blonde bride Jessica Canyon at a south-of-the-border ceremony at Punta Mita, Mexico's uber-fancy Casa Entre Rocas resort. With two previous wives in his past, we can only hope that the third time will prove to be a charm for Bob Guiney, and he'll never have to try out for another season of The Bachelor ever again!
Dianna Agron & Winston Marshall
Glee's Dianna Agron said "I do" to Mumford and Sons banjoist Winston Marshall, and it's music to our ears. Their Morocco wedding featured camels and was the culmination of a nine-month engagement and followed relationships with other big stars like Katy Perry and Dave Franco. Let's hope their post-nuptial "glee" lasts until happily ever after!
Mia Goth & Shia LaBeouf
Nymphomaniac co-stars Mia Goth and longtime boyfriend Shie LaBeouf exchanged vows in a fun and cheesy ceremony in Las Vegas, officiated by none other than Elvis (or at least an Elvis impersonator). Unlike the other celelbrity weddings on this list, this affair was only ceremonial, as records show no marriage license was filed. That means it's more of a personal commitment than a legally-binding marriage, so we have to wonder if the duo will take their new roles as husband and wife seriously. Of course, in the world of celebrity breakups, they wouldn't be the first!
Kevin Hart & Eniko Parrish
Professional funnyman Kevin Hart married his sweetheart Eniko Parrish in a California ceremony where Eniko upped the sexy factor with one stunning dress for the wedding and another for the reception. Following two whole years of engagement, we can only assume these two were relieved to finally be able to call one another husband and wife!
Kym Johnson & Robert Herjavec
We always knew he was too sweet to be a shark! Robert Herjavec, multimillionaire businessman and Shark Tank reality TV star, tied the knot with professional dancer Kym Johnson after being partnered for a series of stunning performances on the hit show Dancing with the Stars. Rumor has it that Robert had Kym sign a hefty prenup before making their vows official, protecting his riches in case the marriage goes south. Sounds like he learned the hard way from his last marriage how much money can be lost in a divorce, but then again, maybe he really is a "shark" after all!
Derek Jeter & Hannah Davis
Baseball royal Derek Jeter wedded mega-model Hannah Davis in a Napa Valley, California ceremony last July with about 100 guests. Hannah says the ceremony was casual, but you wouldn't know it from her multiple breathtaking Vera Wang ceremony and reception gowns.  Let's hope this one turns out to be a "home run" for them both!