A honeymoon is nothing short of an extraordinary holiday. You spend days savoring that newly married bliss — in a paradise-like location to boot. And if you're looking for a place that takes romance and vacation to a higher level, look no further than a Hilton property. Hilton all-inclusive resorts, in particular, epitomize the quintessential honeymoon experience.
Why Hilton All-Inclusive Resorts Are Perfect For Couples 
You've spent long months preparing for your big day. After you've tied the knot, it's only fitting to indulge in a vacation where stress and hassle have no place. This is where the best Hilton all-inclusive resorts come in.
These properties offer the ideal setting for couples to create timeless memories. Whether you're looking to explore the turquoise waters of the Caribbean or soak up that Mediterranean sun, they've got you covered. In recent years, the brand has heightened its investments in all-inclusive resorts to make vacationing a more efficient experience for couples like you. With accommodation, meals, and several activities already covered, you will surely enjoy your long-awaited romantic escape better.
Best Hilton All Inclusive Resorts 2024
Beautiful locations and the brand's unwavering commitment to world-class hospitality make Hilton one of the preferred choices for honeymooners. Here are 14 Hilton all inclusive resorts for your consideration.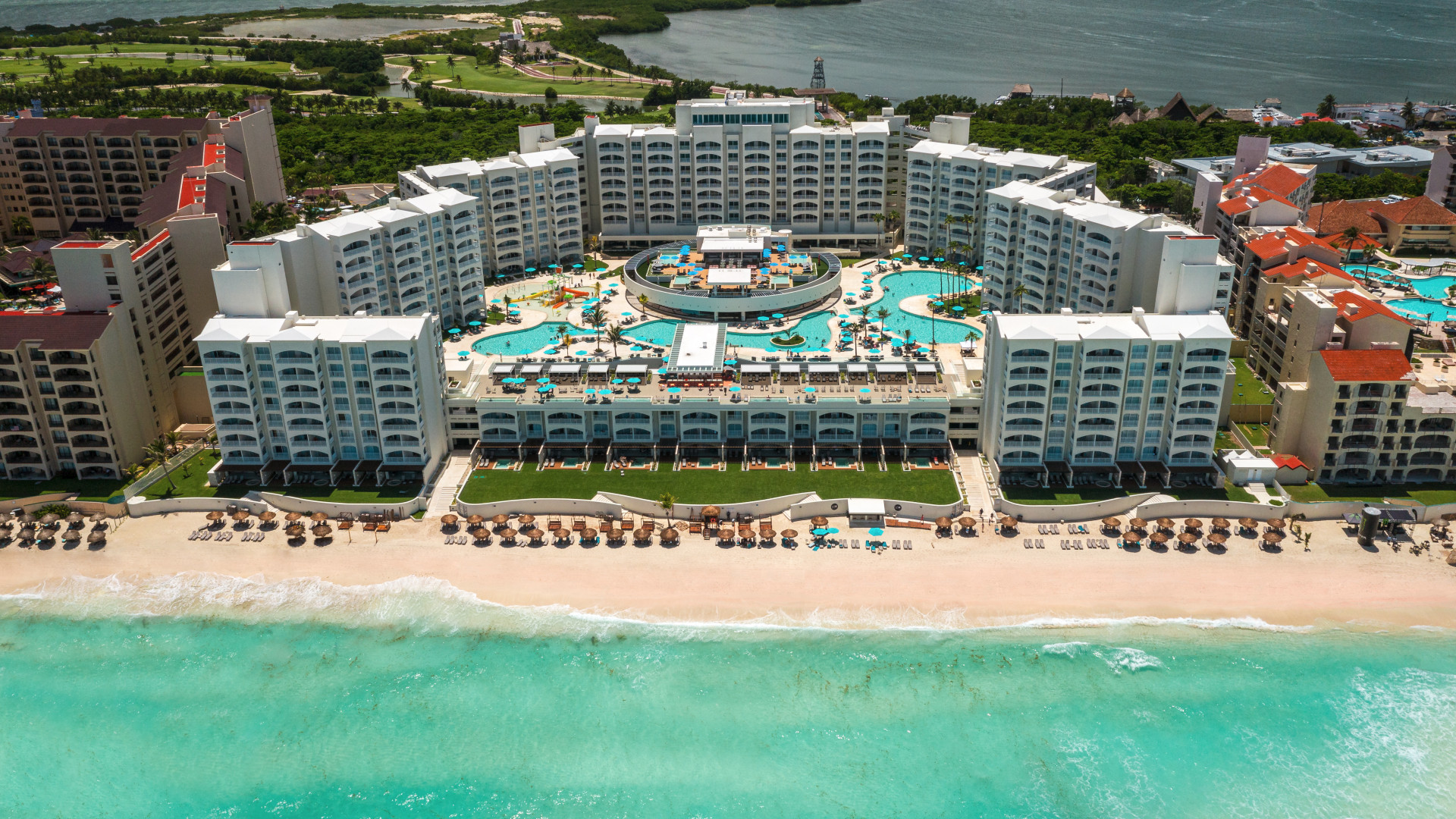 Location: Cancun, Quintana Roo, Mexico
Room Rates: $410 to $660
Special Deal/s: 2X Points for Hilton Honors members, Honors Discount Advance Purchase
Experience It Offers
Want to experience the Hilton all-inclusive resorts Cancun has to offer? This is one of your options. Located at the heart of Cancun's famous Hotel Zone, this oasis offers many enticing features: top-notch restaurants and bars, a spa and wellness hub, pools, and a stunning beach (complete with a beachside service).
Staying here means you can dive into Caribbean adventures. Explore the underwater wonders with snorkeling gear, reserve a sailboat, or kayak to venture into the enchanting Nichupté Lagoon. You can also explore the city and its landmark steeped-in-history attractions.
---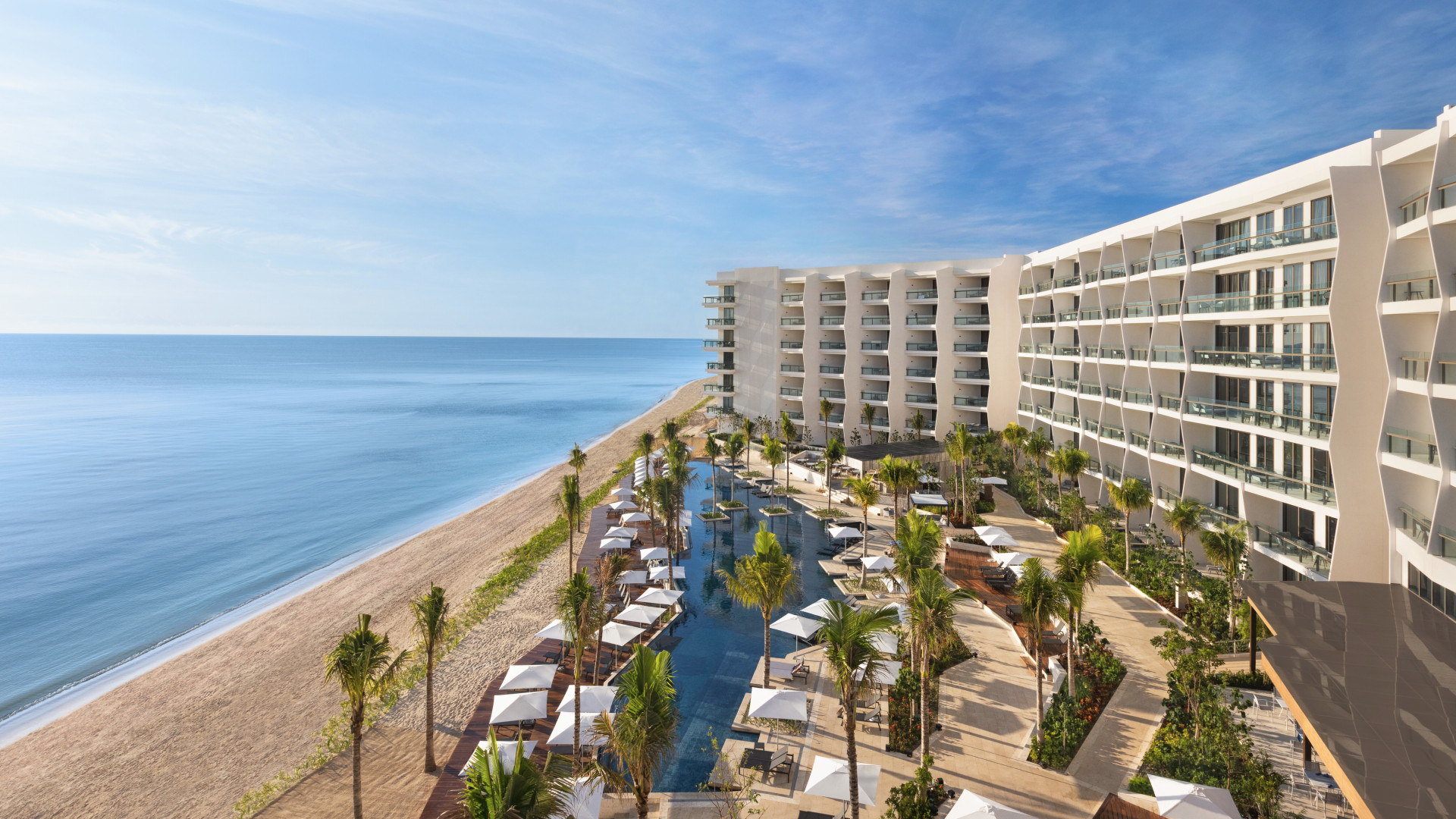 Location: Cancun, Quintana Roo, Mexico
Room Rates: $400 to $670
Special Deal/s: Make My Stay, More to My Stay, Airport Transfer Included Package
Experience It Offers
One of the newer properties in Hilton's portfolio, Hilton Cancun sits along a tranquil stretch of secluded sandy coastline behind a mangrove preserve. It's conveniently situated approximately half an hour from the bustling main hotel zone and just a 20-minute drive from the Cancun International Airport.
Ideal for honeymooners like you, this resort will let you unplug and reconnect with nature — its magnificent oceanfront view is well-complemented by lush vegetation. For your activities, you can access amenities like infinity pools and a gym. We recommend booking one of the swim-up suites for better pool access.
For your gastronomic experience, choose from their ten dining hubs, a delectable steakhouse, a cozy coffee shop, and an all-you-can-eat churro and ice cream shop.
---
Location: Playa del Carmen, Quintana Roo, Mexico
Room Rates: $170 to 260
Special Deal/s: Soak It Up (Enjoy round-trip transfers at Dalaman airport, a welcome package of sparkling wine, fruit, and dessert, early check-in, late check-out, romantic dinner, massage, and thoughtful amenities), All Inclusive Plus (Access13 extra restaurants and lounges, along with two pools, a private beach with server service, and an array of activities, such as yoga, salsa dance classes, and gourmet tastings)
Experience It Offers
Many Hilton all inclusive resorts are family-friendly. And if you prefer to stay at an adults-only oasis, this is for you. Just keep in mind that this doesn't have direct beach access as it's located on the iconic 5th Avenue, where a vibrant urban atmosphere awaits you and your loved one.
This upscale retreat offers a rooftop infinity pool with breathtaking sea views and a full-service spa for your ultimate relaxation. Satisfy your culinary cravings at one of the three restaurants, and get your caffeine fix at the on-site coffee shop. You'll love it here if you want to explore shops, more dining hubs, and a lively nightlife.
If you want to hit the beach, take their All-Inclusive Plus package. This offers access to oceanfront amenities at its sister resort, Hilton Playa del Carmen.
---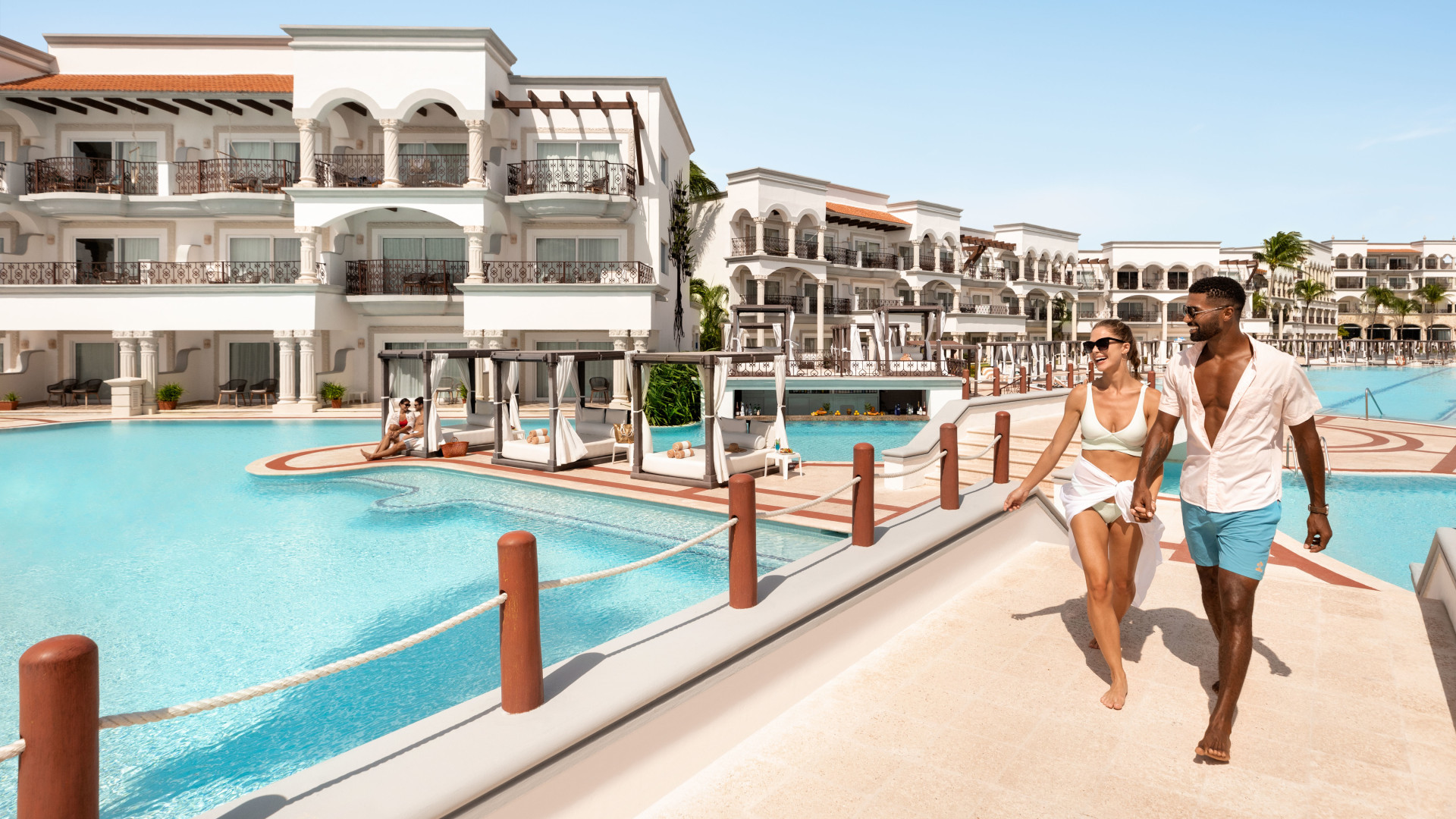 Location: Playa del Carmen, Quintana Roo, Mexico
Room Rates: $300 to $440
Special Deal/s: Soak It Up (Enjoy 10% off room upgrades and 15% off spa services)
Experience It Offers
If you're headed to Playa del Carmen for your honeymoon, and a seaside escape is what you want, this is the Hilton resort to book. This property is an all-inclusive and all-adult resort.
It's an adults-only, all-suite paradise that offers a beach club, two inviting pools, a well-equipped fitness center, and the tranquil Innan Spa, where you can indulge in massages, facials, and salon services (available for an additional fee). And with a remarkable array of restaurants and bars on the property, your culinary journey will be extraordinary.
Seeking a taste of Mexico's iconic tequila? Here's the good news: The resort has a tequila specialty bar to satisfy your curiosity. Want a more luxurious stay? Choose a Presidential Suite boasting a private rooftop pool, a double whirlpool spa, and nearly 2,000 square feet of space.
---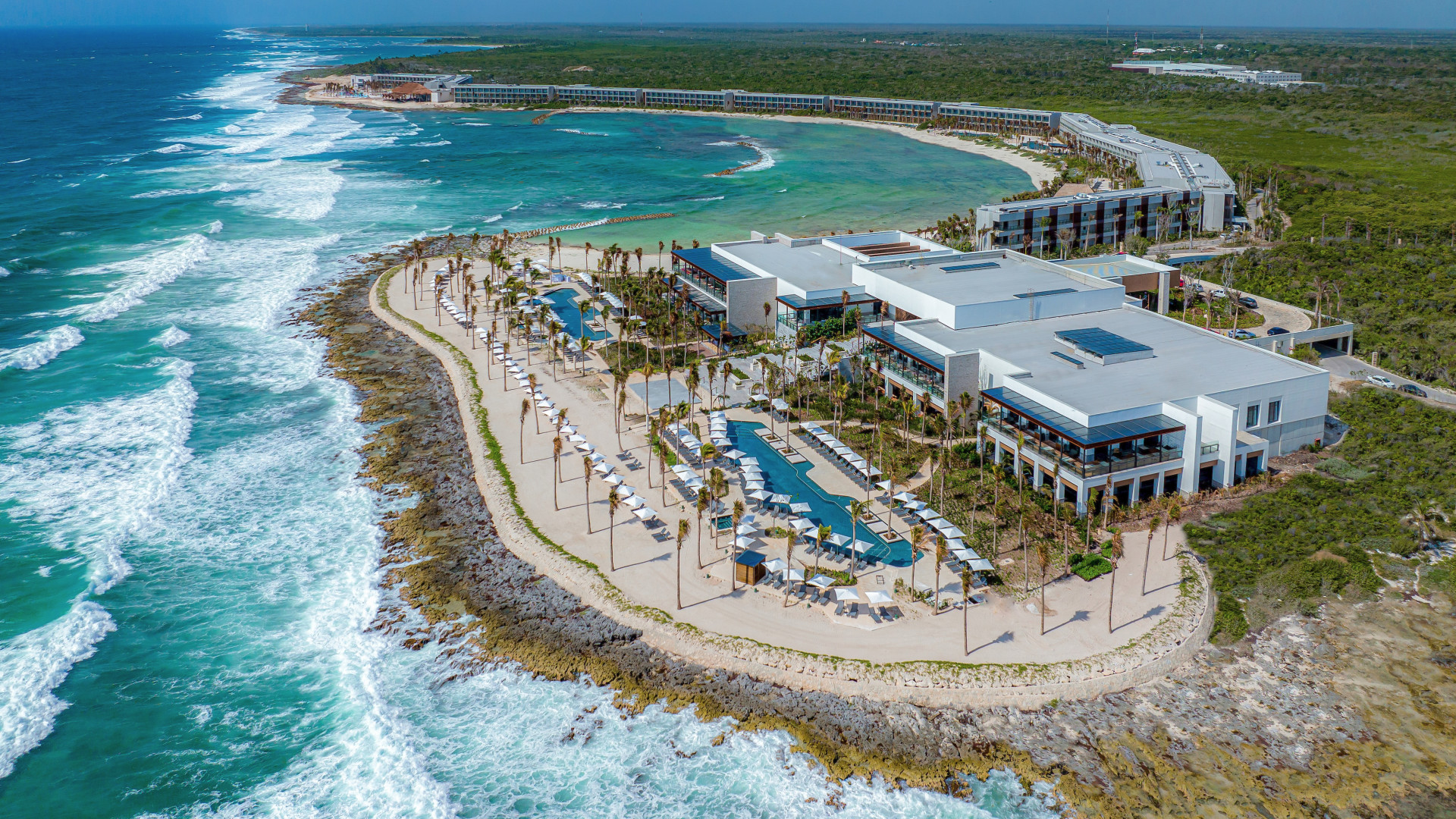 Location: Tulum, Quintana Roo, Mexico
Room Rates: $290 to $420
Special Deal/s: More to Your Stay, Stay Longer in Paradise (Book your stay for a minimum of 4 nights to enjoy a 20% discount on all room types)
Experience It Offers
There's something heavenly about the beauty of Tulum. White sands, tranquil ocean, and the proximity of ancient ruins all contribute to the Mexican city's allure. If you want to stay here for your post-wedding getaway, this "eco-chic" Hilton sanctuary is one of the best resorts to be in.
It is along the coast, and the accommodations come in the form of two-story villa-style buildings. You and your sweetheart will have access to a long expanse of a private beach, complete with captivating ocean vistas. In terms of amenities, the resort is equipped with eight pools and a dedicated family zone (which is ideal for honeymooners like you). Enrich your stay with daily cultural activities, including Mayan ruins tours.
You can choose from standard guest rooms or suites or opt for an Enclave accommodation, which offers additional amenities, priority reservations to restaurants, and access to an exclusive lounge. You'll also have the option to visit the Conrad Spa located nearby at the resort's sister property.
---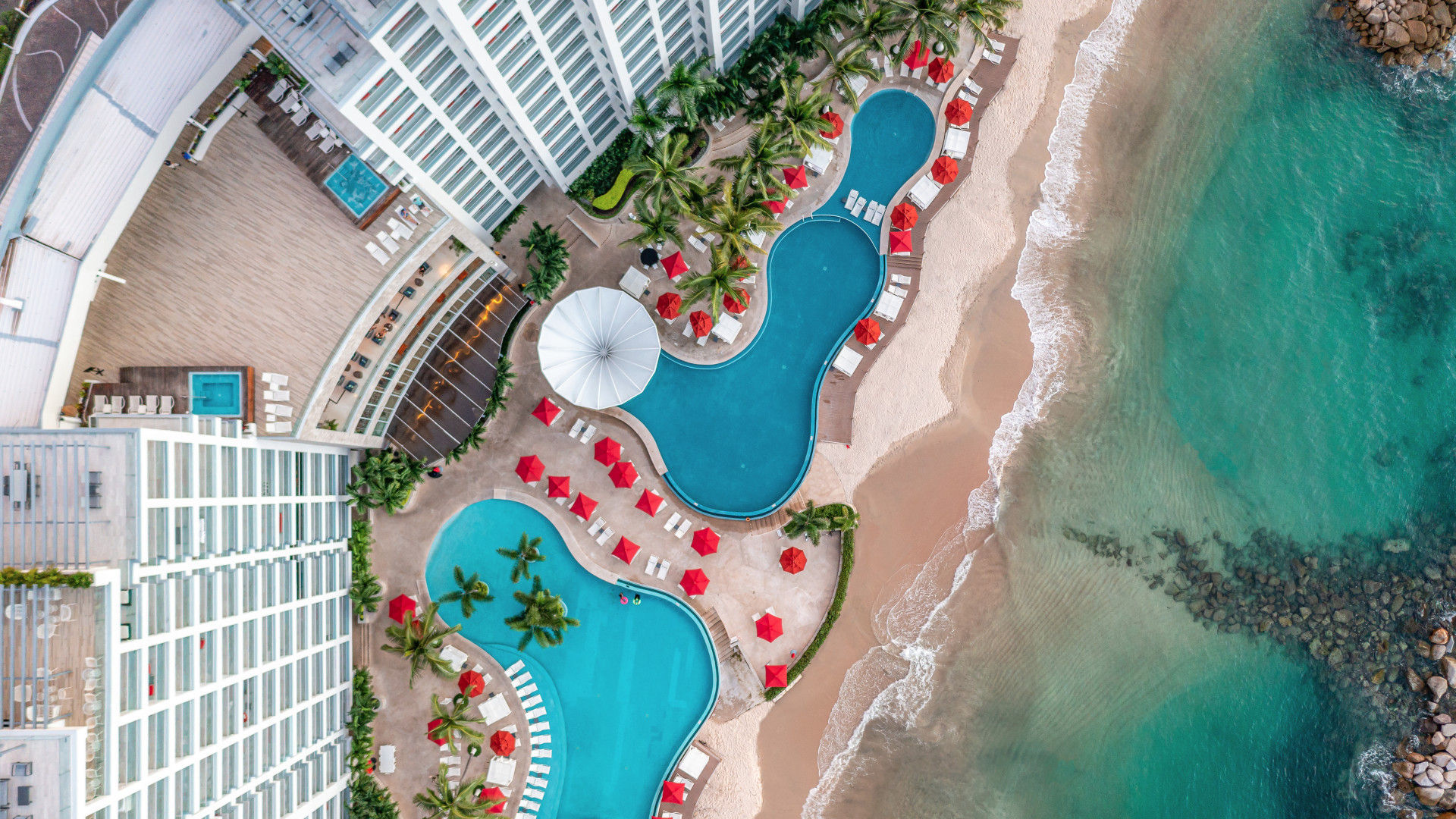 Location: Puerto Vallarta, Mexico
Room Rates: $340 to $490
Special Deal/s: Honors Discount Advance Purchase, Make My Stay (up to $100 worth of credits for at least five-night stays), More to My Stay ($200 worth of credits for at least a seven-night stay)
Experience It Offers
Set between the stunning beaches of Bahia Banderas and downtown Puerto Vallarta, this resort provides a haven for your unforgettable honeymoon.
This all-inclusive features rooms with private balconies, oceanfront infinity pools, and a good list of activities — from yoga sessions to hiking. Their Eforea Spa is always ready to pamper you with rejuvenating treatments and salon services should you wish to enhance your relaxation further.
The property especially comes alive at sundown with a sunset pool party and nightly entertainment. And if you want an elevated stay, consider booking their Enclave rooms, which include access to an exclusive lounge and additional indulgences.
Beyond the resort, you can visit the iconic El Malecon boardwalk, a 5-minute drive from the property.
---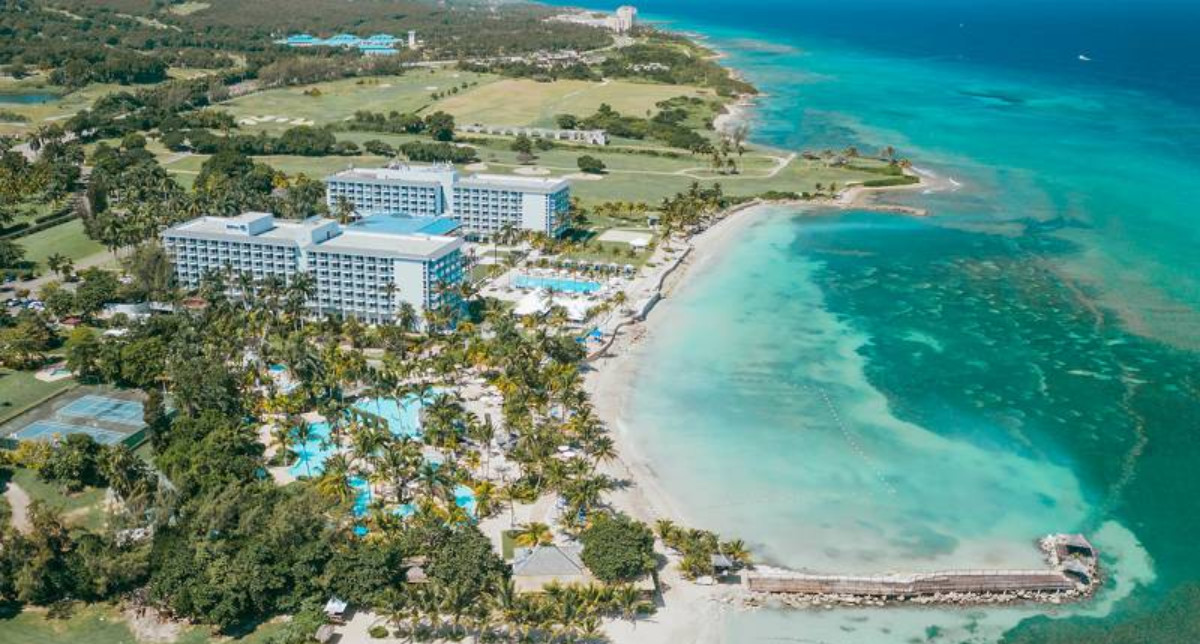 Location: Montego Bay, Jamaica
Room Rates: $350 to $475
Special Deal/s: Book Direct (Enjoy a 10% discount on spa services. This comes on top of a 10% discount on romantic dinners and a 5% discount on photo packages)
Experience It Offers
We'll admit it: Hilton all-inclusive resorts Caribbean just hit differently. Case in point: This Hilton property that you can find in one of the most beautiful and vibrant parts of Jamaica.
This luxurious gem is set on a private beach along the mesmerizing Caribbean Sea and sits on the grounds of an 18th-century sugar plantation. Here, you will be blessed with both majestic sea and mountain views. And, with its proximity to the sea, you can indulge in non-motorized water sports to your heart's content. You can also simply unwind by the pool or spa or even enjoy a thrilling day at the water park. Craving something land-based? Golf and tennis are among the sports you can try.
Better Than Hilton?
While Hilton all-inclusive resorts Jamaica offer exceptional stays, nothing beats the experience of staying at adults-only properties. This is where Sandals resorts like Sandals Montego Bay and Sandals Royal Caribbean enter the picture.
With two neighboring resorts and a full exchange program, you can enjoy twice the fun with a complimentary shuttle. Indulge in up to 21 dining options and expand the amenities you can check out. Additionally, they offer over-the-water collections comprising gazebos, villas, bungalows, a bar, and a chapel.
---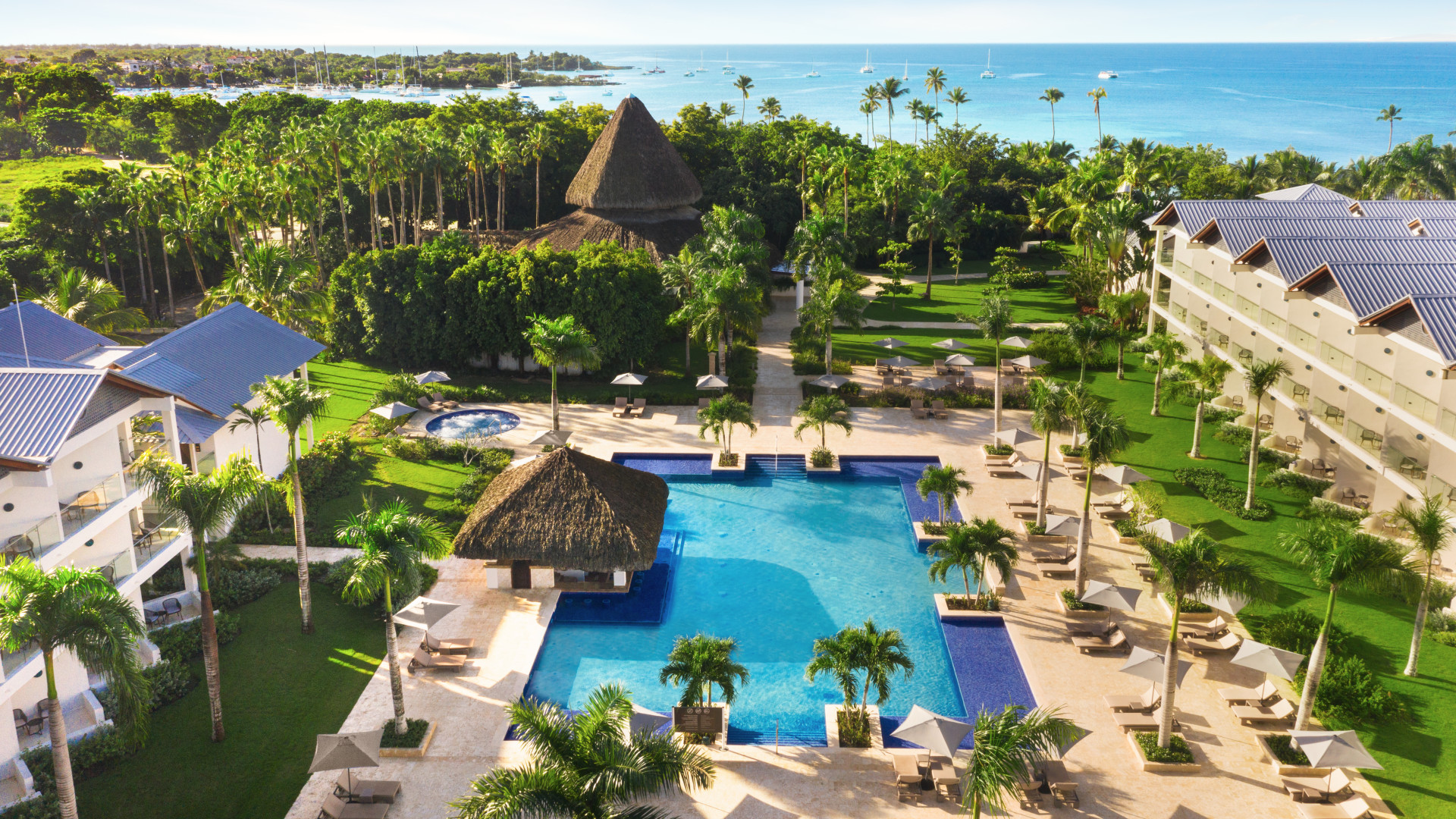 Location: Dominican Republic
Room Rates: $300 to $600
Special Deal/s: Soak It Up (get 10% off room upgrades, 10% off cabanas, and 10% off photo sessions)
Experience It Offers
Dreaming of a kid-free escape in the captivating Dominican Republic? Hilton La Romana is your ideal destination. Lavish suites, sparkling serene pools, and a sensational spa are just some reasons why staying here is worth the effort and resources.
Pro tip: Opt for a Premium Club suite and get upgraded amenities like personalized check-in and check-out, access to the VIP Lounge, a private beach area and pool with a swim-up bar, and entry to the Mediterranean restaurant for breakfast and lunch.
Wondering what activities can you do here? Enjoy water- and land-based sports ranging from windsurfing and catamaran sailing to kayaking, snorkeling, and beach volleyball.
---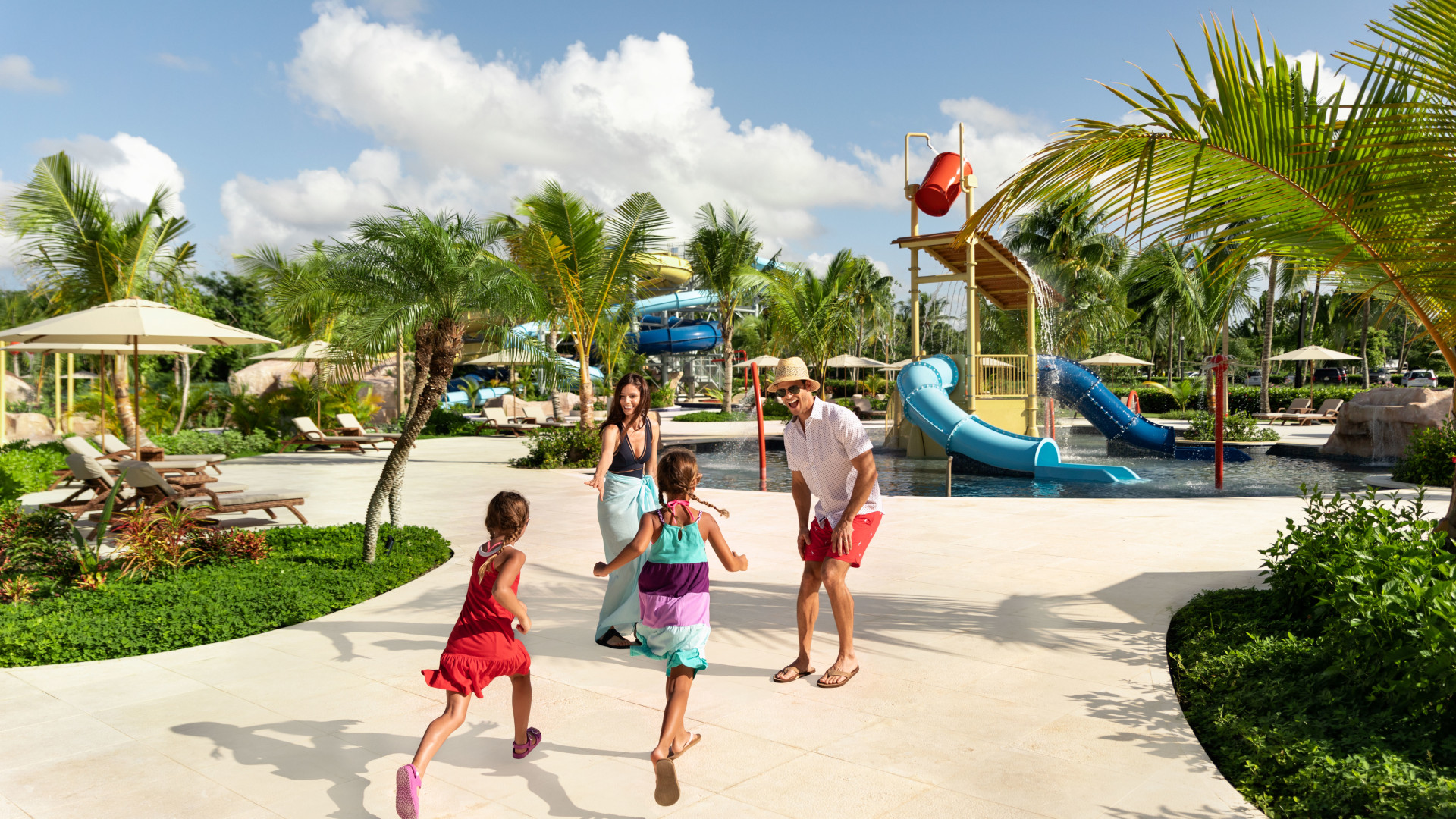 Location: Dominican Republic
Room Rates: $360 to $700
Special Deal/s: Soak It Up (get 10% off room upgrades, 10% off cabanas, and 10% off photo sessions)
Experience It Offers
This sister resort of the property mentioned above caters to families. So, if you're looking for a place with the liveliness of a family-friendly resort, this is the better option. The resort is a hub of excitement, offering activities such as snorkeling, scuba diving, and beach volleyball, all against the backdrop of a magnificent pool, five diverse dining venues, and a serene, unspoiled beach.
A rejuvenating spa and a thrilling casino are also included among its amenities. Note that these two are shared with its adults-only sister resort. And like the resort above, you can elevate your stay by choosing a Premium Club room.
---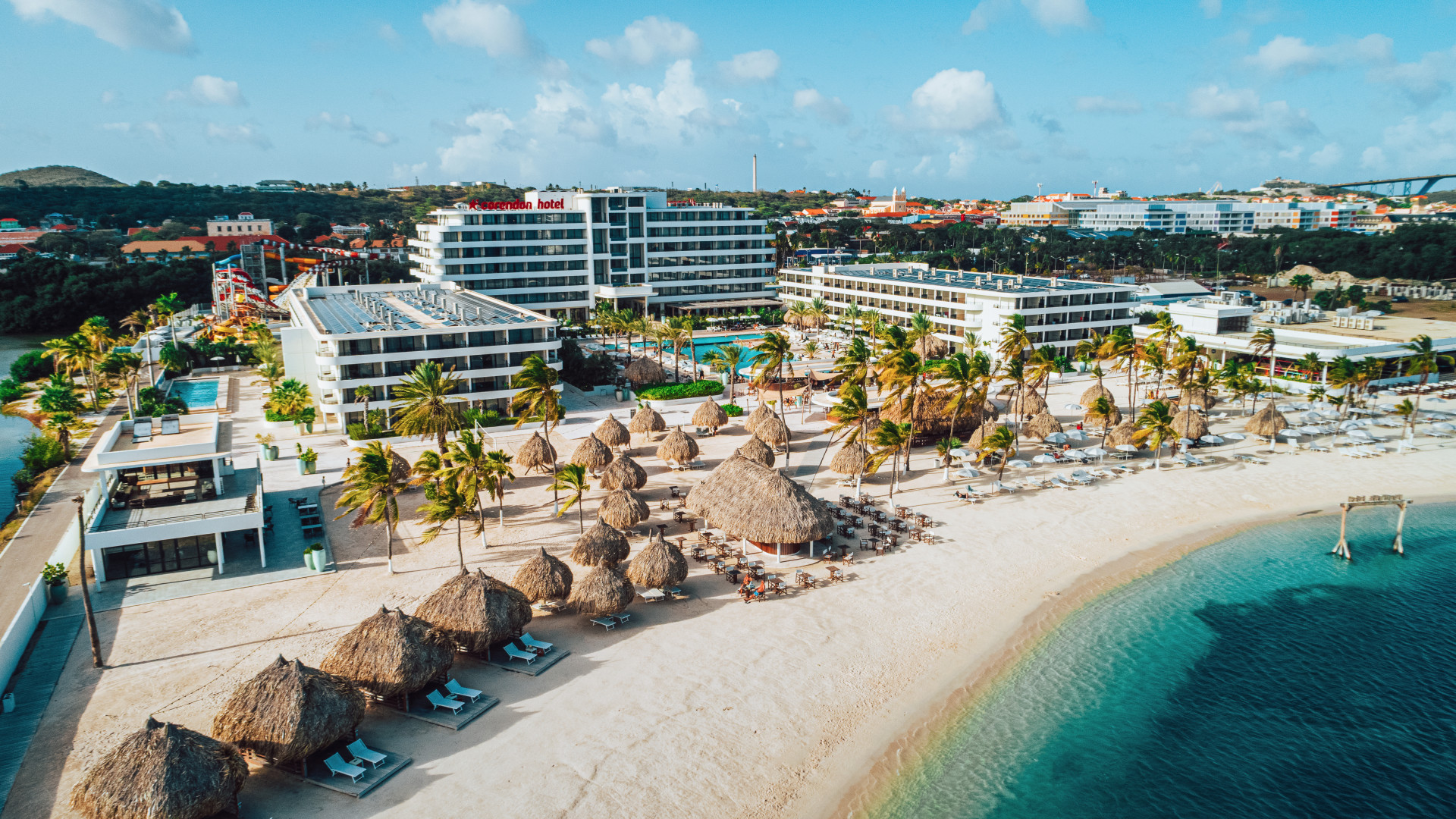 Location: Willemstad, Curaçao
Room Rates: $320 to $475
Special Deal/s: Honeymoon Package (This includes a chilled bottle of sparkling wine, a romantic turn-down service, and the option of enjoying breakfast in bed on a day of your choice), Romantic Dinner Package (In this offer, you can choose your beach or cabana location, dine at a romantically decorated table with a five-course menu. This comes with a bottle of champagne and unlimited local beverages)
Experience It Offers
Another family-friendly resort from Hilton, this property lets you soak up the radiant sun on an exclusive private beach. If you're up for some adventures, exciting watersport activities await you. If you want to take a break from the sea, they have four inviting pools — plus an aquapark and a dive center to boot.
For a touch of sophistication, the resort is equipped with a cigar lounge, where you and your partner enjoy a fine selection of cigars. And to achieve the utmost relaxation, treat yourself to a soothing massage by the tranquil sea.
Better Than Hilton?
Hilton all inclusive resorts do offer quite the extraordinary experience. But if you're in Curaçao and are looking for something exclusive for adults, choose Sandals Royal Curaçao as your base.
Here, you can explore 44 oceanfront acres of paradise, where 351 rooms and suites, including Awa Seaside Bungalows with private pools and Kurason Island Poolside Bungalows, offer luxury. Enjoy the Dos Awa two-level infinity pool, Dutch bike rides, and 11 dining options, including seaside food trucks. You and your loved one can also experience the brand's first-ever off-site dining program, Island Inclusive.
---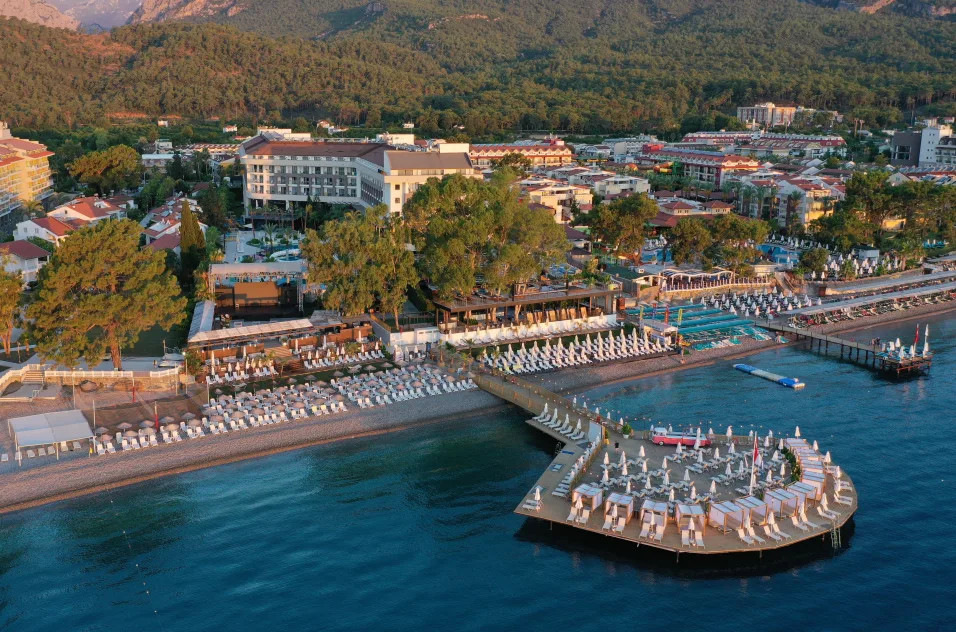 Location: Kemer/Antalya, Turkey
Room Rates: $180 to $340
Special Deal/s: Honors Discount Advance Purchase
Experience It Offers
If a coastal getaway is your dream, this is the place to be. One of the best Hilton all-inclusive resorts Turkey offers, this property is nestled along the stunning northern Kemer coastline.
As you and your sweetheart step into our resort, you'll be greeted by the private beach — where the brilliant blue Mediterranean Sea immediately provides a sense of calm. During your stay here, you can simply lounge in beach cabanas, dip in the pool, or soak up the sun on a private pier.
Of course, culinary adventures also await. They have food trucks and à la carte restaurants, all serving Mediterranean, Turkish, and international cuisine. Their open-air rooftop lounge offers spectacular sunset views and a perfect backdrop for those oh-so-romantic honeymoon snaps.
---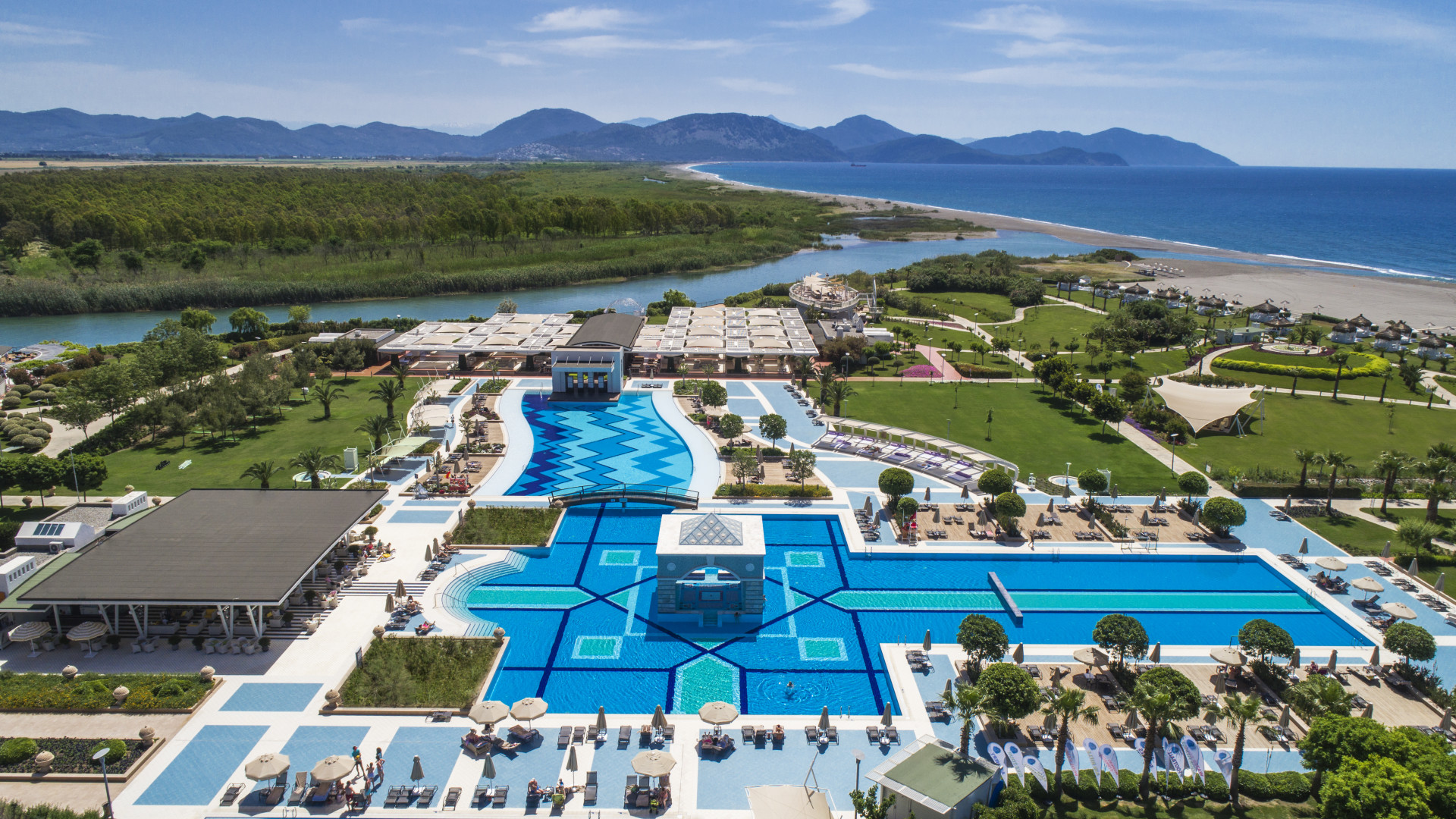 Location: Ortaca/Muğla, Turkey
Room Rates: $165 to $470
Special Deal/s: Honeymoon package (This includes round-trip airport transfers at Dalaman, a welcome gift of sparkling wine, a fruit basket, chocolates, and dessert. You will also enjoy a morning breakfast in your room, a romantic dinner at à la carte restaurants, and a 30-minute massage, among others)
Experience It Offers
This is another Hilton gem in Turkey. So, if you're seeking alternatives to renowned all-inclusive resorts in Mexico and the Caribbean, know that you've got this as an option in the Mediterranean.
Tucked in the picturesque Mugla province — where the Dalaman River meets the Mediterranean Sea — this beautifully adorned and affordably priced resort welcomes travelers like you with a wealth of delightful surprises.
It has over 20 restaurants and bars to tantalize your taste buds. Additionally, it boasts 10 (yes, you read this right) pools, a fitness center, and a spa to ensure there's never a dull moment. And we must say that their spa is a standout feature. Here, you can explore a sanctuary of rejuvenation featuring 18 treatment rooms, four VIP rooms, a VIP Turkish bath, saunas, a steam room, and a relaxation pool.
There's also the nearby beach town of Oludeniz, where you can find one of the world's most stunning beaches. With all this, you have plenty of opportunities to soak up the sun and infuse you with newfound vitality as you embrace the new chapter of your life.
---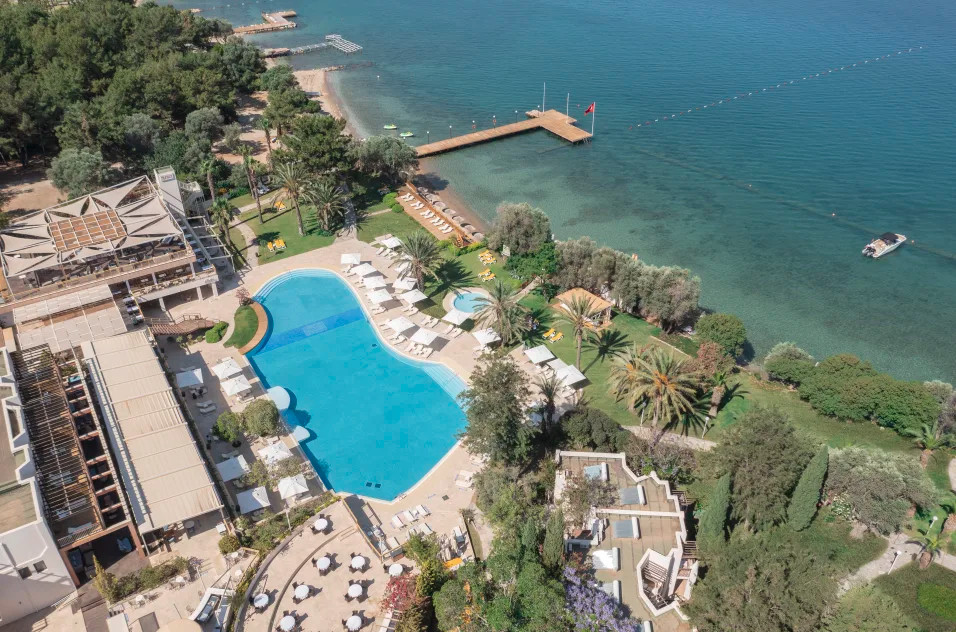 Location: Bodrum/Muğla, Turkey
Room Rates: $120 to $460
Special Deal/s: Honors Discount Advance Purchase
Experience It Offers
This Hilton resort sits along the azure and alluring Aegean Sea. Nestled amid lush gardens and boasting a private sandy beach, this property offers the perfect blend of relaxation and adventure.
Take in the serene atmosphere at their spa, challenge your sweetheart to a game of tennis, or indulge in thrilling water sports for your adrenaline rush. And when it comes to dining, they have various restaurants and bars to cater to your discerning taste.
You can always explore nearby attractions if you think the resort's amenities aren't enough. The historic Bodrum Castle and the bustling Bodrum city center are just a 15-minute drive from DoubleTree Bodrum Isil Club.
---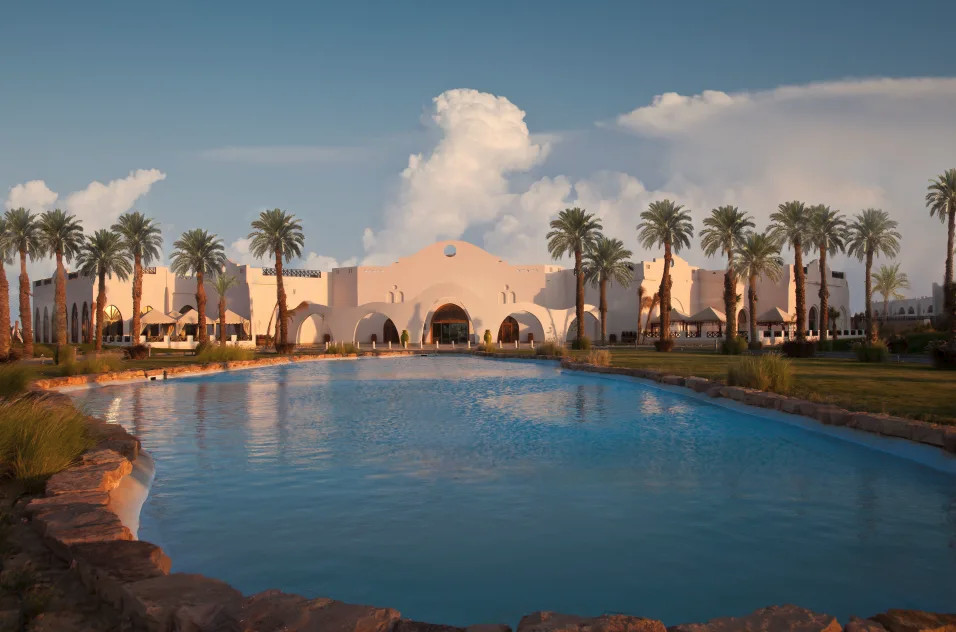 Location: Marsa Alam, Egypt
Room Rates: $150 to $220
Special Deal/s: 2X Points for Hilton Honors members, Honors Discount Advance Purchase
Experience It Offers
Are you looking for an unconventional place for a honeymoon? Enjoy a serene Red Sea escape at Hilton Marsa Alam Nubian Resort. Exuding the charm of Nubian-inspired architecture, the resort features 23 thoughtfully designed buildings that pay tribute to the local culture.
The property offers direct access to Abu Dabbab Beach. One of the best things you can enjoy is to explore its unspoiled coral reef. Snorkeling and diving are simply a must-try. Apart from mesmerizing corals, you and your loved one can have intimate encounters with giant sea turtles, guitar sharks, and the endangered dugong or sea cows.
While here, don't miss the chance to delight your palate with authentic Mediterranean and Middle Eastern flavors. And though this is a family-friendly resort, it has a dedicated kids' club that provides daily activities to keep the youngsters busy.