Are you and your beloved seeking the perfect honeymoon destination? Look no further than Sandals Ochi Beach Resort! Nestled on over 100 acres of lush hillside gardens overlooking the Caribbean Sea, this trendy yet intimate resort promises an unforgettable romantic experience.
With its breathtaking mountain and panoramic ocean views, Sandals Ochi Beach Resort offers honeymooners an exceptional blend of adventure, relaxation, and indulgence.
Let's delve into the enchanting features that make this resort an idyllic haven for honeymooners.
Highlights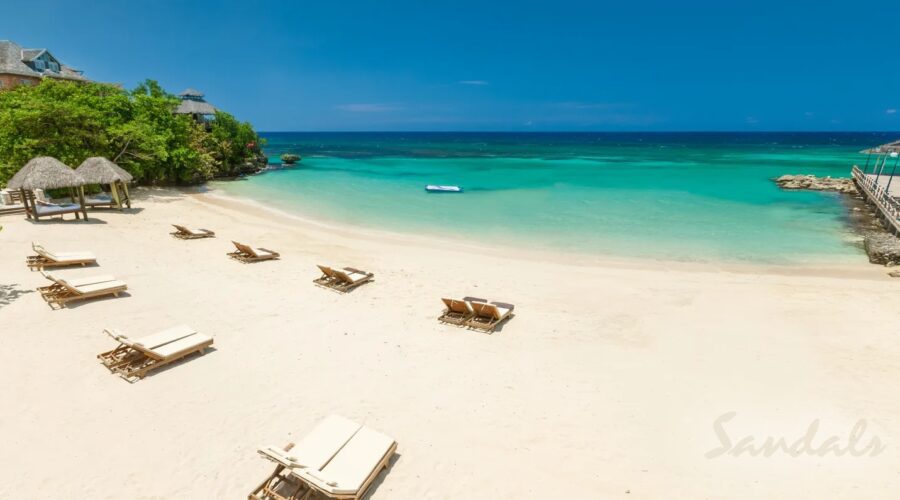 Beach & Water
Prepare to be amazed by the captivating beauty of the beach at Sandals Ochi Beach Resort.
Whether you desire a leisurely stroll along the sandy shores or wish to immerse yourselves in the crystal-clear waters, this resort's beach has something for every couple.
Picture yourselves savoring a private sunset picnic or engaging in thrilling water sports together.
The beach is thoughtfully designed to provide moments of seclusion when you seek them, and lively beach parties at the chic Ochi Beach Club when you're in the mood for celebration.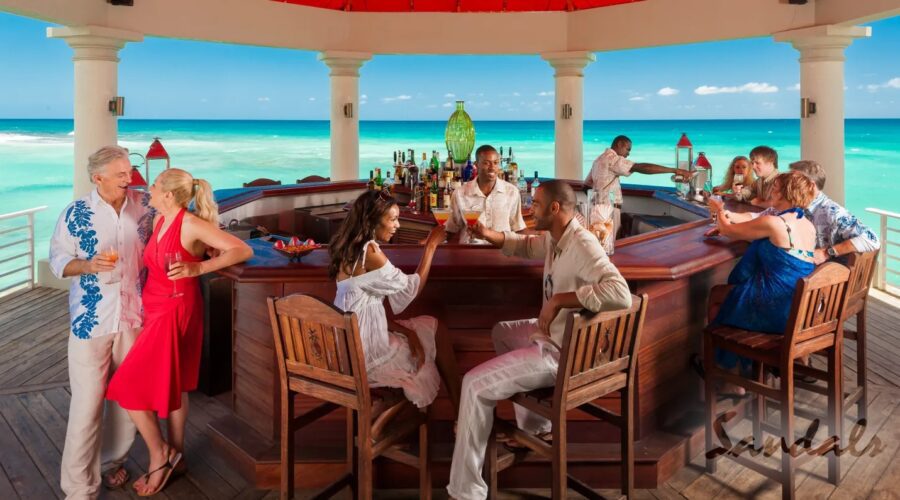 Restaurants & Bars
Culinary delights await you and your partner at Sandals Ochi Beach Resort. With an impressive selection of 16 dining options and 11 bars, you'll embark on a gastronomic journey like no other.
From delectable dishes prepared by world-class chefs to intimate candlelit dinners on the beach, each dining experience is carefully curated to heighten your romance.
Don't miss the chance to explore the Caribbean's first truly authentic speakeasy, the "Rabbit Hole," for a unique and thrilling evening of clandestine elegance.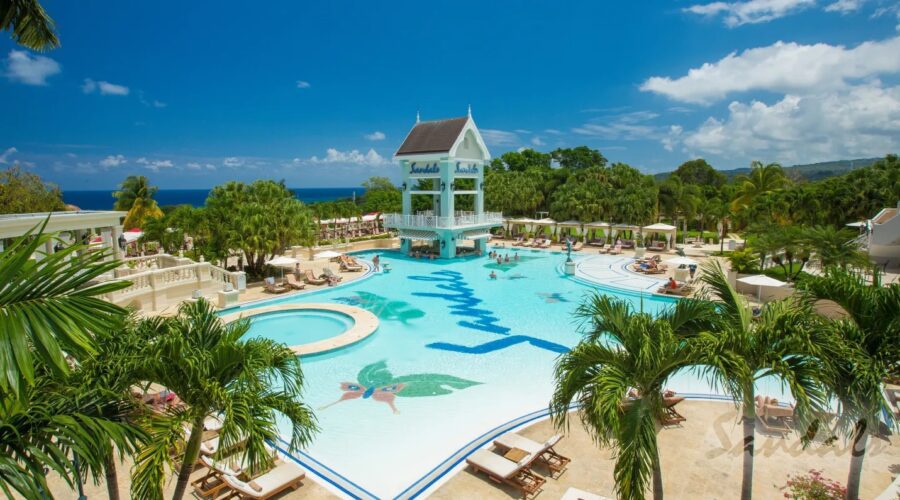 Pools
Indulge in luxury and privacy with the resort's array of pools.
Choose from beachfront, garden, or hillside options, and if you desire an extra touch of opulence, opt for one of the spacious villas boasting private or shared pools.
With a staggering 105 freshwater pools, you and your partner can find your own little oasis of serenity. The inviting waters invite you to unwind and create cherished memories of leisurely days spent together.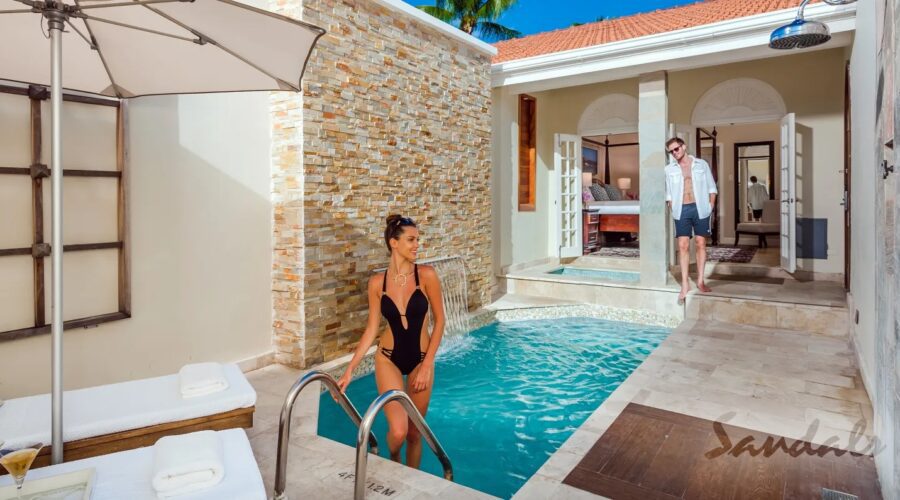 Unique Features
Sandals Ochi Beach Resort prides itself on offering an array of unique features that set it apart from other honeymoon destinations. For adventurous couples, the resort boasts the Caribbean's only rock climbing wall, perfect for bonding and creating lasting memories.
Additionally, golf enthusiasts will relish complimentary green fees and transfers to the nearby Upton Estate Golf & Country Club, promising moments of friendly competition amid scenic landscapes.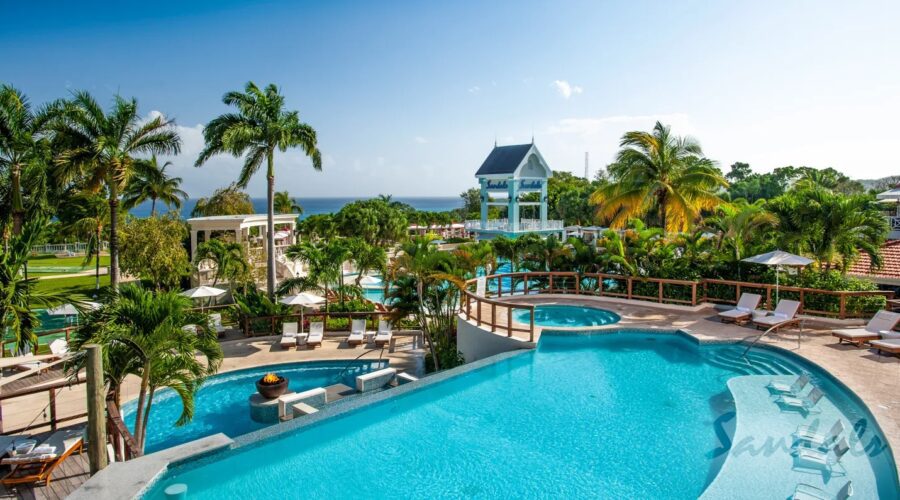 Romantic Elements
Amidst the natural beauty and impressive amenities, Sandals Ochi Beach Resort ensures romance is always in the air.
For an unparalleled experience, explore the Over-the-Water Collection, including the exquisite Kelly's Dockside restaurant, the charming Latitudes Over Water Bar, and the captivating Over-The-Water Serenity Wedding Chapel with breathtaking panoramic views.
These romantic elements guarantee unforgettable moments that will remain etched in your hearts forever.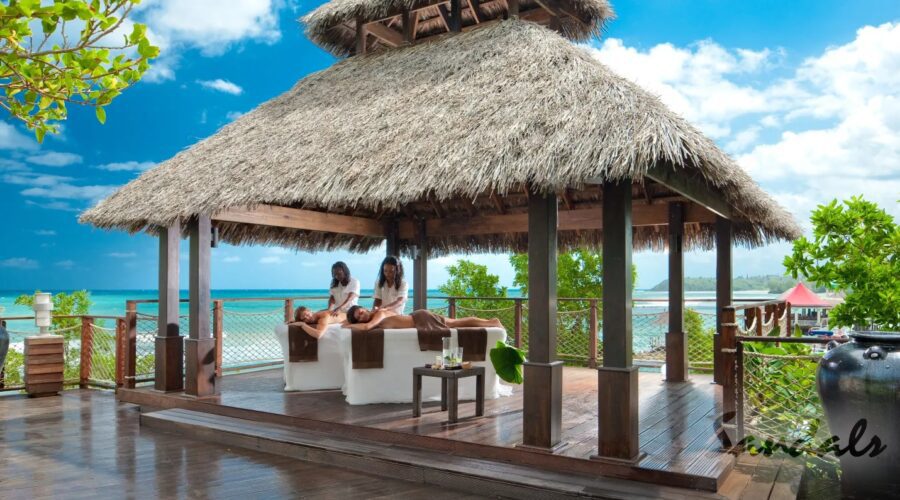 Honeymoon Highlights
For honeymooners seeking a perfect blend of adventure, luxury, and romance, Sandals Ochi Beach Resort beckons with open arms.
With its diverse offerings, from stunning beaches and lavish pools to extraordinary dining experiences and unique features, this resort ensures your honeymoon will be nothing short of magical.
Treat yourselves to an unforgettable journey of love and create memories that will last a lifetime at Sandals Ochi Beach Resort.