Highlights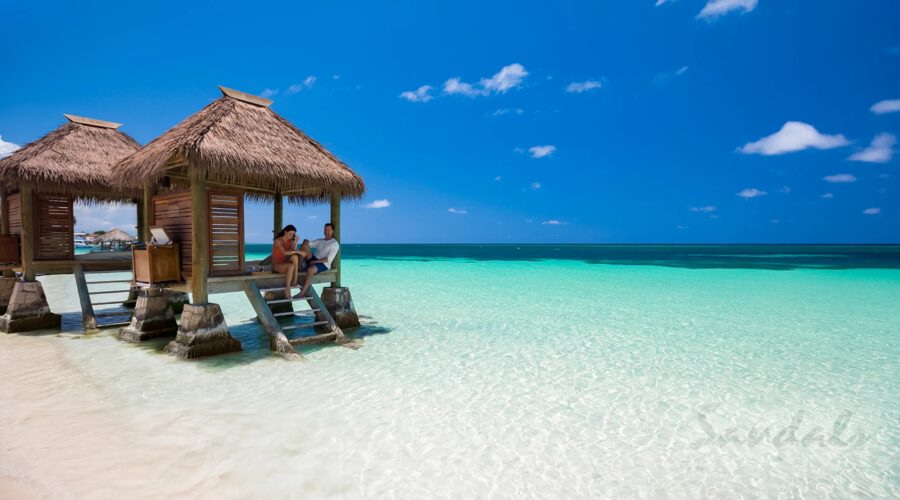 Beach & Water
Nestled along the North Coast of Jamaica, this resort is located on the largest private white-sand beach in the area. The expansive beach offers ample space for peaceful relaxation as well as a wide range of water sports and outdoor activities to enjoy. The offshore reefs and calm waters create an ideal environment for scuba diving and snorkeling, both of which are included with your stay, allowing you to explore the vibrant underwater world.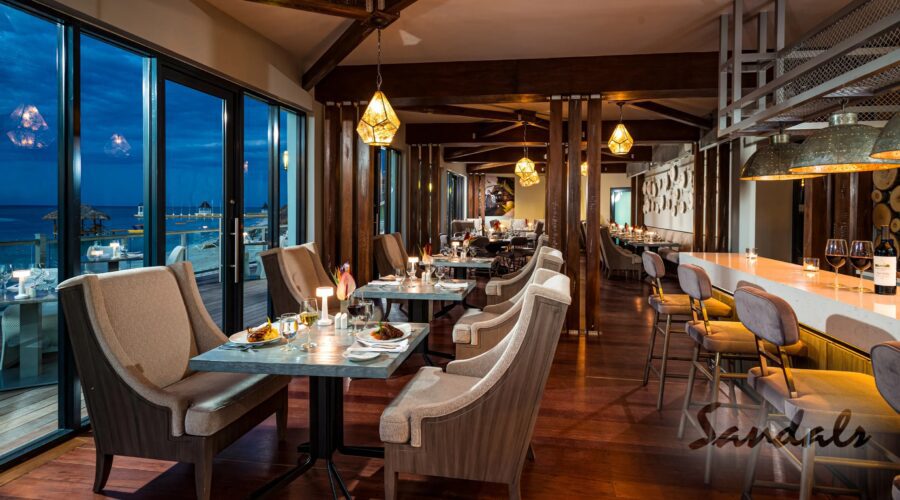 Restaurants & Bars
Indulge in the luxury of unlimited five-star global gourmet dining at Sandals, with twelve exquisite restaurants to choose from. Experience a culinary journey through various cuisines, including French, Italian, Caribbean, Asian wok dishes, British pub specialties, and delectable Jamaican seafood favorites.
Sip on refreshing drinks at six bars and cocktail lounges, each offering a unique ambiance. Enjoy the lively swim-up piano bar, the late-night Cricketer's Pint, or the stunning Latitudes Over Water Bar, where you can relish 360-degree ocean views.
With Sandals' "Stay at One, Play at Two" program, you can also explore the nine additional restaurants at nearby Sandals Royal Caribbean, expanding your dining options even further—all included as part of your extraordinary experience.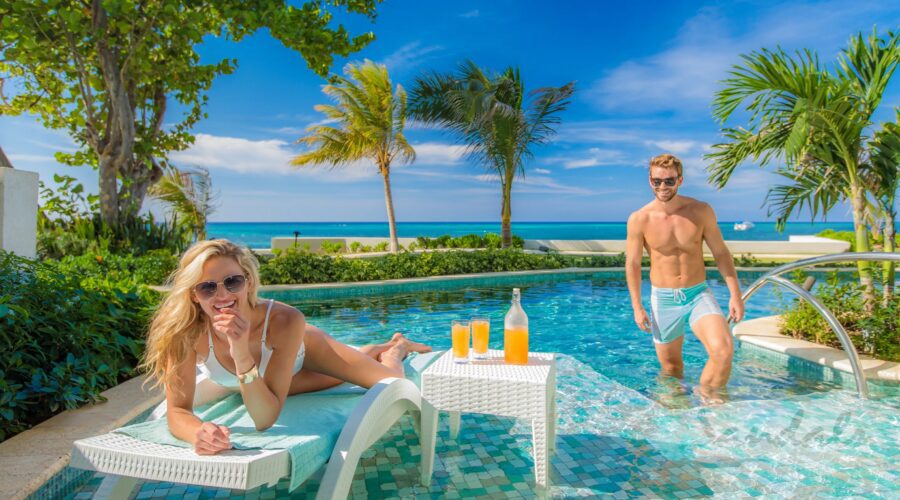 Pools
At the resort, you have the luxury of seven inviting pools, providing the perfect opportunity for a refreshing dip whenever you desire. Additionally, three soothing whirlpools are available for your relaxation. For a revitalizing experience, take advantage of two steam rooms or the sauna, allowing you to re-energize and rejuvenate during your stay.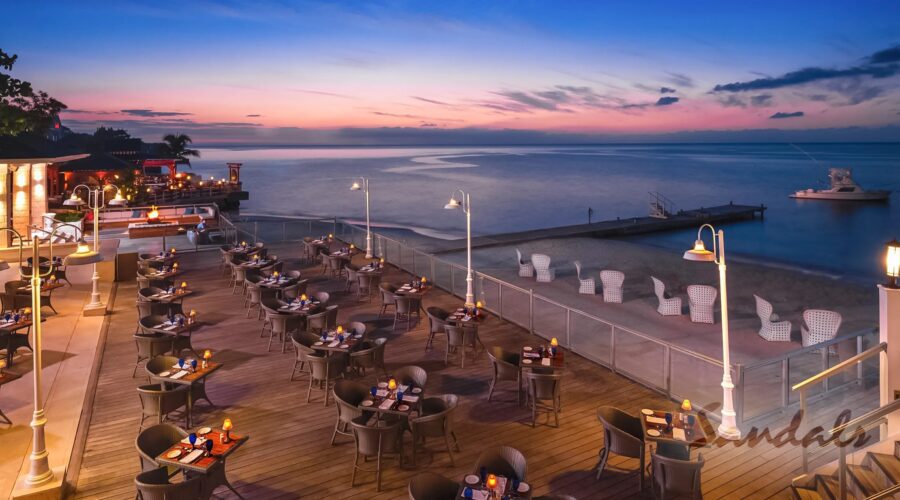 Unique Features
Experience the ultimate romantic getaway at the newly opened Beachfront Swim-up Suites and Oceanview rooms. With impeccable white-glove butler service, you can indulge in luxury and relaxation. Each suite features a Tranquility Soaking Tub for two on your private patio or balcony, allowing you to soak in the serene ambiance while being just steps away from the gentle Caribbean waves. It's the perfect setting for the romantic experience you've always dreamed of.
For an even more extravagant experience, the Beachfront Swim-up Millionaire Butler Suite offers an intimate and secluded atmosphere. With the exclusive Butler Elite service, you'll be treated to personalized attention. The suite boasts a spa-inspired bathroom with a walk-in rain shower, providing a luxurious and rejuvenating experience.
Honeymooners can enjoy the breathtaking beauty of the Caribbean in the Beachfront Swim-up Honeymoon Butler Suite. Open the massive glass doors to unveil a mesmerizing view of the endless Caribbean expanse, creating a truly magical and unforgettable atmosphere.
Indulge in over-the-water experiences that will leave you in awe. Visit the Latitudes Over Water Bar, where you can enjoy 360-degree ocean views while sipping on your favorite beverage. Relax in couples hammocks and soak up the tranquility of the surroundings. For those planning their special day, the Serenity Wedding Chapel awaits. It features a unique glass-bottomed aisle and a charming bell tower, adding an extra touch of romance and elegance to your wedding ceremony.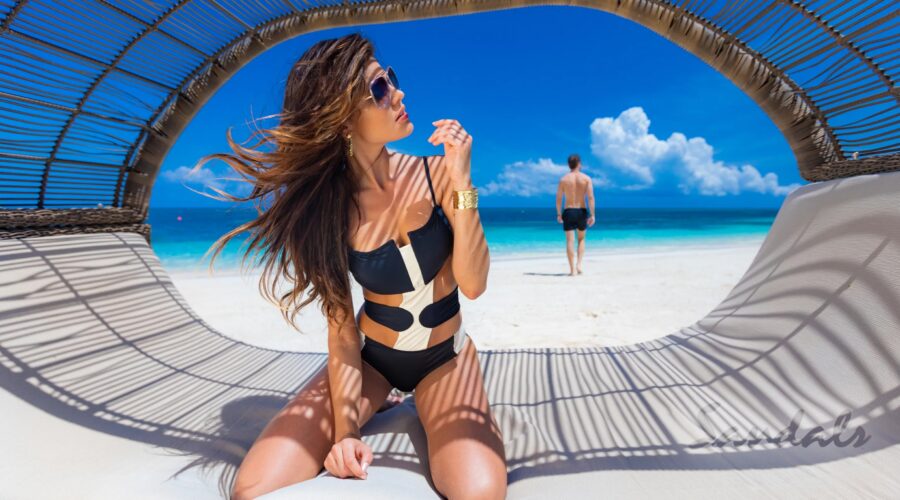 Romantic Elements
Enjoy a day of relaxation and romance with the option to rent Private Beach Cabanas for an exquisite beach experience.
Pamper yourself and your partner at the Red Lane Spa with sensuous couples' massages, allowing you to indulge in ultimate rejuvenation.
For a truly enchanting evening, treat yourselves to a candlelit dinner for two right on the beach, creating a romantic ambiance that is sure to leave a lasting impression.
Experience the soothing melodies of a live piano performance at the late-night piano bar, adding a touch of elegance and charm to your evening.
Capture the magic of your special moments with a romantic photoshoot conducted by professional photographers.
Preserve the memories forever, ensuring that the love and joy you shared during your stay will be cherished for a lifetime.
Immerse yourselves in a world of romance, relaxation, and unforgettable experiences at Sandals' exquisite resort.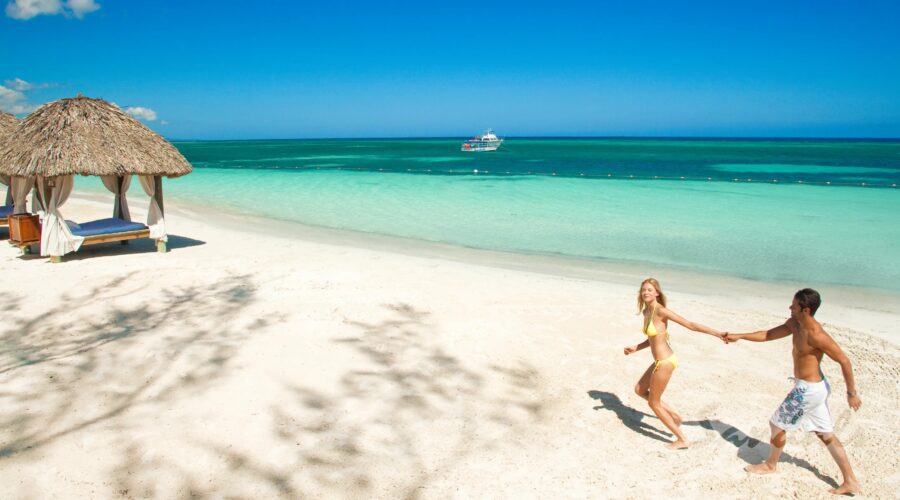 Honeymoon Highlights
Embark on the perfect honeymoon with the specially designed Honeymoon Package, included with your stay if you are traveling within a month of your wedding. Upon arrival, you'll be greeted with a bottle of chilled sparkling wine, setting the tone for a romantic getaway. Experience the ultimate in romance with the first night turndown service, complete with flower petals delicately placed on your bed. Indulge in a peaceful breakfast in bed, accompanied by fresh flowers, on a morning of your choice.
From the moment the sun rises to long after it sets, a wide range of honeymoon activities awaits you.
Dive into wet and wild fun with the included watersports, ensuring you have a thrilling time under the sun.
Prepare to be entertained every evening with live performances seven nights a week. Put on your dancing shoes and immerse yourself in the captivating atmosphere of nightly entertainment, featuring various themes such as the lively "Jamaica Jamboree" and the romantic "Island Romance."
Delight your taste buds with an international culinary adventure at the resort's twelve restaurants, with an additional nine bonus restaurants available at Sandals Royal Caribbean. Indulge in a variety of cuisines, including sushi and Asian wok dishes, Italian favorites, authentic Jamaican jerk, fresh seafood, and delightful French pastries from the patisserie.
Discover the wonders of Jamaica with off-property excursions that promise adventure and excitement. The concierge desk is at your service to help plan a unique trip for you with Island Routes. Whether you choose to ride on horseback along Sandy Bay, experience the thrill of rope swinging at YS Falls, or take a magical sunset dip in the breathtaking Luminous Lagoon, there are plenty of opportunities to create unforgettable memories.
Experience the honeymoon of your dreams, filled with romance, entertainment, delectable dining, and thrilling excursions, all within the stunning backdrop of Jamaica's natural beauty.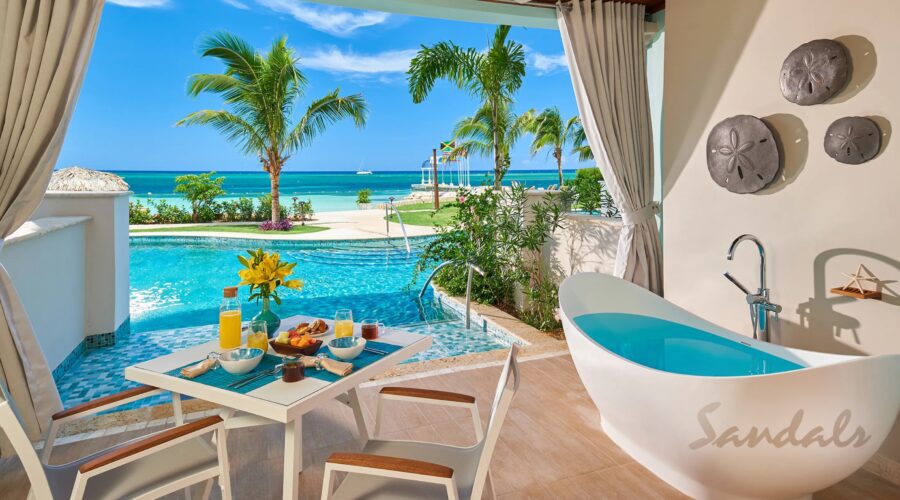 Luxury Inclusions
Indulge in the luxurious in-room amenities provided for your comfort and enjoyment. Each room features a spacious king-size bed, ensuring a restful night's sleep. Pamper yourself with spa-style bath and body products, adding a touch of relaxation to your stay. Enjoy the convenience of a generous mini-bar, offering a variety of refreshments.
Experience the epitome of personalized service with Butler Elite Service. A dedicated personal butler, trained by the Guild of Professional English Butlers, is assigned to each Butler Elite room, ensuring that your every need is taken care of.
As a guest of the Butler Elite and Club Sandals, you can enjoy the exclusive Club Sandals Lounge. During a preferred check-in, you'll be greeted with a chilled towel and champagne, setting the tone for a delightful stay.
Unwind and rejuvenate at the Red Lane Spa, offering holistic treatments to calm and soothe your senses. Immerse yourself in the tranquil ambiance and indulge in a variety of spa services.
Savor the breathtaking ocean views at the Latitudes Over Water Bar. Relax in an overwater hammock designed for two and take in the stunning 360-degree vistas.
Enhance your experience by exploring the nearby Sandals Royal Caribbean resort. Take advantage of the included beaches, restaurants, and amenities, expanding your options for enjoyment.
At Sandals, the 'No Tipping' policy ensures an effortless and budget-friendly honeymoon experience. Most staff members are included in this policy, eliminating the need for gratuities. However, personal butlers, spa therapists, and shuttle drivers are exceptions, and it is strongly encouraged to reward their extra efforts with a tip.
Enjoy a worry-free and exceptional stay, where every detail is taken care of.