If you're looking for a perfect destination for couples that strikes the balance between fun and relaxation, you can never go wrong with Cabo. Ideally located on the Baja peninsula of Mexico, it boasts beautiful beaches, stunning views, and great weather. For couples going on a honeymoon or just want to splurge for a perfect romantic holiday, we have a list of the best all inclusive resorts in Cabo for you.
Note that while most of these all-inclusive resorts Cabo are on the oceanfront, most locations are not deemed for swimming. The waters are dangerous for beginners or even expert swimmers because of the strong currents, unpredictable waves, and steep drops in the ocean floor. It is best to pay attention to warning signs or ask a lifeguard on duty for guidance.
The room rates posted below are based on the published room rates on Tripadvisor as of writing.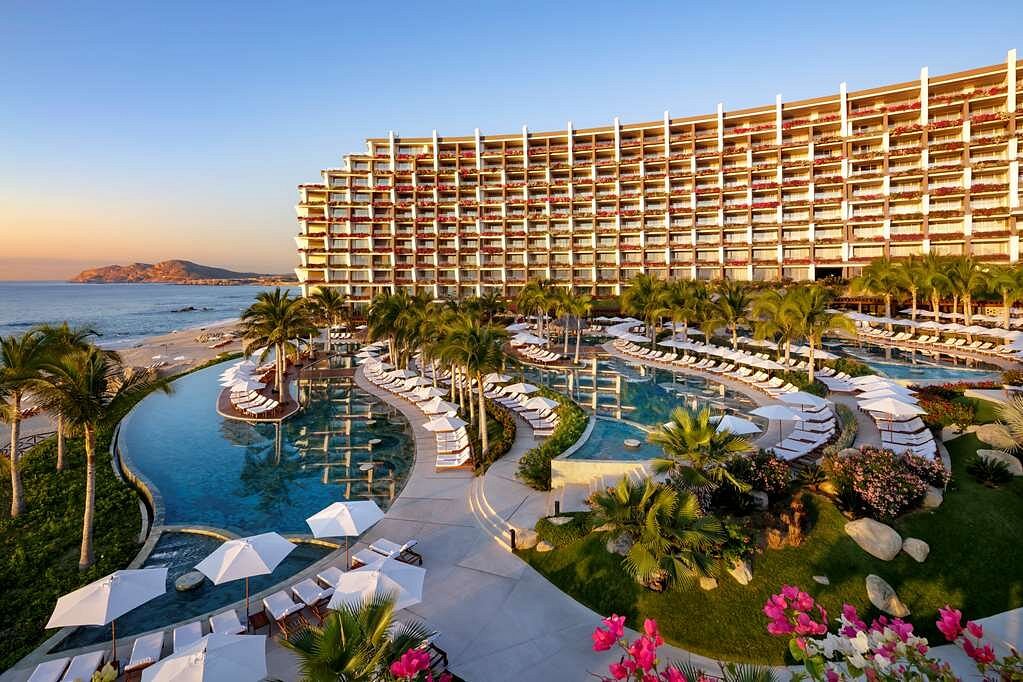 Adults Only: No (With Adults-only Areas)
Average Room Rate: $1,062 – $1,535
Distance From Los Cabos Airport: 15 Miles
Booking a paradise is possible when you look at the offerings of Grand Velas Los Cabos. It is a family-friendly resort but with several adult-only areas where you can retreat with your partner. Many consider staying at Grand Velas the pinnacle of your Los Cabos holiday– and they might not be wrong. It boasts beautiful, expansive grounds that exude a classy vibe. Once you see the architecture of the building, you know you are somewhere special. It is an all-suite resort, and each of these five-star accommodations is well over a thousand square feet, with a breathtaking view to boot.
Aside from the pools and several restaurants, Grand Velas is one of those family-owned all inclusive resorts in Cabo that offers experiences that will make your stay extra special. From picnics in paradise, stargazing experience, or brunch at the sea, they can make your dream holiday come true.
---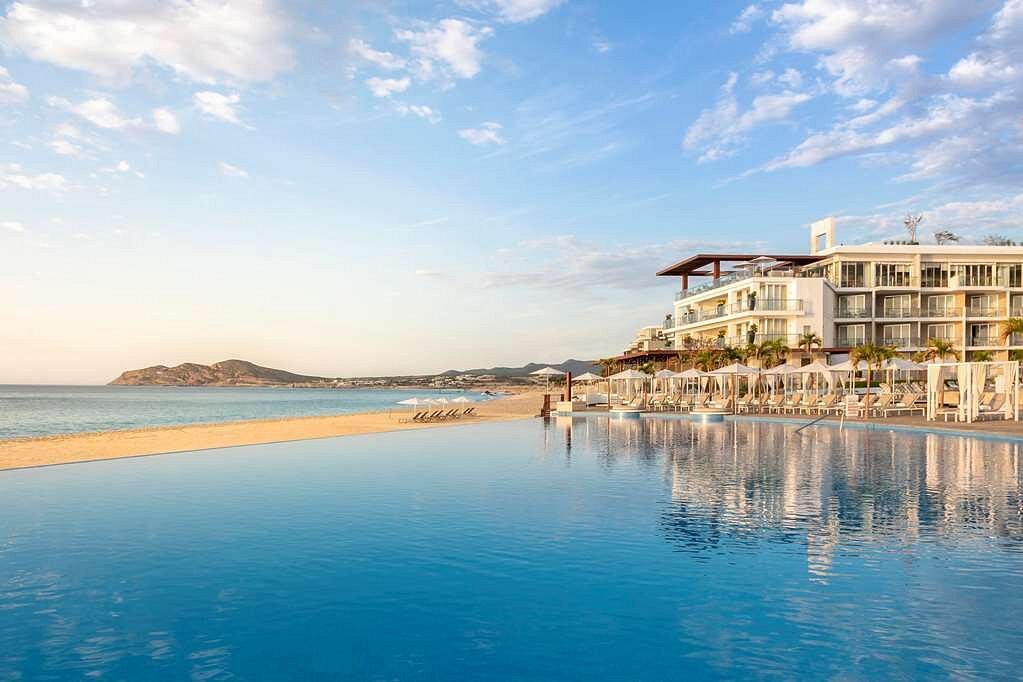 Adults Only: Yes
Average Room Rate: $982 – $1,146
Distance From Los Cabos Airport: 24 Miles
Le Blanc Spa Resort is one of the best all inclusive resorts Cabo. It is a highly-rated and well-loved luxury resort in Cabo for couples where you can only expect breathtaking views, delicious food, and fantastic service. Le Blanc Cabo is situated in the tourist corridor of Los Cabos, and this means the most beautiful sunrise to welcome you every single day of your stay. While the exterior seems simplistic, this resort for couples Los Cabos is filled to the brim with amenities that will fulfill your dreams of a relaxing vacation.
Aside from the lavish suites in this adults-only paradise, Le Blanc has several restaurants with masterfully crafted menus to satisfy every palate. Add to that top-shelf drinks from across the globe. Le Blanc has perfected the craft of going beyond your worldly desires, as it has all the treatment to invigorate your spirit. Replenish your energy in this haven for honeymooners, couples, and friends.
---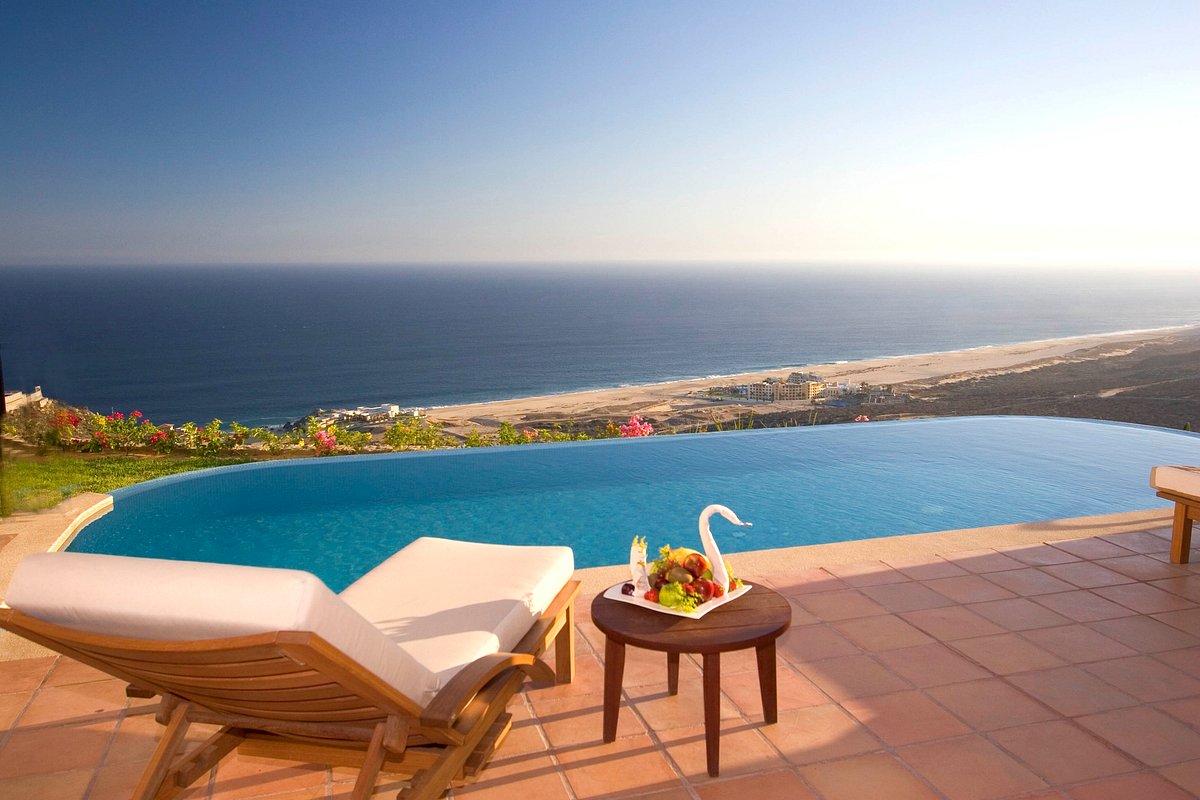 Adults Only: No
Average Room Rate: $648 – $1,001
Distance From Los Cabos Airport: 25 Miles
This all inclusive resort in Los Cabos is located in an exclusive, gated resort community within Quivira Los Cabos. Get the chance to stay in a super luxe standalone villa perched on a cliffside. Expect nothing but gorgeous views of the ocean. Each villa has three spacious rooms, private infinity pools, a fully functional kitchen, a fireplace, and a Jacuzzi. You also have access to award-winning restaurants just a few steps from your accommodation.
The staff can also arrange different activities for you, from touring the rugged rock formation at Land's End and enjoying Cabo nightlife to zip line adventures. You also have a golf course known worldwide for its stunning setting at the tip of the Baja Peninsula. If you want to rejuvenate your tired body, the villas also have a luxurious spa.
---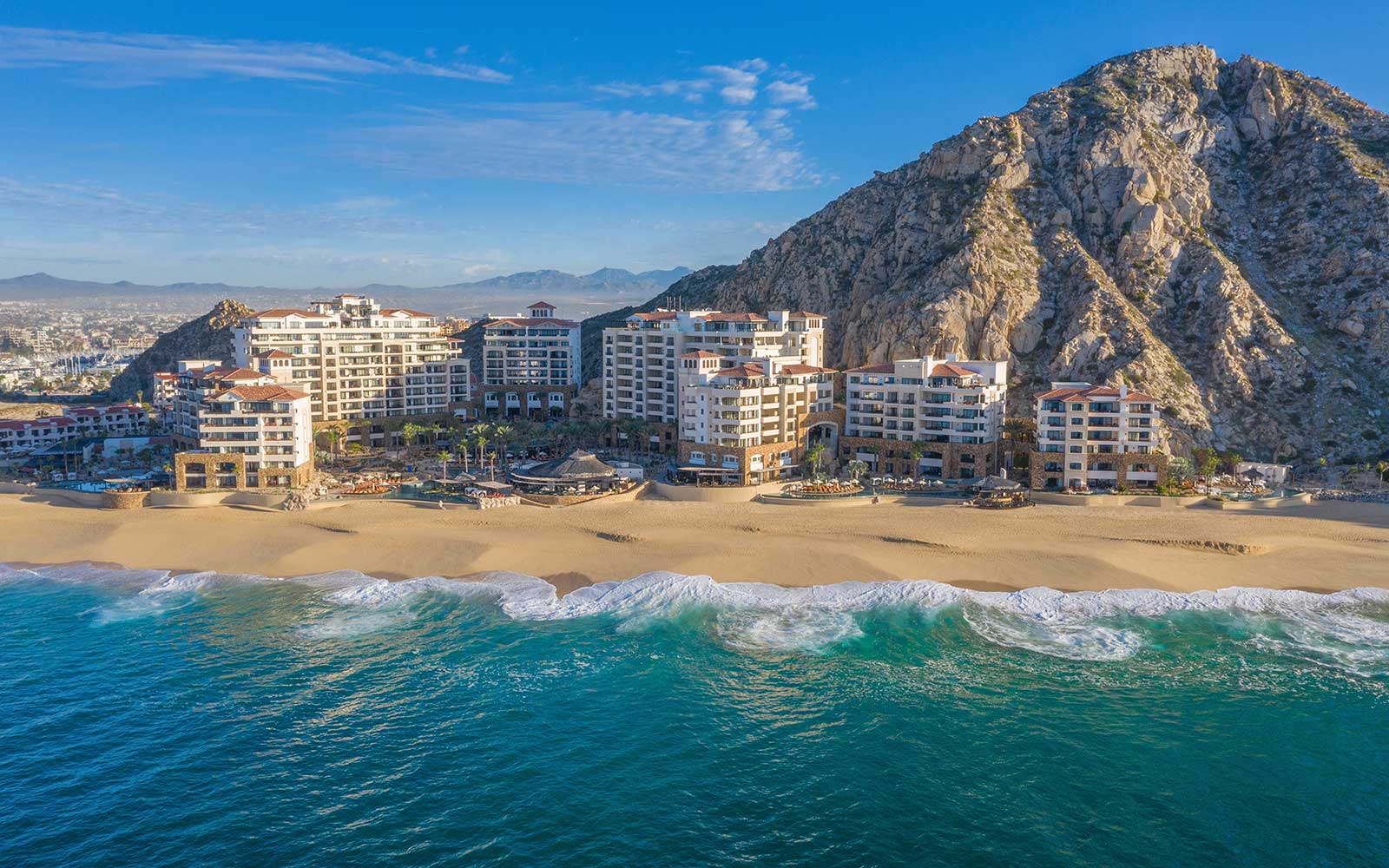 Adults Only: No (With Adults-only Areas)
Average Room Rate: $535 – $773
Distance From Los Cabos Airport: 24 Miles
Grand Solmar Land's End Resort and Spa is about oceanfront luxury. This gorgeous all inclusive resort Cabo will make your dream vacation in Mexico come true. Located on a pristine beach and concealed by granite cliffs, you have majestic vistas in any direction you look. The resort, rebuilt and re-opened in 2011, blends well with nature. The luxurious rooms draw their inspiration from Mexican and Spanish cultures. Such roots spill over to the warm hospitality and world-class staff service.
Guests will have access to seven pools, including infinity pools with ocean views and adult-only pool, which are never crowded. The executive chef also ensures your palate will rejoice with their preparation of local produce for their farm-to-table menu. Make sure you try the machaca beef, artisanal cheese, and cactus fruit. In terms of activities, the choices are endless. You can go sport fishing, go on snorkeling or scuba tours, play a round of golf, or do some retail therapy.
---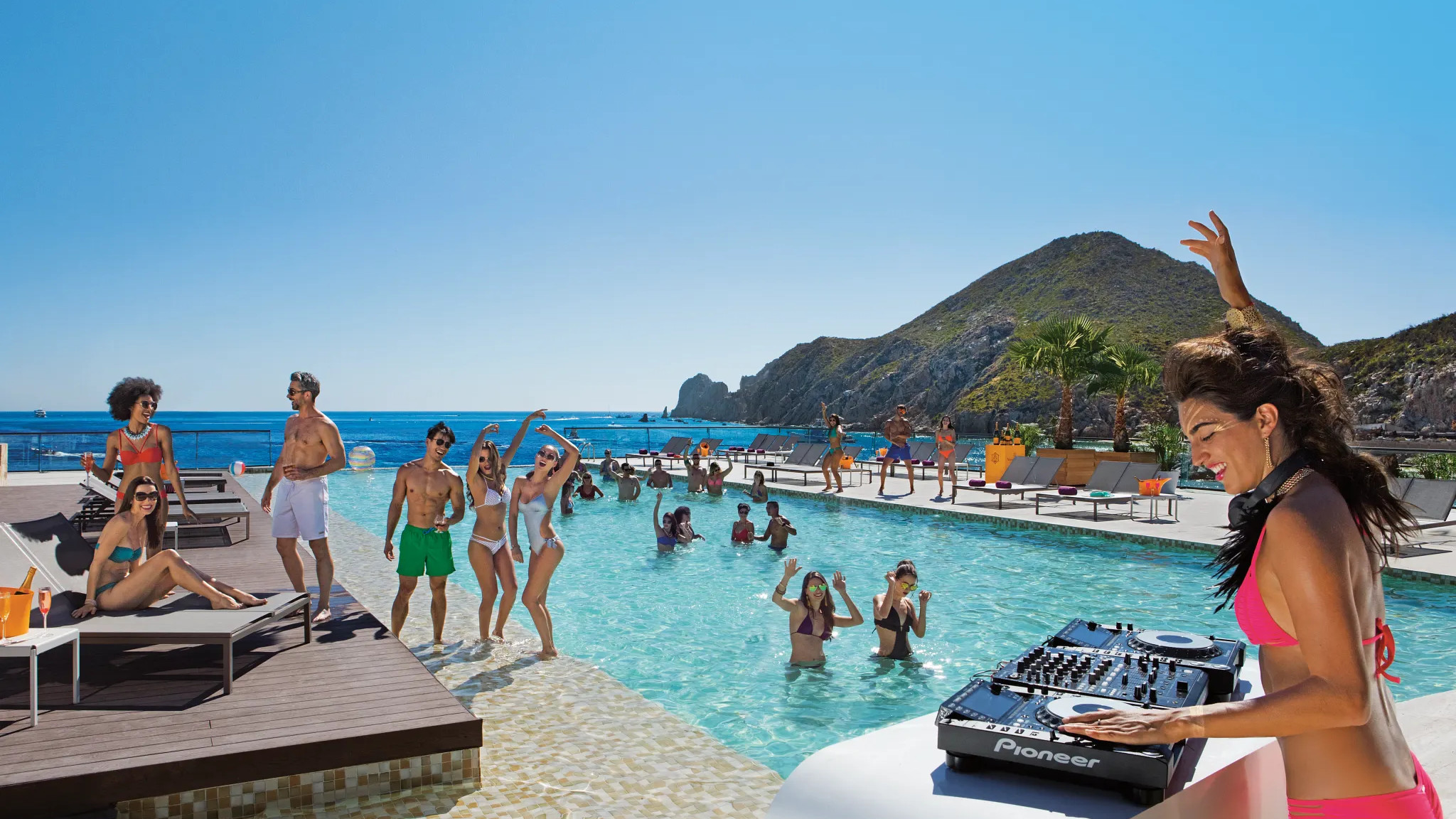 Adults Only: Yes
Average Room Rate: $485 – $792
Distance From Los Cabos Airport: 24 Miles
Breathless Cabo is one of the most upscale all inclusive resorts in Cabo. It's an all-adult property known for luxury, relaxation, and great entertainment. If you and your partner want an all out party to forget the stress of the daily grind, you can never go wrong with Breathless in this Mexico resort for couples. This chic party hotel offers 169 modern, minimalist rooms and suites with great views of the marina and easy access to the white-sand Playa el Medano.
You also get to enjoy two breathtaking infinity fools. The main pool is where all the party happens while the smaller one provides quite a retreat if you just want to relax and have some drinks. Your tastebuds will also be pleased, as you can enjoy exquisite dishes and unlimited drinks from its world-class dining venues and bars. This all-inclusive adult-only Cabo resort is also highly praised for its warm staff and impeccable service.
---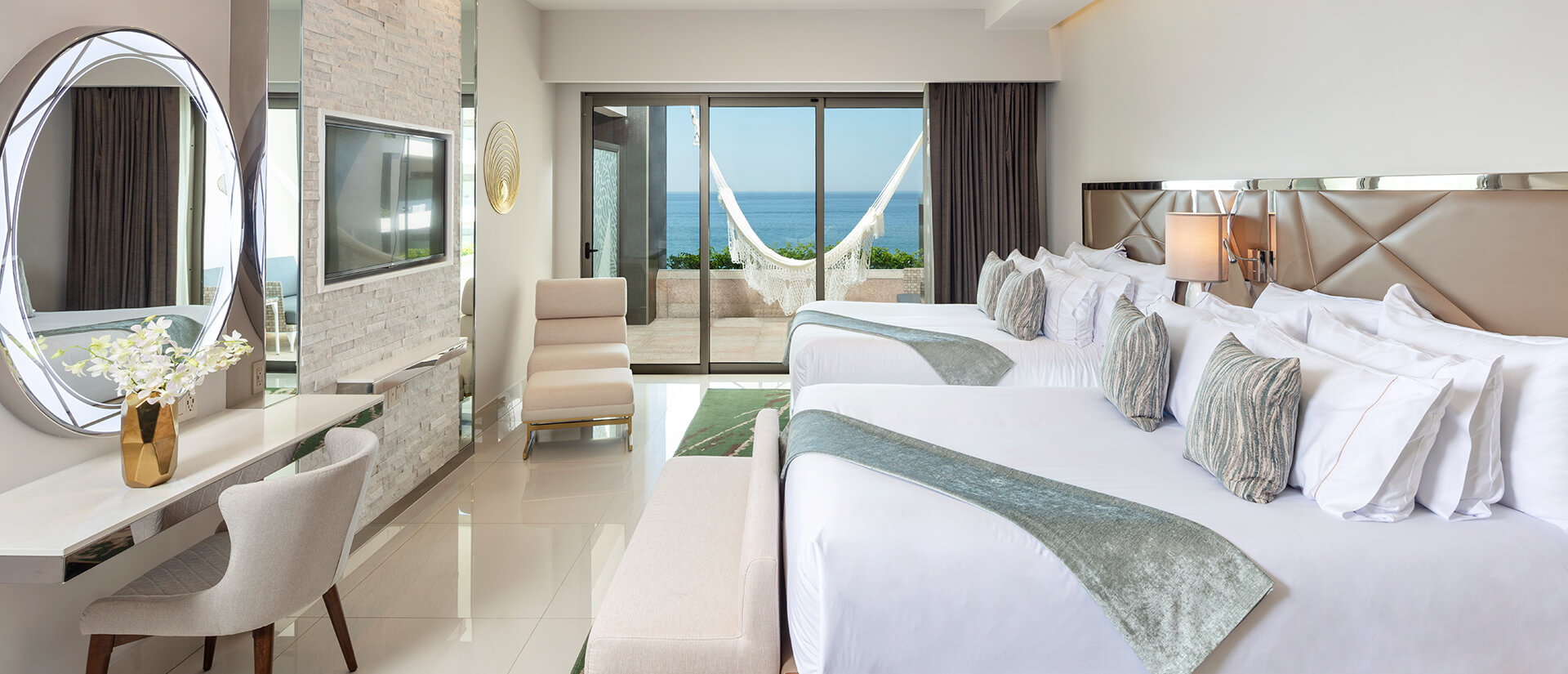 Adults Only: No (With Adults-only Areas)
Average Room Rate: $448 – $852
Distance From Los Cabos Airport: 15 Miles
Garza Blanca Resort & Spa is one of the top luxury all inclusive resorts in Cabo today. And it is one that you should not pass up if you want a taste of an opulent seaside holiday in Baja California. The resort has more than 300 suites offering great views of the ocean. You will have a hammock on your private terrace, a wet bar, and the sound of the waves and nature to accompany you.
It is perfect for a romantic getaway or a family holiday. You will have access to eight swimming pools, a world-class spa, a fitness center, and various activities like e-bike rides on the beach, tennis, golf, or watersports. The all-inclusive vacation package will also take you through an extraordinary culinary journey. Indulge in the finest cuisines, enjoy signature beverages, and be treated to world-class service. The staff can also prepare a romantic dinner for you if you're celebrating a special occasion or just because.
---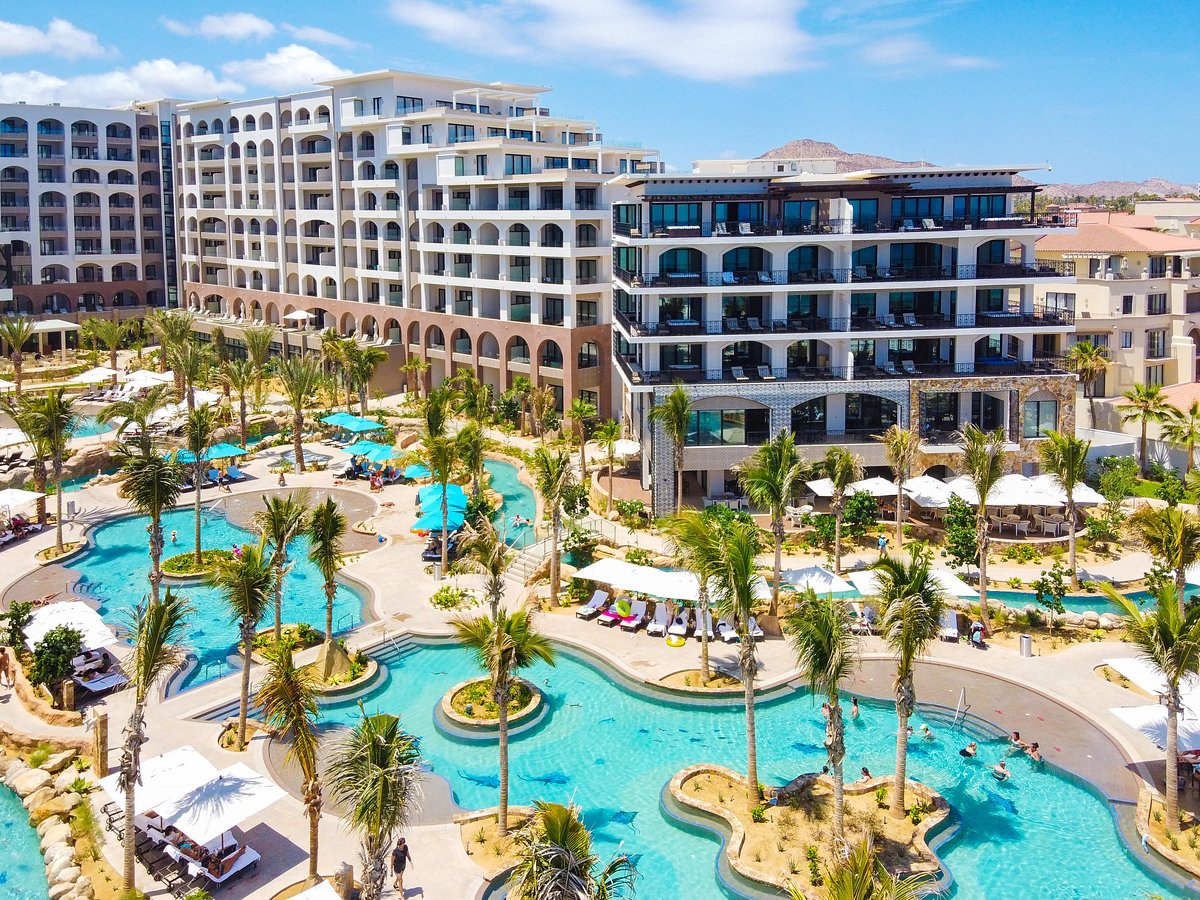 Adults Only: No (With Adults-only Areas)
Average Room Rate: $441 – $599
Distance From Los Cabos Airport: 14 Miles
Villa La Valencia Beach Resort & Spa opened its doors in 2022 and has caught the attention of travelers because of its best value all-inclusive Los Cabos vacation packages. This resort has a 300-meter lazy river where you can relax and enjoy the ride while enjoying some drinks. The place is ideal if you want a tranquil stay and have access to both Cabo San Lucas and San Jose del Cabo.
You can enjoy sumptuous feasts at one of the restaurant terraces or just relax on the huge balcony attached to your suite. You have several room types to choose from, each offering a luxurious home away from home feel. The crowd is a mix of families, honeymooners, and groups of friends. The resort ensures that you have a ton of activities, from partying to smores by the beach at night, aqua fitness sessions, romantic walks along the beach, and more.
---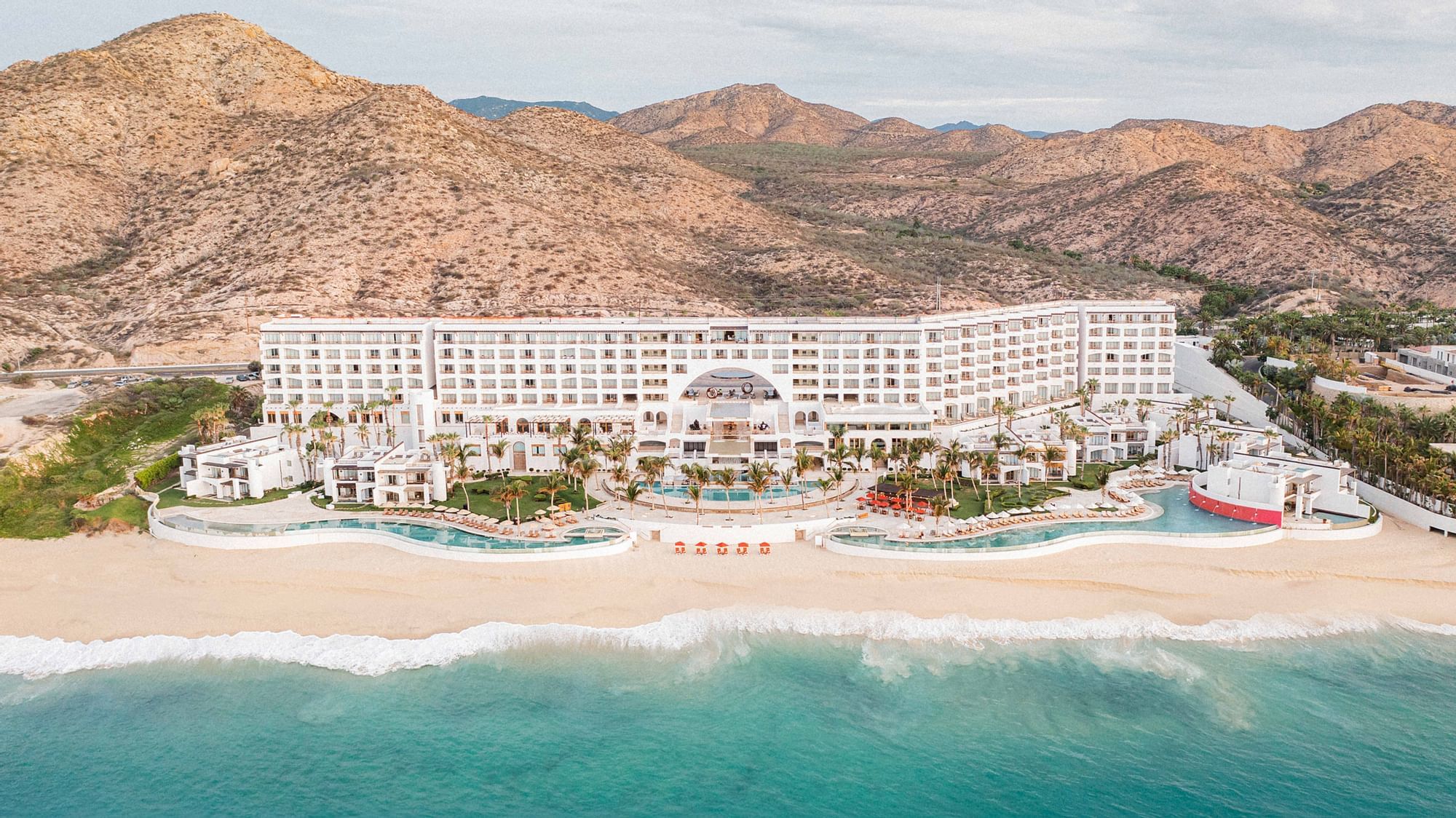 Adults Only: Yes
Average Room Rate: $436 – $712
Distance From Los Cabos Airport: 13 Miles
Just about half an hour from the international airport, the Marquis Los Cabos is ideally situated on the tourist corridor. With an oceanfront setting, you will have an uninterrupted view of the azure waters of the Pacific. All rooms sport a contemporary style with colorful tiles and dark wood furniture that gives that Mexican vibe. Every room is a suite with ample space to recharge and relax all you want. The service and facilities, too, tick every box of luxury, from beachfront pools to its elegant spa, beauty salon, and fitness center. The Marquis has two infinity pools that traverse between the resort and the nearby beach.
Expect a good line of restaurants and availability of top-shelf drinks. Don't forget to explore the possibilities and go with your sweetheart for art walks, sport fishing, or dance to your heart's desire at the weekly parties.
---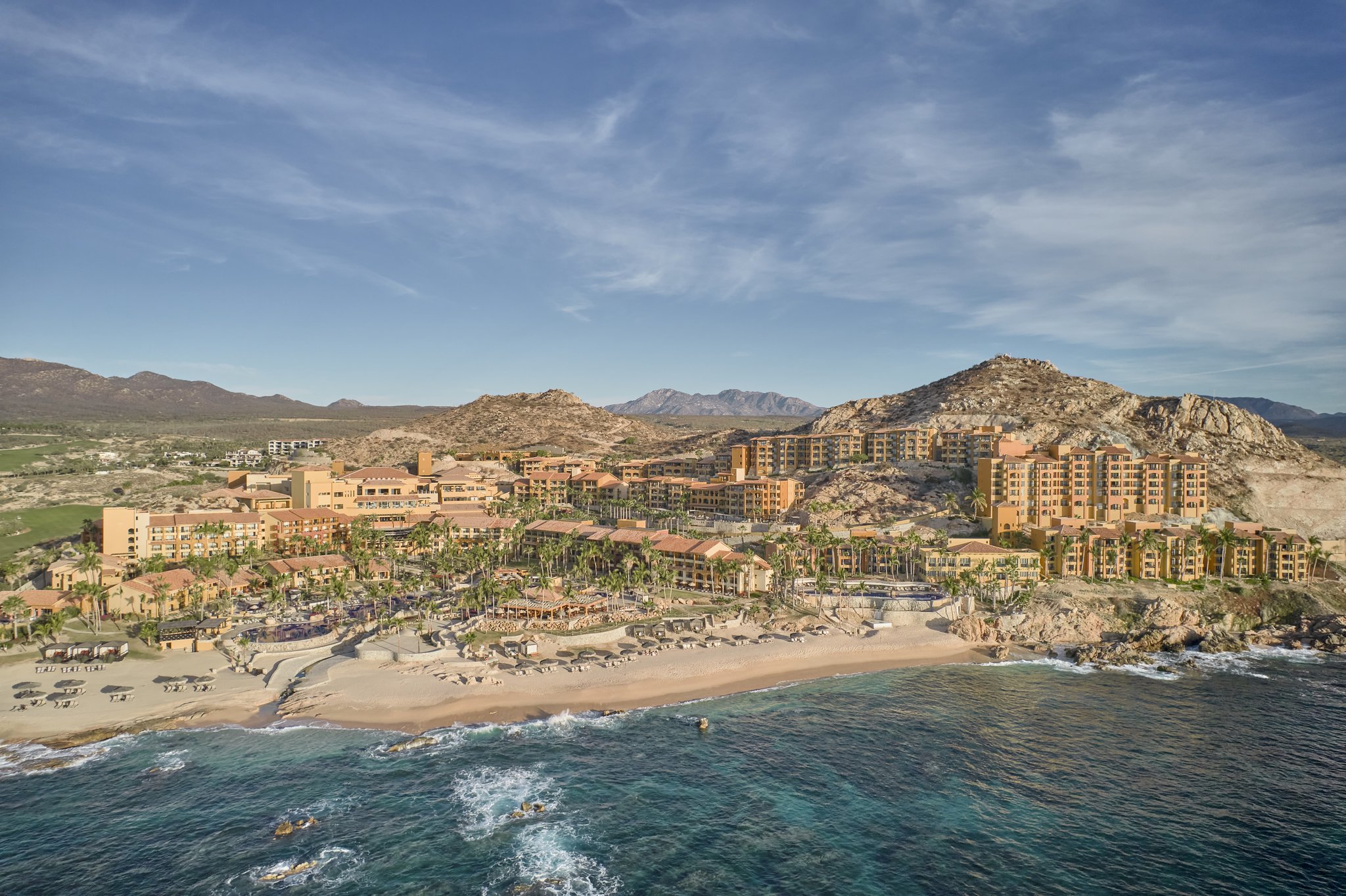 Adults Only: No (With Adults-only Areas)
Average Room Rate: $426 -$715
Distance From Los Cabos Airport: 19 Miles
Another five-star all inclusive resort in Cabo is Grand Fiesta Americana. The property stands majestic on the shores of Los Cabos, where you can enjoy beautiful weather all year round. It boasts 526 rooms and six sparkling clean swimming pools. If you and your loved one wish to devour flavors from different corners of the globe, they have nine restaurants to please your tastebuds. This resort in Los Cabos is perfect for families, but if you're heading there for your honeymoon or romantic getaway, they have adult-only facilities, such as the Somma WineSpa, where they can give you wine-focused treatments. Yes, therapies using liquor!
They also offer golf packages if you want to practice your golf swing. The staff can help you reserve your tee time on one of the top-notch golf courses designed by legends of the game, such as Jack Nicklaus and Greg Norman. Of course, you can set up romantic dinner dates and other adventures to make your Los Cabos vacation even more unforgettable.
---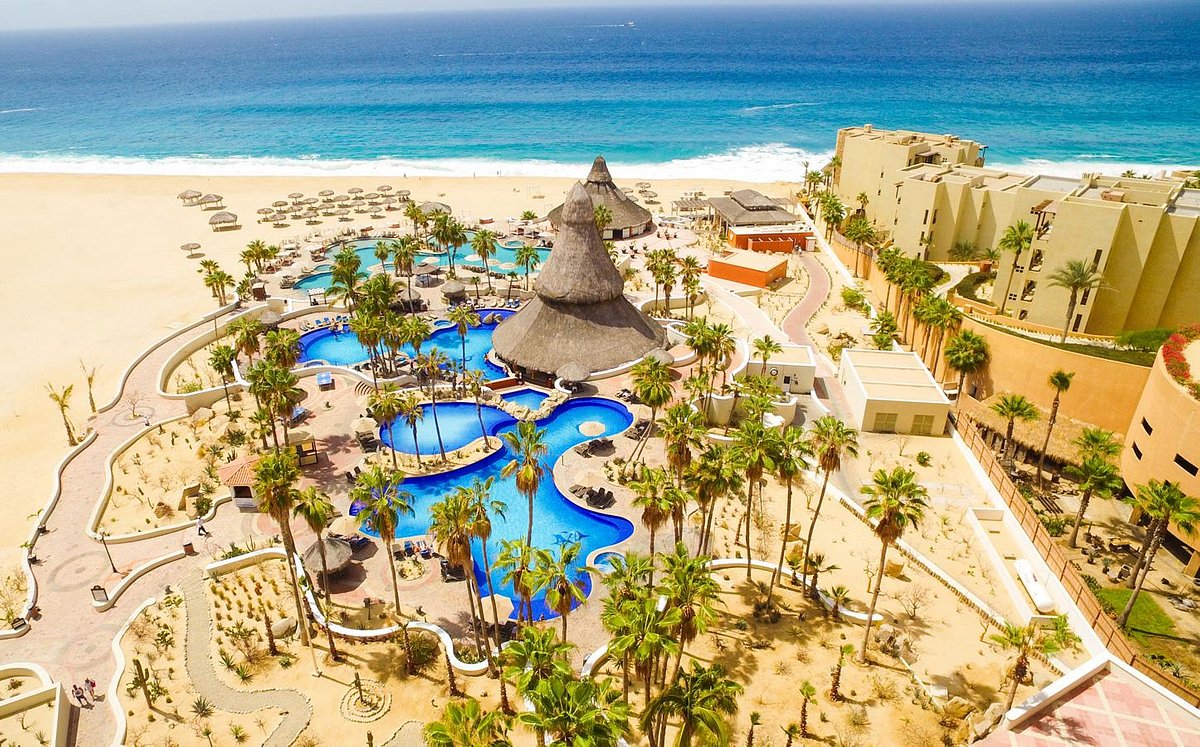 Adults Only: No (With Adults-only Areas)
Average Room Rate: $326 – $472
Distance From Los Cabos Airport: 24 Miles
Sandos Finisterra is one of the most popular all-inclusive resorts in Cabo San Lucas. It's one of the OG hotels in the area. You're a few steps from the beach and have a panoramic view of the azure ocean and all the beautiful fauna in between. Sandos boasts more than 270 rooms you can choose from, with styles giving you a good mix of classic, contemporary, and interesting. You have acres of pools to enjoy, and a swim-up pool bar completes the vibe.
If you want to relax with your significant other, you can arrange a moonlight massage with a champagne toast. For your dining options, you have three restaurants and a good buffet spread that also comes with stunning views. You'll never run out of fun activities, be it day or night, whether you're coming as a couple, with the family, or with your closest friends.
---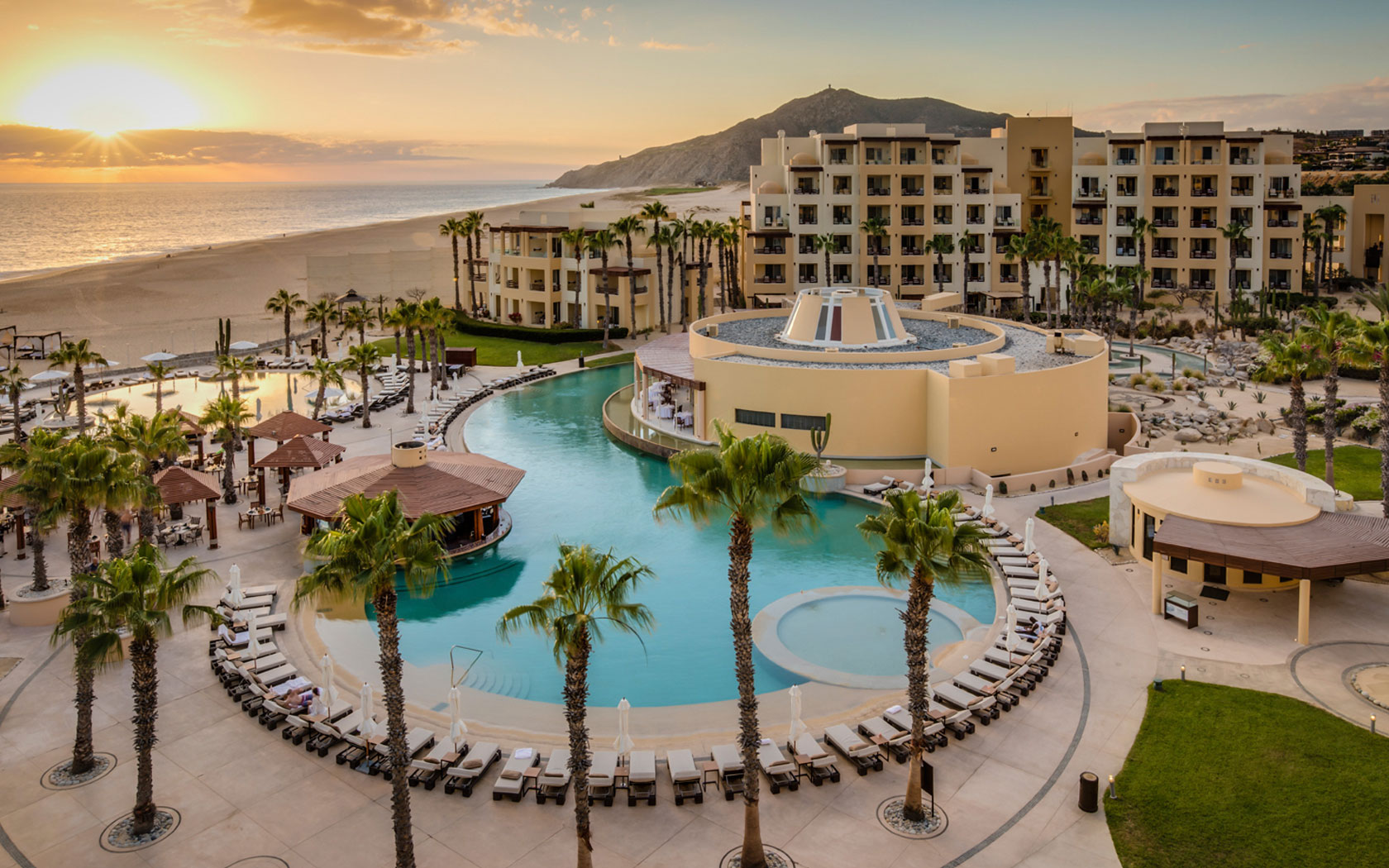 Adults Only: Yes
Average Room Rate: $319 – $644
Distance From Los Cabos Airport: 25 Miles
Want a quiet, adult-only all inclusive resort in Cabo? Honeymooners or couples who want to escape their daily routines will enjoy the tranquil and romantic vibe at the Pueblo Bonito Pacifica Gold and Spa Resort. The rooms aptly mix impersonal and warm elements such as tiles, stones, woods, and colorful details to create an alluring contemporary minimalist design.
Create lasting memories and bond together as a couple, whether newlyweds or partners going for a quick holiday. Considered one of the best all-inclusive resorts for couples, the focus here is peace and wellness. Its setting on a secluded beach makes this possible. Be sure you try their spa treatments and natural therapies. Within the property is a pair of expansive infinity pools where you can do some laps, relax, or enjoy swim-up cocktails. Meanwhile, locally sourced ingredients are put in the spotlight at the Towers at Pacifica restaurant.
---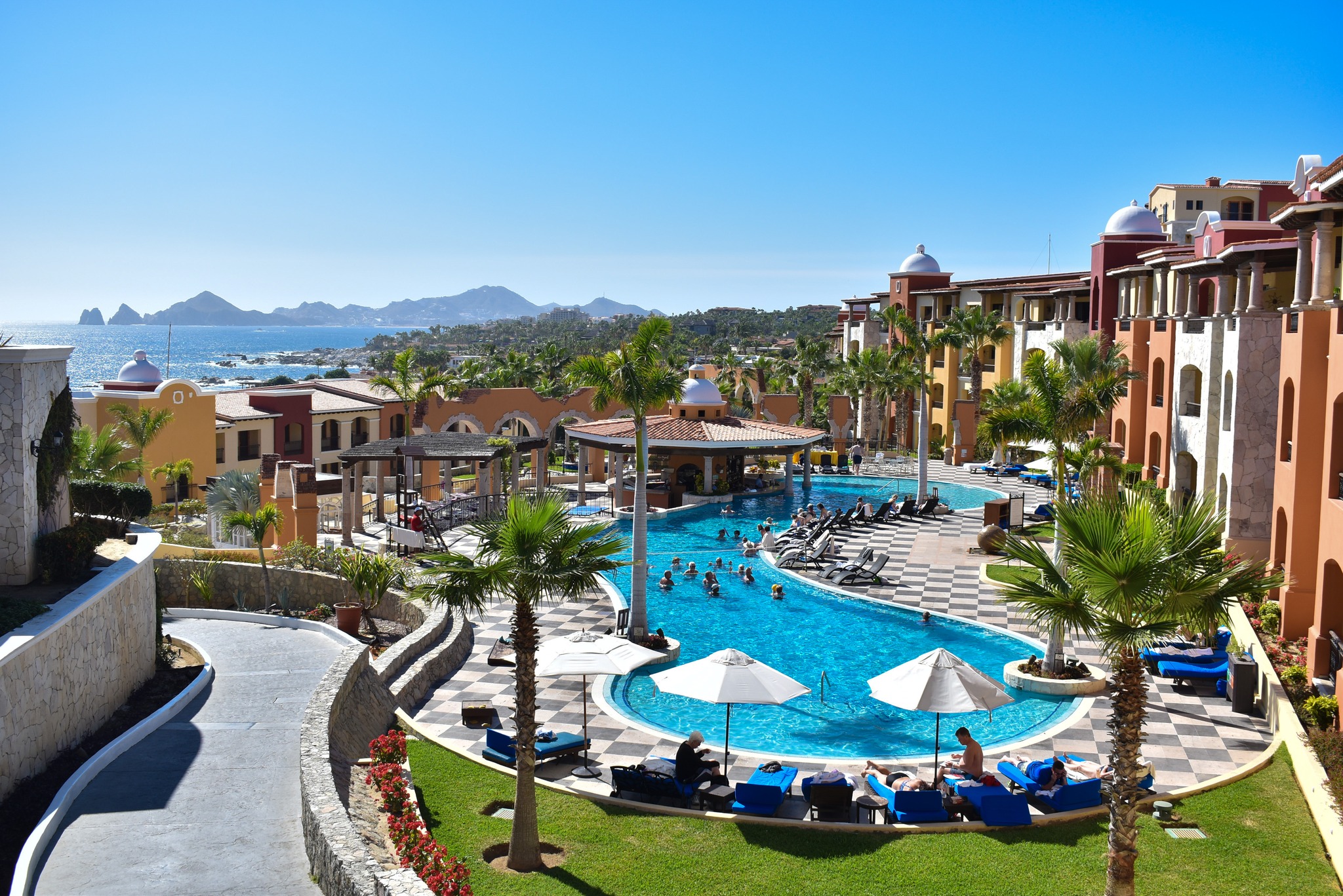 Adults Only: No (With Adults-only Areas)
Average Room Rate: $180 to $270
Distance From Los Cabos Airport: 20 Miles
If you want a fabulous week on a secluded corner of Los Cabos, you'll find the Hacienda Encantada on the cliffs in the northern portion of the iconic tourist destination. You will be treated to spacious, colonial-styled rooms that open to mesmerizing views of the Sea of Cortez. The property's design exudes an old Mexican community with tiered buildings separated by pool areas. Each pool area is aptly designated for different activities: one for families, one for adults, and one for people who want to enjoy peace and quiet. It is also known for its wellness spa that helps reconnect your body, mind, and soul.
There are more than 200 rooms to choose from, but take note that if you want to walk on the beach, there isn't a real stretch of beach next to the property, only a rocky shore. You can choose Italian, Mexican, or a buffet spread for your dining options.