Ireland, with its enchanting landscapes and rich cultural heritage, offers an idyllic honeymoon destination. Couples can explore the emerald-green rolling hills, dramatic coastal cliffs, and picturesque castles that dot the countryside. The warmth of Irish hospitality and the vibrant atmosphere in charming towns like Dublin and Galway creates a perfect backdrop for romance. Share a pint of Guinness in a cozy pub, take scenic drives along the Wild Atlantic Way, and immerse yourselves in the timeless traditions of this island nation. Ireland's blend of natural beauty, history, and welcoming locals make it an unforgettable and intimate destination for newlyweds.
The 17 Best Honeymoon Resorts in Ireland
---
About Ireland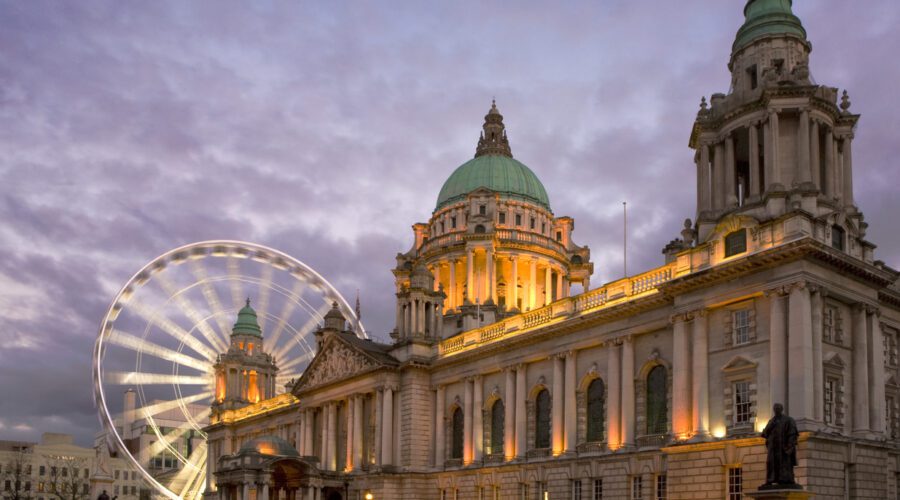 Average Cost of a One Week Ireland Honeymoon
Planning a honeymoon in Ireland can be a lovely experience, but you must budget carefully. The cost might vary greatly depending on factors such as the time of year, location, and your particular preferences. The typical cost of a one-week honeymoon in Ireland, including travel, lodging, and daily costs, is as follows:
Airfare
The cost of an airline ticket to Ireland might vary greatly based on your departure location, booking period, and travel dates. Round-trip flights from the United States to Ireland typically cost between $800 and $1,500 per person.
Keep an eye out for offers and book early to get the best fares.
Accommodations
The cost of your accommodations will also vary depending on your choices. Ireland has everything from affordable hostels to luxurious hotels and comfortable B&Bs. Mid-range accommodations, such as B&Bs or 3-star hotels, often cost between $100 and $300 per night.
If you choose premium accommodations, costs might range from $300 to $800 per night.
Daily Expenses
Daily expenses cover food, transportation, activities, and miscellaneous costs.
Food: Budget around $50 to $100 per person per day for meals. You can save money by enjoying pub food and local dishes.
Transportation: Renting a car is a popular choice for exploring Ireland. Car rental costs can range from $50 to $100 per day, depending on the vehicle type and insurance options. Factor in fuel costs as well.
Activities: Ireland offers plenty of free and low-cost activities like hiking, exploring castles, and visiting historic sites. However, the budget is around $20 to $50 per person per day for paid activities and tours.
Miscellaneous: Plan for additional expenses like souvenirs, snacks, and unexpected costs. Budget around $20 to $30 per person per day.
Average Total Cost
Overall, here's a rough estimate for a one-week honeymoon in Ireland:
Airfare (per person): $800 to $1,500
Accommodations (per night): $100 to $300
Daily Expenses (per person per day): $90 to $180 (including food, transportation, activities, and miscellaneous expenses)
Keep in mind that these are approximate costs, and your actual expenses may vary based on your choices and circumstances. It's always a good idea to research and plan in advance to get a better understanding of the costs associated with your specific itinerary and preferences. Additionally, consider using travel apps and websites to find deals and discounts on accommodations and activities to help you stay within your budget.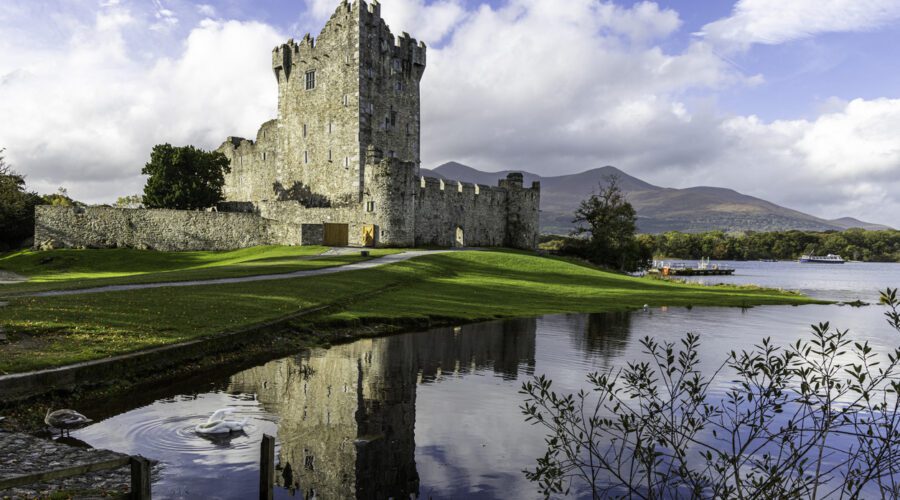 Best Time to Visit Ireland
The greatest time to visit Ireland for a honeymoon is determined by your interests and the type of experience you seek. Ireland has a pleasant, temperate climate with little variation in temperature throughout the year. Here are the benefits and drawbacks of traveling throughout different seasons:
Spring (March to May):

Pros: Spring is a lovely time to visit Ireland when the countryside is lush and green, and flowers are in bloom. It's less crowded than the summer months.
Cons: The weather can be unpredictable, with occasional rain showers. It may still be a bit cool, so pack layers.

Summer (June to August):

Pros: Summer is the peak tourist season, and for a good reason. The weather is generally the warmest and driest, with long daylight hours. This is an excellent time for outdoor activities and exploring.
Cons: It can be crowded and more expensive during this time. Be sure to book accommodations and activities well in advance.

Autumn (September to November):

Pros: Early autumn can still offer pleasant weather, and the landscapes begin to display beautiful fall colors. Crowds begin to thin out after the summer rush.
Cons: As autumn progresses, the weather becomes more unpredictable, and you may encounter more rain.

Winter (December to February):

Pros: Winter in Ireland can be quite magical, especially around the holiday season. You might encounter fewer tourists, making it a more intimate experience.
Cons: The weather is cold, and daylight hours are shorter. Some attractions and accommodations may close for the season.
When planning your honeymoon, choose late spring or early summer (May to early June) or early fall (September). These seasons provide a good mix of pleasant weather, fewer visitors, and rich landscapes. Late spring and early summer also offer extended daylight hours for exploring and watching gorgeous sunsets. Just make sure to check the weather prediction for your precise vacation dates and pack accordingly, as Ireland's weather may be erratic all year.
About Honeymooning in Ireland
Honeymooning in Ireland is a wonderful choice, offering a blend of stunning landscapes, rich culture, and delicious cuisine. Here's what you should know about these aspects:
Culture
Friendly Locals: Irish people are known for their friendliness and hospitality. Don't hesitate to strike up conversations with locals; they're often happy to offer recommendations or share stories.
Music and Dance: Traditional Irish music and dance are deeply ingrained in the culture. Look for traditional music sessions in pubs, and consider trying a ceilidh dance event for a fun cultural experience.
Language: While English is the official language, Ireland also has its own unique version of the Irish language (Gaeilge). Most people speak English, but you'll see road signs and hear Irish spoken, especially in Gaeltacht regions.
Pubs: Irish pubs are iconic and serve as social hubs. Enjoy a pint of Guinness, listen to live music, and soak in the cozy atmosphere.
Currency
Currency: The currency in Ireland is the Euro (€). It's a good idea to have some cash on hand, especially for smaller purchases or in more rural areas, although credit and debit cards are widely accepted.
Tipping: Tipping is common in Ireland. In restaurants, it's customary to leave a tip of 10-15% of the bill if service isn't included. In pubs, rounding up the bill is appreciated.
Cuisine
Irish Breakfast: Start your day with a hearty Irish breakfast, which typically includes eggs, bacon, sausages, black and white pudding, tomatoes, and toast. It's a filling way to begin your adventures.
Seafood: Ireland's coastlines provide a bounty of fresh seafood, including salmon, oysters, and mussels. Try a seafood chowder or a plate of fresh fish.
Pub Food: Irish pubs often serve delicious comfort food, including dishes like beef and Guinness stew, shepherd's pie, and bangers and mash. These hearty meals are perfect for warming up on cooler days.
Bread: Irish soda bread is a staple, and you'll find it in many forms. It's a must-try with some Irish butter or homemade jam.
Whiskey and Beer: Ireland is famous for its whiskey (or whisky, as it's spelled there) and beer. Visit distilleries and breweries for tastings and tours.
Vegetarian and Vegan Options: While traditional Irish cuisine tends to be meat-heavy, many restaurants now offer vegetarian and vegan options to accommodate diverse dietary preferences.
Dining Times: Keep in mind that dining hours in Ireland may differ from what you're accustomed to. Restaurants often serve lunch between 12:30 PM and 2:30 PM and dinner from 7:00 PM onwards.
Remember that part of the charm of honeymooning in Ireland is embracing the local culture and trying new things. Explore the countryside, visit historic sites, enjoy traditional music, and savor the delicious cuisine to make your honeymoon a memorable and romantic experience.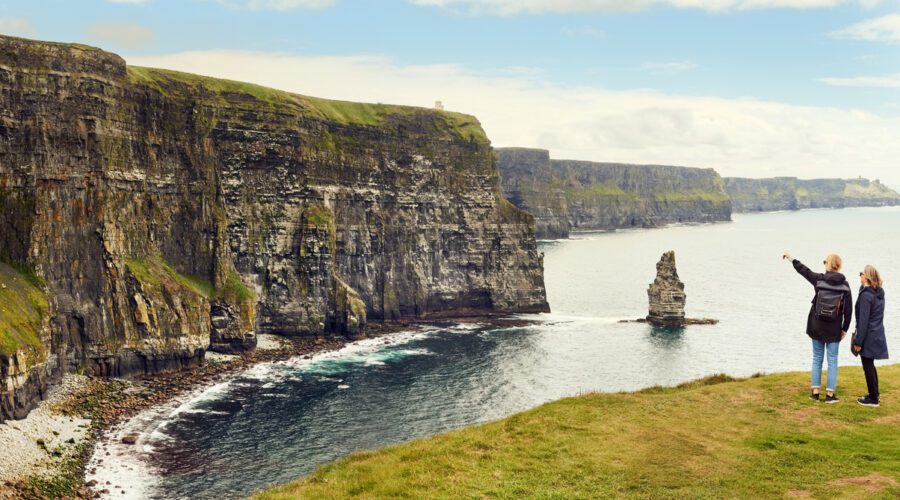 Best Activities for a Ireland Honeymoon
Honeymooning in Ireland offers a wealth of romantic and memorable activities. Here are some of the best activities to consider for your honeymoon:
Explore the Scenic Countryside:

Ireland is renowned for its breathtaking landscapes. Rent a car and embark on a road trip along the Wild Atlantic Way or the Ring of Kerry, where you'll encounter dramatic cliffs, charming villages, and lush green hills.

Visit Castles and Historic Sites:

Ireland is dotted with castles and historic ruins. Explore places like Blarney Castle, Bunratty Castle, and the Rock of Cashel for a taste of history and romance.

Take a Romantic Stroll:

Wander hand in hand through picturesque towns and villages such as Kinsale, Dingle, or Adare. Explore quaint streets, shop for local crafts, and enjoy cozy pubs.

Enjoy Coastal Walks:

The Cliffs of Moher and Giant's Causeway offer stunning coastal walks. Holding hands while gazing at the crashing waves and dramatic cliffs is an unforgettable experience.

Cruise on the Lakes:

Take a romantic boat ride on lakes like Lough Corrib or Lough Leane. Some cruises even offer dinner options for a memorable evening.

Horseback Riding:

Riding horses through the Irish countryside is a romantic way to experience the beauty of the land. Many equestrian centers offer guided tours suitable for all levels.

Enjoy a Picnic:

Pack a picnic and find a scenic spot to enjoy a meal together. Ireland's landscapes provide plenty of idyllic settings for a romantic al fresco dining experience.

Visit Gardens:

Ireland boasts beautiful gardens, such as the Powerscourt Gardens in County Wicklow and the Kylemore Abbey Victorian Walled Garden in Connemara. These places offer serene and romantic settings.

Couples' Spa Day:

Treat yourselves to a relaxing spa day at one of Ireland's luxurious spa resorts. It's an excellent way to unwind and pamper yourselves.

Whiskey or Wine Tasting:

Ireland is known for its whiskey, and there are many distilleries to explore. You can also visit wineries for tastings and enjoy a leisurely afternoon sipping fine beverages.

Stargazing:

On clear nights, take advantage of Ireland's dark skies for some stargazing. Remote areas away from light pollution provide an ideal backdrop for a romantic evening under the stars.

Cooking Classes:

Learn to cook traditional Irish dishes together in a cooking class. It's a fun way to bond and bring a piece of Ireland back home with you.

Watch the Sunset:

Find a scenic spot to watch the sunset together, whether it's on the coast, overlooking a lake, or from a mountaintop.

Traditional Music Sessions:

Seek out traditional music sessions in Irish pubs. Enjoy live music while sipping on a pint of Guinness.
Remember to plan activities that align with your interests and preferences as a couple. Ireland offers a wide range of experiences, allowing you to create a honeymoon filled with romance and unforgettable moments.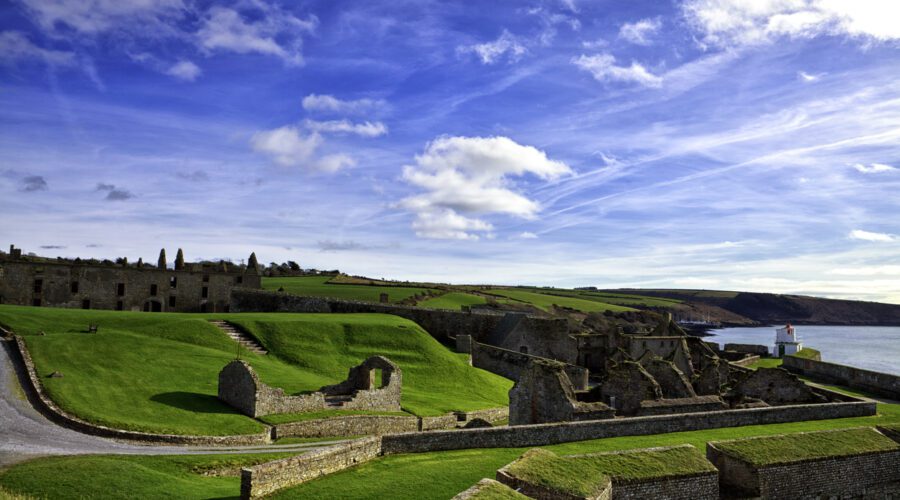 Weather in Ireland
Ireland has a moderate marine climate, which means it has mild temperatures, high humidity, and reasonably steady rainfall throughout the year. The weather in Ireland, on the other hand, maybe fairly varied and unpredictable. Here's a quick rundown of the weather in each season:
Spring (March to May):

Spring is a transitional period in Ireland. Temperatures typically range from 45°F to 55°F (7°C to 13°C).
You can expect a mix of sunny and rainy days. It's a good idea to pack layers and rain gear.

Summer (June to August):

Summer is the warmest season in Ireland, with temperatures ranging from 60°F to 70°F (15°C to 20°C).
While it's the driest and sunniest time of year, rain can still occur. Be prepared for a mix of weather and longer daylight hours.

Autumn (September to November):

Autumn brings cooler temperatures, ranging from 50°F to 60°F (10°C to 15°C).
It's a beautiful time to visit as the countryside turns shades of orange and brown. Expect occasional rain and shorter daylight hours.

Winter (December to February):

Winters in Ireland are chilly, with temperatures ranging from 40°F to 45°F (4°C to 7°C).
Rain is common, and frost and even snow can occur, especially in the northern regions. Days are shorter, with less daylight.
It is crucial to remember that even within these broad seasonal trends, regional variances can be significant. Coastal places have milder temperatures, whereas inland and hilly areas might be cooler and wetter. Furthermore, the west coast is wetter than the east shore.
Prepare for varying weather conditions by packing layers, waterproof gear, and comfortable walking shoes for your honeymoon in Ireland. Check the local weather prediction for the specific places you intend to visit, as conditions might differ even within a short distance.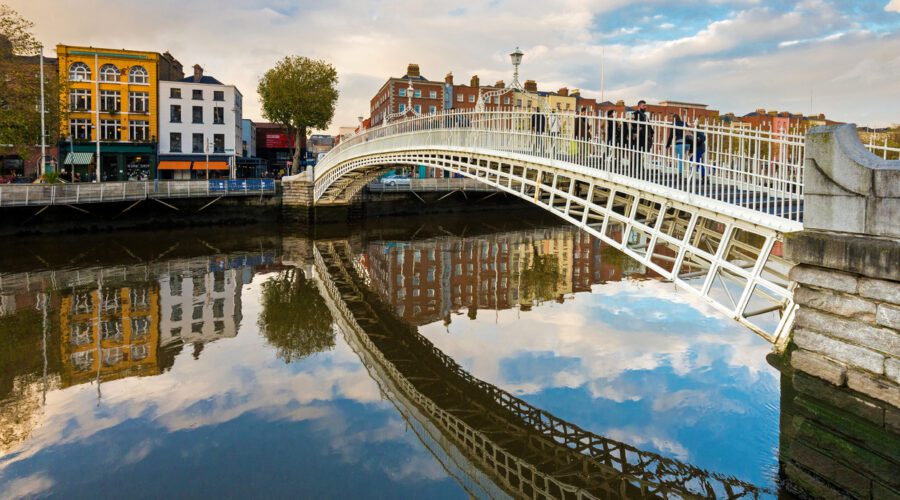 Is Ireland Safe for a Honeymoon?
Ireland is generally considered a safe and welcoming destination for honeymooners and tourists. However, like any travel destination, it's essential to take certain precautions to ensure a safe and enjoyable experience:
Low Crime Rate: Ireland has a relatively low crime rate, particularly when it comes to violent crime. Petty crimes such as pickpocketing and bag snatching can occur in tourist-heavy areas, so always be aware of your surroundings and take precautions like keeping your belongings secure.
Traffic Safety: If you plan to rent a car and explore the countryside, familiarize yourself with Irish road rules, which differ from those in some other countries. Drive on the left-hand side of the road and exercise caution, especially on narrow and winding roads.
Weather Preparedness: Ireland's weather can be unpredictable, so pack appropriate clothing for varying conditions. Be prepared for rain, especially on the west coast. Hypothermia is a potential risk if you're not dressed warmly in cold, wet weather.
Emergency Services: Ireland has a reliable emergency services system. The emergency phone number is 112 or 999 for police, fire, ambulance, or any other emergency.
Healthcare: Ireland has a high standard of healthcare, with excellent hospitals and medical facilities. If you have specific health concerns, make sure you have travel insurance that covers medical expenses.
Natural Hazards: Be aware of natural hazards when hiking or exploring the countryside. Follow safety guidelines and stay informed about local conditions, especially if you plan to engage in outdoor activities.
COVID-19 Considerations: Stay informed about any travel restrictions or guidelines related to COVID-19, as they can change. Make sure to follow any health and safety protocols in place during your visit.
Respect Local Customs: While Ireland is generally welcoming, it's essential to respect local customs and traditions. Be polite and considerate of the people you encounter.
Travel Insurance: Consider purchasing travel insurance that covers unforeseen events, trip cancellations, and medical emergencies to give you added peace of mind.
Travel Advisory: Check for any travel advisories or safety updates from your government or embassy before your trip.
In summary, Ireland is a safe and enchanting destination for a honeymoon. By exercising common-sense precautions and being aware of your surroundings, you can have a wonderful and worry-free experience exploring the country's stunning landscapes, rich culture, and warm hospitality.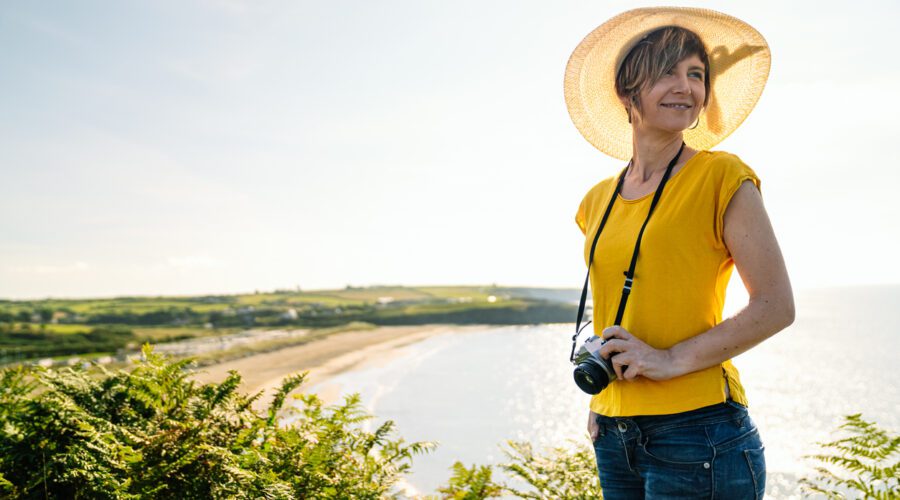 Most Romantic Spots in Ireland
Ireland offers numerous romantic locations for your honeymoon, each with its own unique charm and appeal. Here are some of the most romantic destinations in Ireland to consider:
Dublin: Ireland's capital city has a vibrant atmosphere, historic sites like Trinity College and Dublin Castle, and plenty of cozy pubs where you can enjoy live music. Take a romantic stroll along the River Liffey or visit the beautiful gardens at the Irish National Botanic Gardens.
Galway: This lively coastal city is known for its artsy vibe, colorful streets, and vibrant music scene. Explore the charming Latin Quarter, enjoy a boat ride along the Claddagh, and experience the warmth of Galway's culture.
Killarney: Nestled in County Kerry, Killarney is surrounded by stunning natural beauty. It's an excellent base for exploring the Ring of Kerry, Killarney National Park, and the Gap of Dunloe. Consider a horse-drawn carriage ride through the park or a boat trip on Lough Leane.
Dingle Peninsula: The Dingle Peninsula in County Kerry is known for its rugged coastline, picturesque fishing villages, and ancient archaeological sites. The town of Dingle is especially romantic, with its colorful buildings and lively pub culture.
Connemara: Located in County Galway, Connemara is a wild and unspoiled region known for its breathtaking landscapes, including mountains, lakes, and the stunning Kylemore Abbey. It's a peaceful and romantic escape.
Ashford Castle: This luxury castle hotel in County Mayo offers a fairytale setting for your honeymoon. Stay in a castle suite, enjoy gourmet dining, and explore the beautiful estate and gardens.
Adare: Known as one of Ireland's prettiest villages, Adare in County Limerick features thatched cottages, a charming park, and the romantic Adare Manor, another luxurious castle hotel.
Cliffs of Moher: Witness the dramatic beauty of the Cliffs of Moher in County Clare. These towering cliffs provide a breathtaking backdrop for a romantic walk along the coastal path.
Inishmore (Aran Islands): Take a ferry to the Aran Islands and visit Inishmore, the largest of the three. Explore the ancient fort of Dún Aonghasa and experience the peaceful island life.
Bantry Bay: Located in County Cork, Bantry Bay offers stunning views of the sea, and the nearby Bantry House and Gardens provide a romantic setting for a leisurely visit.
Glenveagh National Park: Located in County Donegal, this national park offers pristine wilderness, a beautiful castle, and serene lakeside walks, perfect for a romantic escape.
Achill Island: Off the coast of County Mayo, Achill Island is known for its rugged beauty, sandy beaches, and the dramatic Keem Bay, which is a breathtaking spot for a picnic.
These locations provide a variety of experiences, ranging from busy city life to calm countryside getaways, allowing you to personalize your honeymoon to your interests. Whatever you choose, Ireland's natural beauty, rich culture, and warm friendliness make it the ideal setting for a romantic and memorable honeymoon.