The drinking age in Mexico is 18 years old. Millions of tourists from the United States and the rest of the globe flock to Mexico every year. Because of its amazing beaches, delicious food, colorful history, and warm people, it is perfect for a romantic getaway, a honeymoon in Mexico, a holiday with friends, or a family vacation. If you plan to party in this sun-splashed destination– be it in Cancun, Tulum, Los Cabos, or Mexico City– be sure you know the legal drinking age in Mexico to avoid any trouble with the law.
Drinking is an integral part of the culture in Mexico. The country offers distinct flavors and a wide array of drinks you can sample during celebrations, gatherings, or your vacation there. However, you need to drink responsibly. This means drinking in moderation and knowing essential details, such as the minimum drinking age in Mexico.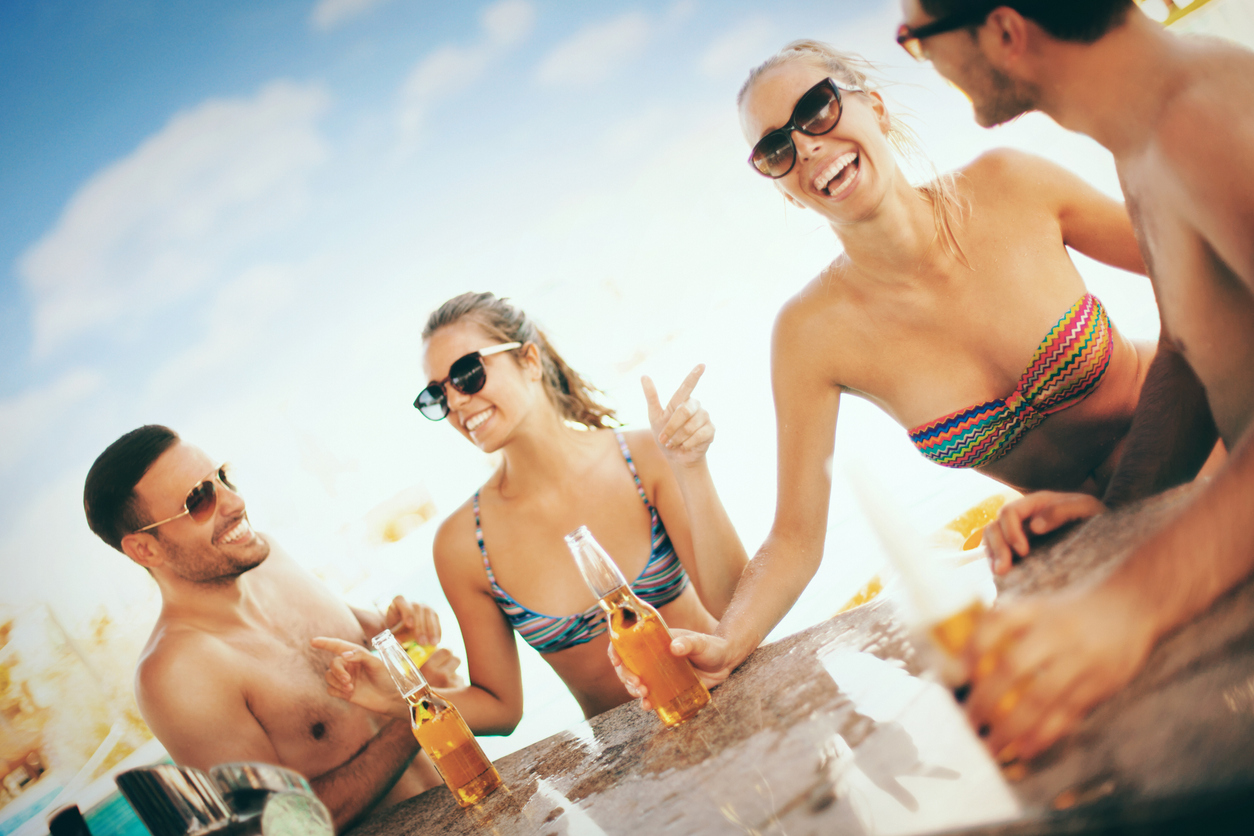 What's The Legal Drinking Age In Mexico?
Before you think of tequila, margarita, mezcal, or cerveza, be aware that the drinking age in Mexico is 18 years old. This is the minimum legal drinking age in the country and applies wherever you are. Be aware that this is strictly imposed, and establishments will not serve alcohol to underage tourists or visitors. You need to be at least 18 to buy and consume alcoholic drinks in Mexico.
While the drinking age in countries such as Germany, Netherlands, Belgium, Switzerland, Cuba, or St. Lucia is 16 years old, you must follow local laws when visiting Mexico.
Can U.S. Citizens Who Are 18 Years Old Drink In Mexico?
While the legal drinking age in the United States is 21, those who are at least 18 years old are allowed to drink since that's the minimum drinking age in Mexico.
What's The Legal Drinking Age If You're On A Flight To Mexico?
When on a flight, the legal drinking age often follows the laws of the airline's home country. If you're flying with a US carrier to Mexico, the legal age to drink onboard is 21, following the norm in the United States. However, the Mexican legal drinking age applies if you're heading to Mexico onboard a Mexican carrier.
What happens if you're traveling with connecting flights? Just remember whichever airline operates the flight will follow the laws of the country they operate under.
Do You Need To Present Your ID When Buying Alcohol In Mexico?
When you order an alcoholic drink in Mexico, establishments will ask for your ID card as proof of age. Just like in the U.S. or other countries, they need to ask for proof that you're 18 years old because it is sometimes difficult to tell if someone is old enough to drink. The Mexican law requires establishments to ask customers for photo identification when buying alcohol. This means you need your ID card, driver's license, or passport to prove you're old enough to enjoy some alcoholic drinks at a bar, restaurant, convenience store, or hotel.
The strictness of ID checking may vary from place to place in Mexico, but it is always best to keep a photo ID handy. It is best to bring your ID card or driver's license instead of your passport if you plan to drink in Mexico. Losing the latter can mean a bigger headache and will be more expensive to replace.
Can Minors Drink Alcohol With Their Parents?
Individuals 17 years old and younger cannot order or consume alcoholic drinks. Mexico laws do not have a provision for parental supervision or permission. So, underage individuals are still prohibited from buying and drinking even with their parents or older companions.
What's The Drinking Age At All-Inclusive Resorts Or Hotels?
A lot of tourists book their stay at all-inclusive resorts in Mexico or local hotels. This allows you to make the most out of your time and budget because these establishments often package accommodations, food, and activities so you can have a more affordable holiday in Mexico. Part of the experience at these resorts and hotels is enjoying alcoholic drinks when you dine, party, or lounging near a pool or beach.
It is important to keep in mind that the legal drinking age in Mexico is 18 years old. Most resorts and hotels will verify your age and those of your companions when you check in by asking for your passport or any valid ID card.
Can You Drink In Public Places in Mexico?
Drinking in open public spaces such as parks or streets is illegal. This applies even if you're of the minimum legal drinking age in Mexico. When caught intoxicated or consuming alcohol in public spaces, you can be fined or imprisoned by local authorities.
Loud cursing, nudity, throwing bottles, and other scandalous behavior in public spaces are also punishable by law.
Adhere to the drinking laws when visiting Mexico to ensure you won't end up behind bars or end up paying a fine. Such laws are enforced to ensure the atmosphere is enjoyable for everyone.
What Can Happen When You're Caught Drinking Underage?
Underage drinking in Mexico is punishable by law whether you're a local or a tourist. Underage individuals caught consuming an alcoholic drink may be subjected to warning, hefty fines, or more severe legal action.
Adults caught providing alcohol to minors may also face legal consequences. The same is true for business establishments.
Can You Smoke Or Vape Anywhere In Mexico?
Do you enjoy your drink while smoking a cigarette? Remember that smoking in public places such as hotels, beaches, parks, restaurants, or on the streets in Mexico is illegal. You need to be at least 18 to buy tobacco products in the country, but since tobacco ads are prohibited, you may need to ask an establishment if they are selling cigarettes since they cannot be on display.

Vaping is also illegal in Mexico. You cannot buy, sell, or possess a vape anywhere in the country.
5 Tips When Drinking In Mexico
When drinking in Mexico, keep the following tips in mind:
Drink Moderately: Stay within your limits to avoid intoxication, health problems, or falling victim to individuals who might want to take advantage of drunk tourists.
Designated Driver: If traveling with family or friends, choose one who abstains from all alcohol to ensure you can get back to your accommodation safely.
Be A Responsible Tourist: Aside from remembering the legal drinking age in Mexico, make sure you respect the people's culture and local laws.
Use Your Common Sense: Be mindful of your surroundings, and do not just accept drinks offered by strangers. There have been cases of tainted alcohol in the country.
Seek Medical Attention: If you feel ill after a night of drinking or partying, seek medical attention as needed.