All Inclusive Honeymoon Guide
All Inclusive Honeymoons
After you've tied the knot, it's time to jet off to your honeymoon destination. Planning this romantic trip of a lifetime is exciting for all of the possibilities it offers, but the abundance of options can make the selection process a little daunting.
That's why a huge number of couples choose an all inclusive honeymoon. When staying at an all inclusive resort, you'll be treated to high-end accommodations and amenities for a single price, making all inclusives an attractive choice when the goal is to simply unwind and enjoy each other's company.
From choosing the best all inclusive honeymoon resort to the finer details of your trip, here is the ultimate guide to enjoying your fairy-tale vacation.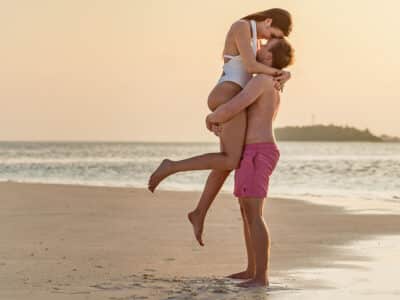 Why Book an All Inclusive Honeymoon?
After months of strenuous wedding planning, your honeymoon should be a time where you can relax and bask in your shared love. And that's exactly what all inclusive resorts offer!
Everything Newlyweds Need
An all inclusive honeymoon is a dream vacation without compromise. Everything newlyweds need for a memorable vacation—accommodations, food and drinks, live entertainment, activities and excursions—is included in one convenient package.
As you won't be needing to constantly dip into your wallet throughout the trip, you'll be able to stay on budget easily. And with the resort's knowledgeable concierge, you can skip all of the hassles of creating a vacation itinerary. Since restaurants and entertainment are only steps away, you can forgo renting a car or learning the ins and outs of local transportation. Simply show up and enjoy all that the resort has to offer!
Easy for Every Traveler
Traveling is stressful enough without worrying about navigating a new country or island nation. With an all inclusive honeymoon, you'll be able to focus on relaxing after your wedding and simply enjoying the trip.
Your arrival typically begins with pre-arranged airport transportation that will whisk you away to your resort in comfort. Once there, dining options are always available, and activities or excursions can be scheduled on your behalf.
Expert Tip: Many all inclusives offer an orientation to the property and amenities soon after your arrival. We highly recommend attending so you can get the most out of all the resort has to offer!
Forgot something? No worries! Your resort will offer options for replacing basic necessities, as well as purchasing a special reminder of your time in paradise.
Beautiful Memories in the Making
Tropical islands are known for their exceptional all inclusive resorts, so you can sit back and relax surrounded by the most beautiful vistas on earth.
In the Caribbean, countless all inclusives can be found right alongside the white sand beaches, creating limitless possibilities for basking in the sun and enjoying the gently lapping Caribbean waves.
Beyond the soothing nature of a tropical setting, these outstanding destinations offer unlimited opportunities for the perfect honeymoon photos.
Exciting Adventures and Activities
Scuba diving, golfing, beach volleyball, live music, snorkeling, windsurfing, and kayaking are just some of the activities that all inclusive resorts offer. These thrills will add plenty of memories to your experience, and the fact that they're included in the price means you'll get to experience more of them than on a regular vacation.
And if that's not enough for your adventurous spirits, many resorts offer exhilarating off-property excursions that can be booked through the resort's knowledgeable concierge.
Expert Tip: Resorts usually provide snorkeling gear for scheduled boat excursions, but consider bringing your own for private use off the beach. Earplugs are also a great idea to help keep the water out!
Variety and Customization
All inclusives can be found in close proximity to quiet beaches, thriving cities, and lush rainforests, so there are resorts to suit any couple's preference.
Major tourism hubs like Jamaica and The Bahamas are easy to travel to and have many of the world's most beloved resorts, though you can opt for smaller, more exclusive islands like Grenada and Antigua.
And many all inclusive packages are customizable, so you get exactly what you want at a price that stays within your honeymoon budget.
Simply put, there's an all inclusive resort perfect for every couple, and choosing the one that works for both of you is the first step in creating honeymoon memories you'll cherish for a lifetime.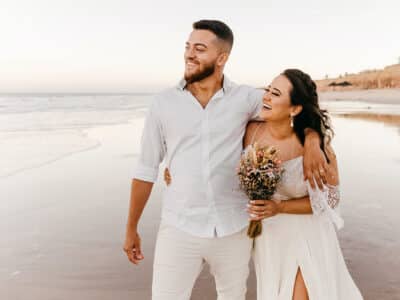 How Do We Choose a Honeymoon Destination?
Where It All Begins
Your honeymoon is a once-in-a-lifetime opportunity to celebrate your new marriage, so selecting a destination that reflects both of your interests and desires is key. Consider brainstorming your dream destinations by yourselves and then sharing them with each other. If there are any overlaps, you have an easy starting point!
From a practical standpoint, starting with your budget and selecting dates is another great way to narrow down destinations. Caribbean destinations tend to be most popular in the winter months with affordable availability peaking in the summer, so the timing of your honeymoon can help with the decision-making process.
From there, it's all about the experience that you've dreamed about. Beach or mountains? Relaxation or adventure? Lavish or laid-back? The most well-known all inclusive resorts tend to be in the Caribbean and Mexico. Though you'll find renowned resorts throughout Europe and the United States, they are generally not all-inclusive.
Here are just a few all inclusive destination ideas to spark your imagination:
Jamaica:
A terrific variety of all inclusive honeymoon resorts has made this island a favorite among newlyweds. Miles of white sand beaches and singular culinary options makes it irresistible to beach lovers and foodies alike. Travel to Jamaica is also faster and easier than to some of the Caribbean's smaller islands, which makes it a highly sought-after honeymoon destination. Find out more about honeymoons in Jamaica.
Bahamas:
Traveling to an island paradise can be quick and easy for American honeymooners that choose The Bahamas. Expect internationally-beloved beaches, private islands, and a rich culture that can be enjoyed through art museums and local marketplaces. And with a variety of islands to choose from, newlyweds will have romantic options galore! Find out more about honeymoons in the Bahamas.
St. Lucia:
This island gem is a tropical paradise that blends a rich variety of natural settings with seemingly-endless outdoor activities, while luxury all inclusive resorts await honeymooning couples. From the shores to the dramatic Piton Mountains to the island's interior rainforests, St. Lucia is a great choice for snorkeling, sunset cruises, and mountain hiking! Find out more about honeymoons in St. Lucia.
Selecting a Resort
Once you have chosen the destination, you'll be able to focus on the all inclusive honeymoon resorts in the area. It's best to begin with deciding on whether you'd prefer an adults-only resort versus one that's family friendly. Each resort has different policies regarding age limits, so if you're looking for a rejuvenating experience with an adult focus, you'll likely want to select an adults-only property or a resort with an exclusive section for adults.
You'll definitely want to look into the amenities that each resort offers to see if there are any special experiences you can't afford to miss, such as championship golf courses, infinity pools, one-of-a-kind restaurants, private lounges, watersports, and scuba diving expeditions.
Perhaps the best differentiator between resorts lies in the accommodations. All inclusives are known for their dreamlike suites that can include overwater bungalows with glass-bottomed floors, beachfront swim-up suites, and breathtaking oceanfront villas. It's all about choosing your fantasy, so be sure to consider all of your options before making a final decision.
Expert Tip: Resorts that have multiple properties in one location often allow you to stay at one while enjoying the unique amenities at each. This can be a great way to expand your trip with new sights and experiences, all for one affordable price.
The Best Deals
Finding the best deals on your all inclusive honeymoon may take some planning and consideration. Do you want to leave on your honeymoon right after you take your vows? Or are you willing to wait until prices drop during the low travel season for your destination?
In the Caribbean, vacationers typically try to book between December and April for optimal weather, though pleasant temperatures year-round mean that you can have an affordable tropical honeymoon in the summer or fall, as well. Just make sure to consider things like hurricane season and whether or not you can handle the warmer summer temps.
To enhance your experience, a number of all inclusive resorts will happily upgrade newlyweds to a honeymoon package at little to no extra charge. Champagne provided upon arrival, breakfast in bed, a couples massage, and a romantic turndown service with rose petals on your king-size bed are just some of the romantic touches that may be included in your package. Make sure to ask about these options when you book your room so you don't miss out!
Expert Tip: Working with a certified travel advisor will help you consider pros and cons, secure the best rates, and take advantage of any limited-time offers or specials. And their services are free!
Packing and Prep
Start with the absolute essentials and work from there. You'll definitely need your passport, any required travel authorization forms, internationally-approved credit cards (check on this in advance), medications (including any over-the-counter items you may need), and your clothing essentials.
When packing clothes, remember that you'll likely be spending a lot of time outdoors, so attire that is temperature-appropriate and protects you from the sun is crucial (no one wants a sunburn on their honeymoon!). Be sure to pack something a bit more formal for romantic dinners at restaurants that have a required dress code, as well as a sweater or light jacket for breezy evenings.
Here are some other items you'll want to consider making room in your luggage for:
Sunscreen: It can be expensive if bought at the destination, so consider bringing some with you. You can either pack a regular bottle in your checked bag or buy 3 oz. containers for your carry-on luggage.
Insect Repellent & Baby Oil: Though not a necessity, some kind of repellent is a great idea if you find sand fleas and mosquitoes to be a nuisance. Baby oil is particularly useful for sand fleas.
Outlet Adapter: If you're heading out of the country, keep in mind that not every room is equipped with multiple American outlets. A great trick is to pack both an outlet adapter and an extension cord to be ready if the American outlet isn't located where you need it.
Stainless Steel Cup & Reusable Straw: Honeymooners embarking on a tropical vacation will likely be spending a lot of time relaxing on the beach. Having your bartender pour your ice cold beer or frozen piña colada into a stainless steel cup is a great way to keep them cool all day long! And with many resorts transitioning to paper straws, you might want to bring your own reusable straw for more enjoyable sipping.
Towel Clips: There's no need to bring your own towels, but towel clips are great for saving your seats and keeping towels in place in the tropical breeze.
Wedding Thank You Cards: Downtime at the airport or on the plane is an ideal opportunity to take care of some of those thank you's! Also consider bringing a thank you card for your hard-working butler, if you've booked one.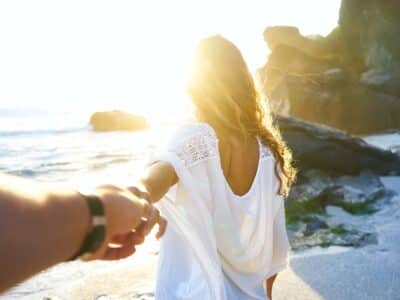 All Inclusive Honeymoon FAQ
How Long Is the Average Honeymoon?
Couples on average book honeymoons that last 7 to 9 days, with a week being the most common length. Lovebirds traveling to exotic locations might want to add extra time for travel and recovery days as overnight flights can definitely cut into the rejuvenation time.
You'll undoubtedly want as much time as possible to experience the rich variety of activities and dining options at your all inclusive resort of choice. Honeymoons are meant for true relaxation and celebrating the start of a new life chapter, so don't rush it!
What Does an All Inclusive Honeymoon Package Include?
The endless variety of resorts and destinations means that packages can vary, though a honeymoon package typically includes accommodations, unlimited dining, and a variety of activities.
Here's a quick overview of what to anticipate:
Accommodations: Luxury accommodations with plenty of additional amenities are included. Expect a luxurious bed, modern conveniences, room service, and daily housekeeping wherever you plan to stay.
Food & Drinks: Breakfast, lunch, dinner and snacks are generally included in an all inclusive package. This also extends to both alcoholic and nonalcoholic drinks, with access to a fully-stocked minibar and bars throughout the facility being included in the price. Some resorts include premium liquor in the price, while others have upgrade options for world-class wines and top-shelf liquors.
Expert Tip: If your resort's restaurants take or require reservations, you'll want to make them as soon as you arrive since they can fill up fast. And if you want to try multiple dishes or you're still hungry, don't feel shy about ordering more—it's all included!
Amenities: Full access to the resort's fitness center, pools, Jacuzzis, and lounge areas is part of the package. There are often exclusive pools and lounges for elite travelers, so if you desire exclusivity, definitely look into the VIP options.
Activities: These depend on the resort, but can include anything from scuba diving and watersports to tennis and horseback riding on the beach. Many resorts also have parties or theme nights to keep the fun going after sunset.
Additional Fees & Tips: Airport transfers, hotels taxes, and tips for resort staff are often included in the price. But you'll want to tip drivers, baggage handlers, and butlers, if you have them.
What Type of Room Should We Book?
Choosing the best room for your honeymoon depends on what you really want to get out of it. Is the splurge for an overwater bungalow, beachfront walkout, or swim-up suite worth it to you both? Would you prefer privacy over an ocean view? Luckily, many all inclusive resorts offer honeymoon suites that provide a range of choices to suit any couple's tastes.
Overall, the hallmarks of a great honeymoon suite are privacy, stunning views, and luxury amenities like Jacuzzis and personal butlers. The sheer variety of suites available is astounding, with resorts taking romance to unbelievable new heights. Some rooms feature sweeping ocean views for breathtaking sunsets or the scent of tropical blooms in a lush garden setting, while others provide direct access to pools (and their swim-up bars!).
There's no one-size-fits-all for honeymoon accommodations, so it's all about what you and your sweetheart value most in an experience. Take time to talk about your visions of your honeymoon to get a better idea of what each of you really desires.
Do All Inclusive Honeymoon Packages Include Airfare?
Airfare is typically not included in an all inclusive honeymoon package, though there are plenty of resorts that can bundle everything together for a hassle-free trip. There's always the possibility that a resort can help save you money on an all-in-one package, so definitely explore the airfare-included options if they are available.
How Do We Get From the Airport to the Resort?
Many of the best all inclusive resorts provide round-trip airport transfers in their packages, with a number of premium suites even including luxury transportation such as a Rolls Royce or Mercedes Benz. These top-of-the-line transfers allow couples to travel in the utmost style with door-to-door service in private, air-conditioned vehicles.
Other resorts feature roundtrip shuttles or ways to book private transfers directly. Of course, you can always take a taxi from the airport or arrange transportation on your own, which can be both convenient and affordable, depending on your honeymoon destination.
What Is the Average Cost of an All Inclusive Honeymoon?
A 2021 study revealed that couples spend an average of $4,600 on their honeymoon. This number includes both domestic and international honeymoons, though not necessarily at all inclusive resorts.
For a typical all inclusive honeymoon in the Caribbean, expect to pay somewhere in the range of $5,000 to $7,500 or a bit more for premium accommodations. One of the appealing aspects of all inclusive honeymoons is that there are packages to fit every type of couple and every budget.
Will We Need To Pay for the Entire Package Up Front?
Only if you want to! While there are some special packages or circumstances where payment might be required in full upon booking, most resorts can be booked with a minimal upfront deposit and full payment closer to your travel dates.
The overwhelming popularity of all inclusives has provided more payment options than ever, and pay-over-time programs are increasingly common. At participating resorts, you'll be able to choose payment plans that range from a few months to multiple years with zero interest. This is a popular option for couples planning far in advance, those on a tight budget, or simply for spreading the cost over time.
Should We Bring Cash?
Definitely. While top-notch service is included during your stay, tipping for certain services is a good idea. You'll want to have small tips ready for baggage handlers at the airport, shuttle drivers, spa employees, and your personal butler if you have one.
Resorts accept credit cards for payment where needed in gift shops and other settings, but it's always good to have some cash on hand if you venture outside of the resort to a local food stand or craft market.
It's also important to note that some all inclusive resorts do not allow their employees to accept tips, so be sure to check your resort's policies beforehand.
Do Resorts Offer Specials for Honeymooners?
Many all inclusive resorts offer honeymoon packages with romantic extras like chilled champagne waiting in your room, nightly turndown service with rose petals, and an intimate breakfast in bed.
While many resorts offer these perks as a free upgrade, some may charge an additional fee. You can also purchase additional extras when you arrive, like a soothing couples massage or romantic dinner on the beach.
Expert Tip: One of the major benefits for couples considering a destination wedding is that some resorts include a free wedding ceremony when you book a certain number of nights at the resort for your honeymoon!
The complimentary wedding can be surprisingly robust with a beautiful ceremony right on the beach or in a lush tropical garden, fresh bridal bouquets, a two-tier fondant cake, signature cocktails, and even marriage document preparation.
This is a great freebie to work with your certified travel advisor to book, since they can get you the most bang for your buck!
What Upgrades Are Available?
All inclusive resorts feature a variety of activities and luxury amenities that can be added on to enhance your honeymoon package.
Here are a few popular options:
Luxury Spas: The most popular add-on for lovebirds is certainly a couples massage, though resorts offer full spa services for many sensuous and rejuvenating wellness treatments. You can even upgrade to a beachfront massage for a relaxing experience that has no parallel.
Butler Service: For highly personalized service that will make you feel like royalty, consider adding butler service. Needs are handled before you even think of them, providing you with a taste of the high life that you'll never forget.
Local Tours: The resort concierge will be happy to help you book activities outside the resort, with local tours being a particular favorite. Whether you're seeking a sunset cruise, dune buggy tour, hiking expedition, or a river rafting excursion, your destination of choice likely has plenty of innovative ways to experience it!
Premium Liquors & Culinary Options: Depending on the resort, you might be able to enhance your dining with sommelier-selected wines, exclusive cuts of meat, and additional fresh seafood options. Make sure to ask when booking your dining reservations.
How Far in Advance Do We Need to Book Our Honeymoon Package?
The general rule of thumb is to begin booking your honeymoon at least six months ahead of time, with a cushion of eight to ten months based on the popularity of the destination.
All inclusive resorts have a way of nestling in the hearts and minds of visitors, and with repeat stays incredibly common, the best rooms tend to go fast. Some resorts are able to be booked more than two years in advance, so the earlier the better, especially if you want a specific type of room!
What Are the Cancellation Policies for Honeymoon Packages?
Policies vary based on the resort and type of room reserved, but the land portion of your honeymoon can typically be refunded with ample notice before departing. As the date of departure gets closer, refunds may be reduced, issued in the form of travel certificates, or not available at all.
When bundling together accommodations and airfare, it's important to remember that flight cancellations are subject to the particular airline's policies.
Should I Purchase Travel Insurance?
While no couple wants to think about the possibility of a ruined honeymoon, travel insurance is a great idea to protect yourself from emergencies including last-minute cancellations, medical emergencies before or during your stay, lost baggage, and more.
As honeymoon packages generally require a nonrefundable down payment, if not full upfront payment, securing travel insurance can be essential in protecting your investment.
Many resorts offer their own insurance plans, but be sure to read the fine print to ensure you know what reasons for cancellation are included in the coverage and if refunds will be issued in the form of cash or future travel vouchers. Travel insurance can also be secured from third-party companies, which often include more options than when purchased from the resort itself.
---
An all inclusive honeymoon is the perfect way for couples to leave behind the stresses of wedding planning and begin their lives together in total romantic bliss. And with so many options, you and your loved one will surely be able to create the romantic honeymoon of your dreams.
Click here to receive your customized all inclusive honeymoon quote from one of our certified travel specialists today!